Non-fungible tokens (NFTs) have become the latest metaverse trend to hit the circuit.
NFTs are one-of-a-kind digital assets that are located on a blockchain, much like crypto. However, they can be used to stand for almost anything.
This includes artwork, collectibles, real estate, and more. Unlike traditional currencies, these digital assets can't be easily duplicated or exchanged.
While NFTs only cost an average of $100 to mint and sell, their inherent rarity can greatly increase their value.
In recent months, NFTs have seen exponential growth in popularity. With some selling for staggering amounts of money.
Bored Ape Yacht Club (BYAC) is one of the most successful NFT projects so far with more than 10,000 apes, each with various attributes.
Unbelievably, BYAC #8817 sold for 852 ETH in 2021. That's nearly 3.5 million dollars!
Naturally, free NFT giveaways are becoming super popular, and giveaway ideas for small businesses are plentiful.
For brands and influencers looking to capitalize on this trend, ViralSweep provides an easy-to-use platform.
With it, you can create engaging giveaways featuring NFTs as prizes.
In this article, we will explore how to create a free NFT giveaway with a giveaway generator and provide you with tips for making the most of your giveaway.
We'll discuss best practices for creating effective entry forms, selecting appropriate prizes, and more.
By the end of this article, you'll have a better understanding of the NFT giveaway process on ViralSweep and be prepared to create your successful giveaway.
What are NFT Giveaways?
An NFT giveaway is a promotional event where participants can win free non-fungible tokens.
To participate, entrants typically sign up and complete various entry tasks like sharing on social media, submitting their email addresses, or referring friends.
Because NFTs can have various attributes associated with them, the prizes are often more customizable than traditional giveaways.
However, there are unscrupulous parties out there, and you must be aware of the common NFT scams.
The most successful NFT giveaways tend to involve exclusive items that can't be acquired any other way.
This can include:
Rare digital art
Limited edition collectibles
Event tickets
Special access to digital content
By offering something that people want and can't get elsewhere any other way, you're guaranteed to draw attention and create a buzz for your giveaway.
An NFT giveaway conducted by NBA Top Shot is one of the more notable campaigns.
It was an official collaboration between the National Basketball Association and Dapper Labs to create a digital collectibles platform.
On the platform, users could purchase packs of limited-edition digital cards featuring highlight moments from NBA games.
These packs also included a rare, one-of-a-kind card called the "Moment of the Week".
To draw more attention to their Top Shot platform, NBA and Dapper Labs gave away free Moment of the Week cards through select giveaways.
These giveaways quickly became popular because of their exclusivity.
The Moment of the Week cards could only be acquired through giveaways, making them highly desirable.
This, in turn, drew more attention to Top Shot and helped create a larger community of users.
Benefits of Running an NFT Giveaway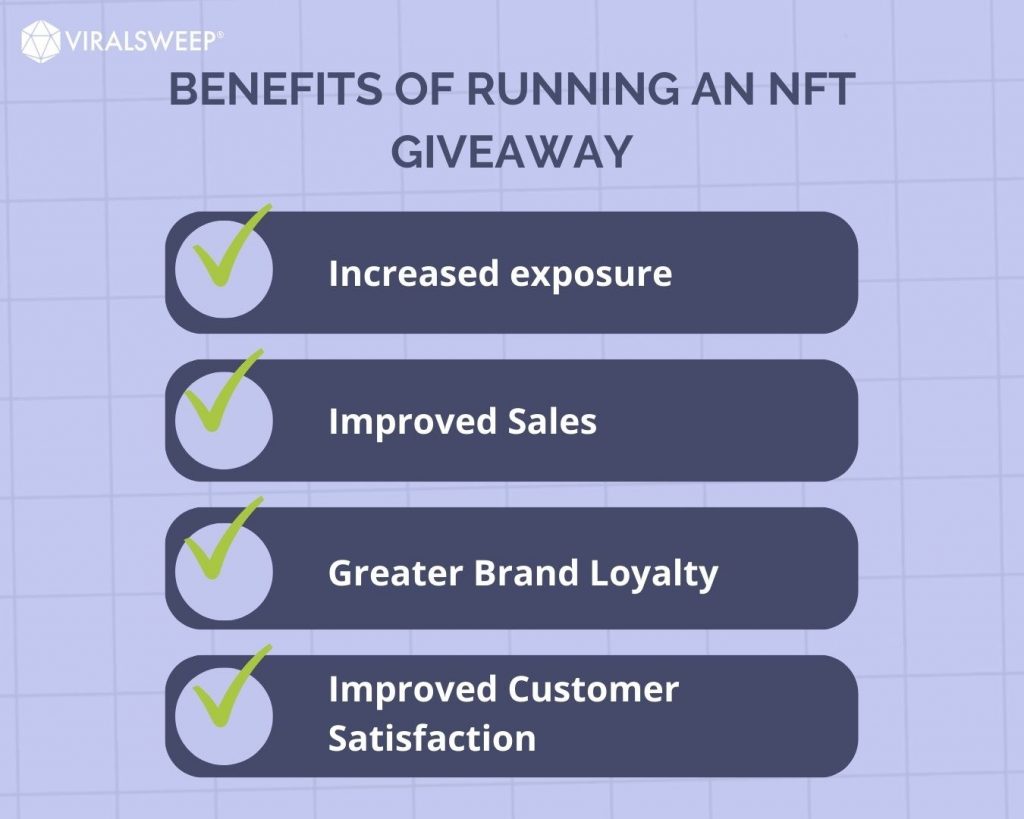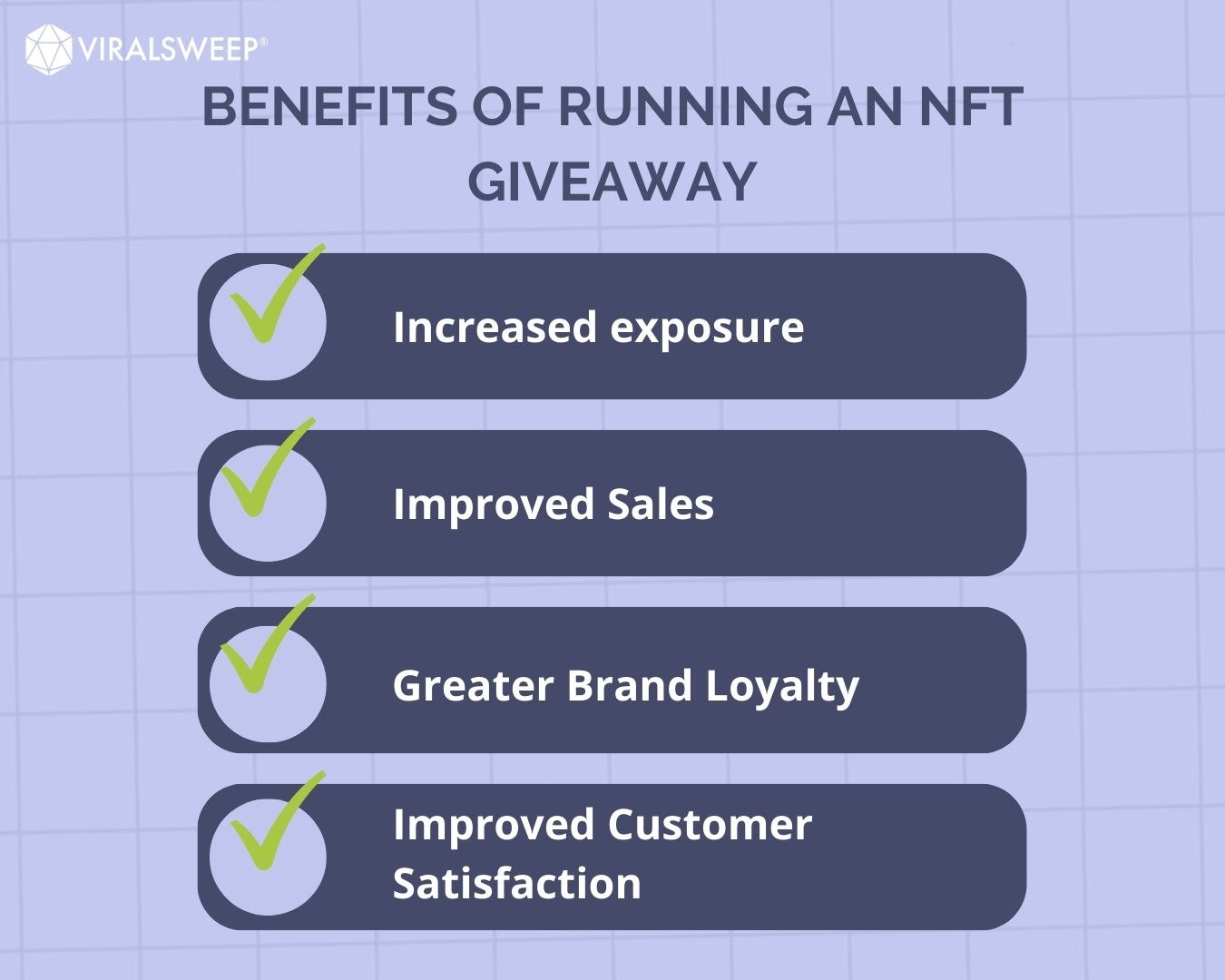 The benefits of running an NFT giveaway are hard to overstate.
Because NFTs are still relatively new, curiosity about them continues to grow.
As a result, there are myriad benefits available to those that run an NFT giveaway including:
Increased exposure
Improved sales
Greater brand loyalty
Improved customer satisfaction
Less tangible benefits include demonstrating a commitment to innovation to partners and customers and generating buzz and excitement around your product or service.
The perks of offering unique NFTs to customers (or prospective customers) and fans of your brand are equally appealing.
By creating a giveaway where users can win free NFTs, you can incentivize them to participate in your promotion and share it with their friends.
This increases the reach of your giveaway and helps you attract more people to your brand or project.
Increasing Visibility and Exposure
NFT giveaways are an effective way to reach a larger audience.
With the help of influencers, you can easily spread awareness about your giveaway and attract more entrants.
By partnering with them to promote your giveaway, you can create a sense of community and build trust amongst potential customers.
Additionally, by partnering with influencers, you have the potential to tap into their engaged audiences and gain new followers as well.
NFT giveaways can also be used to generate word-of-mouth referrals.
By offering participants the chance to refer friends in exchange for bonus entries or extra prizes, you can create a virtuous cycle of entrants and increase the visibility of your giveaway without additional effort.
Boosting Sales and Revenue
Not only can NFT giveaways help you increase the visibility of your brand, but they can also be used to boost sales and revenue.
By offering exclusive items or rare digital art as prizes, you can attract new customers and incentivize existing ones to purchase more of your products or services.
Even more, an NFT giveaway can be used to educate customers on other products and services you offer, expanding your reach and share of wallet.
Building Brand Loyalty and Customer Satisfaction
By offering exclusive items or rare digital art as prizes, customers are incentivized to keep coming back for more.
Customers will feel valued when they have access to something special that others don't have, creating a sense of exclusivity and uniqueness that will enhance their experience and keep them coming back.
Demonstrating Commitment to Innovation
NFT giveaways are a great way to demonstrate this commitment.
By offering these exclusive digital collectibles, you can showcase your understanding of emerging trends and technologies.
This will help build trust and show customers that you're staying ahead of the curve.
Generating Buzz and Excitement
Finally, by running an NFT giveaway, you can generate buzz and excitement around your brand or project.
With the right entry tasks and attractive prizes, you can create a sense of urgency that encourages people to participate.
This, in turn, fosters a competitive spirit and taps into people's natural desire to win.
How to Choose the Best NFTs for Your Giveaway
Now that you know the benefits of running an NFT giveaway, it's time to start thinking about which type of NFT is best for your promotion.
When choosing the right NFTs for your giveaway, there are a few key factors to consider.
Make sure that the NFTs you choose are relevant to your brand and target audience. This will help ensure that the participants are genuinely interested in the prizes they're competing for.

Consider the scarcity and uniqueness of the NFTs you choose. The more exclusive the item is, the more attractive it will be to participants.

Look for NFTs with the potential for appreciation in value over time. This will add an extra incentive for participants to compete and increase the chances of them spreading the word about your giveaway.

Think about the different types of NFTs that can be used in giveaways. These include digital art, collectibles, and virtual goods. Depending on your brand's target audience, you can choose the most suitable type of NFT to attract more participants.
By considering these factors, you can select the best NFTs for your giveaway and ensure a successful promotion.
How to Do an NFT Giveaway With ViralSweep?
ViralSweep makes it easy to run successful NFT giveaways.
With our flexible platform and powerful features, you can create a giveaway that will engage your target audience and generate more visibility for your brand.
Setting Up the Giveaway
Setting up an NFT giveaway is simple with ViralSweep.
Step 1: Create Your Campaign
You must create a new giveaway campaign and add your NFTs as prizes
You can also customize the look and feel of your giveaway landing page by adding images and videos, changing colors and fonts, or embedding polls and surveys.
Step 2: Configure your entry tasks
You can choose from a variety of tasks, including social media sharing, newsletter signups, email referrals, and more.
These tasks will help spread the word about your giveaway and encourage more people to participate.
Step 3: Customize the giveaway rules and settings
This includes setting the duration, deciding on an entry method, choosing a winner selection process, and more.
By taking the time to configure these details, you'll be able to optimize your giveaway setup and ensure that it's running as efficiently as possible.
These are a few tips to help you optimize your NFT giveaway:
Choose the right duration – when it comes to determining how long a giveaway should last, make sure that the timeframe of your giveaway is appropriate. Too short and participants won't have enough time to enter, and too long can lead to apathy. Optimal duration depends on the type of NFTs used and your target audience.

Choose the right entry method – select an entry method that is easy to use and encourages more participants. For example, if your target audience is tech-savvy, consider using a QR code scan or mobile app download task.

Select the right number of winners – pick a number of winners that makes sense for your giveaway. Too many and you risk diluting the value of your NFT prizes, and too few can lead to disappointment.
By following these tips, you can optimize your NFT giveaway and maximize its success.
Promoting Your Giveaway
Once your NFT giveaway is set up, it's time to promote it.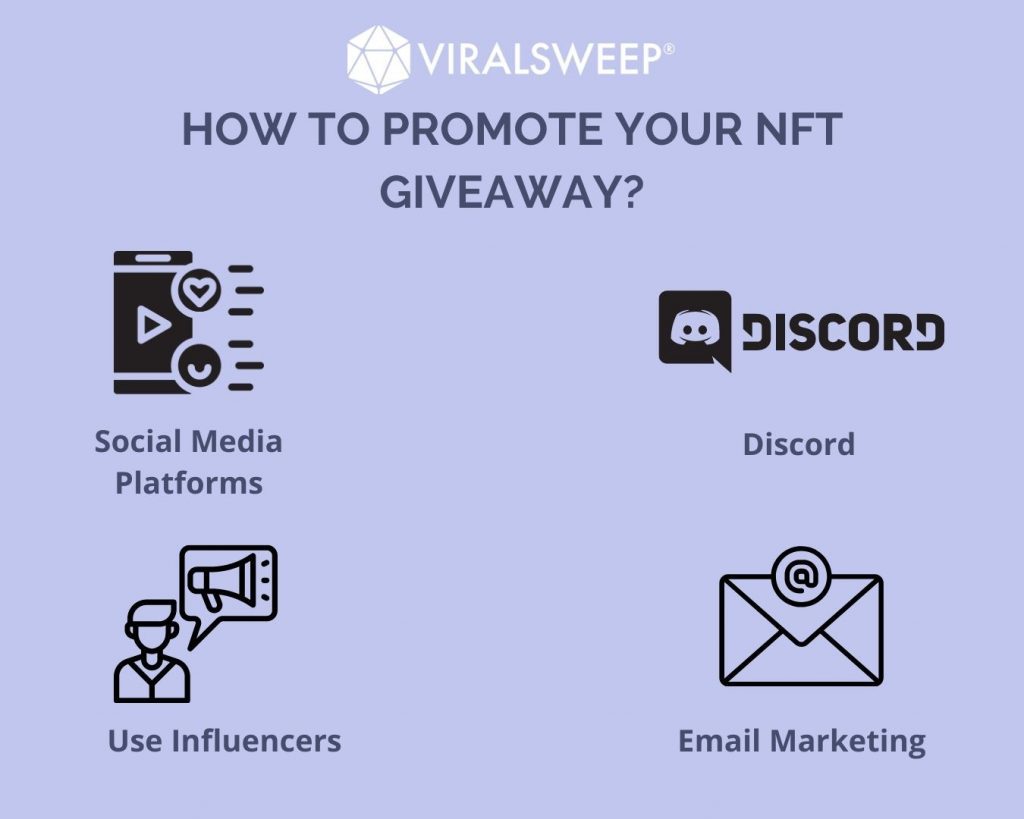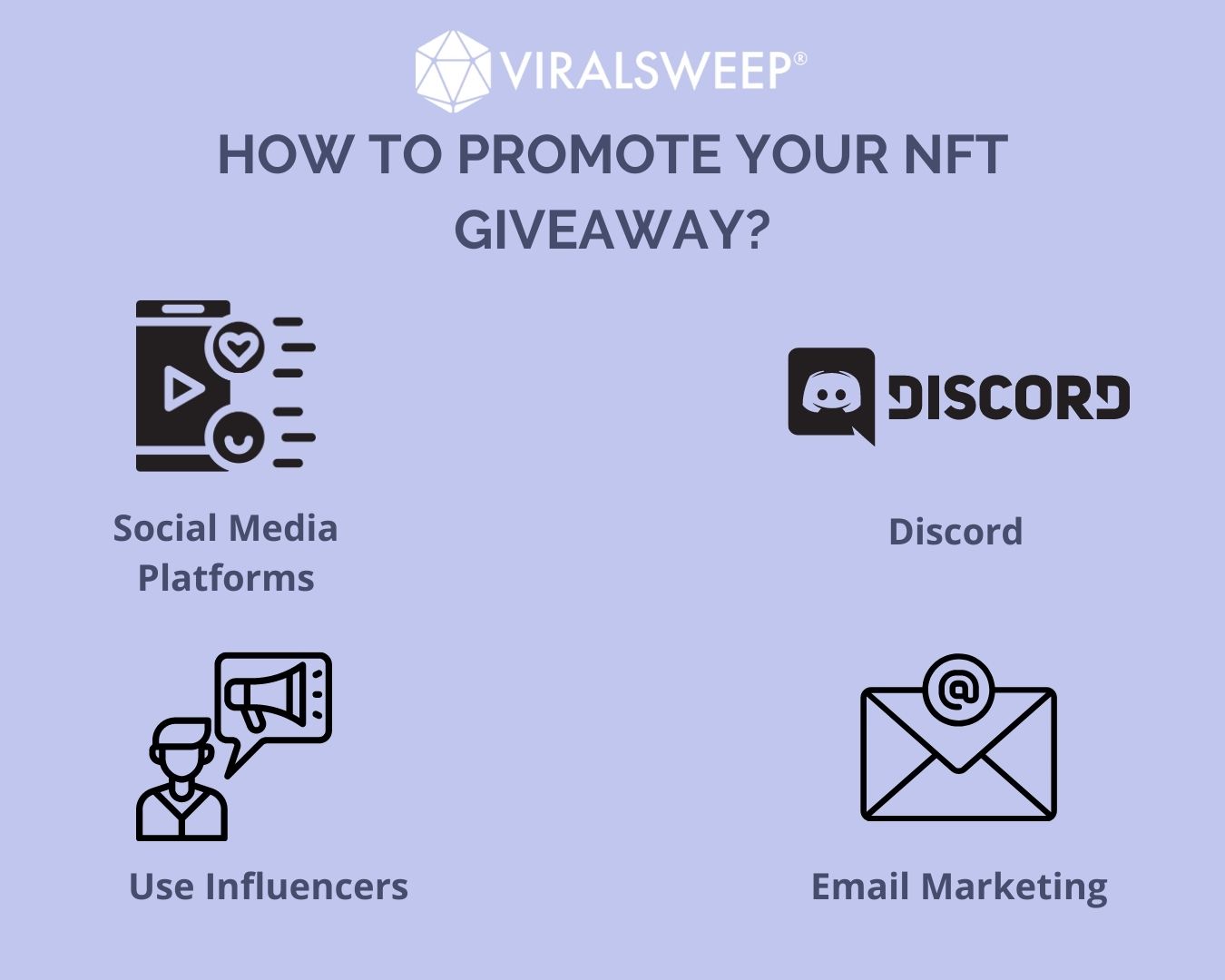 Social Media
One of the most effective ways to do this is through social media, especially Twitter and Instagram.
Create eye-catching posts featuring your giveaways and use relevant hashtags to help increase visibility.
You can also post regularly on Twitter, Instagram stories, and other platforms to keep people engaged and informed.
Discord
Discord is a free app for mobile and PC that lets people chat via text, voice, or video in real time.
Each Discord channel can have many discussion boards, and it can really create a sense of community for your NFT giveaway.
Create different boards to section off the conversations about your NFTs, such as #pricing, #dropdates, #random, #tradetalk, and others. This helps keep the conversations focused.
It's a great place to host events, and you can bring many of your Discord giveaway ideas to life with an active Discord community. Try to grow your Discord channel as much as you can.
Use Influencers
Another great way to promote your NFT giveaway is through influencer campaigns.
Reach out to influencers in your target market and offer them free promotional items in exchange for a shoutout about your giveaway.
This can be a great way to increase reach and engagement.
Read More: A Step-By-Step Guide To Running A Twitch Giveaway
Email Marketing
Finally, take advantage of email marketing campaigns to let people know about your giveaway. Create attractive email campaigns that feature eye-catching visuals and compelling copy to grab people's attention and increase signups.
Other NFT Giveaway Promo Tips
Here are a few more tips to help you maximize the reach and engagement of the giveaway.
1. Target the right audience – Identify your target market and focus on promoting your giveaway to this group of people. This will help you reach more relevant participants and increase engagement.
2. Craft compelling messages – Create compelling copy for social media posts, emails, influencer collaborations, etc., that draws attention and encourages people to participate in your giveaway promotion.
3. Utilize paid advertising – Consider using paid advertising platforms such as Facebook Ads or Google Adwords to boost the visibility of your giveaway promotion and bring in more participants.
4. Make use of hashtags – Use relevant hashtags when posting about the NFT giveaway on social media to increase visibility among users interested in cryptocurrency investments or blockchain technology topics related to NFTs.
5. Offers incentives – Offer promo codes or discounts that incentivize signups which could lead directly to entry conversions for the NFT Giveaway Promotion.
Tracking Results and Choosing the Winners
With ViralSweep, you can track the results of your giveaway in real-time, see entry and engagement data, and use the app to pick a winner.
You can also easily export this data for further analysis or reporting.
When it comes time to select the winners, you have two options: automated or manual selection.
Automated selection is the easiest and fastest approach as the platform automatically chooses winners from your list of entries. This ensures that the process is fair and unbiased.
Alternatively, you can also choose to manually select the winners.
This provides more flexibility in terms of choosing who wins, but it's important to ensure that it's done fairly and transparently.
It's also important to have a set of criteria for selecting winners, such as by random drawing or based on the quality of their entries, and make sure that these are communicated clearly.
Ready to Run Your First NFT Giveaway?
Running an NFT giveaway can be a great way to drive engagement and increase brand awareness. With the right strategy, tools, and resources, you can maximize your success and generate a positive ROI for your giveaway.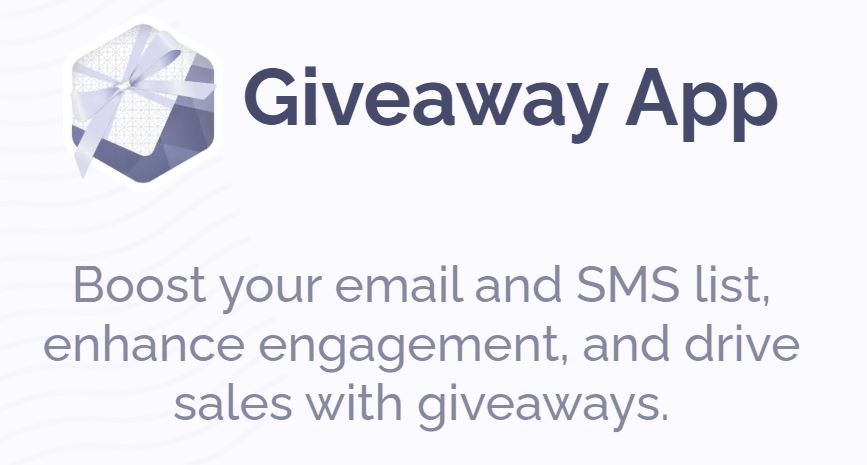 ViralSweep is the perfect tool to help you run an online contest or sweepstakes with ease. It offers a user-friendly interface, comprehensive data analytics, and automated winner selection so you can track all aspects of your giveaway campaigns in real-time. With ViralSweep, running a successful NFT Giveaway Promotion is easy!
Start running your first NFT giveaway today with ViralSweep! Sign up for free to get started.