Using ViralSweep's new Sales Tracking feature, you no longer have to manually track sales coming from your sweepstakes or contests.
Now you can track which new leads are converting into customers, which allows you to determine the return on investment of every promotion.
No more complicated analytics or relying on workaround tactics like coupon redemptions in order to figure out which new leads are buying. ViralSweep makes it easy.

How it Works?
With Sales Tracking, you can track sales coming from people who have entered your ViralSweep promotion.
ViralSweep tracks when a ViralSweep lead makes a purchase from the same device or browser that they entered the promotion from. That sale is reported under your campaign analytics tab.
All you need to do is copy and paste your Sales Tracking pixel onto the confirmation page a user sees after they buy something on your site. The Sales Tracking pixel can be found in the Analytics tab of your promotion.
By default, the Sales Tracking pixel states the value of the purchase as a static value. This is great for single item stores, ebooks, etc.
You can also have your own developer insert a dynamic value into the sales tracking pixel. If your store has many differently priced items, this may be necessary. For Shopify store owners, we've included a Shopify Sales Tracking pixel.
Learn more about the Sales Tracking pixel installation.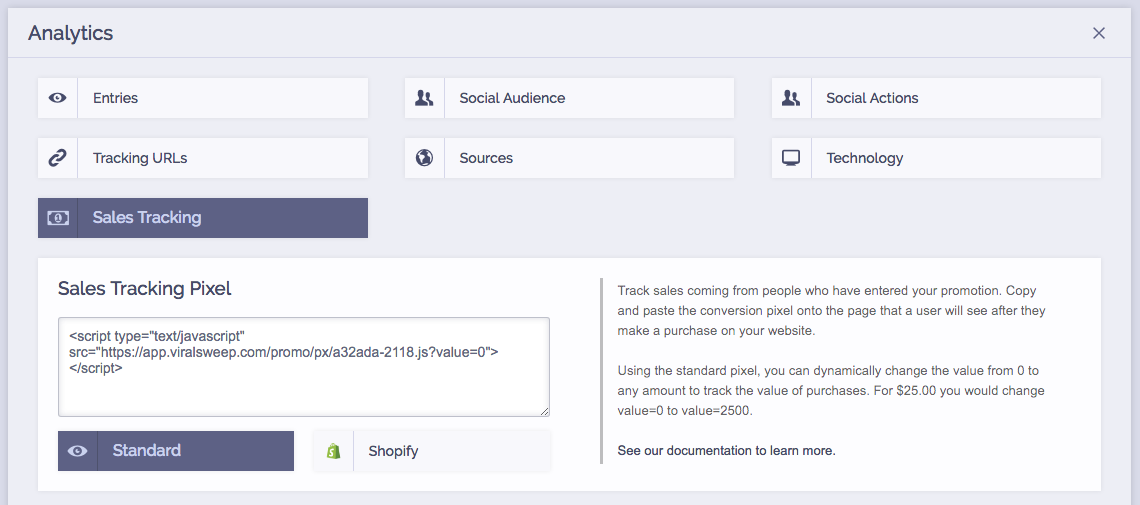 Shopify Stores
We've made it super easy for Shopify stores to track sales coming from their ViralSweep campaigns.
Simply copy and paste the pixel for Shopify into your Additional Scripts section in your Shopify store checkout settings. We automatically report the total value of purchases coming from customers who enter your promotions.

We'll be providing out-of-the-box support for more stores soon.
Tracking & Reporting
Reporting and analytics for purchases appear on a per-campaign basis under the Sales Tracking section of the Analytics tab.
ViralSweep reports the number of sales that came from your sweepstakes or contest participants. We also report the total revenue generated from those entrants. If you use the standard pixel, you will need to input a value in order for us to track sale amounts.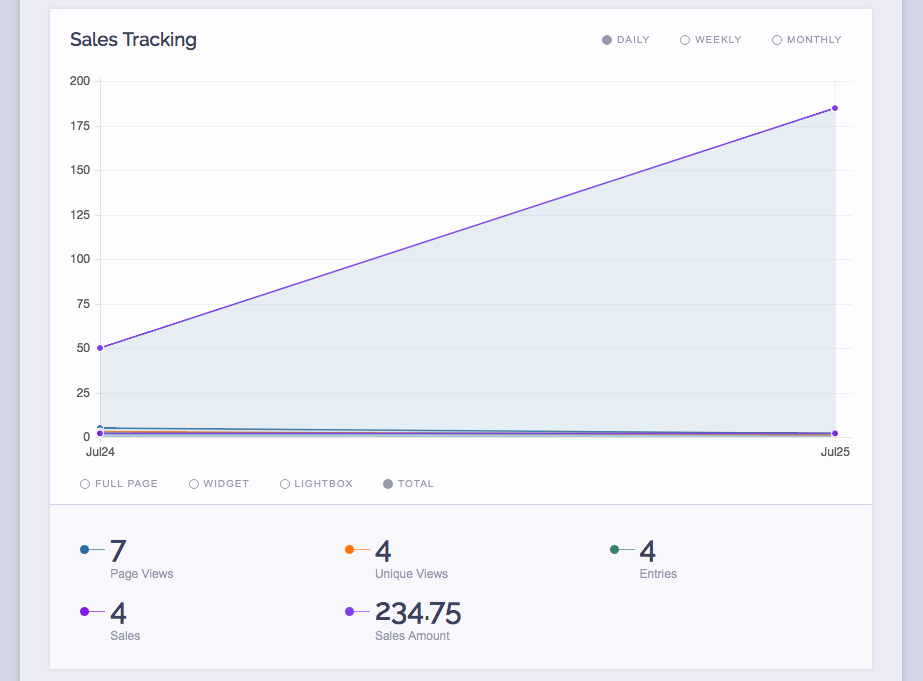 ViralSweep shows you a breakdown of the sale amounts, sorted by day, week, or month. If you export your data, you can see all the email addresses of people who purchased, and how much they spent.

As always, your feedback is very important to us. Please don't hesitate to reach out if you have any questions, concerns, or suggestions about the new Sales Tracking feature!