Today, we're happy to announce that a major update to ViralSweep has been released to everyone.
We've massively improved the campaign building experience and made it easier than ever to design a beautiful campaign.
We're grateful for such strong customer feedback via live chats, phone calls, and support requests that have guided us in this update. Thank you to all of our customers who care about the quality of our service—it really means a lot.
Using your feedback, we set out to re-imagine how every campaign is built on ViralSweep, without completely changing the builder that everyone has come to know over the years.
So, what changed?
ViralSweep Changes

With more robust design tools, you can create a beautiful custom design on the fly—no HTML or CSS knowledge necessary.
With a live preview, building your promotion is much more visual. Glance at your campaign as you build it and click almost any item on the preview to edit it immediately.
We've cut out some non-essential, confusing features to better streamline the suite of ViralSweep tools.
There's more! This update includes a new feature that has been heavily requested; especially useful for ecommerce brands and Shopify stores.
We've solved all of these problems, and added many more features along the way. Here is what we've been working on and is now available to you.
More Design Options
Refreshed Campaign Styles
We've completely updated the styles of the Full Page, Widget, and Lightbox formats. They have the same look and feel but are much more polished and customizable.
All new campaigns built within ViralSweep will use the new look going forward.
All existing campaigns will maintain the previous style. Duplicating an existing campaign will update its style.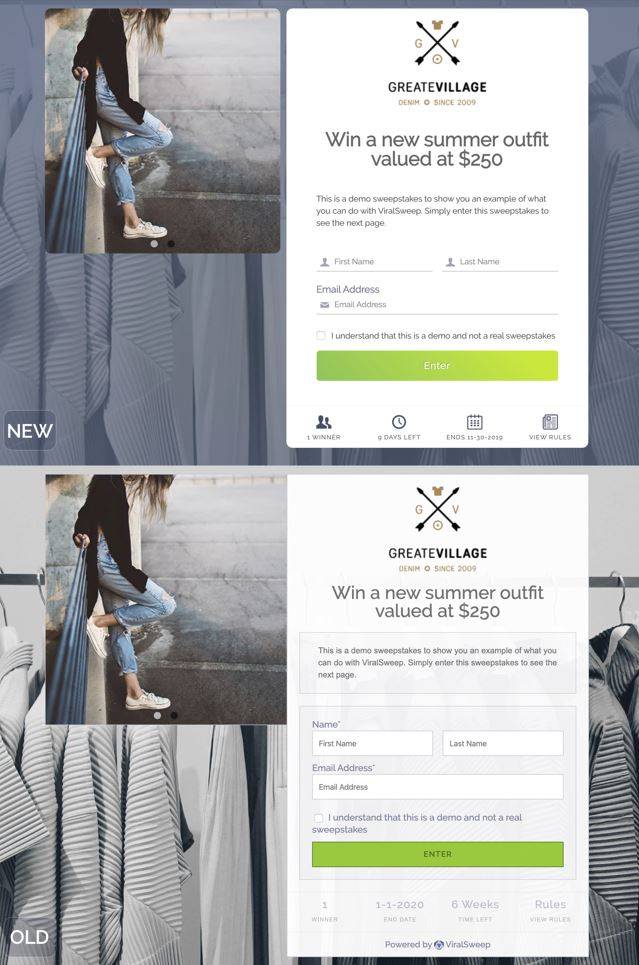 Campaign Styling
We've addressed one of the top complaints about ViralSweep head on: you no longer need to use CSS to drastically customize your design. This is made possible with the entirely new Styles section.
Within the Styles section you can change everything: fonts, colors, buttons, backgrounds, borders, and more.
Images and Layouts
We've made it much easier to manage your promotion's images.
Now, when you upload an image, all style and position options are handled right then and there.
We've also made it super simple to increase and decrease the size of your logo. You can now transform your campaign's background image with a color overlay and blur—helping bring the eyes to your form and increase entries.
Icons
Make your form easier to understand using icons. You can now add icons to every single form field, and every single action.
Each field option has an icon picker with hundreds of icons to choose from, and a color picker to further customize the icon color.
Streamlined Editing
The Builder
The new campaign builder is split screen, allowing you to edit everything on the left hand side, while the live preview constantly updates on the right hand side.
You can easily expand the right side to view the campaign full screen, and you can switch between pre and post-entry, desktop and mobile, as well as between the three different formats: Full Page, Widget, and Lightbox.
More Intuitive Navigation
We've made it easier to know where you should be while building your campaign. The page has been reorganized to feel much more intuitive and the navigation is less overwhelming than before.
Instead of having one long running page, we've split the builder up into sections:
Build
Design
Integrations
Advanced
You can use the menu on the left side to navigate between sections, and there is also a menu at the bottom of each section.
Live Preview
We've built a live preview directly into the builder. This is a major improvement.
Anytime you make a change, the preview will automatically set a refresh timer for 3 seconds. If you constantly make changes, the 3 second timer resets. You can also click the refresh button to manually reload the preview.
Click to Edit
Another helpful new tool: click an element to edit it immediately.
Need to edit your logo? Click on it in your live preview and you'll be taken directly to the logo section.
Need to edit your title? Just click it.
Need to edit a social action? You guessed it… it's now just one click away.
This new feature removes all the guesswork and makes editing campaigns simple.
Adding New Form Fields and Actions
We often heard that building a campaign was daunting because there were so many features and settings, especially when it came to the form fields and social actions.
With a long list of over 40 options that you could pick from, we understand this frustration.
We've introduced an Add Field button to add fields and actions to your campaign.
This not only makes it more simple and less overwhelming, but you can also get a better understanding of what each field or action does before you decide to add it.
Edit the Enter Button
The Enter button is your main call to action, and we've never had a way for you to edit this without using CSS. Now it's easy.
Within the Forms section, you can edit the Enter button, from the text to the font, colors, and size.
Campaign Details
Every campaign has a footer with information about your campaign. There's never been a way to edit this information until now.
The new Campaign Details section allows you to both rearrange the order and also click to hide specific items that you do not want to show.
Preview Links
Customers often ran into an issue where coworkers or friends could not see a campaign if it was not yet live.
To fix this, we introducing expiring preview links.
If your campaign is not yet live, you can generate a preview link from the Install tab and set a time for that link to expire. Anyone you share that link with will be able to see the full campaign.
Gallery Preview
We added the option to view your gallery in the live preview while building your contest.
Cutting the Fat
Now a goodbye to the products and features that we are removing…
Test Mode Has Been Removed
Since 2015 we've had "Test Mode" which your campaign was automatically set to once you finished building it.
This allowed you to test the campaign without your test entries being counted as valid entries.
This feature only caused confusion, and many customers were setting their campaign to live and testing that anyway. Because of this, we've removed Test Mode.
When your campaign is built, it will be live by default. Any test entries you make will show up as valid entries, and you can manually delete them from the entrants tab.
Themes
We've also removed the pre-made Themes that could applied to campaigns. They served our customers well, but we designed the new Styles section to be a much more attractive option for every customer.
Promote
Through 2018 and much of 2019, we built a network of influencers that brands could hire to promote their ViralSweep campaigns—Youtubers, Instagramers, Twitch streamers, etc.
While the product was well-received by both brands and influencers, we felt there was a lack of overlap on the brands' marketing schedule and the influencers' content creation schedule, causing many scheduling complications.
ViralSweep and our network of brands and influencers is better served as a place to connect rather than transact.
Check out our interviews with 50+ influencers about how they got started, how they run their business, how they find sponsors, and more.
But wait! There is more!
Introducing Instant Win Spinner
You can now add a spinner to your Instant Win, which makes your campaigns more exciting!
Visitors can spin the wheel and see what prize they've won, if any. This has been one of the most requested features for ViralSweep over the last year, and we wanted to hold off on developing it until our new design tools were completed.
Many ecommerce shops, Shopify stores, and direct-to-consumer brands use the spin-to-win mechanic as a fun way to entice customers into earning discounts and prizes after landing on their storefront.
Now you can build a spin-to-win campaign with the robust ViralSweep platform.
The wheel automatically includes the prizes you added to your Instant Win campaign. When a user enters, the wheel spins, and reveals what they've won. You can turn the spinner on or off in the prize settings section.
You also have the option to award more chances to spin by completing specific actions after the first spin.
Stay Tuned
We're not stopping here. There is more to come in 2020 and we're excited to show you what else we've been working on.