Today we profile Bluelounge in our first case study, a client that experienced outstanding results in the first sweepstakes that they ran using ViralSweep.
Bluelounge is an award-winning international design studio known for innovative and sleek products created for consumers seeking relevant and honest solutions with a forward design aesthetic.
Some of their best selling products include Milo and MiniDock.

Results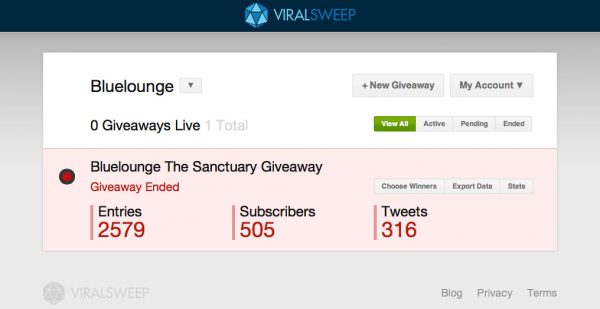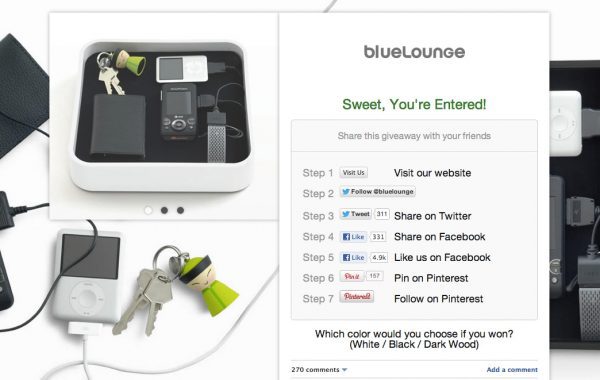 Bluelounge ran their sweepstakes from September 25 – September 30, a total of 6 days.
Over that time period, they received 2,579 email entries, 505 opt-ins to receive 'special offer' emails, 316 tweets, over 330 Facebook shares, over 150 pins on Pinterest, and over 250 comments on their sweepstakes.
Michael Sunarlim, in charge of Bluelounge's online marketing, said this about his first promotion using ViralSweep: "It was definitely a success that exceeded my initial expectations. The number of tweets was quite overwhelming. I had notifications on my phone for every mention and new follower that distracted me throughout the promotion even though I was very happy with it."
Sweepstakes
Bluelounge ran 6-day sweepstakes offering The Sanctuary to 3 winners.
The Sanctuary conceals a universal charger compatible with over 1500 electronic devices from most major brands and a USB port allowing hundreds more electronic devices to be charged.
Users can charge their cell phone, PDA, Blackberry, iPod, MP3 player, and Bluetooth headset simultaneously in one location.
The Sanctuary retails for $129.95, bringing the total prize value of the promotion to $389.85.
When asked if they would do anything differently for their next sweepstakes, Michael said, "considering the number of entries on our first sweepstakes, we will probably offer more prizes with less value. More winners, more happy customers."
Promotion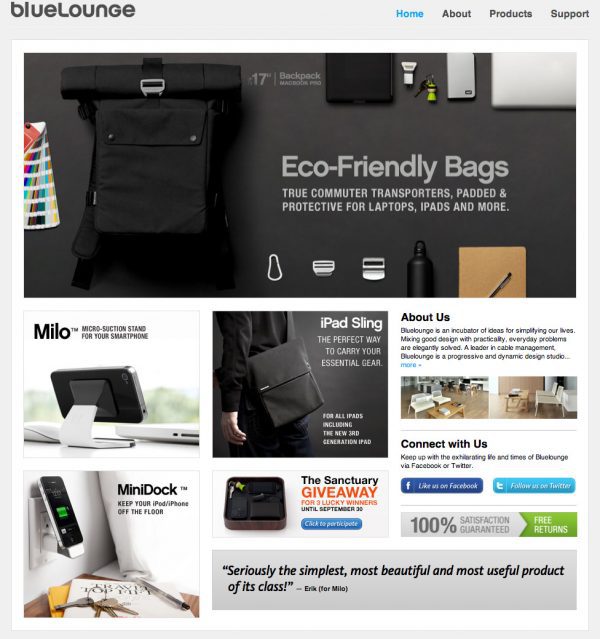 In order to promote their sweepstakes, Michael told us they mentioned it on Facebook and Twitter and also put a banner on the homepage of their website.
In order to only target website traffic that was eligible to enter the sweepstakes, Bluelounge used IP detection to display the homepage banner to visitors from US and Canada.
Feedback
It is our goal at ViralSweep to create the absolute best product for our customers. In order to make that happen, we always request feedback that will help us improve our service.
We asked Michael if he would recommend ViralSweep to other businesses. He said, "Yes. We liked the simple interface, good pricing, and great support. It is a good solution for small and medium-sized businesses that want to make use of social media to promote their brand or products. You are getting a quality product, not some half-baked software, for a good deal."
Every company has milestones, and ViralSweep is a tool that can be used to help reach those milestones.
When asked how ViralSweep could help Bluelounge reach their next milestone, Michael responded:  "ViralSweep can encourage engagement on social media and help to attract traffic to our website and social profiles. From there, potential customers can turn into real customers, or we can get more shares to reach an even wider market."