Today we're releasing an integration with Facebook Lead Ads.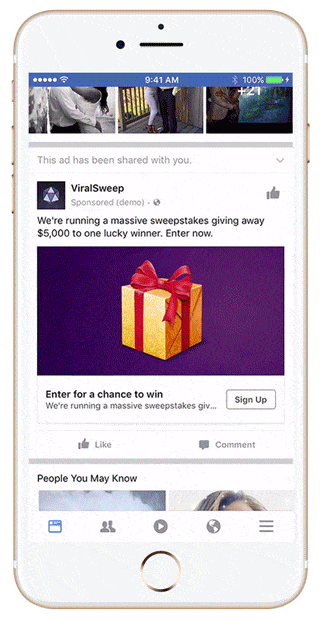 Need information quickly?
If you don't know how Facebook Lead Ads work, they allow you to run ads on Facebook or Instagram and collect user information like name, email address, zip code, phone, etc.
Facebook already has the user information, so the Lead Ad forms pre-fill the data. In just two taps, you can collect the same exact user information that you would with standard click-through ads.
The best part is that the user never has to leave Facebook or fill in a form to give you their information.

ViralSweep and Facebook Lead Ads
When it comes to collecting leads, the simplicity of Facebook Lead Ads reduces the visitor's cognitive load, which removes friction from the process of filling in a form.
Connecting ViralSweep to your Facebook Page allows you to collect leads from any Lead Ad campaign and send those leads right into ViralSweep.
Typically, when you build a sweepstakes through ViralSweep and market it to your target audience, you'd drive all traffic to the sweepstakes entry form.
Often, this includes using a normal Facebook ad, where you link the ad to a landing page for your sweepstakes.
Our Facebook Lead Ads integration allows users to enter your sweepstakes right from the Facebook ad, without needing to load a website or fill in a form.
Example of How a Facebook Lead Ad Works
A user sees your Lead Ad in their news feed and taps 'Sign Up'.
The ad pre-fills the name and email address fields, so they tap 'Submit' and…
That's it!
Just two taps and they enter your sweepstakes, without leaving Facebook.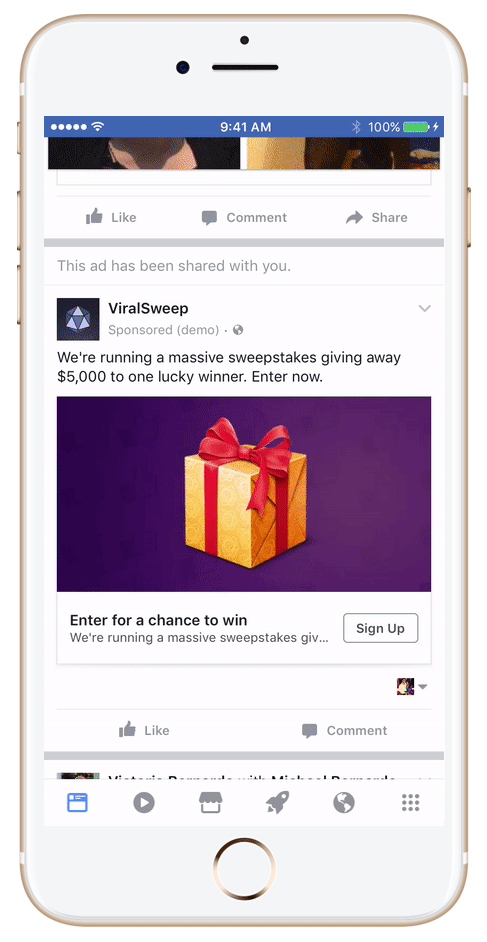 Main takeaway: users never have to leave Facebook to join your sweepstakes.
If you are asking for basic information like Name, Email Address, Zip Code, Phone, or Birth Date, Facebook already has that information. The Lead Ad will automatically fill it in.
Adding custom fields to your Facebook Lead Ad form means the user will need to fill out some additional information.
The Lead Ads integration builds on top of your regular ViralSweep promotion, so you can run your sweepstakes on your website and include leads from Facebook.
We pass all leads from Facebook to your ViralSweep campaign, and we even attribute that the lead came from your Lead Ad (including the name of the Lead Form) so you can track everything.
Example of a Normal Click-Through Ad
A traditional Facebook ad linking to your sweepstakes takes the user to a landing page where they need to manually fill in the form.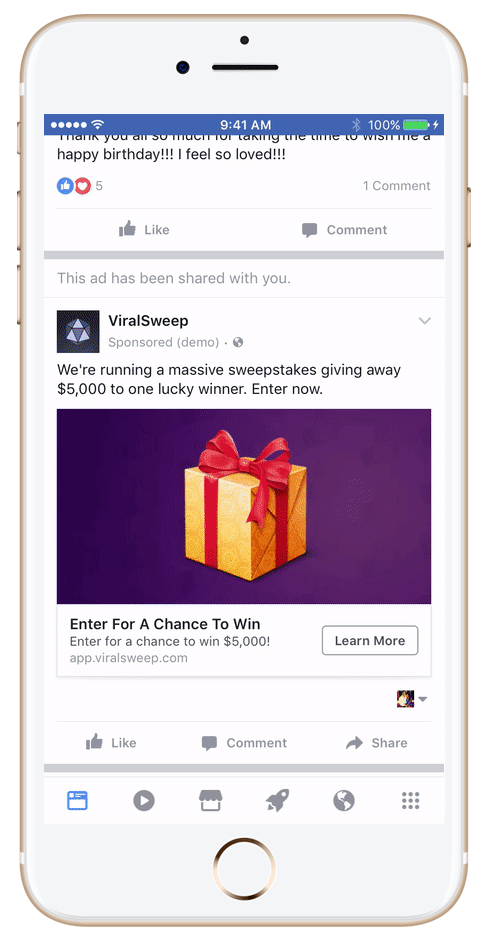 Main takeaway: users are sent away from their Facebook feed.
Notice the difference?
The user is taken away from their Facebook feed.
They have to wait for the page the load.
No information is pre-filled because they are no longer on Facebook.
It takes much, much longer for the user to fill in their information.
These and many other variables can prevent the ad from converting well.
Viralsweep Passes Data From Facebook Lead Ads to Your Email Service Provider
ViralSweep directly integrates with 22+ email service providers (and hundreds more through our Zapier integration), so we pass information from your Lead Ads into your email service too.
For example: if you connect your ViralSweep campaign to Mailchimp, and someone enters via a Facebook Lead Ad, the user's information follows this flow: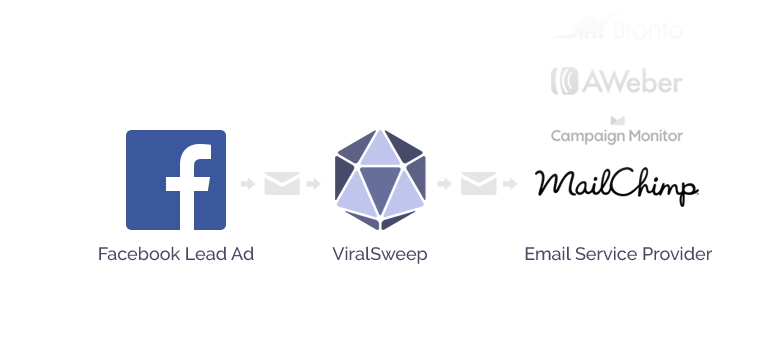 Integrating Facebook Lead Ads with ViralSweep means…
You can send leads directly to ViralSweep and your email list at the same time to automate your marketing.
You can save time and avoid exporting CSV files of leads from Facebook.
Better yet, you can get your Facebook Lead Ads to go viral by combining Facebook Lead Ads with a ViralSweep sweepstakes.
Also Read: Facebook Integration
Leveraging Facebook Lead Ads for Viral Growth
Anyone who enters your sweepstakes through your Facebook Lead Ad is added as an entrant within ViralSweep, but Facebook Lead Ads only allow you to direct leads to a static URL after collecting their information.
This means we cannot recognize people you link to your sweepstakes page after completing the ad. They will need fill in their information again on the page you linked them to in order for them to access any bonus entry options.
Facebook Lead Ads do not allow for dynamic URLs after someone completes a Lead Ad, which would recognize when a user has entered and forward them to the post-entry page where they can earn bonus entries.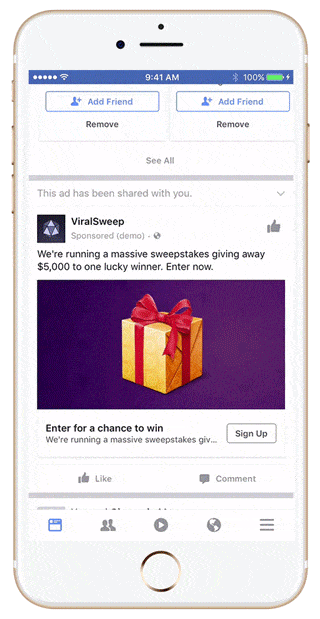 Main takeaway: we cannot recognize the entry when linking to the sweepstakes from the ad.
Viralsweep Creates a Way Around This Technical Limitation
A core feature of Viralsweep is our email notification feature that allows you to email entrants as soon as they enter your sweepstakes.
You can send an email containing any content that you want, which is sent directly from your own email address.
This notification lets you provide a confirmation email to the entrant that their entry was successfully received. Not only this, but we allow you to pull user information into the email, which makes it much more powerful.
You can include the entrants' name, their referral URL (to share with others for more bonus entries), the end date of the sweepstakes, and more.
Leads From Facebook Can Earn Bonus Entries and Refer Their Friends
If you use email notifications in combination with your Facebook Lead Ads, an email will automatically be sent to someone when they complete your Lead Ad.
In the email, you can now include a new parameter we call [AUTO_LOGIN_URL], which will provide the user with a smart link.
This link automatically takes them to the post-entry page of the sweepstakes, and it will work for any entrant, regardless of which device they enter with.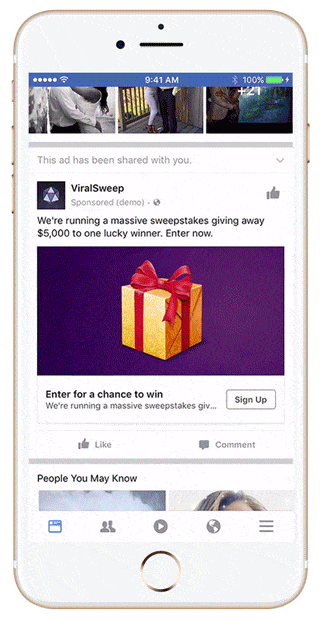 Main takeaway: leads from Facebook can now earn bonus entries and refer friends.
Normally if a user enters your sweepstakes from one device, then returns to the page a few days later on the same device, we remember the user and immediately direct them to the post-entry page.
However, if the user returns on a new device, they will have to fill in the form again. Once they fill in the form, we recognize their previous entry information and show them the post-entry page.
Using the email notification feature can drastically reduce your Facebook Lead Ads CPA (Cost Per Acquisition). This encourages a converted lead to refer friends using ViralSweep's share and refer actions.
Here is an example template you can use with our email notification feature:
Hi [ENTRY_NAME]!
Thanks for entering our sweepstakes, your entry is now confirmed.

Want to increase your chances of winning? Click this link and complete some bonus actions: [AUTO_LOGIN_URL].

If you want to share this campaign with your friends, this is your unique referral link: [REFER_URL].

For every friend that enters the sweepstakes through this link, you will earn +1 additional entry.

This sweepstakes will end on [END_DATE].

Good luck!
How to Integrate Facebook Lead Ads With Viralsweep?
Create as many Facebook Lead Ads as you want.
Use the Facebook Lead Ads integration in ViralSweep to connect to your Facebook Page.
Choose the Lead Ad(s) you want to integrate with.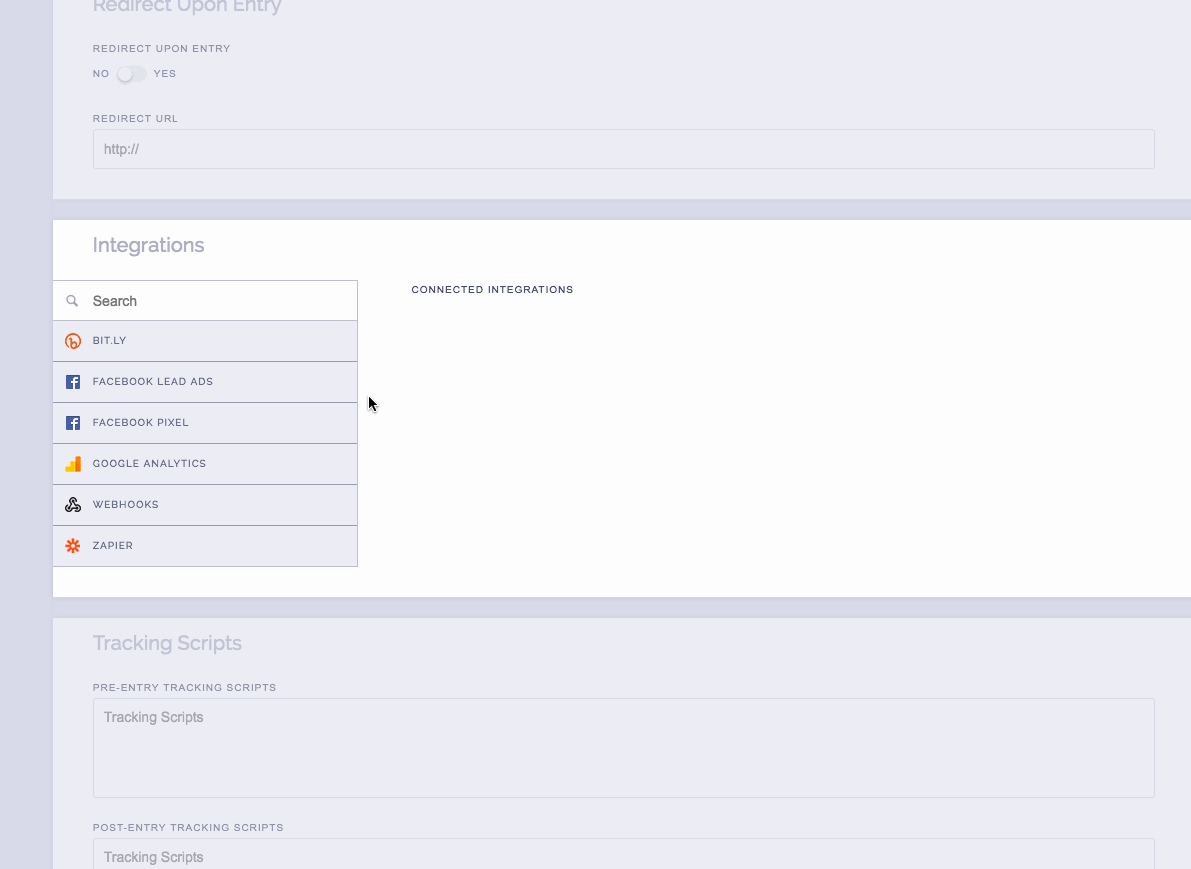 To get more details on this integration (including the setup process) see our Facebook Lead Ads documentation.
What Are Some of the Benefits to Using the Lead Ads Integration?
You can now run Lead Ads on Facebook or Instagram to promote your sweepstakes and funnel ad data right into your ViralSweep campaign.
Connecting an email service to your ViralSweep campaign (like Mailchimp) automatically passes the data coming from a Facebook Lead Ad to your connected email list.
No need to manually export CSV files from Facebook.
If you use our email notifications feature, our system sends an email to leads containing a referral link to boost the virality of your Lead Ad.
In addition, we provide entrants with a smart link that takes them to the post-entry page of the sweepstakes and allows them to earn additional entries for completing social actions.
Why Use Viralsweep Instead of Just Running Sweepstakes on Facebook With Lead Ads?
You could use just Lead Ads to run a sweepstakes directly on Facebook. But…
Facebook can't incentivize entrants with bonus entries.
There is no referral function built into Lead Ads.
Facebook can't send emails to entrants.
You can't market a Facebook Lead Ad to collect information from other traffic sources like you would with a landing page.
Facebook can't even draw winners.
We built ViralSweep specifically to provide these core functions.
Promoting a sweepstakes through Facebook Lead Ads brings extra value by utilizing ViralSweep's referral system to encourage leads to refer friends. This will lower the average cost per acquisition for your campaign.
Imagine getting multiple leads for the same price as one!
What Data Will Pass From the Lead Ad to Viralsweep?
At the moment, ViralSweep can pass data from form fields already supported within our system. We cannot accept data from custom fields in your Facebook Lead Ad.
The following fields will pass through to ViralSweep:
Name*
First Name
Last Name
Email
Phone
Zip Code
State
Country
Birth date [MM/DD/YYYY]
* The full name field will pass the entire name into the first name field in ViralSweep, the last name field will be left blank.
Any time you run a sweepstakes, we suggest keeping it simple by requesting nothing more than Name and Email Address in order to make the entry process quick and easy.
We're looking forward to seeing our customers use the Facebook Lead Ads integration, and are excited to see what type of ads you come up with!