This is the story of how we built a viral doomsday marketing campaign in 7 fast-paced hours to market our newly launched sweepstakes management tool, ViralSweep.
The Beginning of the End (Of the World)
The day after our last quality lead politely declined to write about ViralSweep, I met a friend for dinner and was discussing how our private testing was promising, but we didn't have any earth-shattering technology or amazing figures to share; and how every writer systematically said, "sorry, but not at this time."
Almost on cue, he replied with a reference to the end-of-time conspiracy:
"Why not do something fun for the 12-21-12 "apocalypse"? You can give away a survival kit."
My mind was immediately abuzz with ideas as I wrapped up our conversation and set a record time for the return trip home. It was already 9:00 pm, and Giancarlo was an hour ahead on the East Coast.
Before even turning on the lights, I opened my laptop and called Giancarlo on Skype. "Get this… a sweepstake poking fun at the end-of-the-world Mayan calendar conspiracies, giving away a survival kit or something funny to one lucky survivor."
Before he finished replying with an emphatic "YES," we were both pulling up Instant Domain Search to bounce name ideas around, almost immediately finding doomsdaygiveaway.com and buying it.
Time Distribution For The Campaign
10:00pm – 12:00am EST
The positioning of our campaign was massively important to us. We wanted to run the campaign just like a ViralSweep customer might, so brands viewing the giveaway could see how it would fit into their marketing strategy and produce relatable data for our own future case study.
Before starting, we decided it had to:
Demonstrate ViralSweep from a consumer perspective
Generate some B2B leads
Be fun for us and for visitors
After deciding on a budget of $500, we got to work. To plan the survival kit, we searched through previous AnyLuckyDay partners and through the 'outdoor' section of Uncrate.
We wanted to select 12 products from fresh, high-quality brands with high leverage—brands with heavy social media activity, great audience engagement, and an aptitude for fun ideas.
Since we were confident several brands would donate products, we raised the initial budget, anticipating the end cost to land at about $500—giving us room to buy some nicer products. Two hours down.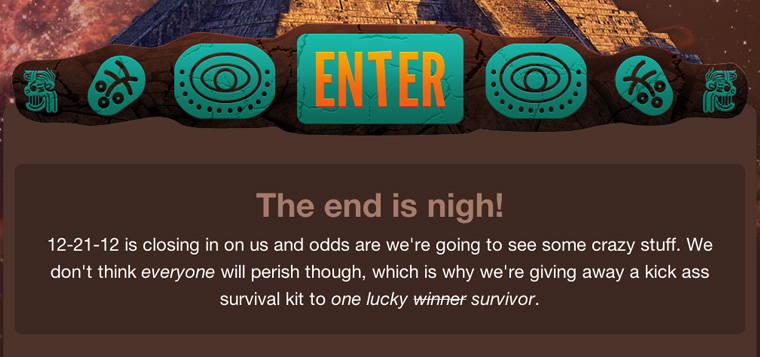 12:00am – 4:00am EST
The next four hours were spent doing technical and busy work. I designed and built the landing page, finding some amazing Creative Commons photos from Flickr to use in the background and interface.
I wanted the design to have an over-the-top fiery and mystical aesthetic look to it with a heavy Mayan influence. The site is responsive, thanks to Zurb's Foundation CSS framework.
In that time, Giancarlo valiantly handled the administrivia behind setting up social media profiles, setting up the domain and server, documenting the financials, and creating the giveaway on ViralSweep.
Thinking ahead, he also arranged introduction emails via Tout to the brands we decided to purchase from, prompting them for a donation and to help co-promote the giveaway.
He also wrote our press release and contacted giveaway directories to list our doomsday marketing campaign. Six hours down.
4:00am – 5:00am EST
We spent the last hour doing a lot of quality assurance: combing over the website, testing and tweaking the experience for mobile visitors, compressing image file sizes, and editing the copy and marketing materials.
By 5:00 am EST, the campaign was live, our emails and marketing materials were in the appropriate pipeline, and we were both exhausted. Seven hours down.
As the planets align
The Doomsday Giveaway is still active through 12-21-12 at 11:59 P.M. and currently converting at a high rate (67.87% of visitors to the giveaway have entered). We want to avoid prematurely displaying results (look for a post on that soon), but we stumbled across a few key insights:
Learn to make and agree on decisions quickly. Giancarlo and I are very decisive as partners to begin with, but we found it invaluable to have a set of rules to base our decisions on. This helped us maintain and build momentum as the hours got later.
Shares don't necessarily have to be incentivized. The social cues are strong enough that many visitors to a site will share if you ask them to. Make it easy by having an obvious call to action.
Our messaging could be stronger by articulating the value of each product better and educating the visitor about the doomsday conspiracies to highlight the ridiculousness of the situation and the tongue-in-cheek nature of the giveaway.
We would love to hear the marketing stunts or hacks you have pulled off with great success in the comments below.