Today we release our first version of ViralSweep into the wild—something that's been in the works for over 6 months.
We're very proud of what we've created and have so much we want to accomplish with ViralSweep in the coming months and years.
Before I elaborate on what ViralSweep is, let's take a look into the past to see what makes us uniquely qualified to create the product we're offering today.

Background
Before co-founding ViralSweep with my long-time friend Steven Kovar, I started a blog called AnyLuckyDay in 2009.
The initial concept behind AnyLuckyDay was to contact retail companies and product makers and ask them if I could review their products as well as give away one or two on my blog.
To my surprise, most companies were more than happy to send me free products in exchange for a review and giveaway.
After 7 months, I had given away over 75 products and built up quite a nice following, but I started to lose interest in what I was doing.
I was a broke college student searching for a way to build my blog into a real business.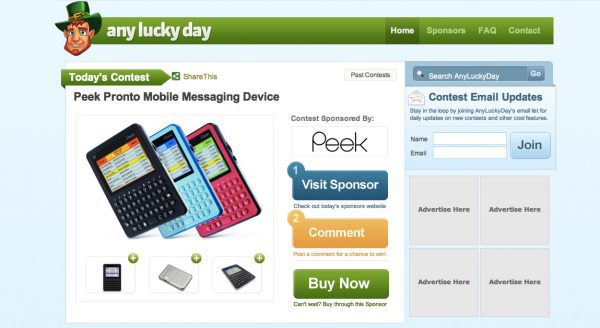 In November of 2009, I was struck with the idea of monetizing the blog, turning it into an actual website that offered a giveaway service—allowing me to get paid for what I was already doing.
The audience was already there; now, I just needed to convince companies that it would be worth the cost of paying for a giveaway service.
With a lot of determination, I had over 365 paying customers by December 2010.
Now in September of 2012, as a veteran in the giveaway and sweepstakes space, I've worked with nearly 1,000 different companies through AnyLuckyDay.
I couldn't have achieved this without the help of Steven, who linked up with me in July 2011 to improve AnyLuckyDay as a product and brand.
Steven is a badass designer who has a great business mind and knows how to take a product to the next level. Our goal was to optimize our service to provide stronger, more tangible results to our partners.
Our latest version of AnyLuckyDay, which we launched on January 1, 2012, has received praise from nearly every company we've partnered with this year.
Let me reiterate that for emphasis: our obsession with delivering a top-quality service has forged friendships with nearly every customer we've had this year. We're exceptionally proud of this.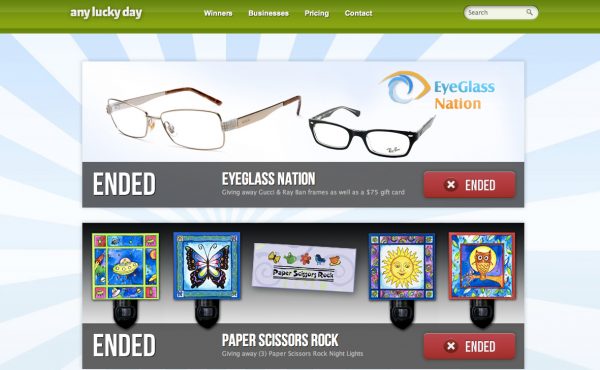 By tweaking how our giveaways operate, we discovered how to provide results beyond our customers' expectations.
What we found was that aiding our partners in building their email lists in conjunction with growing their social media presence hit a sweet spot which kept them coming back for more.
However, we felt the main drawback was that every giveaway had to be hosted on the AnyLuckyDay website.
What Is ViralSweep?
So what's the deal with ViralSweep? As it turns out, AnyLuckyDay had a monumental effect on how we think about how a giveaway should be run.
As a result, ViralSweep does one thing and one thing only: run a giveaway on your website.
By giveaway, we mean a sweepstakes, where winners are chosen at random.
Everything we've learned from AnyLuckyDay we built into a product that any company can use for themselves, with their own branding, and on their own domain.
ViralSweep provides improved versions of all the tools we've built over the years, making it dead simple to get a giveaway live on your own website in minutes.
Our record time from registration to having a giveaway live is 3 minutes.
Why ViralSweep?
So why build this; what's our motivation? There are a handful of large full-service tools that let you run promotions all over Facebook and Twitter—one of them even sold for over $350 million to Google recently.
While we're super excited about the success of these companies, Steven and I feel like they've taken a shotgun approach to social media marketing by offering an overabundance of tools and features that can do a lot of things with marginal success.
This "full-service" approach isn't our goal, and we'll never add a feature for the sake of expanding our offerings.
What we promise to provide is elegant simplicity; a product that is easier to use, easier to understand, and that provides more meaningful and actionable data.
We have a laser focus, and our eyes are set on a mission 5 years in the making: to help you run the best giveaway possible on your website.
We'll be honest with you; if you're looking to run a photo contest, essay contest, or video contest… we can't help you, and we never will.
Providing giveaway tools is the only thing we'll ever do because that's what we're the best at.

So why do we only help you run giveaways on your website? Why not run them through Facebook, Twitter, Pinterest, Google+, or any other social network?
It's simple: you don't own Facebook; you don't own Twitter; nor do you own any other social media outlet.
Odds are you don't directly sell your products or services on these social media sites, and your customers aren't buying from you on social media websites.
What you do own is your own website. You sell your products or services on your own website, and your customers buy from you on your own website.
Catching on here? Your website should be the main focus when running a giveaway, and you should be utilizing social media to bring people to your website, NOT the other way around.
We're beyond excited to release ViralSweep to the public. We're still actively making tweaks and small changes to build a better product, so all feedback is deeply appreciated.
Thank you so much for taking the time to take in our story!
— Giancarlo & Steven
Co-Founders, ViralSweep