Disclaimer: This is not intended to be legal advice, but is provided for your general information. To understand the full impact of the GDPR, please consult with a legal professional.
In 2016, the European Union passed a set of rules called The General Data Protection Regulation (GDPR).
GDPR will take effect on May 25, 2018.
These regulations will impact ViralSweep customers and entrants to their campaigns. We have provided an overview on how we are working to become fully compliant before the May 25, 2018 deadline, and how your company can work towards becoming compliant as well.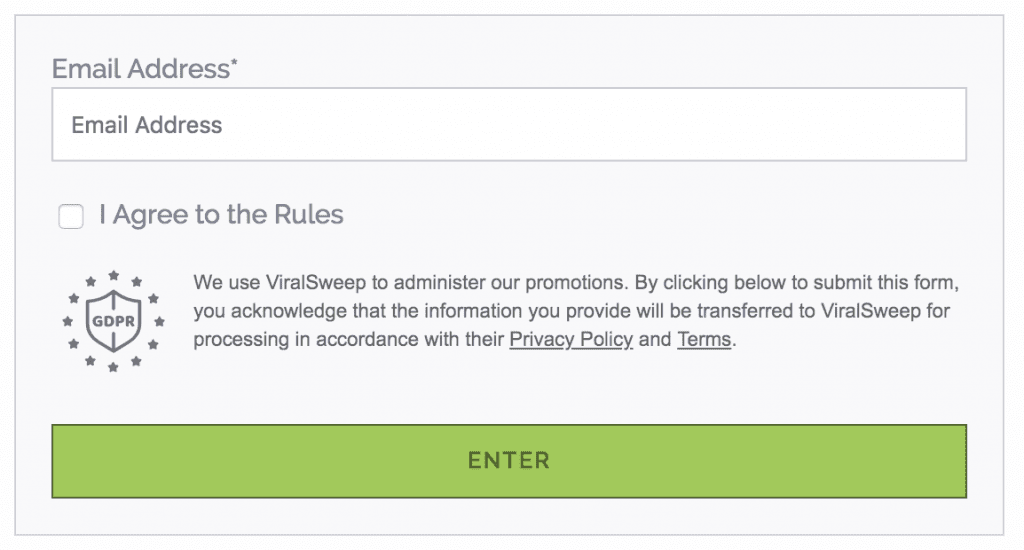 Which 3rd party services does ViralSweep integrate with, and are they GDPR compliant?
ViralSweep integrates with a wide variety of 3rd party services, including shopping carts, payment services, email marketing services, and marketing tools. Below we've provided a list of our current integrations, links to their websites discussing GDPR, as well as what data may be passed to them.
Please note: This list is only concerning direct integrations that we currently support. We will update this list as we get more information from each service.
Last updated May 23, 2018
FAQ
1) What emails will ViralSweep send to my users?
ViralSweep will never contact your users unless you have configured our email notifications feature, or you have enabled automated emails to be sent to alert users to prizes they have won via our Instant Win and Referral apps.
These emails are never sent from ViralSweep, but rather, a 3rd party transactional email service called SendGrid. We have confirmed SendGrid is working to be GDPR compliant and is a member of Privacy Shield.
In addition, these emails are sent on your behalf, and use your company name and email address that you provide to us. In order for us to dispatch the email to the user on your behalf, the user would have had to enter your promotion, so we are not storing any data for this user other than what they provided when they entered the promotion. The only information that is passed to SendGrid is the user email address and name, which is used only to dispatch the email.
2) Is "double opt-in" mandatory under the GDPR? What is and is not allowed with checkboxes?
No, "double-opt-in" is not required for consent under GDPR, however, some countries like Germany do require it. In a "double-opt-in" process, the user provides opt-in consent and is then sent an email to confirm their consent before any marketing can be sent to them.
With GDPR, it simply states:
So in short, you must have a checkbox that…
Cannot be pre-ticked
Cannot contain consent for multiple activities (each activity the user consents to must have a separate checkbox)
Must be clear and concise on what the user is providing consent for, and what you are going to use their data for.
3) Are referral features still allowed under GDPR?
Yes and no.
Our Refer Friends feature is acceptable under GDPR, because users are manually sharing a referral link with their friends. We never collect the information of a friend the campaign is shared with unless that friend enters the campaign.
Our Refer Friends via Email feature is not acceptable under GDPR, because users are providing us with their friends information to send an email on their behalf in order to invite that friend to the campaign. Even though ViralSweep does not collect or store this information (it is solely used to dispatch an email inviting the friend to the campaign) it is not compliant because the friend did not provide consent to receive that email from us.
This feature will contain a notice of non-compliance for customers that add this to their campaigns if they are collecting data from users in the EU.
GDPR is a good thing.
In the end, we see GDPR as a good thing for the world. While it puts more restrictions on the usage of personal data and how it can be collected, it is a great foundation for companies to start building stronger relationships with their customers.
At ViralSweep, we encourage our customers to build a high quality, engaged email list. The new GDPR rules systematically align with our interests in helping brands grow an honest business with technology that helps them accomplish this.