Giveaways are a great way to get exposure for your brand.
They can help you get more social media followers, build email subscribers, and generate leads.
Small Business Trends reported in 2015 that contests had a twice the conversion rate than traditional lead gen forms.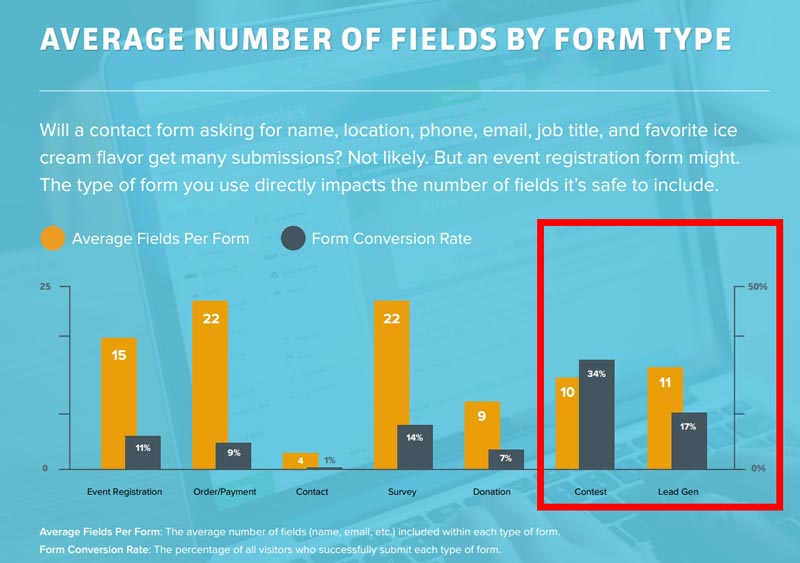 Let's take a look at what a giveaway generator is, what makes giveaways successful, and some of the best ways to run giveaways.
What Exactly Is A Giveaway Generator?
A giveaway generator is a tool that helps you select a winner for your contest or giveaway.
The most common type is a random name picker or random number generator for giveaways, which selects a random winner from a list.
Most giveaway generators work by randomly selecting a winner from all of the entries with equal chance.
Some generators also allow you to adjust the odds so that certain entrants have a higher chance of winning.
For example, you could give entrants who share your contest on social media platforms a higher chance of winning.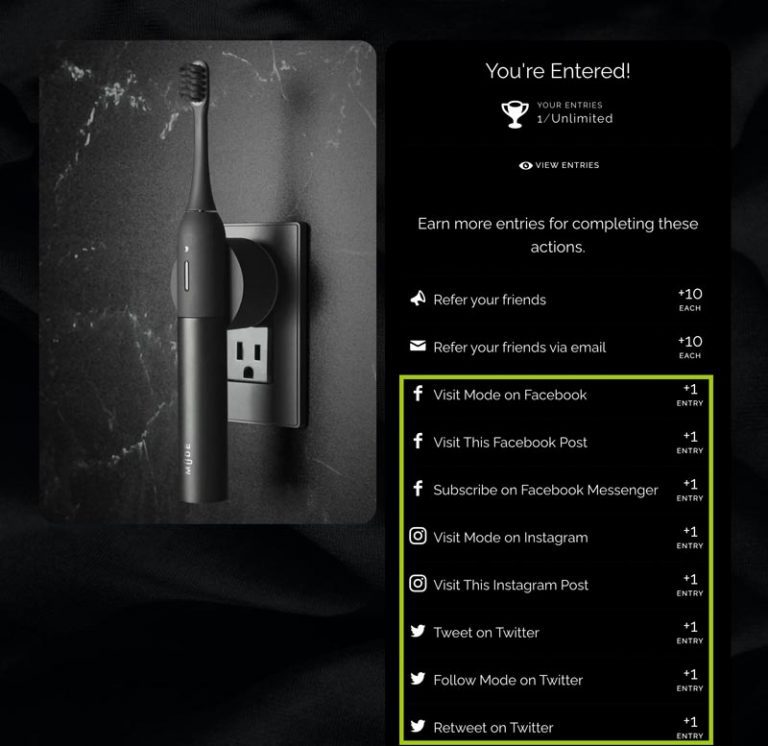 Why Are Giveaways So Successful?
Well, humans are prone to pursuing instant gratification and love to feel like they have a chance of winning.
And Giveaways are successful because they offer the opportunity for individuals to win a prize, often no cost to them.
This creates excitement and motivates people to participate and share your promotion with people within their network, again to create that viral lift that you're looking for
Additionally, giveaways are used as a marketing tool to increase brand awareness, generate leads, and build customer loyalty.
Benefits Of Using Online Giveaway Tools
You always have the option to track your giveaways manually, but it can be hard to keep everything orderly and transparent.
Also, if you're running a giveaway manually, you typically limit the number of ways someone can enter because the more complex the giveaway, the more difficult it is to keep entries organized and counted.
Tools like ViralSweep can be used as a random generator for giveaway that provides a range of benefits like:
1. Capture Valuable Data
First, your giveaway can have an email capture form so that you can collect valuable data and use that data to market to the entrants after the giveaway is over with drip email campaigns or retargeting ads.
And that's where the real return on investment is!
2. Drive Website Traffic
Second, online tools can help bring more users to your website by providing an incentive to visit to check on the results and see who won the prize.
This is helpful if you want to increase website traffic and potentially make additional sales
3. Incentivize Users to Share on Social Media
Third, giveaway tools like ViralSweep reward users with more entries when they complete social actions, such as following your social media accounts or sharing your giveaway post, both of which are great ways to increase your number of followers and boost engagement.
4. Easy Giveaway Winner Selection
Lastly, online giveaway generator apps typically have a built-in winner selection tool that increases transparency and makes your entrants feel confident that they have a fair chance of winning.
With ViralSweep, we even have a live winner selection tool that you can use for a live stream or a video to post to your social media accounts later on.
Benefits of Using ViralSweep In Your Giveaway Strategy
ViralSweep is a giveaway generator that helps brands and companies run giveaway campaigns. It makes the giveaway process simple and helps brands reach more people and increase their online visibility.
A Free Giveaway Picker
If you're running a very basic giveaway with only one way to enter, then this tool may be right for you.
ViralSweep offers an easy-to-use, free random name picker app to pick winners for your sweepstakes, giveaways, and raffles.
Load up a list of names (either type them in or upload a CSV), set the desired number of winners, and hit Pick Winners.
A list of the winners is sent to your email and you can announce the winners any way you choose.
Picking Winners for a Giveaway or Sweepstakes (Premium Tool)
ViralSweep's Sweepstakes Giveaway app is a beneficial tool that can help you collect giveaway entries from forms, social media profile comments, hashtags, and other social actions.
Then you can use the transparent winner selection tool to choose single or multiple winners.
It's the most popular and trusted app for choosing winners for a giveaway.
Entries in Return for Spending
ViralSweep's Purchases app is a neat plug-in supported by popular ecommerce platforms like Shopify and BigCommerce.
In return for purchases, shoppers can receive entries to contests or sweepstakes, or vouchers for future purchases.
For example, spend $1 on the store and you get one entry. Spend $20 and get 20 entries.
Run Social Media Contests
The Contest app from ViralSweep is an intuitive competition platform for user-generated content (UGC).
With the contest app, you can set up a beautiful gallery of photos or videos in minutes for visitors to vote on.
Entrants can even link media from their favorite social media platforms and video hosting sites which means you can gather lots of entries!
Does ViralSweep Store My Data?
ViralSweep takes data privacy seriously.
We are GDPR compliant, adhering to the strictest data protection rules in the world.
Our clients can be assured that their giveaway entrants' data is safe and will not be shared with anyone outside of their organization.
[More info: ViralSweep's privacy policy]
Four Ways to Announce Giveaway Results
There are a few options for announcing the winners of your giveaway and you may want to announce winners in multiple ways so people can know exactly who won and how things ended up.
This also allows you to engage with your audience on multiple platforms.
Announce the winner in the giveaway widget
Entrants will already be using the giveaway widget – something like Gleam, Rafflecopter, or KingSumo – to rack up entries and improve their chances of winning.
That existing traffic makes it an excellent place to announce the winner.
Announce the winner on social media
Typically when you announce the start of a giveaway, you promote it on social media and even give people a way to enter the promotion on that post, sometimes by tagging two friends.
So announcing the winner on that original post or a new post is a great way to generate traffic and engagement for your giveaway.
You'll reach a larger audience and get more people interested in your brand and – hopefully – participating in future giveaways.
Giveaway Pro Tip: On the original post where you announce your giveaway, you typically want to edit the copy and put "Giveaway Ended" or "Giveaway Closed" at the top, and you can even name the winner.
Email the giveaway winner
Emailing the winner of your giveaway is a nice, personal touch.
Maybe you want to congratulate them on their success or ask them to provide shipping information for their prize.
It also provides a way for you to answer any questions the winner may have.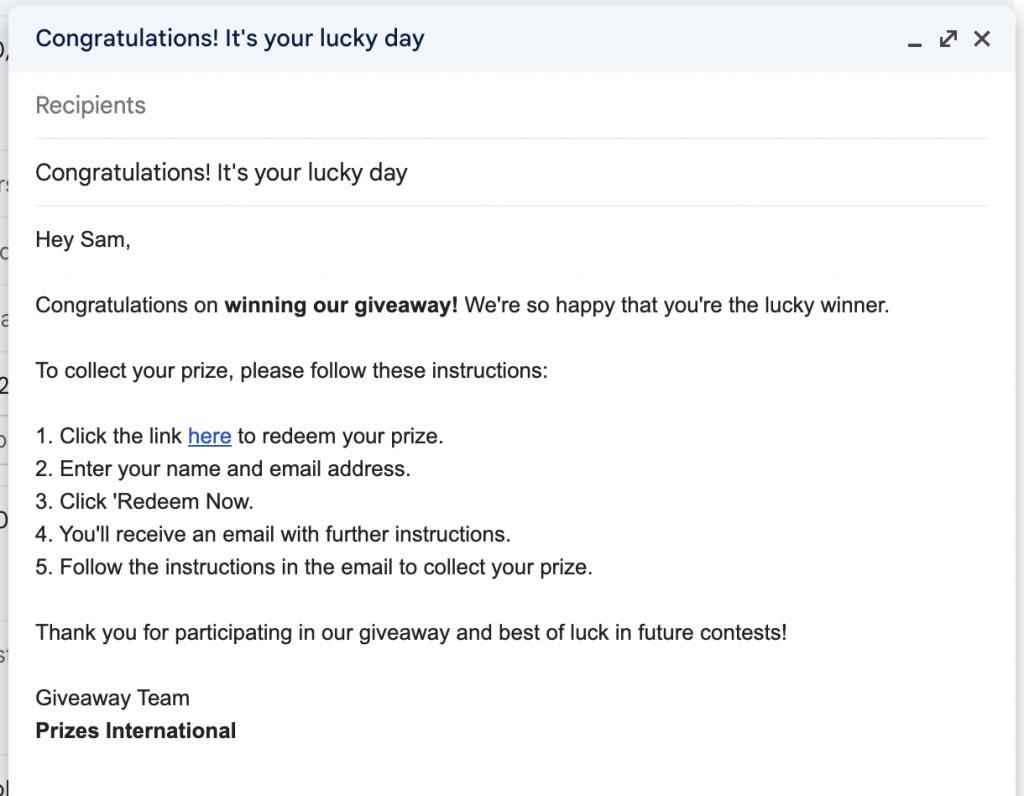 Post on your website about the giveaway winner
Letting entrants know the winner will be posted on your website or blog helps to build excitement.
It'll help increase traffic to your website as people check to see if they've won.
Four Tips To Create A Successful Giveaway
Successful giveaways include a variety of communication strategies.
Marketers who proactively plan projects and campaigns are 356% more likely to report success. Keep these steps in mind to create a successful giveaway campaign:
Pick a giveaway tool: Some of the best ones are ViralSweep, and Rafflecopter.
Set up your giveaway rules: Who can enter? What is the prize? How will the winner be chosen? How long will the giveaway run? (See Rules Template)
Promote your giveaway: Spread word about it on social media, your website, and through email marketing.
Monitor your giveaway: Keep an eye on entries and winners to ensure everything is running smoothly.
Two Best Giveaway Tools For Your Website
Let's take a look at two examples of the best giveaway online tools for your website.
Gleam
Gleam is a powerful tool for creating contests and giveaways. It's got social media integrations, various entry methods, and prize management. You've probably seen a Gleam competition form embedded somewhere before.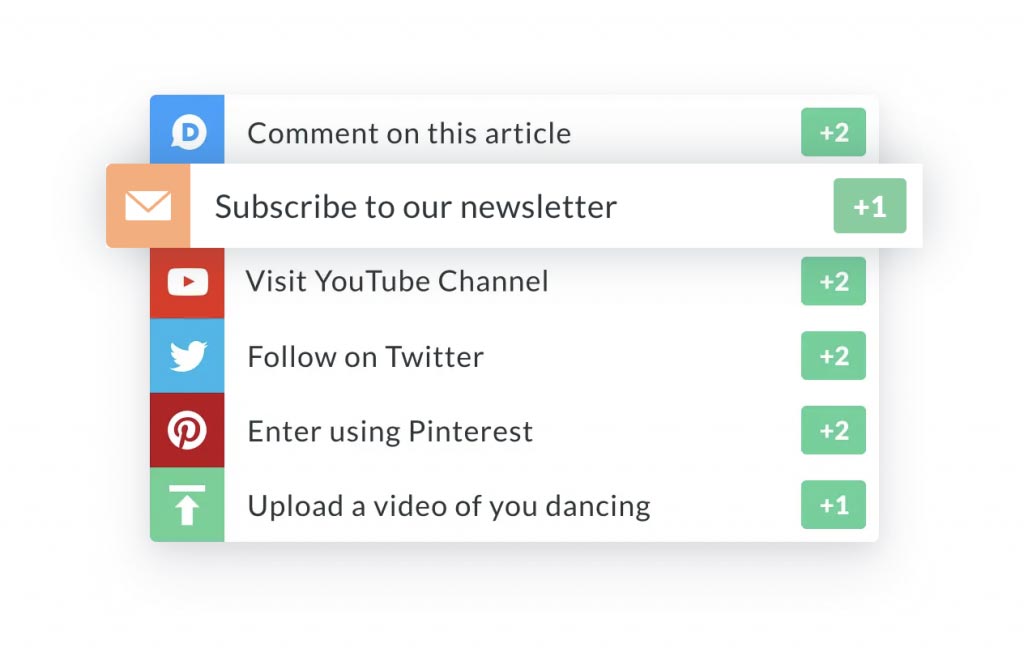 Rafflecopter
Rafflecopter is a tool that allows you to easily run online giveaways and prize drawings.
It's simple – just create a giveaway, add your prize, and then invite people to enter by following your social media account or tweeting about the contest.
Rafflecopter will automatically track entries and notify the winner when the contest ends.
Two Best Giveaway Tools for Social Media
Running giveaways on social media is a great way to grow your audience. But it can be a lot of work. That's where giveaway generators come in.
ShortStack
Shortstack is a giveaway generator app that allows you to create and manage giveaways directly on Instagram. You can require entrants to follow you, comment or leave likes on your post, or tag friends in order to enter. You can also require entrants to repost your giveaway to qualify for additional entries.
Vyper
Vyper is a great tool for social media giveaways – and Instagram giveaways in particular. Collect entries with Vyper by asking people to leave a comment or post. It keeps track of entrants so you can contact the contest winner easily.