Everyone loves free stuff.
The chance to win free stuff is what makes social media giveaways so powerful. In just a few taps, your followers can enter to win a prize; and those taps often translate to new followers, higher engagement, widespread brand awareness, and increased conversions for your business.
But, without clear and concise rules, your social media contest could backfire. You risk angering customers who are confused about their eligibility.
You also risk fines and penalties from social media platforms and state and federal authorities if your rules aren't compliant.
Ultimately, it's worth taking the time and effort to ensure your giveaway rules are well-structured and easy to read.
This guide will break down the reasons why it's important to have official rules for your giveaway, as well as the steps to write those rules and some platform-specific guidelines.
Make sure your next social media contest goes viral for giving away free stuff — and not for making people mad.
Why Do You Need Official Rules?
Official rules ensure that eligible entries are treated fairly and objectively. Official rules can prevent discrimination, cheating, and accusations that your giveaway is rigged.
Giveaway rules also provide guidelines for entrants to follow to be considered. Official giveaway rules should cover how long the giveaway will last, the prize, and the method you'll use to pick a winner.
This information is key for recruiting enough eligible entries from which to draw a winners list.
Official rules aren't just a good idea — they're also required. The federal government, as well as state and local governments, have specific rules to avoid fraud and abuse.
Social media platforms, too, have specific rules to protect their users and ensure companies aren't running scams or violating privacy laws.
[Read more: Sweepstakes Legal Checklist For Your Next Promotion]
Setting official rules also helps you define the type of giveaway you're going to run. Not all giveaways are the same; therefore, it's important to identify your social media promotion as either a sweepstakes, lottery, or contest.
Sweepstakes Vs. Contests Vs. Lotteries
Most of the time, when people say they want to run a contest, they usually do not realize that what they think of as a contest is actually considered a sweepstakes.
Contests, sweepstakes, and lotteries share many similarities, and differentiating between them is necessary if you want to avoid legal complications. As such, you need to include specific items in your official rules in order to differentiate the type of giveaway you are hosting to your target audience.

Contest
In a contest, your business will give away something to a winner who has to either pay an entry fee or expend significant effort (or meet specific criteria) to participate.
For instance, the participant has to tag friends in the comments section, submit user-generated content (UGC), or share a post with a specific hashtag. The winner is chosen by judging or voting. These are sometimes referred to as a "game of skill" or skill contests.
Sweepstake
In a sweepstake, your business will give something away to a winner who is picked at random. For example, entrants submit their email addresses to win a $100 gift card, and the winner's name is picked out of a hat in a random drawing.
Lottery
A lottery is a form of gambling that involves the drawing of numbers at random for a prize. Lotteries are subject to government regulation.
In the US, personal lotteries are prohibited. You must ensure that your giveaway does not cross any rules that would cause it to be considered a lottery or any other form of gambling.
[Read more: What Are Sweepstakes? Sweepstakes vs. Contests vs. Lotteries]
How to Create Giveaway Rules
As you plan your next giveaway, a key step in the process is creating giveaway rules. Your giveaway rules must cover both the terms of engagement (such as the prize, choosing a method of entry, etc.) as well as any terms required by law.
To create giveaway rules, start by setting forth the guidelines users must follow to participate. These guidelines should clearly state:
The entry period
Eligibility requirements
Prize details
Prize winner selection
Method for notifying the winner(s)
How to enter/participate
In addition to the logistical rules, you will need to state official rules in compliance with any state, local, federal, or platform-specific regulations. Check out our Sweepstakes Official Rules & Laws Template to get an idea of what this should include. Generally speaking, you'll need:
A "No Purchase Necessary" statement

Eligibility: Who is eligible to win, how to enter, and, if applicable, the maximum number of entries

Sponsorship: List your company name, a point of contact, and any other participating partners or brands, as well as their contact information

Agreement to Rules: Add a section that dictates that by entering the contest, participants agree to follow the rules set forth in your Official Rules

Prize: Clearly and thoroughly describe the prize. For instance, if the prize is $500, make sure you specify whether that is delivered in cash or as a gift card and if it's subject to any taxes. Note the retail value if you are offering a product or prize.

Selection: If you're running a contest, you'll have to share the method and criteria used to select a winner. If you will run a giveaway, share how the winner(s) will be randomly selected.
There are other regulations that you'll need to use depending on where you are hosting the giveaway. For instance, Facebook has specific rules for running a giveaway through its platform.
Likewise, running any promotion which may have participants from Europe requires you to post a privacy policy. Refer to our GDPR overview for more information.
Here's an example of a giveaway hosted by the account @savvygiveaways on Instagram.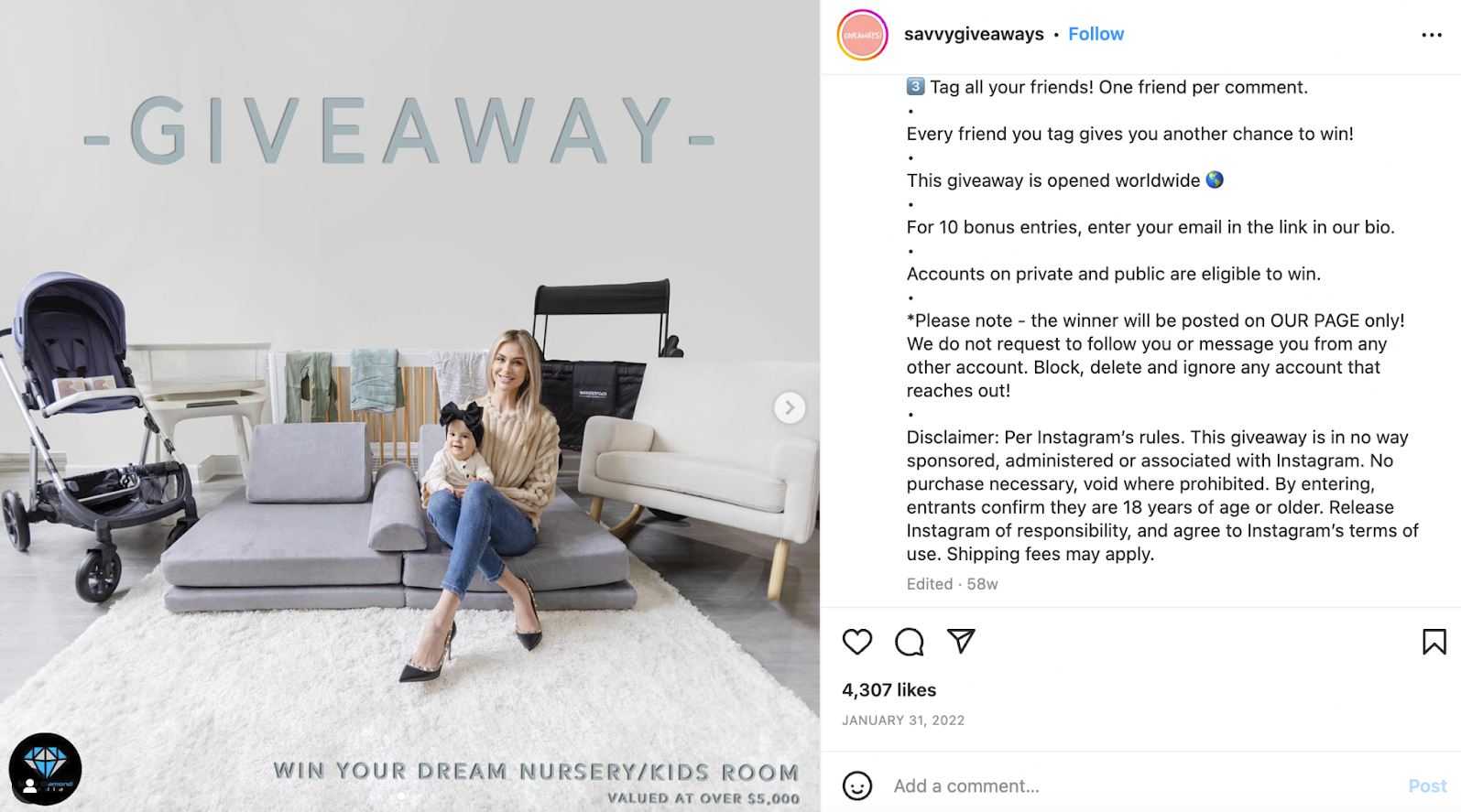 The terms and rules of this giveaway post read as follows:
♡ G I V E A W A Y ♡

We have teamed up with Lala Kent to give away this dream nursery & playroom valued at over $5,000! You can win EVERYTHING pictured above!! Swipe left for a full list of prizes! (Colors available for a boys or girls room.)

Entering takes just 15 seconds:

•

1️⃣ Like THIS picture.

•

2️⃣ Follow us and follow everyone we are following (the 40 accounts).

•

3️⃣ Tag all your friends! One friend per comment.

•

Every friend you tag gives you another chance to win!

•

This giveaway is opened worldwide 🌎

•

For 10 bonus entries, enter your email in the link in our bio.

•

Accounts on private and public are eligible to win.

•

*Please note – the winner will be posted on OUR PAGE only! We do not request to follow you or message you from any other account. Block, delete, and ignore any account that reaches out!

•

Disclaimer: Per Instagram's rules. This giveaway is in no way sponsored, administered, or associated with Instagram. No purchase necessary, void where prohibited. By entering, entrants confirm they are 18 years of age or older. Release Instagram of responsibility, and agree to Instagram's terms of use. Shipping fees may apply.

If applicable, make sure you advertise a specific hashtag someone must use to be considered and any other eligibility requirements (especially if someone's account must be public).
[Read More: Instagram Giveaway: The Ultimate How-To Guide]
Compliance with Laws and Regulations
The range of laws and regulations with which your giveaway must comply can be overwhelming. There are state laws, local laws, federal laws, privacy and data protection policies, and marketing and advertising rules to consider.
We strongly recommend consulting with a legal professional before you launch your next promotion.
Part of what makes running a giveaway so complicated is that there are many bodies regulating sweepstakes. For instance, the FTC governs endorsements, meaning if you pay someone to promote your sweepstakes, they will be subject to these FTC guidelines.
On a state-by-state basis, the rules change too. Some states have a prize value threshold making that the value of the prize for your sweepstakes can't exceed a certain amount.
In New York, when the total value of prizes is over $5,000, the company must register and bond the sweepstakes at least 30 days before the start of the giveaway.
In other states, there are rules dictating when a winner must claim their prize, the minimum years of age for participants, around the promotion of alcohol and tobacco, and even around the types of sweepstake prizes you can offer.
Even the United States Post Office has a set of rules concerning sweepstakes. The Deceptive Mail Prevention and Enforcement Act covers sweepstakes promotional mailings.
It requires that these mailings explicitly state that no purchase is necessary to enter a contest, as well as a disclaimer that a purchase does not improve your chances of winning, among other rules and requirements.
Promoting and Enforcing the Rules
Getting the rules right is just the first step. Next, you must make sure they are posted near and far and enforced proactively.
As you get closer to launching your promotion, your marketing strategy will likely include teaser posts and emails that build excitement among your target audience. Make sure you include promoting your official rules in the lead-up to launch.
Many merchants post their complete Official Rules on a landing page and then link to it from the entry form, email marketing, social media pages and posts, and any other promotional materials.
If you choose to go this route, make it very clear that these rules must be followed to be considered to win.
Giveaways that don't commit to fairness, transparency, and consistency in enforcing rules won't just violate regulations; they'll also destroy brand trust.
Take, for instance, the disastrous Pepsi contest "Dub the Dew." The company asked internet users to name Mountain Dew's new green-apple flavor. Unfortunately, it didn't correctly set filters to protect its audience from offensive content and spam.
"Entering the top 10 were names like 'Diabeetus,' 'Soda,' and 'Sierra Mist.' Eventually, one of the most ridiculously offensive names of all hit No. 1: 'Hitler did nothing wrong.' Mountain Dew owner PepsiCo was forced to pull the contest," reported Retail Dive.
Your giveaway rules are a key customer service activity. Promptly respond to all email inquiries and all questions and comments that you receive via Facebook, Twitter, and other social networks.
When you provide a high level of customer service, people will take notice, and they will tell others about your company.
Contest Rules Best Practices and Tips
As you write your contest rules, keep in mind the spirit of giveaways is meant to be a fun, positive experience for entrants. Ideally, your promotion should enforce this spirit by:
Being clear and concise
Being fair and consistent
Being compliant with all relevant laws and regulations
Being transparent and easy to understand
If you keep these best practices in mind, writing Official Rules should be relatively straightforward. Write the core rules that set forth things like winner selection, entry eligibility, and prize value.
From there, you can dive deeper into the rules that vary between the many social media platforms.
Keep in mind that when you run a promotion on social media, you don't own your Facebook, Twitter, or Pinterest page. It's easier to leverage social media by hosting the sweepstakes on your own site and driving traffic from your social profiles to your site.
Nevertheless, these platforms are great ways to solicit entrants. To help you get started, here are things to know on a high level to run a contest on Facebook. Instagram, YouTube, and Twitter.
Facebook Giveaway Rules
Facebook's giveaway rules are laid out in the brand's official terms and conditions of use. Here is the specific section covering promotions:
If you use your Page, group, or Event to announce or administer a promotion (a contest, giveaway, or sweepstakes), you must ensure that your promotion complies with applicable legal and regulatory requirements (ex: providing entrants a copy of the promotion's official rules, disclosing offer terms and eligibility requirements, and registering your promotion with the relevant authorities). You must also require participants to (a) fully release and hold Meta harmless from liability and (b) acknowledge that the promotion is in no way sponsored, endorsed, administered by, or associated with Meta. Your promotion must not require or incentivize participants to share, repost, tag others, or in any other way publicize your promotion. Note that Meta will not assist you in administering a promotion. Should you use our services to administer your promotion, you do so at your own risk.
To simplify, here are some actions that you are permitted and not permitted to ask users to take to participate in a giveaway on Facebook.
Your Facebook giveaway entry requirements can include asking a participant to:
Like a post
Comment on a post
Like comments on a post (i.e., vote by liking)
Post on a Page's timeline
Message a Page
But, you are not allowed to ask a participant to:
Share a post on your timeline
Tag their friends
Share a post on their friend's timeline.
Read more about Facebook giveaway rules here.
Instagram Giveaway Rules
Compared to Facebook, Instagram's promotion guidelines are relatively prescriptive. Here are Instagram's official contest rules:
If you use Instagram to communicate or administer a promotion (example: a contest or sweepstakes), you are responsible for the lawful operation of that promotion, including:

The official rules;
Offer terms and eligibility requirements (example: age and residency restrictions); and
Compliance with applicable rules and regulations governing the promotion and all prizes offered (example: registration and obtaining necessary regulatory approvals)

You must not inaccurately tag content or encourage users to inaccurately tag content (example: don't encourage people to tag themselves in photos if they aren't in the photo).
Promotions on Instagram must include the following:

A complete release of Instagram by each entrant or participant.
Acknowledgment that the promotion is in no way sponsored, endorsed or administered by, or associated with Instagram.

We will not assist you in the administration of your promotion and cannot advise you on whether consent is required for use of user content or on how to obtain any necessary consent.
You agree that if you use our service to administer your promotion, you do so at your own risk.
Instagram offers a range of features to promote your giveaway, including Instagram Stories, Reels, Posts, and Tags. Make sure you check out our in-depth Instagram Giveaway: The Ultimate How-To Guide for tips and best practices for hosting a giveaway for your Instagram followers.
YouTube Giveaway Rules
YouTube has an extensive list of rules and regulations that apply to giveaways. Make sure you read them carefully before launching your promotion. The full list can be found here: YouTube's contest policies and guidelines.
YouTube divides its initial rules into two sections. The first section covers general liability and copyright rules related to the use of YouTube's platform.
This includes items such as "Abide by YouTube's Privacy Policy, YouTube Community Guidelines, and Terms of Service." This means you should carefully review each of these policies before launching your contest.
The second section specifies rules more directly related to giveaway prize eligibility and entry requirements. For instance, it includes "You must award prizes as outlined in your rules, and you should conduct your contest within those rules."
In addition to these initial sections, YouTube has something called a Fake engagement policy that indicates you may not use a third-party app to request giveaway participants to subscribe, comment, like, or view your video.
YouTube's rules can get complicated quickly, so make sure you consult an expert before hosting a giveaway on the platform.
Twitter Giveaway Rules
Finally, Twitter's rules are relatively easy to understand, but you should check often to see if they've changed. In short, your rules on Twitter should:
Discourage the creation of multiple accounts
Discourage posting the same Tweet repeatedly
Ask people to mention you in their updates so you can see all the entries
Encourage the use of topics relevant to the contest
Follow the Twitter Rules and search best practices
Comply with applicable laws and regulations
Twitter's straightforward rules make it a relatively easy platform to use when promoting your giveaway. Learn more in our guide, How to Run a Viral Twitter Giveaway.
Check out this post if you want to learn how to run a Twitch Giveaway.
Run Your Next Giveaway With ViralSweep
There are many things to consider when setting up your next giveaway. First and foremost, make sure the giveaway is the right format for your promotion — and that you aren't planning to run a lottery (which is probably illegal) or contest instead.
Then, design giveaway rules that both give participants all the information they need and comply with all applicable regulations. There are many, many different stakeholders that could oversee your promotion.
You may need to consult with an expert to find out what local, state, national, and platform rules will apply to your giveaway.
A tool like ViralSweep can make the process of writing your official rules easy. ViralSweep offers a sweepstakes official rules template to get your sweepstakes up and running quickly.
And our platform will empower your team to administer your giveaway in accordance with the rules. From spam filters to random pickers and the ability to collect entries from social media, we can help make your next giveaway successful.
Learn more about the ViralSweep Giveaway App today!