The Best Viral Giveaway Service Platform

9

minutes
Reading Time:
7
minutes
As a business owner or marketer, you understand the importance of growth hacking and finding new ways to reach your target market. Online giveaways are an excellent way to do this, but with so many options available, it can be challenging to know which service platform to use.
Sweepstakes are one of the most popular types of online giveaways. They're easy to set up and can effectively drive traffic and engagement. However, they can also be tricky to manage if you don't have the right tools.
So, what should you use and how should you use them? This article will cover the basics of online giveaways and some of the best tools you can use to ensure success.
Who Can Benefit From a Giveaway Service?
Not everyone will benefit from having a giveaway service. After all, not everyone will use these platforms constantly. However, if you're a small business, brand marketer, agency, or influencer, having a giveaway service platform may benefit you in several ways. Let's discuss them in more detail below:
Small Businesses
Small businesses may use giveaway services to create excitement and develop their client base. If you're planning on running a social media giveaway, for example, you can use relevant hashtags to attract people who are interested in what you're giving away.
Running a giveaway is also a great way to show your customers that you appreciate their business and are willing to give back.
Brand Marketers
Brand marketers can use Giveaway services to improve brand recognition and attract new consumers. If you're giving away products relevant to your brand, you can attract people interested in your offer. The results can be tremendous.
You can also use giveaways to build loyalty among your existing customer base. For example, you could run a referral program where customers earn entries into the giveaway for every new person they refer to your brand.
Agencies
Agencies can use giveaways as a way to generate leads for their business. For example, you could require people to enter their contact information to be eligible for the giveaway. Then, you can add them to your marketing list and follow up with them after the giveaway.
You can also use giveaways to build relationships with your existing clients by giving them VIP access or exclusive prizes they can't get anywhere else.
Influencers
People love free stuff, so if you're an influencer with a large following, chances are good that running a giveaway will attract even more people to your page. You can also use giveaways as an opportunity to collaborate with other influencers, brands, and other sponsors to reach an even wider audience.
Benefits of Using ViralSweep in Your Giveaway Strategy
Our top choice for your viral giveaway platform would be ViralSweep. But don't take our word for it. There are a lot of marketers and businesses that would highly recommend ViralSweep as well.
So, why should you use ViralSweep for your giveaway strategy? Here are some reasons why:
Plugs Seamlessly Into the Most Popular Platforms
ViralSweep integrates with all major social media platforms, including Facebook, Twitter, YouTube, and Instagram. This makes it easy to set up and run your giveaways on multiple channels.
ViralSweep can also integrate seamlessly with WordPress, Shopify, Woocommerce, Weebly, BigCommerce, and Squarespace. This makes it easy to set up and manage your giveaway from start to finish.
ViralSweep's integration with these platforms allows you to automatically post winning entry announcements on social media and send an email notification to the winners.
Imports Contacts Directly Into Your Email Service or CRM
With ViralSweep, you can import your leads' biographical information into your email service or CRM with just a few clicks. This makes it easy to keep track of your leads and follow up with them after the giveaway ends. Additionally, importing your leads into your email service or CRM allows you to segment them to target your marketing campaigns effectively.
Supports Customs Tools To Drive More Leads and Reviews
ViralSweep also supports custom tools that can help you drive even more leads and reviews. For example, you can use Zapier to automate several aspects of your giveaway campaigns. Or, you can use our Facebook Pixel to track lead data from social media to your website. Either way, you'll be able to collect valuable data that you can use to improve your marketing campaigns.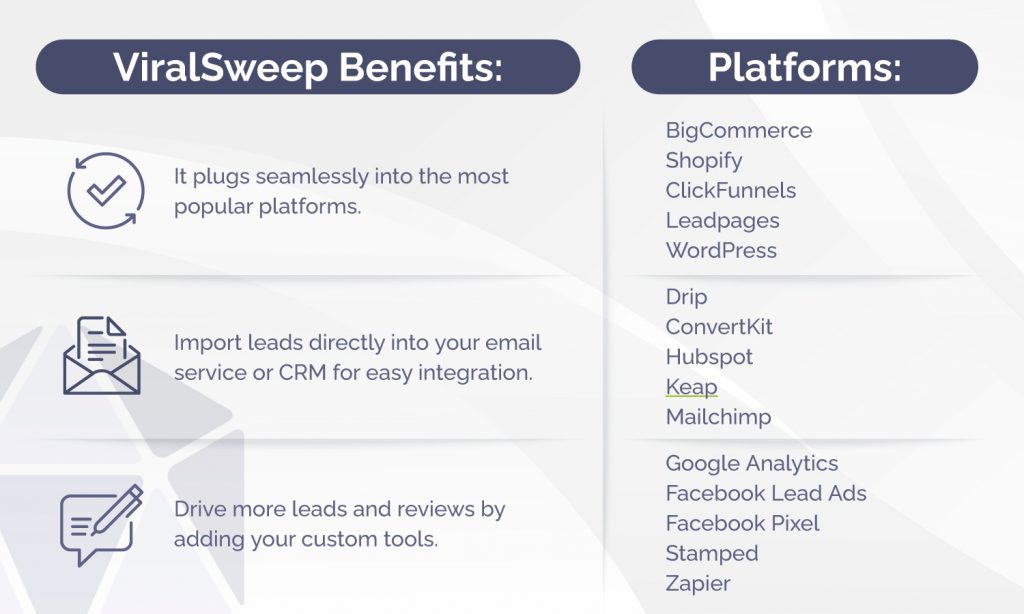 Which Giveaway Service Should I Choose?
Giveaways are not one-size-fits-all. There is a multitude of giveaway campaigns that you can run. Choosing which one you should use will depend on several factors, such as the goals of your campaign and budget.
Because of this, ViralSweep developed a range of giveaway services that will fit any of your giveaway campaigns. Below, we've listed all our giveaway services and the best way you can use them.
Sweepstakes
Use our sweepstakes to increase your email & SMS subscribers, engagement, and sales.
Contests
Giveaway campaigns that center around collecting, curating, and displaying stunning user-generated content will benefit most from our contest service.
Instant Win
Our instant win service is the perfect solution for giveaways that hope to increase engagement and instantly reward fans with prizes.
Purchases
If you want to give out sweepstakes entries or raffle tickets for every dollar spent on your Shopify or BigCommerce store, use our Purchases service.
Waitlist
Using our Waitlist giveaway service, your audience can move up spots on the waitlist by referring friends or completing actions.
Milestones
With our Milestones service, you can give prizes to customers who refer their friends to thank them for supporting your business.
Hashtags
Our Hashtags service is perfect if you want to gather hashtag entries from different social media platforms for your campaigns.
Gallery
Our Gallery does a fantastic job of collecting beautiful photos and videos that will perfectly complement your custom gallery.
Comments
Our Comments service will help you with Facebook, Instagram, and YouTube comment giveaways.
Email Forms
Use email collection forms to increase the size of your mailing list.
Network
With our Network service, you can collaborate with multiple brands to promote your next campaign.
What Are the Benefits of an Amazon Giveaway?
Amazon giveaways present a tremendous opportunity to increase customer engagement without spending tons of money. Here are three reasons to consider running an Amazon giveaway campaign if you're thinking about it: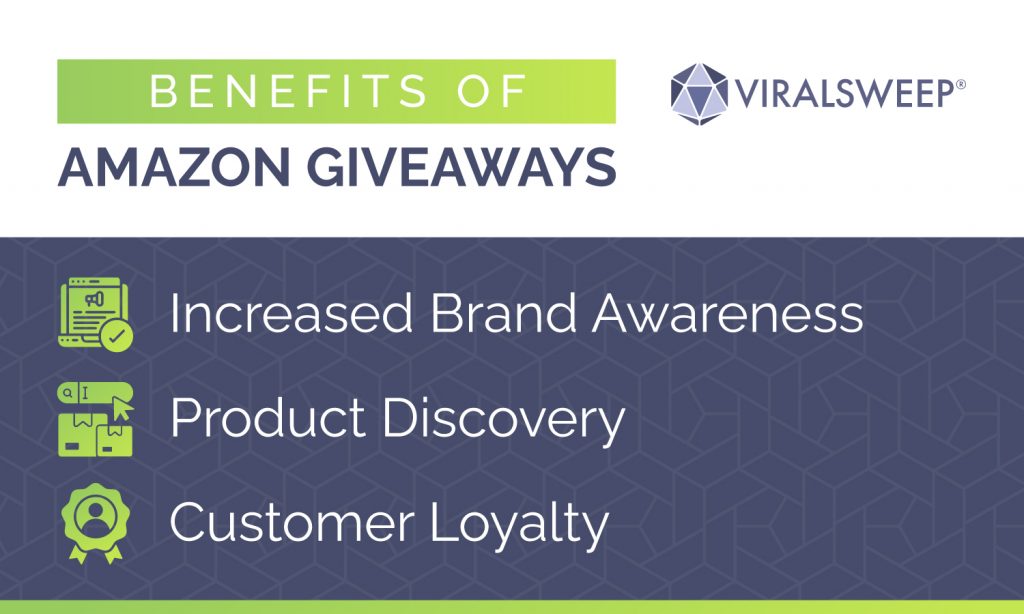 Increased Brand Awareness
An Amazon giveaway is a great way to increase brand awareness. When you run an Amazon giveaway, your giveaway page will prominently feature your company's name and logo. This will expose your brand to many potential customers who may not have been aware of your company. Additionally, running an Amazon giveaway is a great way to generate positive press for your company.
Product Discovery
An Amazon giveaway is also a great way to increase product discovery. When a person enters an Amazon giveaway, they must search for your company's products on Amazon.
This exposes them to products they may not have been aware of before and helps them learn more about your company. Additionally, if customers like the products they discover through the giveaway, they are more likely to purchase them in the future.
Customer Loyalty
Finally, an Amazon giveaway is a great way to generate customer loyalty. When a customer wins an Amazon giveaway, they are more likely to remember your company when they need the product or service you offer in the future.
Additionally, if you provide a discount or coupon as part of the prizes, the winner is more likely to use it and become a loyal customer.
Top 5 Giveaway Ideas
ViralSweep is an excellent tool for your giveaway strategy. However, having the perfect tool doesn't automatically mean you'll succeed. The success of your giveaway campaigns still depends on their execution. That's why looking at the best giveaway ideas for inspiration is essential.
You can check out all our case studies at this link.
We'll outline some of the best ways to conduct giveaways in this section:
Giving Your Products or Services Free of Charge
Giving away your products or services is a popular way to generate buzz and get people to try out your offering for the first time. If you're starting, this can be a great way to get your foot in the door with potential customers. Just be sure to set some guidelines for eligibility (e.g., first-time customers only, must use promo code, etc.) so that you don't give away too much for free.
Giving Away a Limited Edition Product
People love feeling like they're part of something special, so why not give away some limited-edition products? This could be anything from a custom flavor of ice cream to a limited edition t-shirt or limited edition pair of shoes. So naturally, people will be clamoring to get their hands on one of these rare items, and you'll generate a ton of excitement in the process.
Holiday-Themed Giveaways
Who doesn't love getting festive during the holidays? Hosting a holiday-themed giveaway is a great way to capitalize on seasonal excitement and drive engagement with your brand.
You could give away romantic jewelry candles, holiday-themed prizes, or even offer discounts on your products or services. Just make it clear that the giveaway is only available for a limited time, so people don't miss out.
Monthly Sweepstakes Events
Looking for a way to keep people coming back for more? Try hosting monthly sweepstakes events where people can enter for a chance to win prizes from your company. This could be anything from gift cards to free products or services. Just switch up the award each month, so people have something new to look forward to.
Giveaways With Runner-Up Prizes
Everyone loves winning, but not everyone can win first prize. That's why it's always a good idea to have runner-up prizes. This way, even if someone doesn't win the grand prize, they still walk away with something—and they'll be more likely to enter your next giveaway in hopes of snagging that top prize.
Free Random Winner Generator
When selecting a giveaway service tool or a service platform for online competitions, you'll want to go with one that is recognized and trustworthy. For example, ViralSweeps's free Draw tool has helped many businesses choose a random winner for their online competition.
It is easy to use and helps keep the giveaway process organized and fair. So check it out today to glimpse ViralSweep's robust suite of giveaway services.