Black Friday Contest Ideas to Re-Target Holiday Shoppers

5

minutes
Reading Time:
4
minutes
Nearly half of America participates in Black Friday in some capacity—your brand simply cannot ignore this prime shopping holiday. In this post we'll give you some unique Black Friday contest ideas to generate more revenue and attract new customers for after the holiday season.

In 2016 more than 154 million consumers shopped on Black Friday and spent around $290 per person. Last year, e-commerce platform Shopify handled $555,716 in transactions per minute! In fact, over $3 Billion in sales happened online last Black Friday.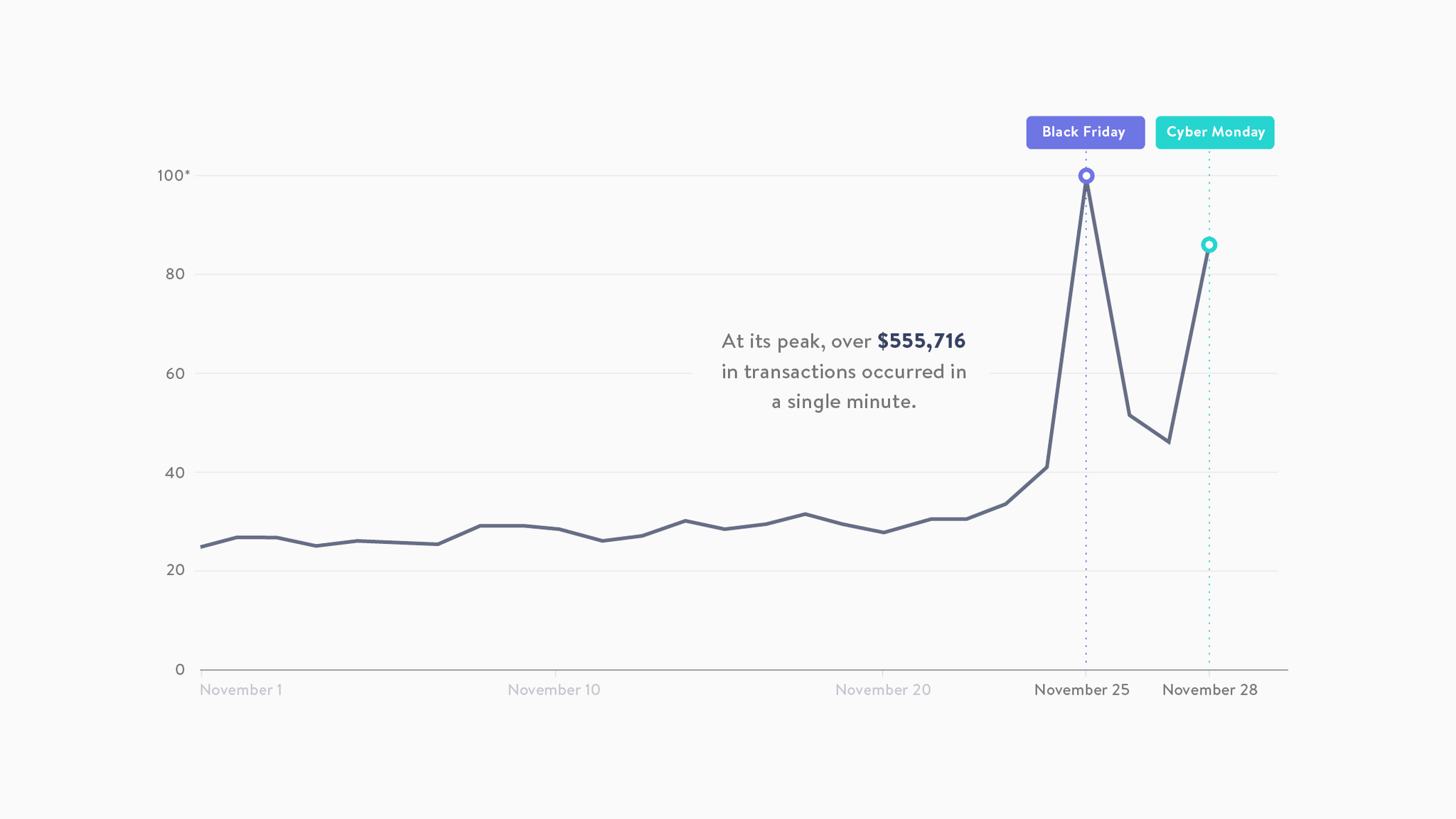 Shopify transactions during November 2016. Source: Shopify & You
Plan your Black Friday contest in advance.
This year Black Friday falls on Friday, November 24.
That means your brand should be planning how you want to re-engage your customers starting in early September. This way you have plenty of time to include your Black Friday giveaway with all of your in-store preparation.
The best types of giveaways for Black Friday
Sweepstakes are straightforward and can easily be integrated into any part of your customer's shopping experience; before of after checkout, a sweepstakes can encourage a purchase or incentivize a customer referral.
Instant Win giveaways help create a sense of urgency. You can upsell a captive audience or make a sale out of customers who are on the fence by giving them a chance to win a prize immediately.
Influencer Giveaways can attract customers to your store even amidst all the hustle and bustle of Black Friday. If a trusted taste maker tells customers to visit your store, they will.
Don't chance it: Become a must-visit store for Black Friday
Rather than leave it to chance whether shoppers come to your store, run a campaign that attracts customers during Black Friday.
Ensuring customers see you as a must-visit store makes it more likely you'll capture a portion of their $290 Black Friday spend.
Pre-Black Friday Sweepstakes
Customers can enter your sweepstakes by giving you their email address. You can then use this email list to announce your Black Friday sales ahead of the holiday.
Using a tool like ViralSweep makes it easy to import the emails of everyone who enters your giveaway into your email service provider, where you can build a newsletter and send promotional emails for the big day.
Remember, your giveaway prize's value proposition should fit the theme of the holiday. Some simple prize ideas might be:
VIP Early Access Passes to 10 lucky winners. Winners get to enter your store 30 minutes before you open doors for the day, giving them an advantage over other shoppers.
Give away store credit or a discount coupon only applicable during Black Friday to make sure customers visit your store.
Provide a Black Friday care package to a lucky winner, complete with comfortable shoes, high-quality shopping bags, or even an organizer for their car as they drive from store to store.
The day of Black Friday: Leveraging a captive audience
Visitors to your store, whether retail or online, are a captive audience. They've taken the time to see everything you have to offer, so this is a great time to give them a little nudge to help close the sale.
Checkout Line Instant Win
You can set up an iPad right before customers get to the cash register, where they enter an email to see if they win a prize (discount, BOGO, free purchase, etc.) which can be applied immediately.
By collecting the emails of willing customers as they check out, you can build a list of extremely qualified leads. These are the perfect candidates to send promotional material to after the holidays or during slow periods for your business.
Make sure to send an email at least every other month, and to provide a way to unsubscribe. This way they will remember your brand and be more receptive to coming back to your store.
In-store Influencer Giveaway
Hire or partner with a taste maker in your industry to give away a bundle of their favorite products from your store.
For example: Williams Sonoma could partner with Gordon Ramsey to appear in-store during Black Friday to show how to prepare a dish with the pots, pans, and knives included in the bundle he curated.
Also consider making one item a "bundle exclusive," where you can only get it through buying the bundle.
If your store is online, you can use a tool like ViralSweep Promote for hiring influencers to promote their bundles before Black Friday, as well as the day of.
Receipt or Post-Purchase Entry Code Giveaway
Give customers an entry code when they make a purchase to win a grand prize. Entry codes can be printed on the receipt or on separate marketing material.
With ViralSweep you can create a sweepstakes or instant win giveaway that requires an entry code to enter. Customers can share your brand across social media to earn more entries, and their friends will come to your store to enter as well.
You can generate a list of entry codes using the RANDOM.ORG String Generator and then import the entry codes to your ViralSweep campaign.
Sold-Out Giveaways
When a product is sold out during Black Friday, place marketing material on the shelf directing customers to enter a giveaway for the product once it's back in stock.
This method can be very effective at generating sales that would otherwise go lost.
Create a campaign for each of your most popular products ahead of time, and when they sell out, place a flyer or poster on the shelf directing people to enter a 'Back In Stock' giveaway on your website.
Then you can offer discounts to those who didn't win the giveaway, generating sales from customers who left your store empty-handed the first time around.
Keep customers interested after Black Friday
Black Friday is a perfect chance to grow your email list and social media following so that you can benefit from this exciting day year-round.
Any retail brand can benefit from sending consistent, high-quality emails to their customers, whether it's a monthly newsletter or seasonal discount emails.
Need help learning how to run your own giveaways? We've got you covered…
[guide_sweeps]