Instagram Giveaway: The Ultimate How-To Guide
There are more than one billion active Instagram users, making it one of the most popular social media networks on the planet. Instagram is also a great place for companies to engage their audiences using contests and giveaways.
According to one study, "an Instagram contest or giveaway can help you grow your followers 70% faster in three months than if you didn't host a contest at all."
Small businesses can use an Instagram giveaway to help grow their audience, interact with leads, and promote their brand by rewarding active followers with free stuff.
In this step-by-step guide, we'll make the case for setting up a giveaway, share how to integrate a giveaway into your marketing strategy, review Instagram's rules for creating a giveaway, and provide tips for setting up and running your first Instagram giveaway successfully.
We will even cover a giveaway app for Instagram that can make everything 10 times easier for you and your business!
What is an Instagram Giveaway?
An Instagram giveaway, or Instagram contest, is a marketing promotion in which your company gives a product or service to an Instagram user who entered the contest according to the criteria defined at the outset of the promotion.
Instagram giveaways can take many shapes and forms.
The platform's features allow you to create Instagram giveaways with entries based on various actions, such as mentioning friends in comments, asking people to follow your Instagram page, or writing in a comment what they would like to win.
Instagram giveaways have a few defining components, including:
Prize: Set a prize that will strongly incentivize participants to join your contest. Your prize should be relevant to your brand and within your budget.

Rules: Make sure your contest adheres to Instagram's promotion guidelines. It's also best practice to let your Instagram followers know how you will manage the data you capture, with a clear privacy policy for every giveaway or contest.

Method of entry: How can someone participate in your contest? There are many different formats your Instagram contest could take. We'll share some examples of how to align your method of entry to your overall Instagram marketing goal.
Instagram giveaways are a bit different than an Instagram contest.
Contests are defined by prize and consideration, meaning participants have to make an effort to enter the competition.

There are no random winners in a contest—that would make it a sweepstakes or a giveaway—so making your rules and method of entry clear is imperative.
You should also have a system in place to make selecting a winner easy.
Why Should You Run an Instagram Giveaway?
Instagram giveaways can help your business achieve various marketing results, such as increasing brand awareness or engagement with your Instagram followers. Here are just a few results that a successful Instagram giveaway can achieve:
Grow brand awareness with existing and new audiences
Drive more traffic to your website
Boost engagement on your Instagram profile
Increase your follower count on Instagram
Drive more purchases among new and existing customers
Gather valuable customer data and gain a better understanding of your audience
Generate buzz around a new product launch
Collect user-generated content, including photos, videos, and testimonials
Instagram Giveaway Examples
Many brands have already used social media marketing tactics to achieve these results.
Skincare brand lelive hosted an Instagram contest to launch its new product line, asking followers to name its new range of products for a chance to win them for a year.
The post got more than double the amount of engagement as other posts on the brand's profile.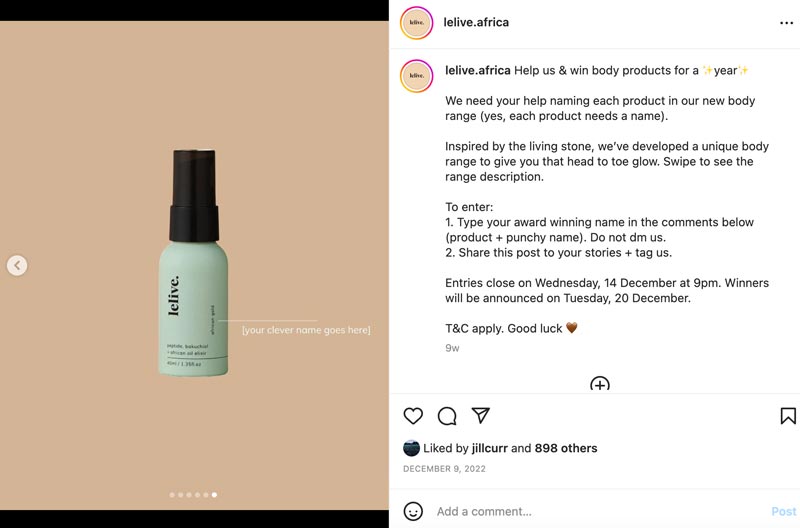 It's also helpful to partner with other complementary brands to run an Instagram contest. Style Rotate, a rental fashion platform, teamed up with lelive skincare and Nima Lodge, a luxury boutique hotel, to celebrate Women's Month with an Instagram giveaway.
The prizes were sourced from all three brands; to enter, participants had to provide their email address and follow all three brands on Instagram.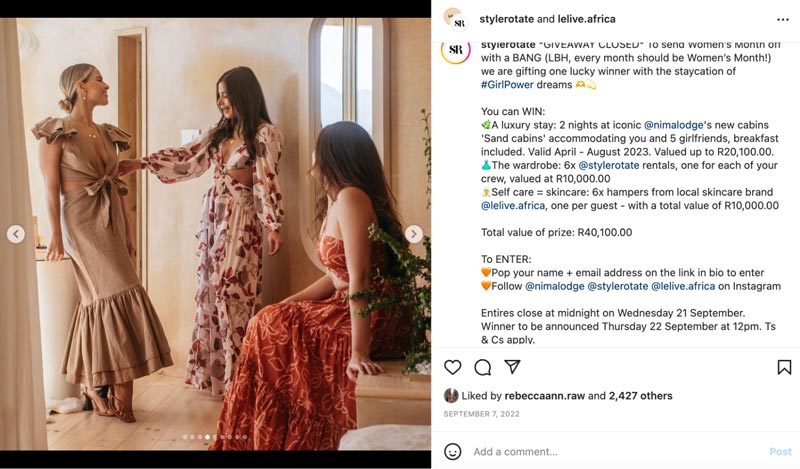 This format helps expand your reach to followers who could be interested in your services, but may not have heard of your company otherwise.
You can also build an email list for future marketing efforts.
Finally, Mint, a personal budgeting tool from Intuit, uses Instagram to collect user-generated content.
The brand's #MyMintMoment Instagram contest asked users to share a moment when their finances and dreams came to life, inspiring followers to share stories of how budgeting helped them achieve a big goal.
The prize: $1,000. The branded hashtag, #MyMintMoment, linked thousands of stories with one winner announced on the company blog.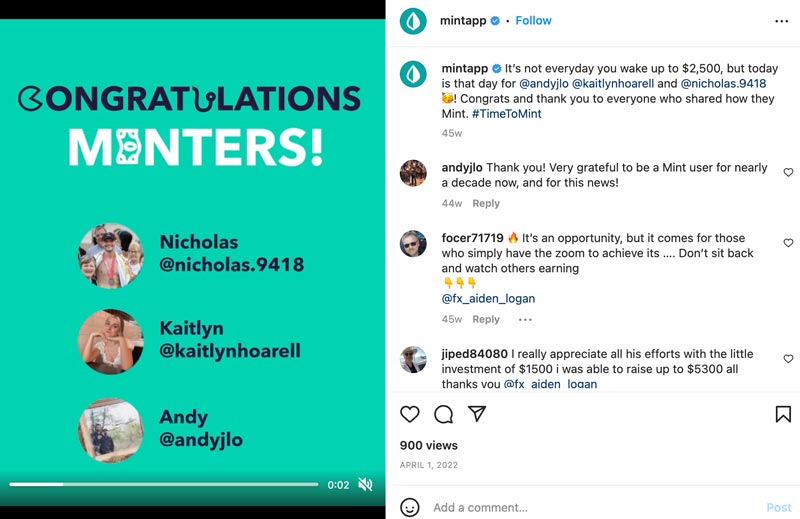 Today, the brand uses #TimeToMint to continue the contest and encourage followers to share the ways in which they use the app regularly.
These examples demonstrate that there are many ways in which you can set up your contest. Whether you choose to ask for likes, follows, emails, shares, or user-generated content depends on the goal of your contest.
Likewise, the prize you share should be commensurate with the action you hope your participants will take.
Run an Effective Instagram Giveaway in 10 Easy Steps
Clearly, there are many elements to consider to ensure your Instagram giveaway achieves its desired result. Y
our contest must align with your marketing goals, followers' interests, the platform rules, and the incentive you intend to provide to boost engagement.
Go through the steps outlined below to keep track of these details and run a successful Instagram contest.
1. Set Your Marketing Goals
A giveaway that isn't linked to a specific, measurable, and achievable goal is just an exercise in giving someone free stuff. Before you plan and promote your contest, make sure you have clear expectations for what you hope to accomplish through this contest.
There are many outcomes an Instagram contest can help you achieve, such as:
Increase your traffic to your website
Grow your email marketing list
Add followers to your Instagram profile
​Find brand ambassadors
Increase brand recognition
Make sure your goal is measurable, timely, and specific. For example, a goal such as "Increase Instagram followers by 50% in one month" is better than "Grow Instagram followers." Even if you don't achieve your goal, it gives you a baseline against which to measure if your contest was successful.
2. Define Your Target Audience
Think carefully about who your target audience is for your Instagram giveaway. Depending on your goal, entrants could be existing followers, people from a specific location, or Instagram users with specific interests.
The goal you have often helps define your target audience. If you hope to boost engagement, design your contest to engage accounts that are already following your page. If your goal is to reach new potential customers, you'll want to incentivize shares and follow.
Many brands go through the exercise of building customer personas before launching a giveaway. This persona encapsulates demographic information, interests, and reasons why your target follower is interested in your Instagram account.
You may identify other accounts this person is following—influencers, complementary brands, and even competitors. A firm understanding of whom you are marketing to will help you tailor the giveaway to maximize engagement and conversions.
3. Choose a Relevant Prize
Next, generate some prize ideas and select an option that is valuable, unique, and relevant to your target audience. The giveaway prize is key to encouraging users to tag friends, repost, and follow any other entry criteria you have for your Instagram giveaway post.
The prize you're offering needs to match the relative effort you want your followers to make on your behalf.
Offering a $25 gift card for an original user-generated video is unlikely to motivate someone to go to the effort of entering. It might even appear that you don't value your followers' time, which can damage your brand trust. 
It's also a good idea to make the prize related to your product or service. General prizes, like Amazon gift cards, can bring in entrants who just want free money. These entrants are unlikely to stick around after the contest is over.
By offering prizes related to your page, you can help incentivize people who are more likely to be genuinely engaged with your company.
4. Create a Hashtag for the Giveaway
Instagram hashtags can help your giveaway go viral, as well as make it easy to keep track of entries.
Hashtags can be used to collect user-generated content like text, photos, and video submissions from Instagram.
A tool like ViralSweep allows you to use hashtags to automatically aggregate and display submissions in a beautiful gallery on your website.
Ideally, you'll create a unique hashtag that's also easy to remember. The best hashtags are specific to your contest, like the #TimeToMint example listed above.
The Instagram algorithm favors well-performing hashtags and will drive traffic back to your post and page.
As a result, try to come up with a unique hashtag that no one else is using, and encourage users to add it to their entries.
5. Set the Rules and Eligibility Criteria
The Instagram terms in Instagram's Promotion Guidelines dictate that you must include official rules, offer terms and eligibility requirements, and be compliant with applicable rules and regulations governing the promotion and all prizes offered according to your location.
Make sure your Instagram giveaway rules inform the participants how you will validate the entries in advance.
Also follow and clarify for entrants any age restrictions, geographic restrictions, and method of entry guidelines.
Most brands outline the basic and primary rules for the giveaway in the post caption.
Then, you can add the finer details to the comments section or link to the full terms and conditions on a specific landing page.
Just make sure if you decide to link to a page outside Instagram, you include language indicating where someone can find the terms and conditions.
Not sure how to write your rules?
ViralSweep offers a template for official guidelines and has a Google Document template that you can customize for your own Instagram contest. 
6. Plan the Timing of the Giveaway
It's a cliche, but timing really is everything when it comes to your Instagram giveaway.
Two things to consider are the duration of your giveaway and the publishing schedule you'll use to promote your contest.
The duration of your giveaway, or the window of time during which participants can submit an entry, will influence how many participants are able to enter as well as the marketing momentum you can build from the effort.
Too short a duration may make it difficult to collect enough entries. Too long of a duration will cause people to forget about your contest altogether.
Ultimately, the goal you set in step one will dictate how long to run your Instagram giveaway.
If you're looking for an immediate spike in leads, or to make a big splash with your product launch, then consider a 1-2 week contest.
If you want consistent brand awareness, then a recurring or month-long promotion might be a better fit.
And, you'll want to coordinate promoting your giveaway post across social media platforms and with partners.
Consider timing your contest with holidays and special occasions to build momentum for your brand and capitalize on peak shopping moments.
Make it clear when the end date of your giveaway is in the disclaimer of your initial Instagram giveaway post.
7. Create Visually Appealing Graphics to Promote the Giveaway
Instagram has many different content formats to help you announce and promote your giveaway.
Take advantage of all of them to spread the word through a grid post, Instagram Stories, and Reel.
Your Instagram posts should be visually captivating. ​​
You might include high-quality photos of the prize, or you might use simple text on a plain background to announce the contest.
Add "GIVEAWAY" or "CONTEST" copy in big, bold lettering to grab someone's attention.
Make sure the fonts, colors, images and videos you create all feel cohesive with the rest of your Instagram feed and with each other.
Use the caption of your grid post to write an attention-grabbing hook that gets users to stop scrolling.
Explain what the prize is, how to enter the giveaway, and include the overall rules per Instagram's terms. And, don't forget to use your branded hashtag!
If you're not a design expert, you can start with templates from Canva or Adobe Express to get the right look and feel for your contest.
8. Utilize Influencer Marketing
Instagram remains the preferred channel for influencer marketing for most brands.
That's because 83% of Instagram users turn to the channel to find something new—a new product, service, brand, or content creator. It works, too.
"After seeing posts with product information on the platform, 87% took a specific action, like following a brand, visiting its retail store, or making a purchase," according to Influencer Marketing Hub.
Influencers are a great way to promote your giveaway. Partnering with an influencer (or micro-influencer) can help you reach participants in your industry, geographic location, or specific niche interest who don't already follow your Instagram page.
Ask the influencer to promote your giveaway to their followers for a commission on each entry they generate.
Alternatively, work with the influencer to create promotional content you can use on your own channels throughout the giveaway.
9. Encourage User-Generated Content
User-generated content (UGC) is one of the best marketing tools out there. Consumers trust user-generated content 50% more than other types of posts.
Your Instagram contest can incentivize users to share an original image, review, or video (with a hashtag!) to win a prize.
A bookstore, for instance, can encourage customers to take a picture of their pet "reading" their favorite book.
This inspires customers to find their next great read and also adds some cuteness to your Instagram page.
Don't be afraid to get creative with your request.
Authentic videos and pictures of users sharing their own experiences will promote your brand regardless of the contest results.
You may even provide additional entries for users who go the extra distance with a video testimonial. This type of content leads to increased engagement, expanded reach, and improved brand recognition.
10. Monitor and Evaluate the Giveaway
Finally, make sure you have tools in place to monitor and evaluate your giveaway. ViralSweep can provide real-time analytics to help you assess what's working. Track entries, social growth, and more for every promotion.
Plus, ViralSweep includes A/B testing to optimize entries, referrals, followers, or likes to help you determine how to best adjust your contests as you grow.
There are a number of key performance metrics you can use to determine if your giveaway was successful.
Use data points such as:
Total number of entrants
Level of engagement
Sales
Total reach
Click through rate to your website or the contest landing page
Increase in followers
Hashtag volume
User-Generated content submissions
You can also use this information over time to determine what types of prizes are most popular, or which influencers drive the most traffic to your giveaway. Get this data from Instagram insights, Google Analytics, and ViralSweep.
Instagram Giveaway Ideas to Get You Started
There are plenty of ways to get creative with your Instagram giveaway. Some campaigns can be as simple as liking or sharing a post, while others may ask for original user-generated content. As you plan your contest, keep your target audience and marketing goals in mind.
Like, follow, tag, and/or share to win
Perhaps the simplest option is to ask participants to like a post, share a post, or follow your page to be entered to win (or all three!). Some brands also ask users to tag a friend to help encourage the contest to go viral.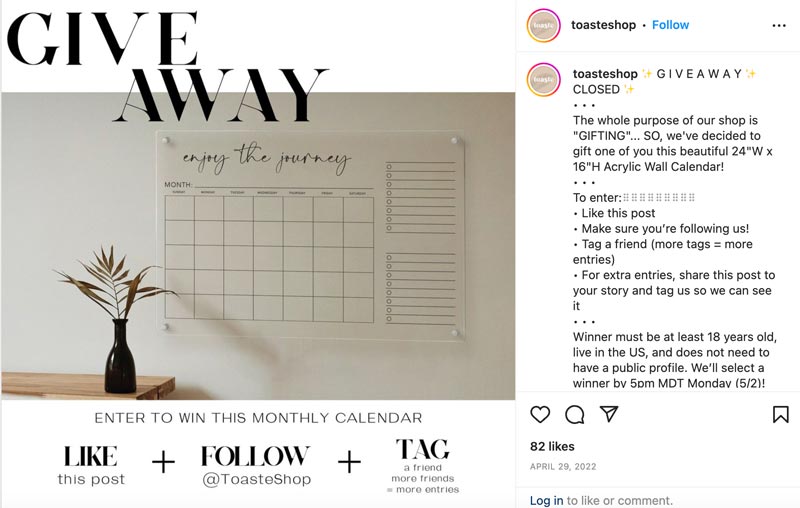 The brand @toasteshop hosted a simple giveaway that asked users to like, follow, and tag a friend in order to enter for a chance to win a wall calendar designed by the brand.
Participants could get more entries the more users they tagged.
As you can see from the post, there were clear terms and conditions as well as a deadline included in the post copy.
Work with partners and influencers
We've covered why you would want to work with an influencer. You can even outsource your contest to someone altogether.
Influencer @leahbellleask shows in the post below how to bring together a group of brands in one giveaway to get new followers and increase engagement.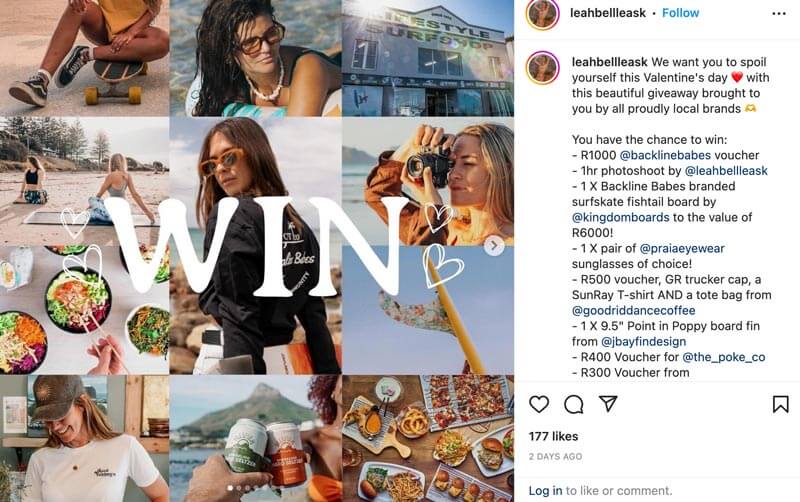 This post appears on the influencer's page with prizes from many different, complementary brands, such as a skateboard, sunglasses, a meal from a poke restaurant, and more.
This beach-themed content will reach followers of all the brands she's tagged and can increase the reach of the contest exponentially.
The influencer has also made it mandatory to follow all brands and tag other users in order to participate.
Make it holiday-themed
As a part of defining your audience, you may also want to look for occasions that you can use to host your contest.
The brands that participated in the Women's Day giveaway below are all women-focused athleticwear, travel, and adventure brands.
Teaming up allowed them to create a package of gifts to offer to contest participants who liked, shared, and followed their accounts.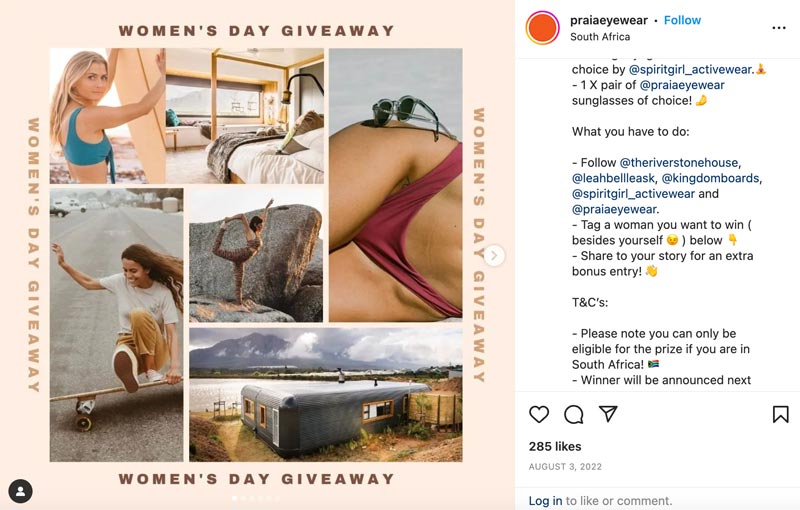 Consider what other occasions might be good opportunities to reach out to your target audience.
Moments when your customers are primed to hear from you build momentum for your Instagram giveaway.
Share a photo or video to win
To celebrate reaching 100 million followers on Instagram, National Geographic hosted a contest to give away a photo trip to Tanzania.
Entrants had 24 hours to post their most Nat Geo-inspired image to their Instagram feed with the hashtag #natgeo100contest in the caption. Instagram users submitted more than 94,000 photos in 24 hours.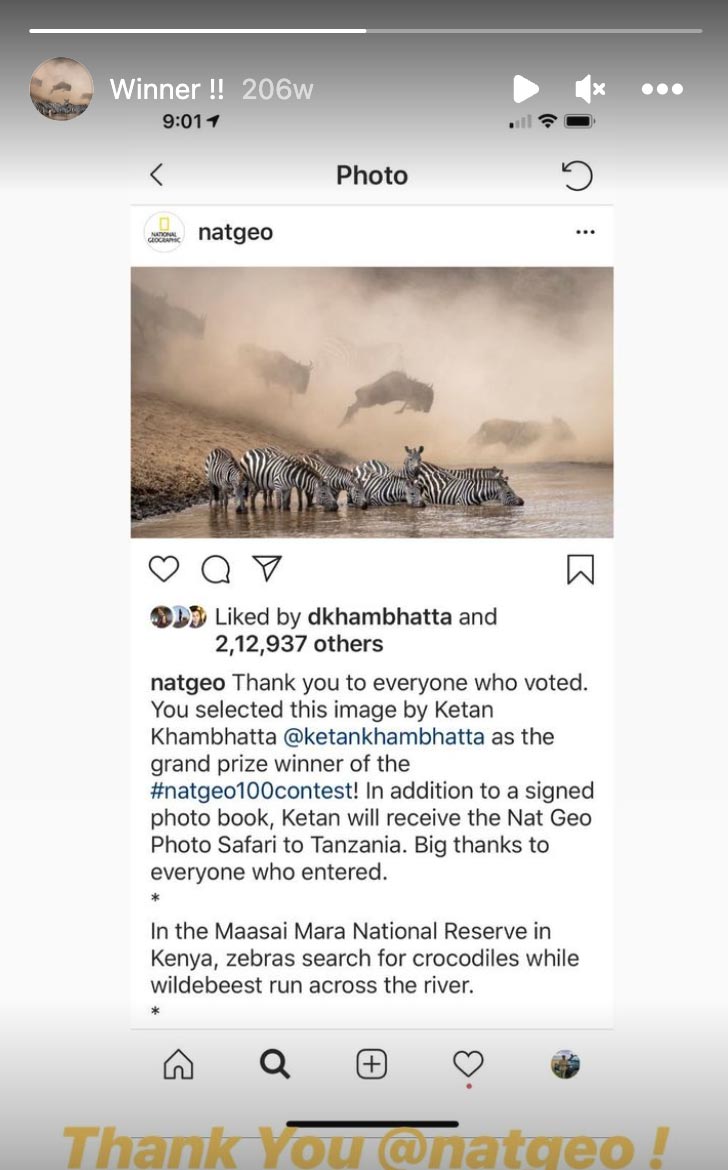 Nat Geo editors narrowed down the top 10 finalists, and then asked the brand's 100 million Instagram followers to vote for the winner. ​​
This clever set-up enabled Nat Geo to boost engagement twice—first when participants shared their photos, and again when they selected the winning photograph.
Plus, Nat Geo benefits from tons of user-generated content it can use again.
Challenge contests
Trivia contests, scavenger hunts, caption contests, and video contests are great ways to increase meaningful engagement.
These types of contests can get Instagram users to stop scrolling and create something amazing for your brand.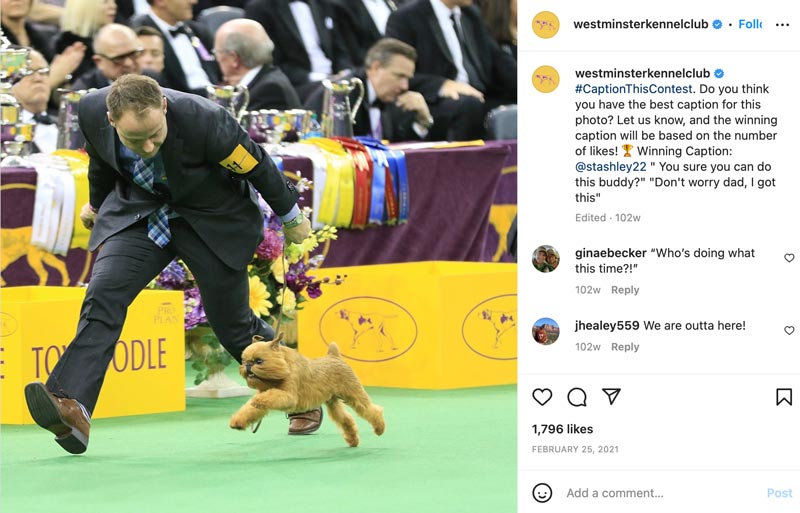 Westminster Kennel Club used their Instagram contest to encourage users to comment with their best captions, with the winner chosen by popular poll in the comments section.
This format is an incredibly easy way to boost engagement with your existing followers; it's free, and can be used regularly to keep people interested in your business.
Host an Instagram Giveaway With ViralSweep
These Instagram giveaway ideas can be customized and tailored to fit your unique marketing strategy.
No matter what form your Instagram giveaway takes, ViralSweep makes it easy to monitor and run the promotion.
ViralSweep can collect, curate, and display beautiful user-generated content from your contests.
The platform is equipped with tools to grow your email lists, drive traffic to your website, collect and share UGC, engage your audience, and more.
Learn more about how easy it is to run an Instagram giveaway with ViralSweep