MailChimp Automation is a powerful feature because it allows you to automate the sending of emails to your customers. No tricky list management or sending email blasts to people too soon or too late after joining your list.
With automation, you can create workflows that trigger emails to be sent based on specific website actions people take.

MailChimp Automation Use Cases
For example, when someone subscribes to your email list, they may not hear from you for a few days or weeks until you send them your newsletter.
With MailChimp Automation, you can set up a workflow that sends a series of emails automatically to that user over a period of time.
This is a powerful feature because you can set it and forget it, and your subscribers will constantly hear from you… automatically!
In fact, without Automation, you may see a large number of people unsubscribing from your newsletter if you tend to send it very infrequently.
When people don't hear from you soon after they sign up for your newsletter, they forget that they even signed up in the first place.
You should always keep in contact with your customers via email because compared to social media, it is still one of the highest, if not the highest, converting mediums for generating sales.
Here's an example of how Automation can be used to give you an idea of how you can utilize this for your business:
Jim sells high-end mattresses online at JimsAwesomeMattresses.com. Jim's biggest hurdle is educating people on the differences between his expensive, higher-quality mattresses and all the cheaper mattresses on the market.
Instead of just blasting out an email newsletter when people sign up to his site with a list of all the mattresses he has for sale, Jim can instead educate people through a series of emails that he sets up using Mailchimp Automation.
Jim decides to try out MailChimp's Automation feature and sets up an email series with a workflow that follows this sequence:
Trigger workflow when the following conditions are met:
Customer subscribes to Mattress Newsletter
Immediately after workflow is triggered:
Send email: Welcome to Jim's Mattresses
The welcome email thanks the customer for subscribing and lets them know they will receive a series of emails over the coming days that will provide them with more information about Jim's mattresses, as well as how they can find the right mattress for themselves.
2 days after last email is sent:
Send email: The differences between cheap and expensive mattresses
The goal of this email is to begin educating the customer on the mattress market and for Jim to show them how the high-end mattresses he sells stack up against the cheap mattresses that every 'big box' store sells.
2 days after last email is sent:
Send email: Why you should invest in your sleep
Did you know you spend 1/3 of your life sleeping? The goal of this email is to grab the customer's attention and educate them about the basics of sleep and why it is important to invest in their sleep instead of purchasing a cheap mattress.
3 days after last email is sent:
Send email: Why Jim's Mattresses is a trusted source
The purpose of this email is for Jim to discuss his mattress business. He gives the back story of how he got started, how he became a knowledgeable source in the industry, and how he genuinely cares for his customers and their sleep.
This email builds a relationship and gives Jim credibility as an expert in his market.
1 day after last email is sent:
Send email: I have the perfect mattress for you
This is the final email in Jim's workflow, and it's his sales email. He's educated his customer, he's established credibility and trust, and now he's going for the sale.
This is just an example workflow that you can set up using Mailchimp Automation.
In fact, Jim could go several steps further in that workflow; if the customer never purchases from him, he could trigger a second workflow to send more emails to try and slowly convert that potential customer or to focus on generating referrals.
Setting up MailChimp Automation
In order to get access to Automation, you need to be a paying customer, as MailChimp does not offer this feature on their free plan.
Second, simply choose Automation from the navigation menu in your MailChimp account, then choose the list you want to set up Automation on.
Next, you'll be prompted to select a workflow. MailChimp provides you with several workflows you can start with, whether you just want to send a welcome message or you want to educate your subscribers through a series of emails like the example above.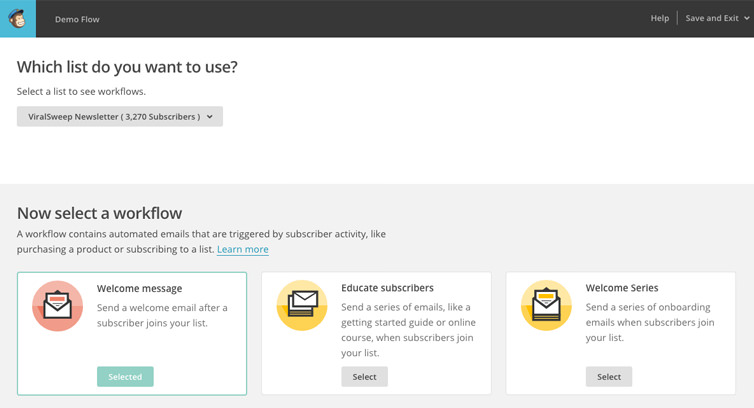 For the purpose of this tutorial, we'll choose the Welcome Message workflow. You'll be prompted to name your workflow and select options for tracking.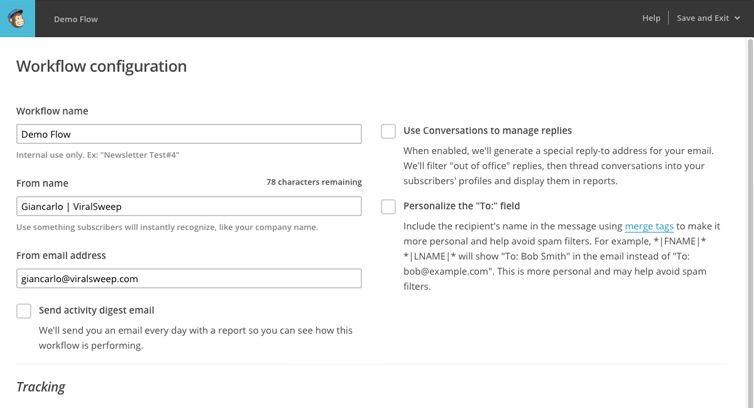 Next, you'll choose when and how the workflow is triggered. By default, we've set the workflow to be triggered when people subscribe to our list. You can customize this by adding conditions, as well as choosing what days and times emails are sent.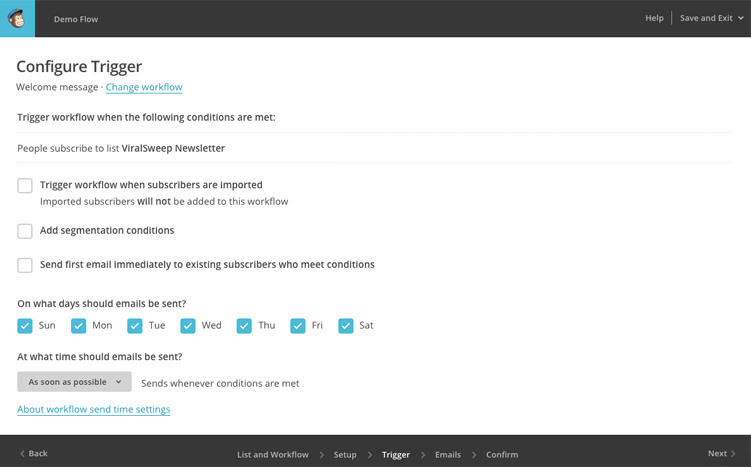 Next, you'll add your email content to the workflow by choosing your email template and inputting your content.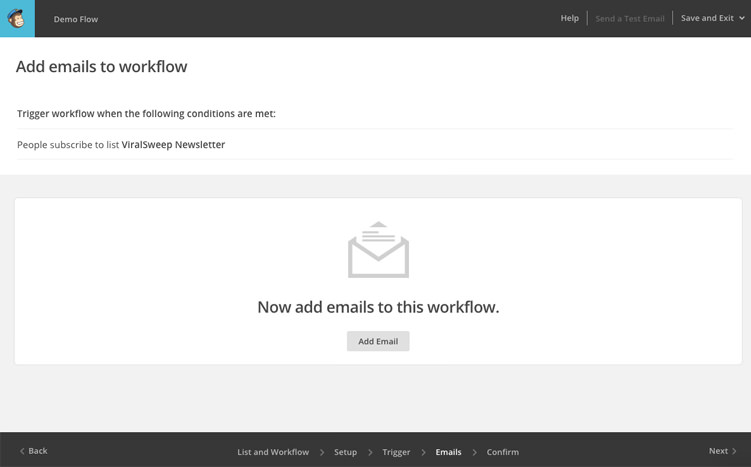 Once you're finished setting up your email, you'll see your final workflow, which will look something like this: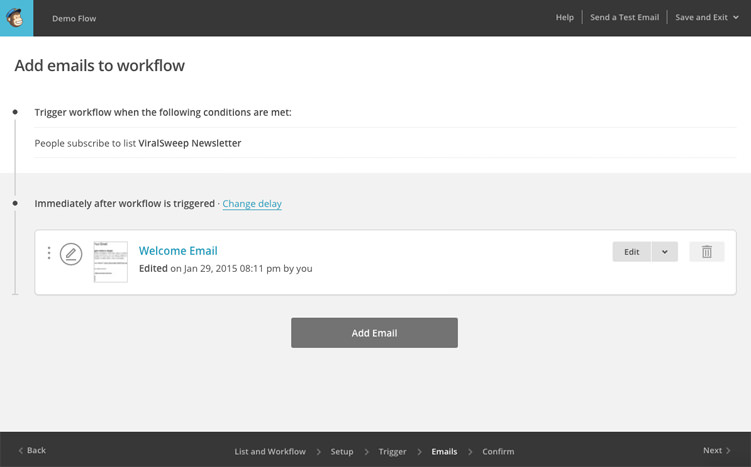 This was a basic example of how to start working with Automation. Once you get the hang of it, you can start setting up more in-depth workflows where you email people based on their website activity or purchase history.
So, how can you successfully use MailChimp Automation with your next sweepstakes or contest?
Using a tool like ViralSweep, you can connect your sweepstakes to one of your MailChimp lists, and every time someone enters your sweepstakes, you can have a workflow setup to automatically trigger emails to those people.
For example, whenever someone enters your sweepstakes, your workflow could immediately trigger a 'confirmation' email that thanks the person for entering and encourages them to share with friends, which will increase the virality of your promotion.
The workflow could look something like this:
Trigger workflow when the following conditions are met:
Customer subscribes to Sweepstakes List
Immediately after workflow is triggered:
Send email: Sweepstakes entry confirmation
Are you currently using MailChimp Automation in your business? If so, what ways have you found it to be most effective for you?