Learning about Facebook Messenger marketing and growing your Facebook Messenger subscribers list should be one of the top things on your to-do list as a business owner or marketer.

Why?
Facebook Messenger is used by over 1.3 billion people every month worldwide, and Facebook Messenger marketing has been reporting
some of the highest open and click-through rates
[1]
marketers have ever seen.
See Facebook Messenger Marketing in Action
Want to see how ViralSweep can help you grow your Facebook Messenger subscribers list before reading further?
Enter your email address below, then subscribe to Facebook Messenger and you'll immediately receive a Facebook message.
You can do this easily using ViralSweep—we'll teach you how in this guide. And there's more! By testing our Facebook Messenger integration, you just entered to win a free monthly subscription to ViralSweep!
Growing your Facebook Messenger subscribers list is the same as any other marketing channel for your business: it takes time, money, and the proper resources.
This guide will walk you through how to quickly grow your Messenger subscribers using ViralSweep's sweepstakes tool. In the guide, we will leverage tools like ManyChat, which is a service that handles delivering messages to your new Messenger subscribers.
In a rush? Jump to any part of the guide:
What Is Facebook Messenger Marketing?
Facebook Messenger marketing is a relatively new, more personable, way to communicate with your customers via Facebook. Just like you already communicate with your customers via email, direct mail, or even SMS, you can now communicate with them through Facebook Messenger.
Why Is Everyone Talking About Facebook Messenger Marketing?
Simply put, the engagement numbers for Facebook Messenger are jaw-dropping.
For email, open rates throughout various industries typically average between 20-25%, while click-through rates average between 3-5%[2].
With Facebook Messenger, brands and advertisers have seen open rates over 80%, with click-through rates well over 10%—incredible!
HubSpot ran experiments to find out how Facebook Messenger compares to email[3], and the results speak for themselves: notably, a 477% reduction in their cost per lead.
What Types of Messages Can I Send to Customers via Facebook Messenger?
You can manage your Facebook Messenger list like your existing email list. Instead of sending emails through your email service, you instead send them via services like ManyChat or Chatfuel, which connect to Facebook Messenger.
These messages can be manual or automated, and include content like:
Purchase receipts
Product notifications
Shipment notifications
Blog posts
Abandoned cart notifications
Customer support
Direct sales of products and services
Surveying customers
And more!
However, it is important to note, Facebook Messenger is not email, and is more personable and should be treated that way.
Respect your audience—no spamming.
Why Do I Need to Use a Service Like Manychat or Chatfuel for Messenger Marketing?
ManyChat or Chatfuel helps you manage your Facebook messenger marketing.
They allow you to track subscribers, set up broadcasts, trigger workflows, automation, and much more, just like your email service provider helps you do with email marketing.
How Do I Grow My Facebook Messenger Subscribers List?
There are many tactics you can use to grow your Facebook Messenger subscriber list. This guide focuses on one specific tactic that will help to grow your list quickly and easily: sweepstakes.
ViralSweep allows you to build, run, and manage sweepstakes that grow your email list. At the same time, you can incentive users to follow your social channels, refer their friends, watch videos, answer questions, and subscribe to your page on Facebook Messenger. There are even more actions we support.
ViralSweep helps kill two birds with one stone: grow your email list, and your Facebook Messenger subscribers list at the same time.
What Kind of Results Can I Expect?
We have customers generating hundreds or thousands of Messenger subscribers per campaign. Here is what some of our customers have to say:
Within minutes of launching our last sweepstakes with ViralSweep's new Messenger integration, we discovered the huge potential and importance of this marketing channel. The engagement numbers everyone talks about are actually true! We reached 5,000 subscribers in a matter of days.
John Laudisio, Director of Marketing, SpotTrot
When running a sweepstakes, ViralSweep's Messenger integration helped us increase our daily subscriber rate by over 300%.
*SpotTrot manages campaigns for Bruce Lee
Emily Smith, Digital Marketing Manager, WatchBox
Thanks to the addition of the Facebook Messenger integration, we've opened up a new way to connect with people on a platform they are on frequently. It allows us to get past all the emails people receive and make sure our message gets seen and not lost in a sea of email. After adding it to our last campaign, we added 315 new subscribers.
As soon as I saw the new Messenger feature from ViralSweep we jumped on it straight away. I already knew the massive value this could add to our sweepstakes and did not waste any time setting up a new sweepstakes using the Subscribe to Messenger feature as a chance for people to gain more sweepstakes entries.

It has been working extremely well so far and with the open and response rates from Messenger we are looking to have this as one of our main marketing channels alongside email. The ability to grow it so quickly through sweepstakes is unparalleled.
The ability to add subscribers to my Messenger list is my new main focus in addition to continuing to grow my email list for my local events and entertainment website.

I ran two Halloween related sweepstakes and as a result, added 414 new Messenger subscribers. I've sent 3 broadcasts out to that list so far with between a 92% and 99% open rate and a click-through rate between 11% and 24%, which is FAR higher than my email open and click-through rates.
Kenzie Nelligan, Marketing Manager, Grobo
ViralSweep's integration with Facebook Messenger allowed us to increase our messenger subscribers by more then 300%. It's like we've suddenly sprouted a brand new mailing list.
Why Do I Need Viralsweep? Why Can't I Just Run Sweepstakes on Manychat or Chatfuel?
You could try and run sweepstakes to grow your Facebook Messenger subscribers list using just ManyChat or Chatfuel. That would be as difficult as using your email marketing service to run a sweepstake—you won't get the same results you would using a service like ViralSweep.
For example, an email service like MailChimp is great for sending emails and handling automation, but it's not so great if you need viral sharing to grow your email list or social channels, tracking entries, awarding entries, or the ability to randomly draw winners.
How do I Set This Up?
There are two parts to getting started.
First, you need to signup for ViralSweep.
For this guide, we're going to use ManyChat. Here's the step by step guide on how to do it.
Part 1: ViralSweep
Step 1 — Sign up for ViralSweep. We offer a 7-day trial, so you can set up a campaign and test out the Messenger integration.
Step 2 — Once signed up, create your first sweepstakes.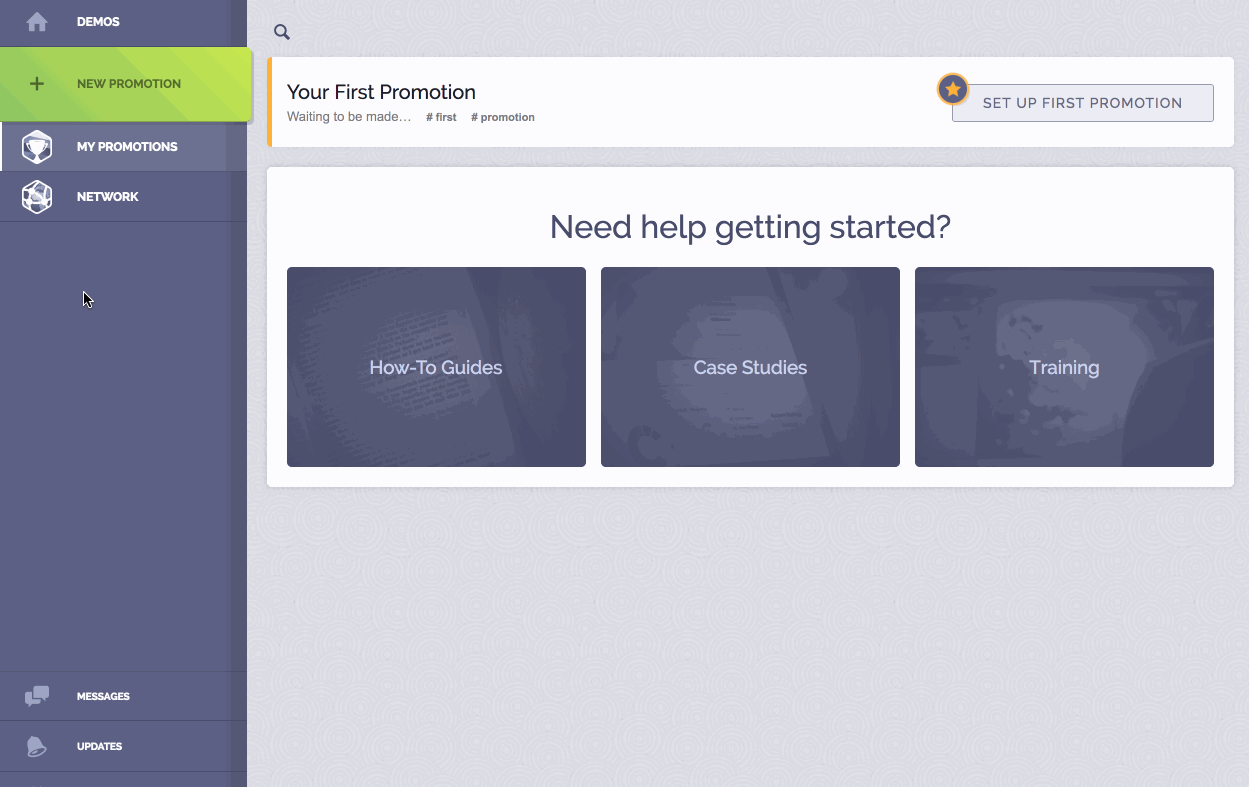 Step 3 — Build your sweepstakes. Under Social Actions, add our Facebook Subscribe on Messenger action.
Configure the action by selecting a Facebook page to connect it to.
Configure the default message the user will receive on Facebook Messenger once they subscribe.
Choose which text you want to appear on the button.
Define the number of entries to award users with for subscribing.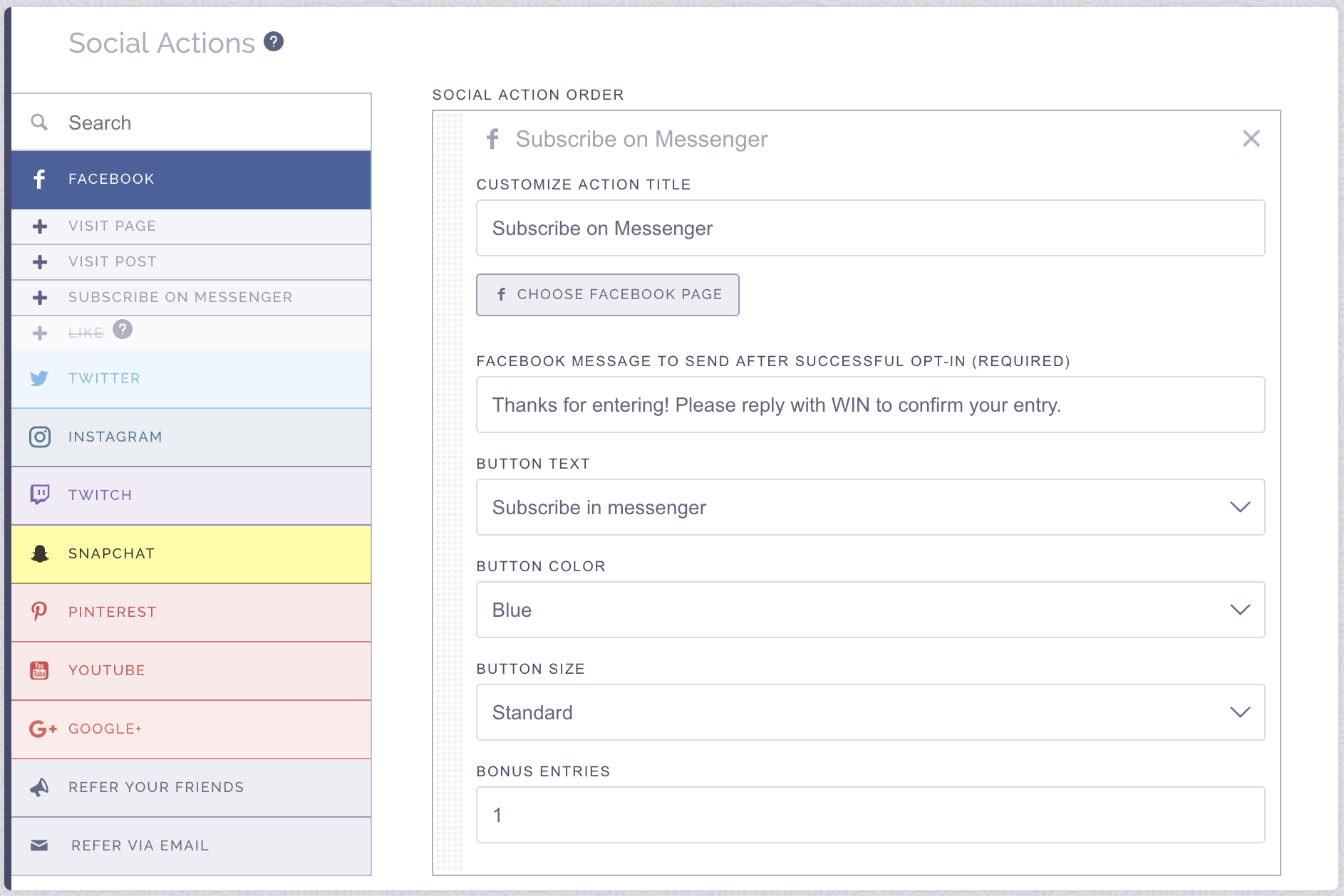 For the default message, we suggest asking users to reply using a specific word to confirm their entry. This will trigger the messaging from ManyChat that we'll set up next.
For example, our default message for the campaign on this post is Thanks for entering! Reply with "WIN" to confirm your entry.
Once a user replies to the message with the keyword, that triggers ManyChat to start sending our messages.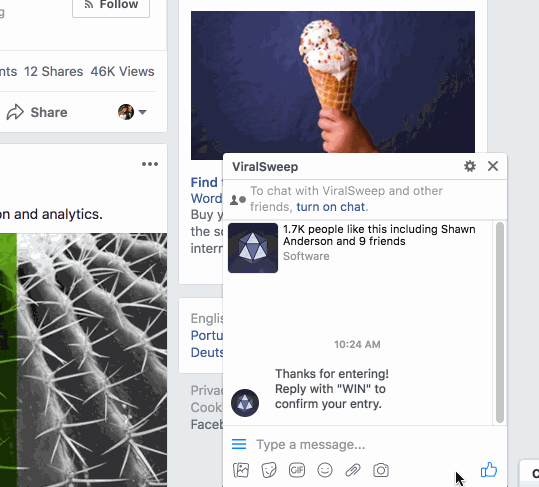 Part 2: ManyChat
Step 4 — Sign up for ManyChat. Once logged in, connect your Facebook page.
Step 5 — Go to Automation > Keywords. Click on the first rule and edit it to include your keyword(s). Once done, click on Subscribe to Bot across from your keyword.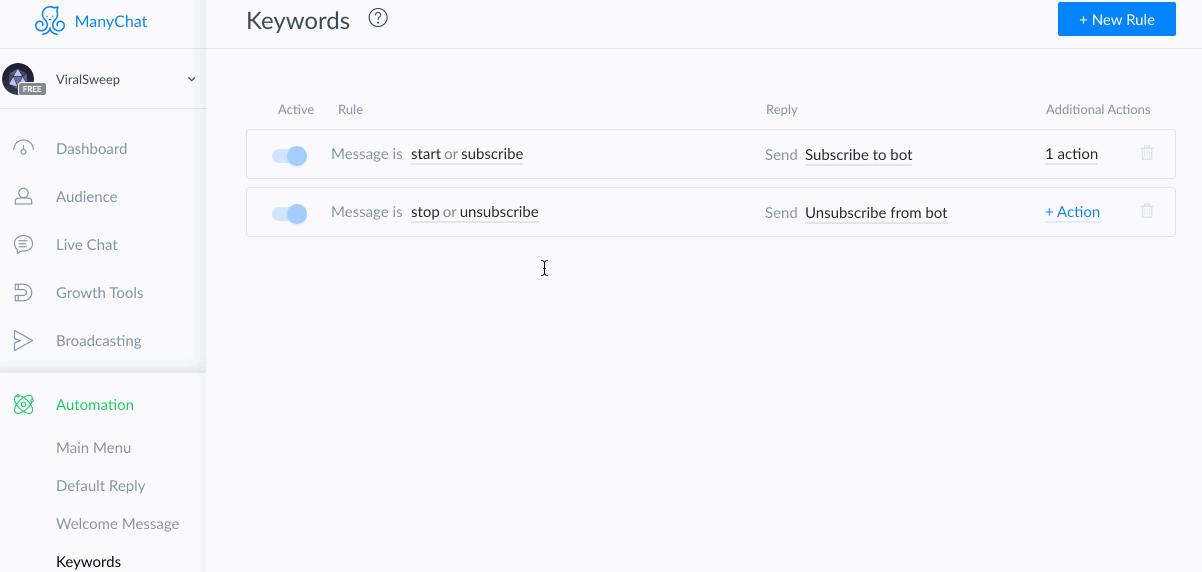 Step 6 — From here we can build out the flow of messages we want to send a user once they subscribe. For this demo, we will just configure a few messages to be sent.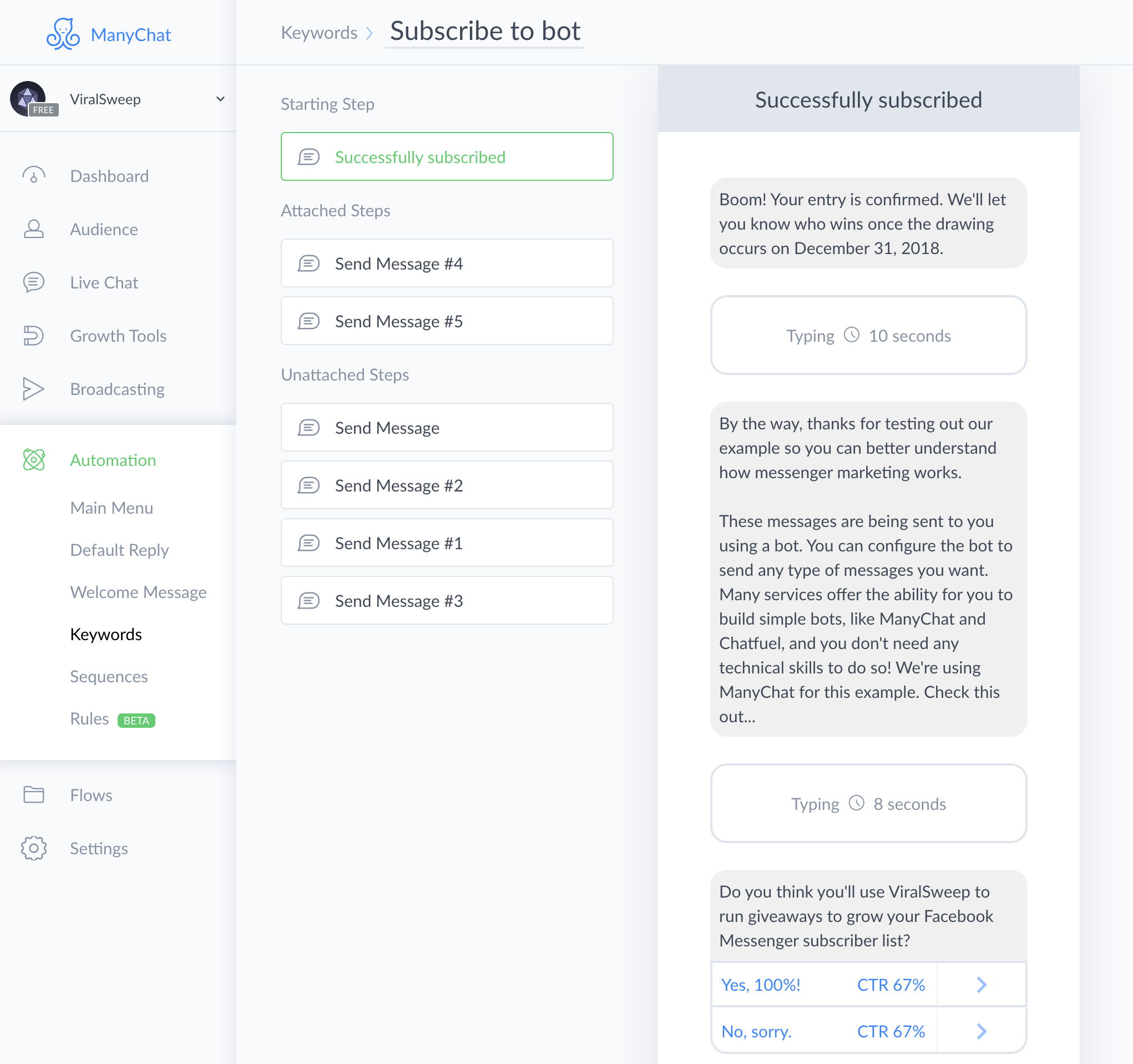 Step 7 — Testing time! Once your bot is configured, publish it. Now, enter your campaign via ViralSweep, complete the subscribe on Messenger action, and you will receive your default message from ViralSweep asking you to reply with your keyword. Once you reply, it will trigger the message to be sent from ManyChat.
Note: If you want to re-test, just simply type the keyword again into the chatbox to trigger the messages again from ManyChat.
Are You Using Facebook Messenger Marketing?
We're curious to hear how you're using Facebook Messenger marketing in your business.
What type of content are you sending to subscribers?
What type of open and click-through rates are you seeing?
Has it moved the needle for your business and become a new channel for you to explore?
Share your story in the comments below.
References: