"Hashtag" may have been the word of the year in 2015, but this social media tool is still one of the most powerful and cost-free methods for advertising in 2023.
Hashtags offer an easy way to help boost the reach and engagement with your content across social media platforms.
In this post, we'll break down what you need to know to optimize your hashtag strategies, reach more users, and run an impactful promotion using trending hashtags. Let's dive in.
What Are Hashtags?
Even if you're familiar with hashtags, it's worth reviewing the basics since hashtag use has changed over the years.
First: what are hashtags? Hashtags are words and phrases (without spaces) preceded by the hash symbol ("#") that group together related content.
Hashtags act as labels to help social media users who are interested in a particular topic find related content.
For instance, Nike uses #NikeFC to help fans find content related to Nike's football (soccer) videos, social media posts, and products.
Hashtags started in 2007 on Twitter. They became popular on the social media site to group together Tweets, add commentary, organize social movements, and help users join global conversations.
In the past, Twitter would use hashtags to organize all its content and highlight trending topics; however, since the site has become more complex, curated or recommended content appears under the Explore tab.
And, Twitter is no longer the only social media site that enables users to add hashtags to posts. Hashtags can be used on Instagram, Facebook, YouTube, LinkedIn, Pinterest, and TikTok.
Hashtag use on each platform has slightly different best practices, which we'll outline throughout this guide.
Relevance of Hashtags
Hashtags play an expanded role in improving brand visibility and helping marketers reach new followers. By including hashtags in your posts, you can take part in current and developing conversations—and find content that's relevant to your target customers.
There are also platform-specific benefits of using relevant hashtags in your posts.
On Twitter, hashtags are still a key way to organize, join, and identify trending topics. Hashtags are a fast way to share information before it reaches traditional media.
"Having the advantage of both speed and engagement, brands capitalize on this by running various campaigns on Twitter," wrote one marketing expert.
On Facebook, hashtags are ideally used to group content in private Facebook groups by theme or topic. Note that because many user profiles are private, it can be challenging for brands to track whether or not users are interacting with hashtags.
Instagram and Pinterest have perhaps the best use cases for hashtags. Instagram is the second most popular social media channel for marketing campaigns. Users can follow specific hashtags and include them in their Instagram Stories, Profile, and in their grid.
According to Hootsuite, Instagram allows users to include up to 30 hashtags on a regular post, and up to 10 hashtags on a Story. Note that if you try to use more, your post or comment won't be allowed.
Finally, Pinterest is considered one of the best-kept secrets for hashtag campaigns. "#Pinterest is often overlooked by brands and that could cost them a lot of money," wrote one social media expert. "Using brand hashtags on Pinterest not only increases reach but also helps the algorithm to categorize all the brand-related images together."
Pinterest even offers a hashtag suggestion tool that helps you find relevant hashtags to add to your post. The success of any hashtag campaign, however, depends on the types of hashtags you use.
Types of Hashtags
Hashtags can be broken up into different types. These categories help marketers understand how to craft a hashtag strategy that reaches a specific goal. Here are a few types of hashtags you might use in your next digital marketing campaign:
Industry hashtags
Niche hashtags
Branded hashtags
Social hashtags
Location hashtags
Campaign-specific hashtags
Event hashtags
Industry Hashtags
Industry hashtags can be used to find topics relevant to your specific product or vertical, and are typically highly competitive since so many people use them.
For instance, a #chef or #smallbusiness are two industry-oriented keywords that can help users find related conversations.
It can be useful to add one or two industry hashtags to a post, but don't expect to attract a lot of users with these highly popular phrases.
Niche Hashtags
Like industry hashtags, niche hashtags are pertinent to the specific industry or business you're in—just one degree more targeted than the broad industry hashtags.
For instance, #personalchef or #montanabusines are two niche hashtags that narrow down your audience even further.
Branded Hashtags
Branded hashtags are unique hashtags you generate for your specific business.
These can be as simple as the name of your business or a version of your slogan, or they can incorporate your slogan or tagline. For example, Nike's branded hashtags could include #JustDoIt or simply #Nike.
Social Hashtags
Social, or community hashtags let you tap into movements or groups that coalesce around a specific cause or interest. For instance, #blacklivesmatter and #stopasianhate are two of the most popular hashtags on social media, but are completely unrelated to a specific company.
These types of hashtags are best for sharing about your company mission and values, and they can be used to find out more about your customers and their priorities.
Location Hashtags
As the type implies, these hashtags help customers connect with local businesses. #PortlandChef or #CapeTownSmallBiz are two examples of hashtags that integrate a location to help people nearby connect.
"If you want people in your locality to find your posts quickly then use these low competition, high specificity, location hashtags on your posts," wrote Instasize, a photo editing tool.
Campaign-specific Hashtags
When your brand works with influencers, hosts contests, or you have a specific campaign you want to track, campaign-specific hashtags are your friends.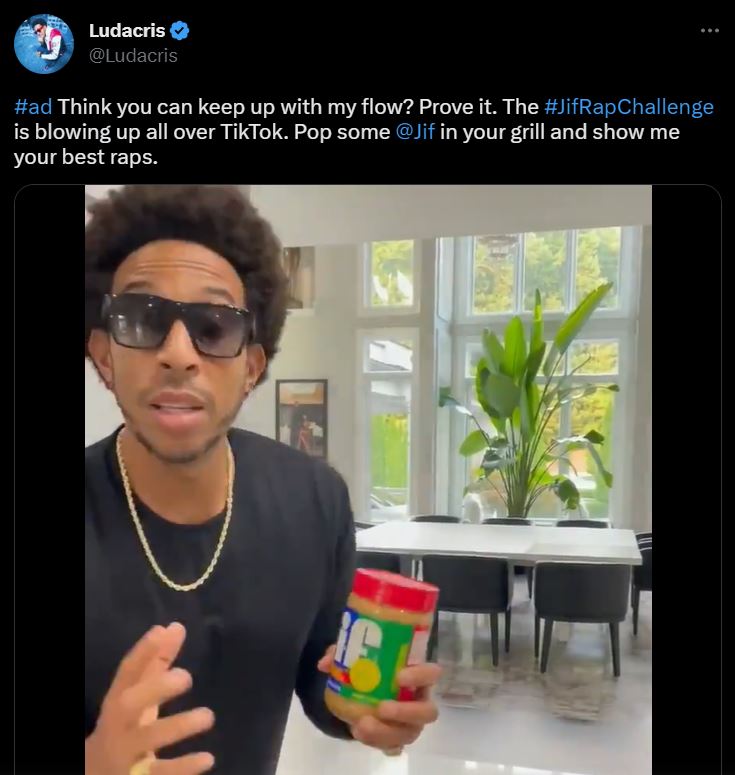 A good example: JIF Peanut Butter used hashtag #JIFRapChallenge in 2021 for its TikTok campaign featuring rapper Ludacris rapping with a mouth full of peanut butter.
Not only can you see how well your campaign is gaining traction, but you can also be compliant with FTC guidelines around sponsored content. Simply adding #ad or #sponsored to social media posts for which they are paid helps influencers avoid penalties.
Event Hashtags
Last but not least, consider adding specific event hashtags, like #BlackFriday or #Halloween to your social media posts, especially if you're running a limited-time promotion.
How to Use Hashtags for Promotions?
Hashtags aren't just for social listening. They benefit businesses by, among other things, increasing visibility for your material, building brand recognition, targeting a very particular demographic, and improving your SEO.
Here are just a few ways to use hashtags for promotions and reach more people with your content.
1. Create Branded Hashtags
Branded hashtags are helpful for building brand recognition and increasing followers.
First and foremost, these types of hashtags allow you to measure the impact of your campaign. Used consistently, they can help you build an inventory of content as well as identify user-generated content (UGC) to share.
User-generated content is extremely valuable: by one account, nearly 80% of people say UGC highly impacts their purchasing decisions.
2. Join Trending Topics
Event, social, and niche hashtags allow you to identify trending topics that may be relevant to your customers and join the conversation. Using the right hashtags in your post will help get your content in front of the right audience, too.
For instance, if you use a holiday related hashtag, you may be able to get your content discovered by someone who didn't know they were looking for your brand.
3. Build a Community Using Hashtags
Hashtags help users find others who are interested in the same topics. You can use this to your advantage, and create a hashtag that brings together social media users who are all interested in topics related to your brand.
For example, a local sports store could use a location and event specific hashtag to find customers who might be interested in starting a running group.
From there, you can tap into UGC, create promotions and giveaways, and get customer insights from your community.
4. Create Conversations Using Hashtags
Hashtags help raise awareness around specific topics. Often, hashtags are used to organize social movements or spark debate. You can use hashtags to enter or start discussions about topics relevant to your customers, add thought leadership, or promote your brand values.
Sharing your values is an important sales strategy: studies indicate 63% of customers want to purchase from purpose-driven companies that reflect their values.
5. Using Keyword Targeting Hashtags
Hashtags are an important element of your SEO strategy. Essentially, hashtags are keywords: they help brands categorize their content and users find what they're seeking.
Using hashtags will increase the chance that users will find your content—as long as your hashtag strategy incorporates some SEO best practices.
For instance, try to use keywords that users will naturally be searching for. Find the right balance between specific but not too narrow in your hashtag phrasing (e.g., #NBAPlayoffs is better than just #Playoffs).
And, avoid overusing hashtags, which can have the same result as keyword stuffing.
6. Use Hashtag Generator
A hashtag generator helps you find and collect hashtag entries across social media for your promotions.
Some tools will simply help you identify trending hashtags around a certain topic. Others, like ViralSweep, can collect hashtags that help you run contests and promotions and collect user-generated content.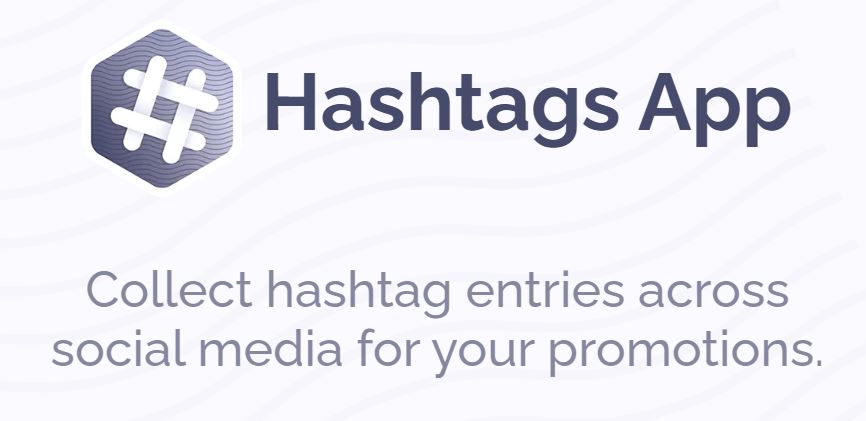 5 Ways to Use the Best Hashtags
Hashtags are a small but mighty way to supercharge your social media content. Using hashtags regularly and strategically is essential for helping users find your content and learn about your brand.
By using the best hashtags in your Tweets, Instagram posts, and Facebook groups, you can start to see your analytics trending in the right direction.
1. Know Which Hashtags Are Trending
The right hashtags are the ones that other people are already using to talk about a specific topic. Trending hashtags let you tap into communities that are active, even if they aren't directly related to your brand.
Brands seeking new followers should look for the best hashtags already in use, as well as come up with specific branded hashtags.
2. Find Related Hashtags
It's not enough to just jump on board with whatever hashtags are already being used. It will be hard to stand out from the noise if you simply piggyback on the hashtags used by hundreds of other accounts.
Make sure to include a few related hashtags that are aligned with your purpose, product or service, or specific campaign.
3. Find A Unique Hashtag
A unique hashtag used consistently will help you measure your campaign effectiveness. Find a unique hashtag your brand can "own" so that when a user posts with the hashtag, you can reliably say they are aware of and discussing a branded topic.
4. Examine Which Hashtags Were Popular On Recent Posts
Refer to your analytics often to learn which hashtags are serving your marketing and which aren't going anywhere. If your hashtag isn't eliciting the user-generated content you were hoping for, reevaluate whether it's the right fit for your campaign.
Remember, it needs to be memorable, short, and catchy enough for someone to use it in their own content.
5. Monitor Your Social Media Competitors
Finally, it's unwise to use just any trending hashtag. You could inadvertently be promoting a competitor if you don't research your hashtags carefully.
Not only should you monitor your competitors, but it's also important to be compliant with platform contest rules and restrictions.
You won't want hashtags that lead to spam or shadow-banning. ViralSweep's management tools help you stay compliant with platform rules and avoid fraudulent entries that can bog down your social media contests.
Conclusion
Hashtags are a simple yet highly effective way to engage with customers on social media and promote your branded content. Hashtags can improve your search engine optimization, help your small business start trending, and supercharge your digital marketing campaigns.
Using the right hashtags requires using tools like ViralSweep to manage your campaigns and giveaways. ViralSweep can help you find the right niche, trending, and branded hashtags to make your content stand out in a crowded social media landscape.
Learn more about finding the best hashtags by exploring ViralSweep's Partner Network Sweepstakes.