First it was the Kindle, then it was the Fire Phone, and now it's… Amazon Giveaway?
That's right, Amazon has officially announced a new giveaway tool that will allow anyone to run a giveaway using products that can be purchased on Amazon.
When we first heard the news, we were a bit confused; why would Amazon release a service so far removed from their core business? Especially considering they had previously reached out to us to become an Amazon Solution Provider.

After testing the tool and digging a little deeper to get a better understanding, we've come to the conclusion that Amazon is most likely utilizing their own giveaway system for two main reasons.
We'll get to those reasons, but let's first take a look at how the Amazon Giveaway Tool works.
Amazon Giveaway For Hosts
The Amazon Giveaway Tool itself is fairly simple to set up, and it's pretty locked down at this point so that everything runs smoothly and Amazon can easily handle the logistics when thousands of these campaigns are running.
To host a giveaway, you pick a prize from the millions of eligible, predetermined products sold on Amazon. You'll know if a product is eligible if you scroll to the bottom of the product page under the review section and you see this: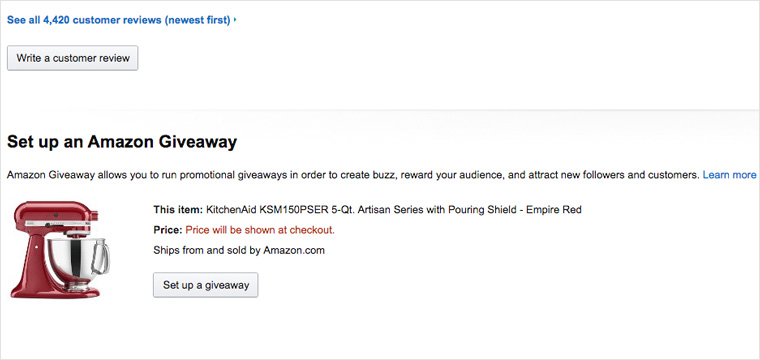 Next, they'll take you through a few steps to set up an Amazon giveaway by choosing the giveaway type, setting the number of winners, and purchasing the prizes.
They currently have two giveaway types:

Lucky Number
Being the "lucky number" means that if you are entrant #X, you automatically win. For example, every 50th entrant wins until all prizes are given away.
First-come, First-served
First-come, First-served means that the first person, or the first few people to enter, will win. For example, if you are giving away 3 prizes, then the first 3 people who enter will automatically win.
Next, they allow you to "Grow your audience" by requiring entrants to perform a task.

Currently, they only have the option for people to follow you on Twitter, but it's possible that they may add other networks or actions in the future.
To wrap up the process, you add some basic information like a title, a welcome message, and upload an image of yourself or your logo so people know who the giveaway is hosted by.
That's it. Amazon will then prompt you to purchase the item(s) for your giveaway, and they will then email you a link you can use to share your giveaway.
Amazon automatically will take care of the rules as well as the prize fulfillment, so you don't have to worry about anything other than purchasing the product from Amazon and sharing the link they give you.
Amazon Giveaway For Entrants
As an entrant, when you land on an Amazon Giveaway you will see something like this: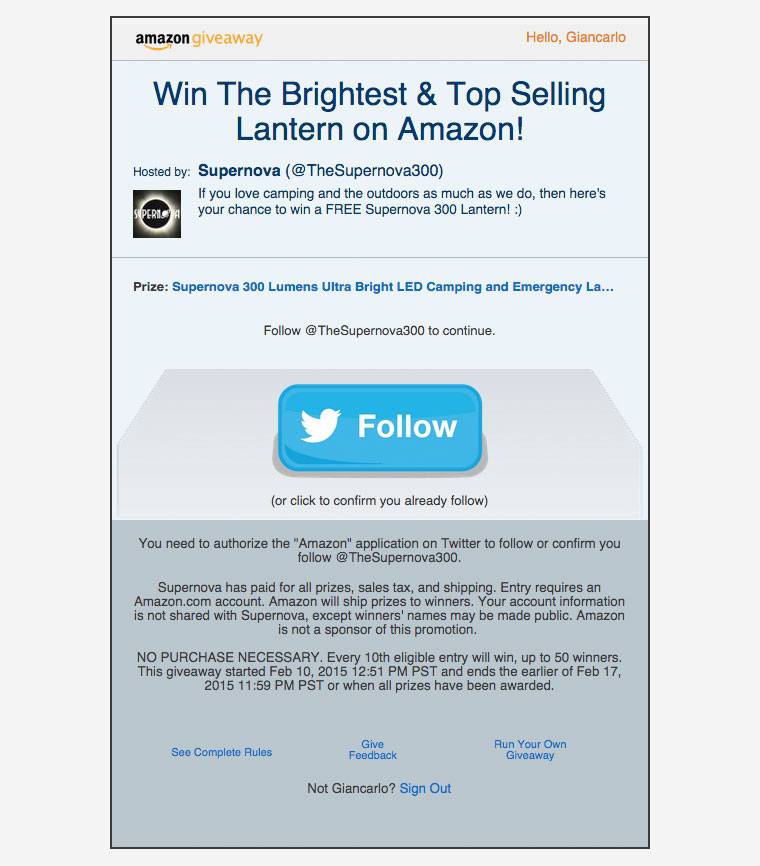 If the giveaway host has required Twitter to enter, then you must follow them. After you follow them, you will see this: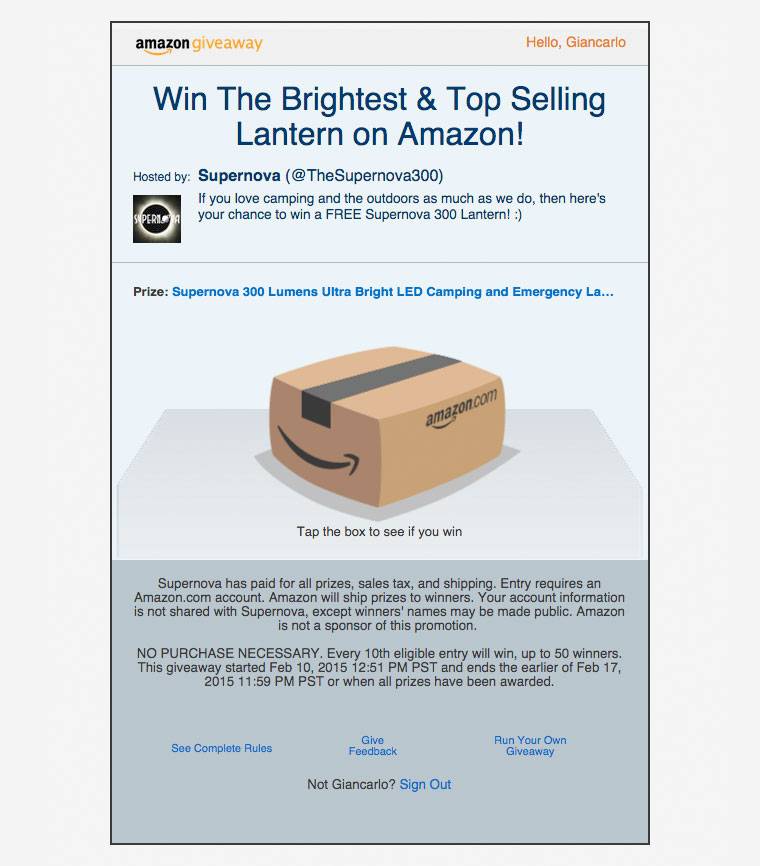 And that's it. You'll either win or lose: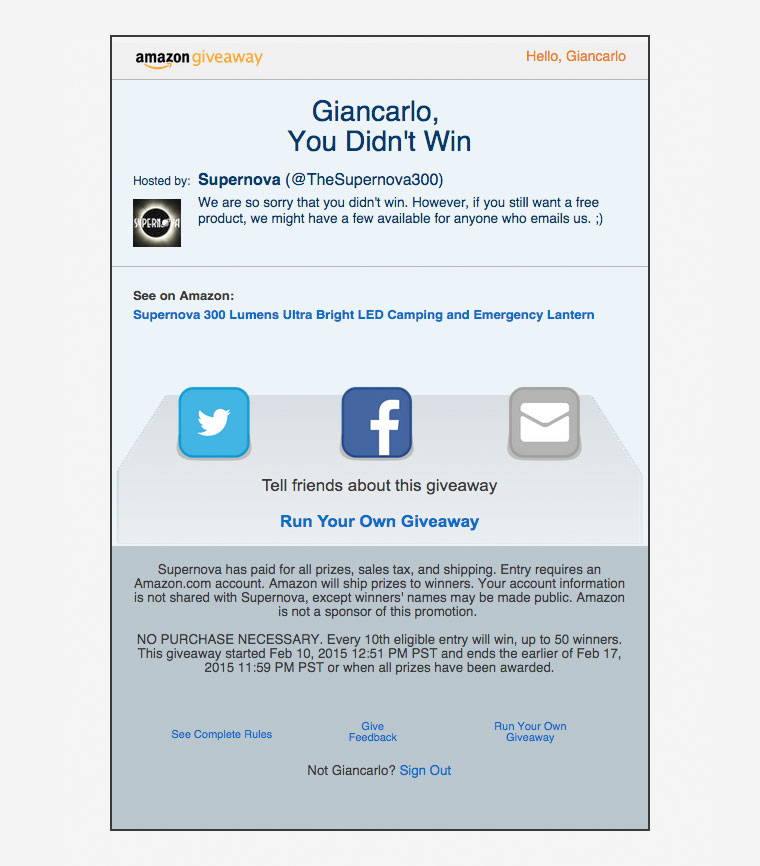 Looking at the bottom of the form, you can see in the rules that it will tell you how winners are being drawn. So in the case of the example above, every 10th eligible entry will win, up to 50 winners.
The odd thing here is that Amazon is prompting people to share after they lose. Share with my friends so they can win the prize that I just lost? No thanks.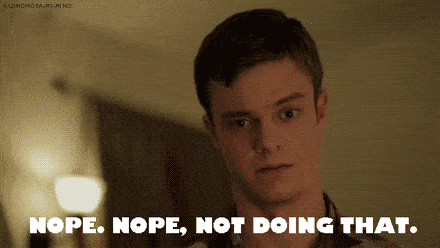 Is Amazon Giveaway Right for Hosts?What Are the Benefits of Amazon Giveaway?
There are a few different reasons why the Amazon Giveaway tool probably is not the best thing to use for your next promotion. While I may have a strong bias being the co-founder of ViralSweep, I'll provide the facts to help you make an informed decision.
First, you can't give away your own products through Amazon Giveaway because they require you to choose only from the available items on Amazon.com.
In addition, there are restrictions to which items are eligible. In the Amazon Giveaway FAQ it says:
Items currently not eligible for giveaways include digital items such as songs, movies, or apps; Amazon.com Gift Cards; items sold by Marketplace Sellers; large or over-sized items that require special handling; items in the Add-on program; and Kindle and Fire devices.
Second, Amazon sets all the restrictions on the campaign. They need to do this because they are the ones handling the official rules, as well as the prize fulfillment. Here are just a few of the restrictions:
Only open to residents of the 50 US states.
If the prize value goes over $500, it is not open to residents of Rhode Island.
Amazon automatically sets the expiration date of the campaign.
Amazon does not let you edit a campaign after you set it up, so if you make a mistake, there's no turning back.
Only people with an Amazon.com account can enter the giveaway.
The prize value cannot exceed $5,000.
The giveaway cannot be embedded on your own site.
The giveaway cannot be customized or styled.
You must use Amazon's designated link, which is hosted by Amazon (you can't use your own site link).
Host has to pay the shipping cost of the items if the prize does not qualify for free shipping (you can't use Prime FREE Two-Day shipping).
And the worst part of all about this system:
As a giveaway host, Amazon does not give you the entrant's information.
That's right, Amazon will not share the entrants' email addresses with you. The only thing you can do with the tool to grow your audience is gain Twitter followers.
What Are the Benefits of Amazon Giveaway?
As previously mentioned, the cons of the system greatly outweigh the benefits for hosts, because Amazon has created this system to greatly benefit themselves.
Since there are tight restrictions on the products that can be given away, the prize values, and the fact that these giveaways are only open to the USA, this makes it easy for Amazon to take care of the logistics. In particular:
Amazon handles the official rules for the giveaway.
Amazon fulfills the giveaway prizes.
Amazon will handle collecting tax information from winners if they win a prize from you that is over $500.
So, What's the Point of Amazon Giveaway?
We've been racking our brains for the answer to this question since Amazon made their announcement.
For hosts, there really does not seem to be an upside since Amazon does not give you the entrant's information.
For entrants, there really is no downside, you either win or you lose and you find out immediately.
For Amazon though, this will be a great tool for them to do two things:
1) Move more inventory.
Giveaways are an incredibly popular marketing tool used by countless brands to grow audiences and drive sales.
Amazon's own press release even mentions that the word "giveaway" is used more than a million times every day on social platforms. Since you can only use items sold on Amazon for your giveaway, this will help them sell more products.
2) Get more Amazon customers.
The only way for someone to enter an Amazon Giveaway is to have an Amazon.com account. This will help drive more signups for Amazon, which takes us back to point #1.
What are your thoughts on Amazon Giveaway? Will you use it for your business—why or why not?
Amazon, Amazon Giveaway, and all related logos are trademarks of Amazon.com, Inc. or its affiliates.