No matter how simple or complex your giveaways are, you need a reliable app that you can use for a fair, transparent, and efficient way to draw winners randomly.
Do you switch between random number generators and random winner-picker apps?
We want to help you do the research confidently and use a well-defined set of criteria to choose the best application for picking giveaway winners.
If you're looking for an easy app to help you pick a random giveaway winner, check out our Random Name Picker Tool.
Simple Giveaway Pickers
Let's say you run a simple giveaway, asking your audience to take a singular social media action, such as a comment on the post dedicated to the giveaway.
You have a list of around 50 participants at the end date, and you manually add their names into a spreadsheet.
Now, because it's not a lot of data to process, you can draw a winner using random number generators like Random.org or Google's Random Number Generator.
[Check out our Free Random Name Picker Tool]
When using this free online tool, you have to allocate every entry a number, use the random number generator to get a number, and match the generated number with an entry.
Because you need a fair process, things can get complicated quickly.
Remember, you need a way to prove that the winner was chosen randomly, using screenshots, spreadsheets, and videos of the process of picking random winners.
Tools to Choose a Winner for Complex Social Media Giveaways
The random number generators work when you have simple rules to enter a giveaway and little data to analyze.
But if you want to add more rules or ways to enter, then you need an effective online tool for validating entries and picking giveaway winners.
The most popular and successful social media giveaways allow people to enter in multiple ways, such as:
Writing social media comments
Liking your Facebook page
Following your Instagram Page
Retweeting a tweet
Let's cover what you need to consider when running this type of social media giveaway.
Choosing the Best Apps for Picking Giveaway Winners
The best app for picking a winner is the one that helps you choose a random winner effectively and transparently.
When you start your research for the best random drawing app, you should take into account criteria like:
The Type of the Giveaway
Do participants have to take singular or multiple actions to enter your giveaway?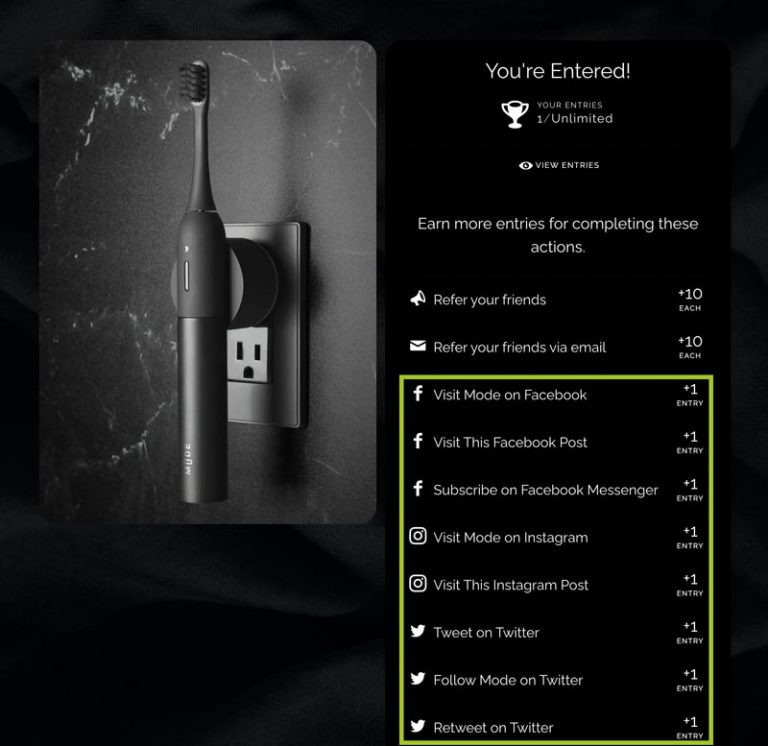 The more actions people can take to enter, the more successful the contest will be. This is why ViralSweep offers so many social actions so you can get the best results from your giveaway.
So if you want entrants to have multiple ways to enter your giveaway, then you will likely need to use a premium winner tool like ViralSweep to keep everything easy to manage and the process of picking a winner transparent.
Social Media Giveaway Apps to Pick a Winner
Here are three of the top giveaway random winner picker tools brands are using to pick random winners ensuring a fair, secure, and quick process:
ViralSweep Giveaway Platform
ViralSweep is one of the best apps for giveaways that allows you to build, run and manage various promotions, including giveaways, sweepstakes, contests, and referral campaigns.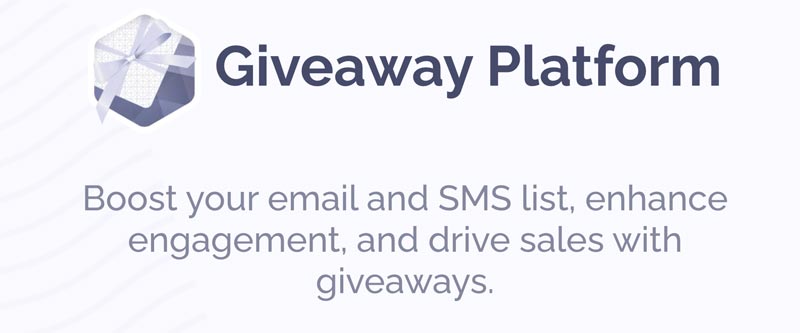 You can draw winners hourly, daily, weekly, or at the end of the giveaway period directly from the app's dashboard based on your rules and criteria.
The application dedicated to giveaways helps you pick random winners for giveaways run on your website, store, blog, or social media platforms, including Twitter, Facebook, Instagram, YouTube, Pinterest, Snapchat, and Twitch.
Among the actions automatically analyzed by the app are comments, hashtags, page visits, post visits, tweets and retweets, follows, referrals, or subscriptions.
All the actions you can track, and award are aligned with each platform's privacy policy and collected via APIs.
ViralSweep helps you collect user entry information quickly and securely and includes a fraud detection system to ensure only valid entries in a draw.
The tools can be accessed as part of a free trial or by picking one of the paid plans available.
ViralSweep's Free Random Winner Picker Tool
Random Name Picker is a free winner tool from ViralSweep that helps you pick random winners for giveaways, contests, and raffles.
To use this free winner tool, you must create a list of emails, names, or other unique identifiers. Just make sure you have one entry per line.
You can choose from uploading the list as CSV file or pasting your data directly in the dedicated field on the website page.
Once your list of participants is ready, you have to type in the number of winners you want to draw, the name of your giveaway, and an email address where you want to receive your drawing results.
Once you click Draw My Winners, we will send you over a list of the winners to the email address you provided.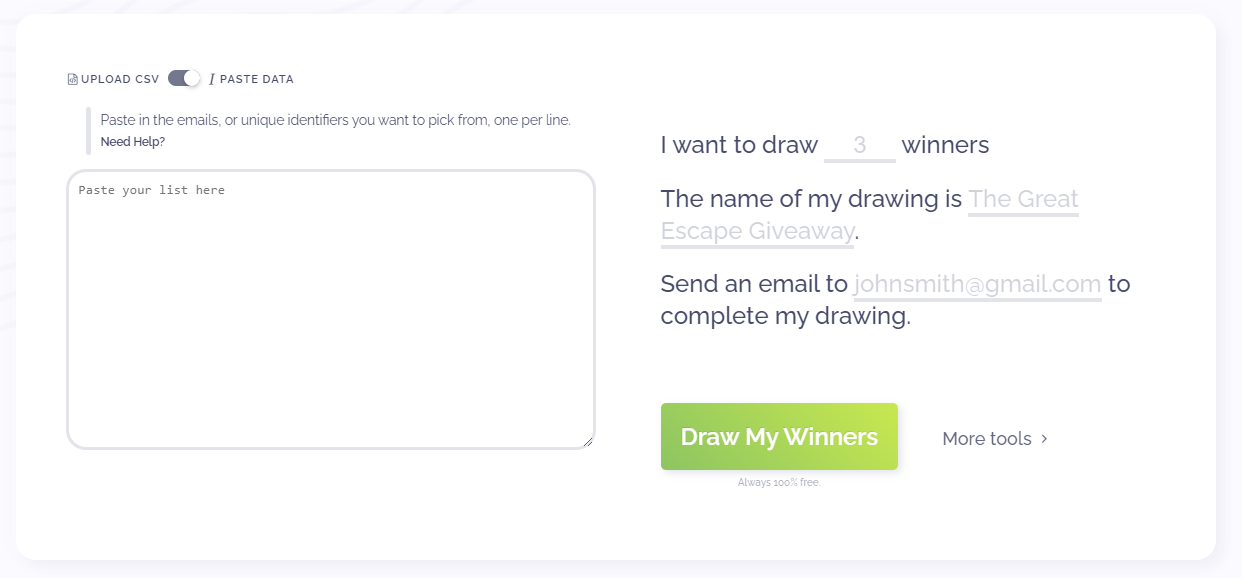 This free app for picking a winner is suitable for giveaways based on a singular action, with entries you can quickly gather and review manually.
If you run complex promotions and need an automated solution for winner selection, ViralSweep has multiple tools to suit your needs, including Sweepstakes, Contests, and Social Media Giveaways.
WooBox
Woobox is a campaign platform that helps you create contests, giveaways, sweepstakes, coupons, polls, and other types of promotions. The platform allows you to run the giveaway on social networks or your website using an embed code.
You can use Woobox's random winner picker named "Pick a Winner" Tool to generate winners for giveaways based on comments and likes on Facebook, Instagram, and YouTube.
The tool allows you to export likes and comments and to pick one or multiple winners from the dedicated dashboard.
If you want to enable more options than the ones available in their app for picking a winner, you can use Woobox's Prize Claim campaign tool along with the winner picker.
This way, you unlock features like collecting contact information and excluding people who don't meet eligibility requirements.
Woobox has a free plan and several paid plans for brands that want to enable additional features.
Gleam
Gleam Competitions is an application developed to help your business run promotional contests, giveaways, and sweepstakes. The app allows you to run opt-in giveaways on your website or a hosted landing page.
You can also create other social media giveaways, including Twitter giveaways, Facebook giveaways, Instagram giveaways, and YouTube giveaways.
You can create giveaways based on one or more social actions: follows, likes, replies, hashtags, tweets, and retweets. The app allows you to identify invalid entries, monitor and detect fraud, and automatically verify social media accounts.
The app allows you to import actions from complex social media giveaways that imply more actions.
Gleam Competitions can be used as part of a free plan, while paid plans offer access to more features.
During your research, you'll see that random name-picker solutions come in different forms, like spinning wheels or raffle apps.
While there are many free apps for random drawings, as your giveaways become more complex, you will need a dedicated solution that ensures a correct, transparent, and quick way to pick a giveaway winner.
So, the best app for picking a winner is the one that works with your current digital marketing promotions and allows you to scale as you create more complex competitions.
The three developers presented above offer free trials and paid plans, so please check their pricing pages for up-to-date information.
Manage Facebook, Instagram, and YouTube Comment Giveaways
Running YouTube, Facebook, and Instagram giveaways is one of the best ways to increase engagement with existing fans and their best friends, grow your audience by reaching new people, and boost brand exposure.
ViralSweep's Comments tool helps you run comment giveaways and pull comments from your YouTube, Instagram, and Facebook accounts.
The app allows you to analyze post insights for all these social networks, including total and unique comments.
One great thing about the Comments app is combining and connecting as many posts and social media pages as you want.
ViralSweep pulls in the data and combines all comments for your drawings. The app enables you to draw winners automatically using the one-click winner selection.
The Amazon Giveaway Tool
Some businesses choose Amazon's Giveaway tool, which allows them to select prizes from an extensive list of eligible products available on Amazon.
While Amazon takes care of most of the process, including the prize draw and fulfillment, running giveaways on Amazon isn't always a good idea as it might not resonate with your company's marketing goals and audience's needs and wants.
If you're considering hosting a giveaway on Amazon, you must remember its limitations and restrictions. For example, Amazon doesn't share the entrants' information, and you must pick only from the eligible items on Amazon.com.
How To Choose Your Giveaway's Prize?
You should start by defining the giveaway's value proposition, as your target is to attract qualified leads interested in your brand's offer.
A giveaway will perform best when the prize you offer is relevant to your business and is something your target audience wants. Think of a prize that excites people and increases the likelihood of entering the giveaway. It could be:
A gift card that allows winners to pick their favorite products from your brand;
An item from a limited edition;
The best-selling product of your brand;
A kit or bundle of your best products.
To get people excited and create a memorable experience, you could offer winners several options to choose the prize closest to their preferences.
You've set the rules and picked the best prize for your giveaway. Now all you need is to find the app for winner selection that best suits your needs and unlocks the easiest way to manage your giveaway.
Learn more about how ViralSweep's apps support you in running the best-performing giveaways.