A contest worth investing in aligns with your marketing objectives and resonates with your target audience's needs and interests.
But how do you increase the chances of creating a successful contest that goes viral?
Follow this step-by-step guide to learn about planning, preparing, promoting, and evaluating contests.
What Is A Contest?
A contest is a type of promotion with one or more prizes, where winners are chosen by voting or judging from a pool of participants who meet specific criteria.
Contests help you achieve various marketing goals, such as increasing brand awareness or engagement on social media platforms.
In a contest, the level of effort required from participants is higher than in other competitions. For example, participants must submit a photo or write a creative comment to qualify for winning the prize.
If you've got your mind set on running a contest, let's move forward.
Why Run a Contest?
Every time you decide to run a contest on your website or social networks, you should first set clear goals and define the target audience, which will make designing the contest mechanism and measuring results much easier.
Any successful contest starts with knowing what marketing goals you want to achieve: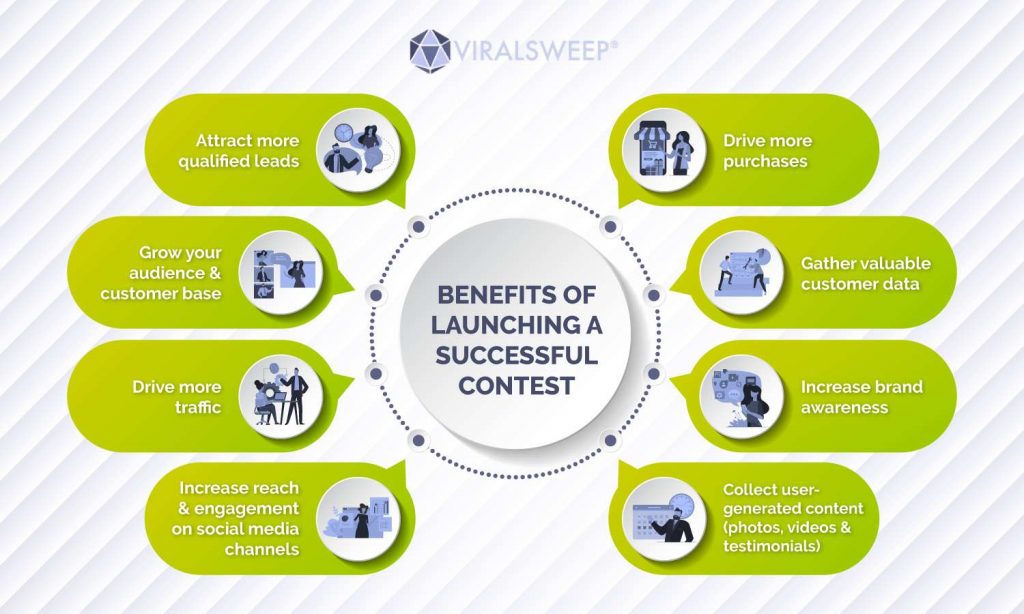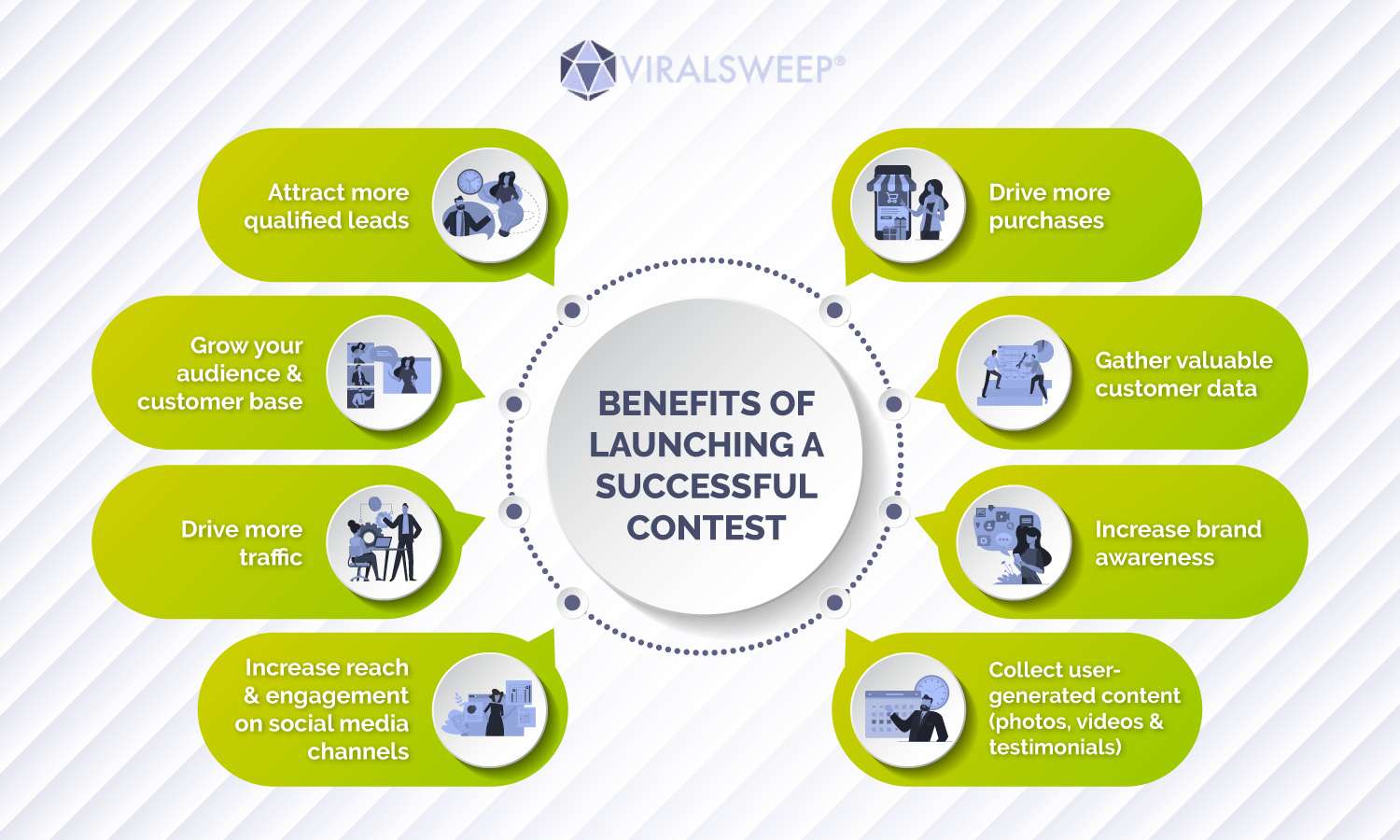 Attract more qualified email leads to your brand
Grow your audience and customer base
Drive more traffic to your website
Increase reach and engagement on social media channels
Drive more purchases among new and existing customers
Gather valuable customer data and gain a better understanding of your audience
Increase brand awareness or generate buzz around a new product launch
Collect user-generated content, including photos, videos, and testimonials
If you want to see how vital setting goals for contests and sweepstakes is in practice, check out our Case Studies section and get inspired by our client's success stories.
Read More: Sweepstakes Vs. Contests: What's The Difference?
Design your contest around your goals to bring in the right audience using the right messaging and prizes that motivate people to participate.
Steps For A Successful Contest
Let's dive into the steps that help you set your contest for success.
Step 1: Contest Planning
Like all marketing efforts, contests should be based on a well-defined plan. When you're planning your contest, the first step is to document your answer to the following questions:
What is the business goal of the contest?
As the section above highlights, your website and social media contests should align with your business goals.
What kind of contest should you organize? Suppose you notice a lot of traffic on your site but a decrease in first-time buyers.
In this case, you'll want to design a contest that encourages people to make their first purchase, and you'll care less about social media engagement.
When is the best time to run a contest?
To identify the best time to run a contest, you must consider your company's needs and customer behavior.
A contest can be planned well in advance as part of a larger marketing plan, such as launching a new product. But sometimes, contests can be a reaction to poor marketing performances and a way to help you boost results.
Understanding customer behavior by looking at the website and social media analytics can also determine the best time to launch and push your contest.
How long should a contest run?
Test and analyze different contest duration before you find the right time frame to obtain the best results. Take into account how much time people need to check all criteria, and remember that people might lose interest if a contest is too long.
A sense of urgency increases engagement rates, and you can maintain these rates high by picking winners throughout the competition.
The prize strongly influences how many participants join your contest, and it should be relevant to your brand and desired by your target audience.
The prizes should also fit into a budget that you can afford. Companies also include brand-related incentives like a free guide or a discount voucher for the next order.
For example, a women's fashion brand can offer different types of prizes within the same contest. The grand prize could be a complete and personalized fall outfit, put together by a wardrobe stylist for the great winner.
The additional prizes could be gift cards that promote the new products and allows people to choose one item from the fall collection.
The incentive to attract more entrants could be an exclusive magazine with fall trends and inspiration.
When your documented contest strategy is ready, it's time to move to the next step.
Step 2: How to Set Up and Create a Contest
Now's the time to get creative and set up all the contest details. You need to write a catchy copy and create a dedicated landing page. The easiest way to set up your contest is by using a third-party contest app.
Attention-grabbing copy and visuals
Your copy and visuals should get people excited. Write a punchy headline that entices people to read more and sign up for your contest.
Emphasize the prize through text and catchy visuals, and ensure contest entry requirements, terms, and conditions are clearly explained in the body. Wrap it up with a clear call to action.
A dedicated landing page
Drive all traffic to one place by creating a dedicated landing page that helps you maximize the outcomes of your online contest. Keep the design simple and use powerful copy and visuals to lead people to the entry form.
You can ask people to fill out their names and email address so you can personalize your following messages and grow your email list.
A contest marketing platform
Using a contest builder app saves you hours of work and helps you manage the entire campaign. The app allows you to set up the contest to reflect the mechanism you designed and bring your creatives to life.
If you're up to launching a contest that drives more user-generated content, check out how you can set up video and photo contests in ViralSweep's app.
Step 3: How to Launch a Contest
You're happy with the copy, creatives, and landing page and ready to launch. Now, before you set your contest live, there are some technicalities you should consider.
One aspect to think about is how much traffic your website can handle if your contest goes viral and have traffic spikes.
Some contest apps give you two options: install your contest on your website or get a direct link or URL to your landing page hosted by the app.
In this stage, you want to recheck if the contest rules are reflected in your implementation. Some tech-savvy users might find a way to cheat, but many contest apps include a fraud detection feature, so you don't have to worry about them.
Step 4: What to Track During a Contest
Tracking and monitoring your key performance indicators during your contest makes you more agile in achieving goals. Real-time tracking helps you tweak and optimize your contest when your campaign isn't performing as expected.
To measure your KPIs like page views, entries, and conversion rate, you want to:
Connect your contest landing page with your Google Analytics account
Look at social media analytics
Analyze the metrics available in your contest builder app
If you are not pleased with the results, you can use an A/B testing feature to create variations and identify the elements that can boost performance. Here's a list of variations you can create and test:
Button color
Title
Description
Form fields
Images
Theme
Custom CSS
Language
Formatting
Keep the number of variations to a minimum because the traffic splits between your variations. The A/B testing results are not statistically significant if the traffic is too low.
The faster you optimize the campaign, the more you will increase your chance of obtaining the desired results.
Step 5: How to Promote a Contest
Treat your contest promotion plan with the same consideration as any other marketing tactic. Use best practices from your previous initiatives to create a plan that helps your contest go viral. Think of actions you want to take pre-launch and during the contest.
You already have a cool copy and compelling visuals on the contest landing page, so all you have to do is create suitable promotional materials for each channel you want to include in your plan.
Here are some ideas on what you can use to promote your contest: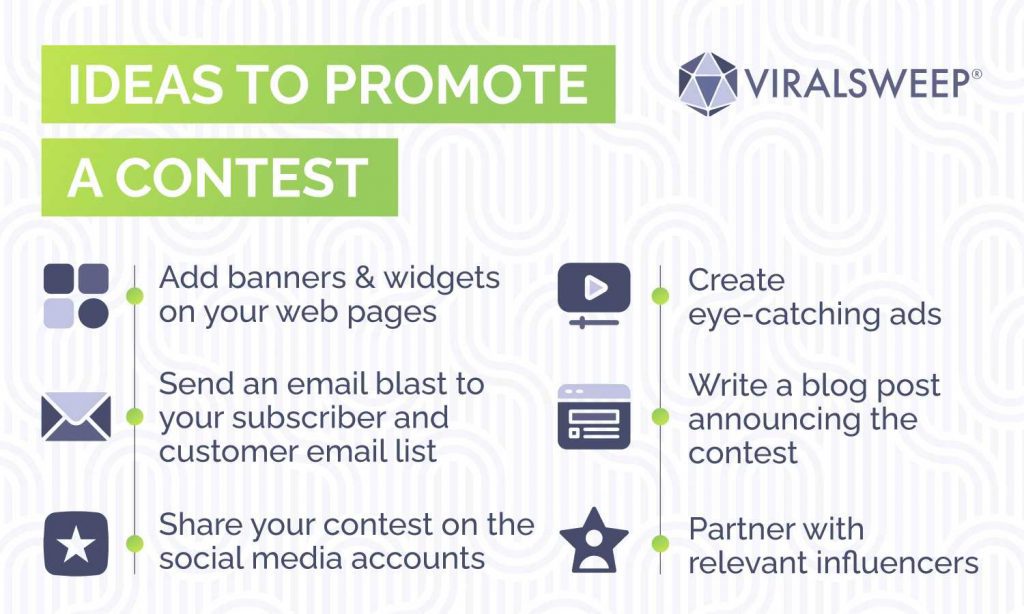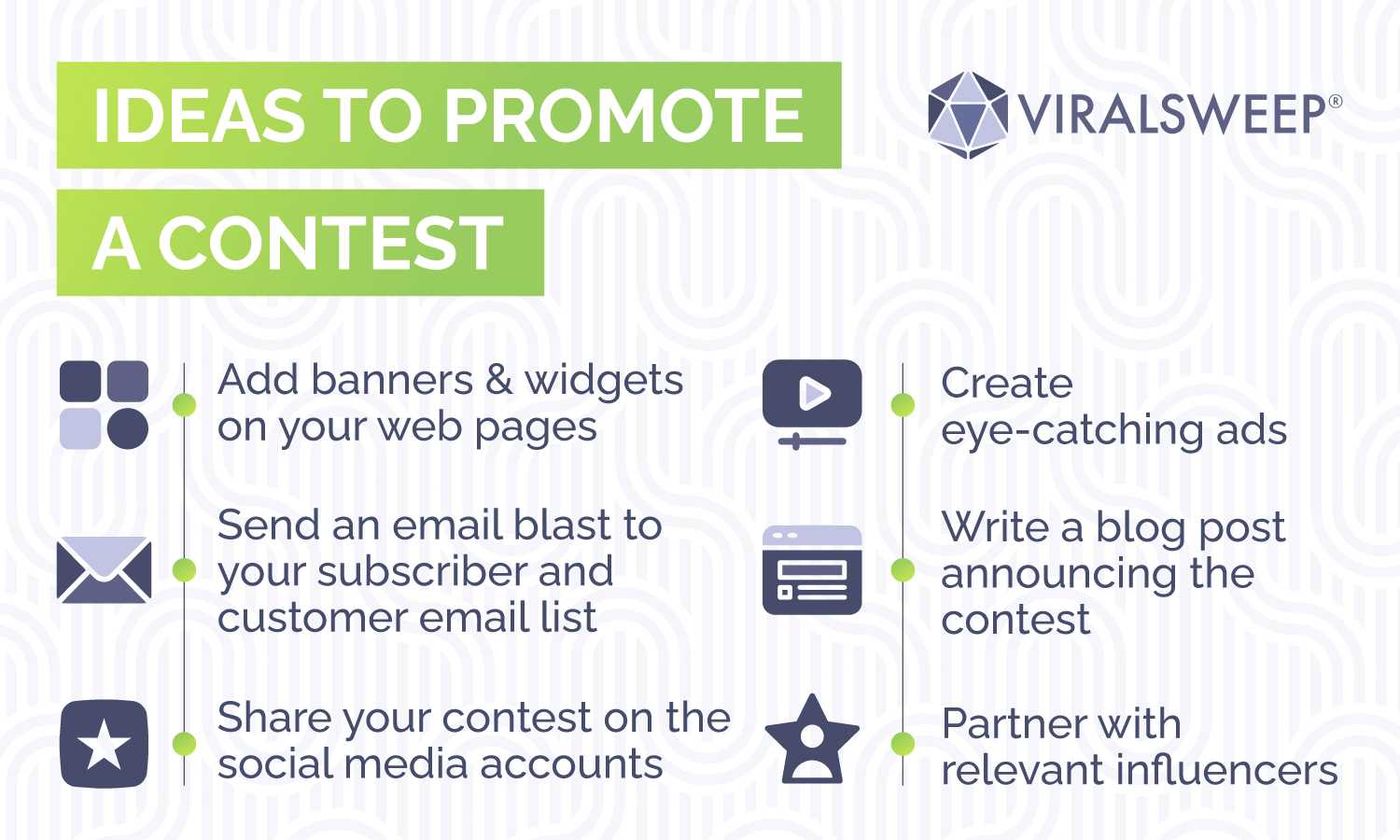 Add banners and widgets on your website pages
Send an email blast to your subscriber and customer email list
Share posts about your contest on the social media accounts where your followers and target audience are active
Create ads using eye-catching visuals and copy to reach your target audience
Write a blog post to announce the contest to your readers
Create a referral system that gives participants good enough reasons to share your contest on the social networks they're active on
Partner with relevant influencers to spread the word and reach a wider audience
Stay away from one-size-fits-all guides and try different tactics to find the most effective way to promote your contest, encourage people to enter, and share your contest.
Step 6: How to Conclude a Contest
Once the contest ends, you must announce the contest winner(s) publicly and send the prize(s). Create a personalized experience around the prize that makes people happy and willing to share it online.
Thank all participants for entering the contest. You could surprise the entrants who didn't win with a discount code or other type of incentive you know they'll appreciate.
There are lots of people who qualify as potential customers and might become new customers if you show appreciation.
Even though the contest has ended, it's a great idea to keep the contest landing page live, adding updates about the winners and making sure people can easily find your other live contests.
Updating the landing page is an excellent way to leverage the traffic it attracts by adding a call to action that gives visitors solid reasons to engage with your brand further.
The last thing but one of the most important elements of your campaign is to measure and evaluate marketing results. It's time to find out if you hit your contest goals and attracted the right people to your brand.
Gather data from all analytics tools to generate insights about your contest and audience that can help you perfect future contest promotions.
Tips For Running A Contest On Social Media
Think about how much time people spend on social networks. Social media giveaways, sweepstakes, and contests represent a great opportunity to connect your company with your target audience by:
Boosting brand awareness in a fun way that gets people excited
Reaching new audiences to get new followers and fans that are most likely to become your customers
Engaging with existing followers and customers to boost their brand affinity and loyalty
The first thing you want to do is find out under what conditions you can organize social contests.
Read More: 5 Best Contest Management Software
Contests On Different Social Platforms
Before launching your campaign, check and comply with the social media platform's guidelines. Let people know you manage the data you capture, and write a clear privacy policy for every social media giveaway or contest.
Once you're familiar with the conditions, you can start setting up your campaign, and the easiest way to manage your campaign on multiple platforms is to use a third-party app dedicated to social contests.
Here are some tips for creating successful Twitter, Instagram, and Facebook contests:
Run a Contest on Facebook
Facebook is one of the most popular social media platforms, so there is a high chance that your audience will also be present there.
Before you create a contest on Facebook, check out Facebook guidelines to make sure your participation criteria are ok. For example, Facebook contests that use personal timelines and friend connections are not compliant with the Facebook Platform Policy.
A fun type of Facebook contest is asking people to caption a photo or a meme. You could encourage participants to include certain words or references to your brand and let the audience vote for their favorites.
Run a Contest on Instagram
Instagram is all about creating and consuming visual content. Posts fly fast through feeds, and stories vanish in 24 hours, so you must create multiple posts to capture the audience's attention and maintain interest in your Instagram contest.
If you want to gather more user-generated content, you could run a photo contest with a specific theme.
For example, you could run an Instagram contest that creates more buzz around your limited edition Christmas products by asking people to post a selfie that captures a slice of their lives using those products.
You can also leverage the power of Instagram stories to generate more hype around your contest.
The rules for running Instagram contests are similar to those of Facebook. However, we advise you to read Instagram guidelines on how you should run your contest.
If you want to learn how to run a photo contest on Instagram, check out this post.
Run a Contest on Twitter
Twitter contests are a great way to improve reach and brand exposure. You can encourage entrants to retweet the original tweet dedicated to your contest or create a new tweet that includes a link with a tracking token.
Let participants share their personalities and start a creative writing or photo contest around your latest product release.
To make campaign tracking easier, you can ask entrants to include a @mention or the contest hashtag.
Don't forget to check Twitter's rules and policy so you can run your contests without compliance problems.
Benefits of Running a Contest with ViralSweep
ViralSweep Contest is a solution that helps you create online contests, set them up, and manage them most effectively.
You can quickly create and fine-tune your video and photo contests using multiple customization options available in an easy-to-use interface. The app helps you set the rules you want to apply to your contest and identify fraudulent entries.
Participants can easily submit their photos and videos in the dedicated form, then share the gallery to get the votes they need to win the prize.
Your contest landing page and the gallery generated by your participants can be embedded anywhere to drive more website traffic and increase engagement on social media. Plus, the multi-channel marketing options help your contest run viral.
Create your first contest with ViralSweep Contests now!