An online giveaway or contest can be a fun and easy way to boost engagement on social media.
Followers love giveaways; by one estimate, 22% of people who visit a branded social media page do so to participate in a brand-sponsored contest.
However, if your business doesn't follow the rules and regulations that apply to online giveaways, you could find yourself in hot water.
Trying to navigate the official rules of hosting a contest, sweepstakes, or giveaway can be frustrating.
In this guide, we'll try to make it as easy as possible to figure out how to apply no purchase necessary laws to your next social media promotion.
We'll outline the various forms your prize promotion could take, which laws apply to which formats, and how to create official rules that clearly show your followers how to participate — and win.
Read on to learn more about no purchase necessary rules and ensure your next contest succeeds.
Understanding Prize Promotions
Prize promotions can take many different formats.
Raffles, games of chance, and skill-based contests are often used interchangeably by consumers.
But, there are slight differences in the eyes of the IRS and on social media platforms that are important to be aware of.
At ViralSweep, we use two broad categories to understand prize promotions: contests and sweepstakes.
Contests can be considered a game of skill, while a sweepstake is a game of chance.
Games of skill require participants to complete a challenge, answer a trivia question, or show a skill.
Games of chance encourage people to enter to win a prize via some action, but every entrant must have the same opportunity to win.

Let's break these categories down further since the rules vary according to the format your prize promotion takes.
A basic understanding of the key distinctions of these categories — and formats that fall under each — can help you understand how to structure your official rules and instructions.
Raffles
A raffle is a game of chance.
The IRS defines a raffle as "a form of lottery. As such, a raffle generally refers to a method for the distribution of prizes among persons who have paid for a chance to win such prizes, usually determined by the numbers, or symbols, on tickets drawn."
Simply put, a raffle is a type of lottery in which someone pays for a chance to potentially win a prize.
Because a raffle is a type of lottery, it is subject to government regulation; in the US, personal lotteries are prohibited.
The government is the only entity legally allowed to run lotteries – not businesses or individuals.
However, there are ways to run a raffle for your business by abiding by state and local laws.
"Currently, raffles are legal with various restrictions in 47 of the 50 states. The states that prohibit raffles altogether are Alabama, Hawaii, and Utah," wrote one expert.
If you're interested in hosting a raffle, start by reading your local regulations.
This resource can help you find raffle laws for all states where raffles are permitted.
Remember that there are also specific rules for nonprofit organizations set by the IRS.
Games of Chance
Games of chance are those in which prizes are awarded on the basis of a chance, such as a winning combination of numbers, colors, or symbols.
Raffles, sweepstakes, roulette, or picking a name out of a hat would be considered a game of chance.
Games of chance are subject to federal US gambling laws as well as laws at the state level.
As Cornell Law School outlines, "Each state determines what kind of gambling it allows within its borders, where the gambling can be located, and who may gamble….The states also have differing legal gambling ages, with some states requiring the same minimum age for all types of gambling, while for others, it depends on the activity."
Businesses that wish to host a promotional game of chance — such as a lottery, raffle, or sweepstakes — should start by checking with their local and state government to determine the legal restrictions.
Some states require a license to host a game of chance, while others prohibit them completely.
If a license is required, you will need to apply with information about your company, the specific promotion, and prizes.
You may also be required to pay a fee for the license.
Once you have the license, it's still important to follow any regulations that govern your game of chance.
States often set restrictions to the number of tickets sold, the value of prizes awarded, and how the proceeds can be used.
You'll also need to keep accurate records for tax purposes.
Skill-Based Contests
A skill-based contest or game of skill is one in which participants are asked to complete a challenge, answer a trivia question, or show a skill to be entered to win.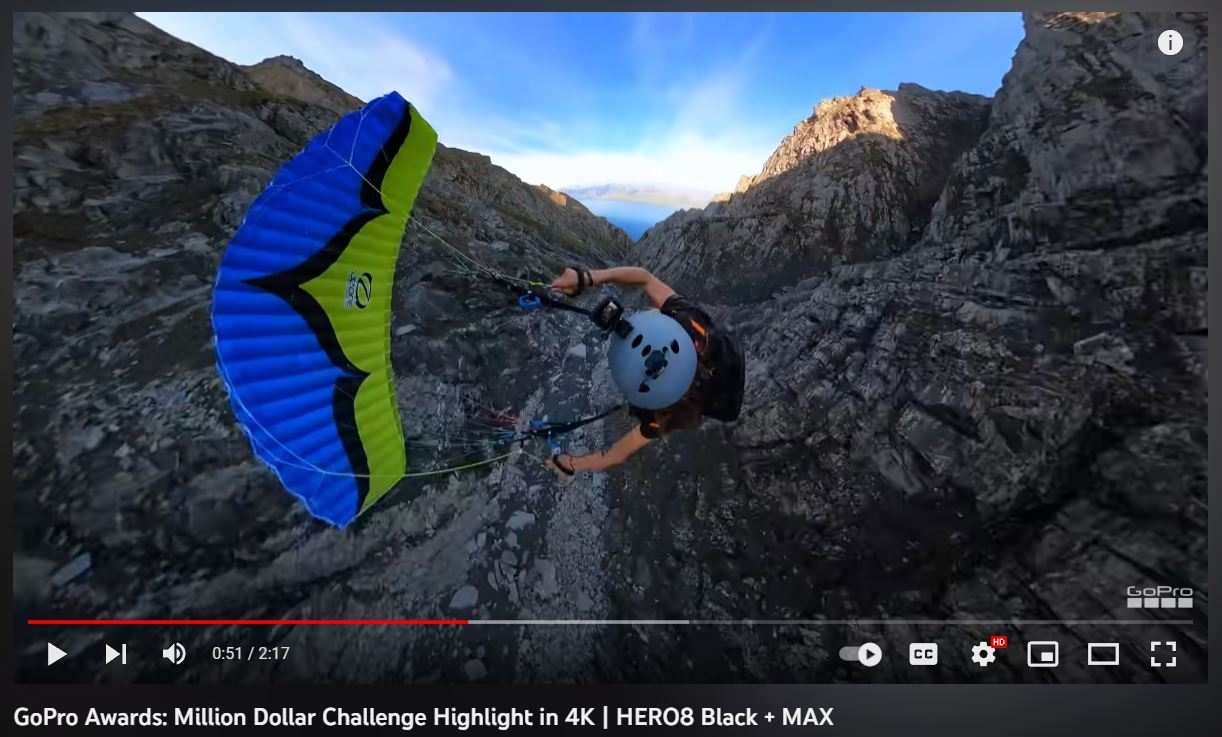 Skill-based contests are governed by different rules, depending on your location as well as the platform you use to host your contest.
Social media has made it easy to run contests, but there are rules on each platform and for each state governing how you structure your contests.
Read the rules carefully before advertising your contest.
Common regulations include:

Sharing clear eligibility criteria, including age restrictions, residency requirements, and other qualifications to participate;

Setting objective judging criteria and sharing them with participants transparently;

Defining a prize structure that is based on skill or performance and not chance;

Advertising disclosures to ensure the participants are not misled about the nature of the contest;

Taxes and other legal requirements, such as registration and prize value.
Note that social media platforms also have clear rules stating how you communicate your contest's terms.
On Facebook, for instance, you must note that Facebook has not sponsored the contest and is not liable for its administration.
ViralSweep's contest app can help you comply with each social media channel's rules.
One of the biggest differences between a sweepstake and a contest, however, is the fact that in most states, companies are allowed to require purchase or payment to enter a contest.
This is not true for sweepstakes, which are governed by no purchase necessary laws.
What are No Purchase Necessary Laws?
No Purchase Necessary Laws, No-Purchase Rules, or Alternative Method of Entry (AMOE) Laws apply to sweepstakes to ensure they are fair and accessible to everyone, regardless of their ability to purchase a product or service.
No purchase necessary laws make it legal for non-government entities (e.g., your business) to offer sweepstakes and giveaways.
It's important to note that no purchase necessary laws don't just outlaw literal purchases.
Essentially, to run a legal sweepstakes, one of the following elements must be eliminated:
Prize: a reward of tangible value given to a winner/winners
Chance: the method by which a winner is chosen at random
Consideration: the purchase of a product/service or anything that is anything that is directly or indirectly of value to the company exchanged for an entry.
Understanding consideration is key to running a compliant sweepstakes.
Consideration also applies to anything that financially profits your company.
There are a lot of gray areas regarding consideration; check with local rules to ensure your sweepstakes is aboveboard.
What is the Alternative Method of Entry?
Alternative Method of Entry refers to how players can participate in your promotion by purchasing your product or taking a separate action that requires no purchase.
If you worry that your sweepstakes might be illegal due to the presence of consideration, you can offer an AMOE such as:
Filling out an online entry form
Entering via phone or email
Entering the sweepstakes through social media
Signing up in person
By offering a no-purchase necessary alternative, sweepstakes, and contests can avoid being considered illegal gambling and ensure that everyone has an equal chance to win.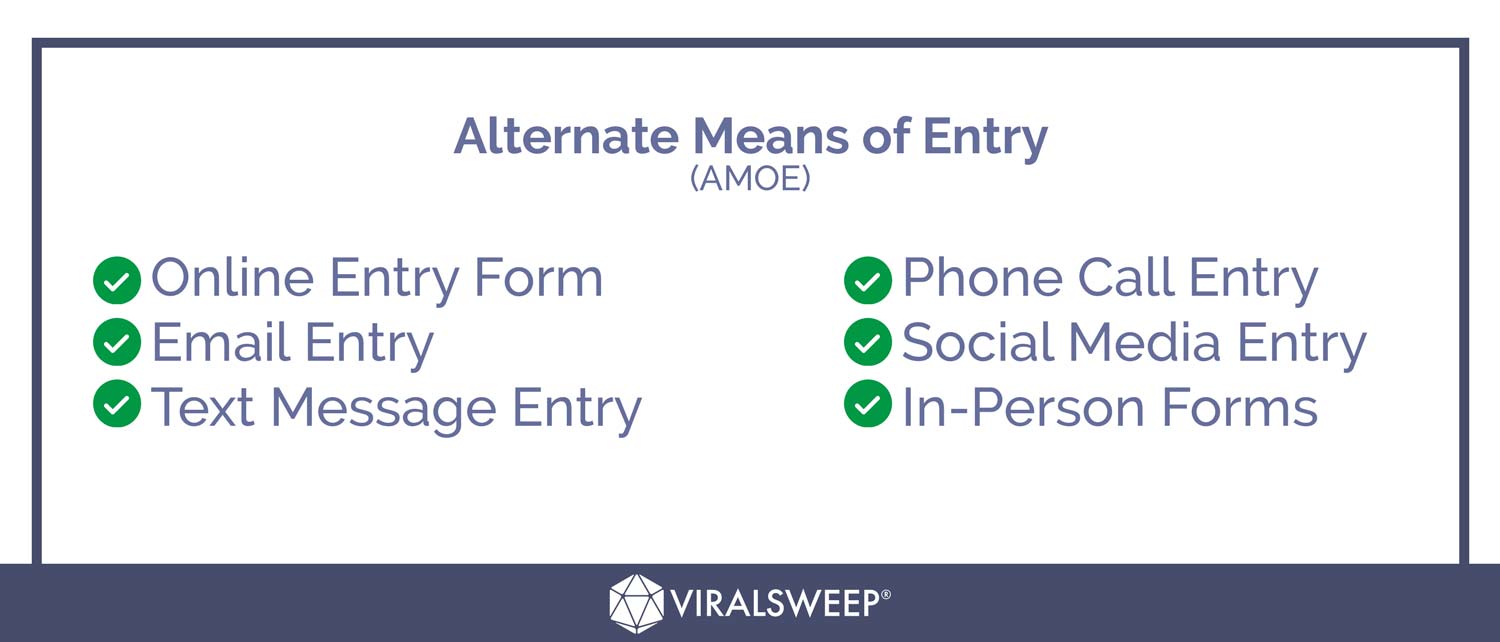 Read our full post on Alternate Means of Entry, or check out the video below.
The Federal Trade Commission's Guidelines for Sweepstakes Promotions
No purchase necessary laws are primarily enforced by the Federal Trade Commission (FTC) as well as on a state-by-state basis.
Ultimately, these rules aim to separate sweepstakes from an illegal lottery since it's illegal for anyone but the government to run a lottery.
The Federal Trade Commission (FTC) rules for sweepstakes include requirements such as:
No Purchase Necessary: Companies cannot require participants to make a purchase to enter or win a sweepstakes.

Clear and Conspicuous Disclosures: All material terms and conditions of the sweepstakes (such as entry requirements, eligibility restrictions, and the nature and value of the prizes) must be disclosed clearly and conspicuously.

Fair and Random Drawing: The winner(s) of the sweepstakes must be chosen through a fair and random drawing. The odds of winning must also be disclosed.

Avoid Misleading Claims: Companies cannot make misleading or false claims about the sweepstakes or the prizes being offered.

Age Restrictions: If the sweepstakes is open to minors, the company must comply with additional regulations to protect children's privacy.

Official Rules: Companies must provide a set of official rules that govern the sweepstakes. These rules must be made available to participants.

Social Media Disclosure: If a sweepstakes is promoted through social media platforms, the company must comply with the respective platform's guidelines and make appropriate disclosures.

Prize Fulfillment: Companies must deliver the prizes as promised and in a timely manner.
The list above is simply a summary of some of the key requirements.
There are other organizations that enforce no purchase necessary laws, too — including the US Postal Service (USPS) and Federal Communications Commission (FCC).
Plus, there will be local laws you need to check, too.
State No Purchase Necessary Laws for Sweepstakes
State no purchase necessary laws vary widely.
States will have additional no purchase necessary laws indicating promotion restrictions, registration requirements, prize limitations, and who can participate (e.g., "only open to legal residents of the state").
Some states have a prize value threshold that the prize's value for your sweepstakes can't exceed a certain amount.
For instance, in Florida, the company must register and bond the sweepstakes when the total value of prizes is over $5,000.
Some states require companies to establish a deadline by which winners must claim their prizes.
For example, in Arizona, companies must establish a deadline of no less than 180 days from the end of the sweepstakes.
There can also be restrictions for your specific industry.
In Alabama, sweepstakes are subject to general promotion law without any additional legal requirements — unless the promotion involves alcoholic beverages.
In instances where alcohol is involved, the state alcohol control board must approve of your sweepstakes. Tobacco promotions are also limited in many states.
You may also find that there are restrictions on the type of prize you offer.
Massachusetts prohibits companies from using gift cards with expiration dates as a sweepstakes prize.
It's important for companies to consult with an attorney to ensure they are complying with all applicable laws and regulations.
Ensuring Compliance with No Purchase Necessary Laws for Sweepstakes
Writing a clear, transparent disclaimer dictating the terms of your random drawing isn't just a compliance matter. It's also an important way to build trust with your followers.
No purchase necessary laws can seem complex and burdensome. But the tips outlined below can help ensure your sweepstakes is compliant and draws lots of entrants.
1. Clearly State the Official Rules of the Sweepstakes
Clear and well-written official rules for sweepstakes help ensure that entrants understand how to participate and increase the likelihood of a successful promotion.
Identify the key details of the sweepstakes, including the entry period, eligibility requirements, prize details, prize winner selection, and notification methods.
Define any key terms that may be used in the rules that could be unclear.
For instance, you may need to define what are eligible entries or what counts as proof of purchase. Try to use simple language that's easy to understand.
Next, outline the entry requirements: who is eligible to enter the sweepstake, including age restrictions, residency requirements, and any other relevant criteria. Specify the method of entry and any limitations on the number of entries per person.
Include the prize details and the winner selection process.
Outline disclaimers, such as a statement that the sweepstake is void where prohibited by law or that the sponsor is not responsible for any lost or stolen entries.
Include contact information for the person in charge of your sweepstakes.
And make sure to include any clauses or language as required by your local regulations.
2. Offer a Free Alternative Method of Entry (AMOE)
In accordance with no purchase necessary laws, offering a free alternative method of entry (AMOE) for sweepstakes is important.
Once you've determined what that is, you'll need to advertise it to potential entrants.
Clearly state the AMOE in the official rules of your sweepstakes.
If the AMOE will require participants to mail in their entries, provide a physical address where entries can be sent.
Ensure that the AMOE is treated fairly in relation to other methods of entry.
All entries should have an equal chance of winning the prize.
Remember, the AMOE must be easily accessible to all entrants.
You can do this using a tool like ViralSweep, by creating an online form, accepting social media comments or interactions, or allowing entries to be submitted via email or phone.
Offering a free alternative method of entry is an important part of complying with no purchase necessary laws for sweepstakes.
3. Ensure Equal Opportunities for All Participants
No purchase necessary laws aim to ensure every sweepstakes entrant has the same opportunity to win.
Offering an AMOE ensures equal opportunity, but there are steps you can take to further this goal.
Consider specifying a limit on the number of entries per person or per household to prevent any participant from having an unfair advantage over others.
This also ensures that the odds of winning are not skewed toward a particular group.
Entry requirements should also clearly outline restrictions on age, residency, and any other reasonable and not discriminatory criteria.
Plus, the beauty of a sweepstakes is that it's a game of chance. Embrace that!
Conduct a fair and random drawing to select the winners list.
Ensure that the selection process is transparent and that all entries have an equal chance of being chosen as the winner.
Finally, make sure you communicate the outcome of your sweepstakes in a timely manner.
Provide ample time for the prize winner to claim their prize.
And provide a clear process for any complaints related to your sweepstakes.
4. Avoid Any Misleading Language
False advertising is something the FTC, USPS, and other regulators will be on the lookout for.
Avoid any misleading or false advertising in connection with the sweepstakes.
This includes not making false or unrealistic promises about the value of the prizes or the chances of winning.
Misleading language can land your company in serious legal trouble and destroy your reputation with consumers.
Take, for instance, the Suski v. Coinbase Global class action lawsuit. Coinbase ran a "Dogecoin Sweepstakes" that encouraged participants to purchase $100 in DogeCoin (a cryptocurrency) to participate.
"Although Defendants did provide an alternative, free means of entry, or AMOE, it is also alleged that Defendant's specifically designed their email and website advertising to prevent users from easily finding the AMOE information," wrote one law firm. Angry participants opened a class action lawsuit against Coinbase as a result.
5. Keep Accurate Records of All Entries and Winners
Establish a record-keeping system to ensure all entries and winners are recorded accurately.
Companies that run their sweepstakes through ViralSweep can gain access to all entry data, including entries received via referral, email, social media, or any other online method.
Ensure you also have a tool to verify all entries to ensure they meet the sweepstakes eligibility criteria.
Disqualify any entries that do not meet the criteria or that are received after the entry deadline.
ViralSweep can also help by screening out spam, scams, and fraudulent entries to prevent cheating.
After the sweepstakes is completed, keep all records related to the sweepstakes for a period of time as required by law.
This includes entries, winners' names and contact information, and any other relevant information.
You may need this for tax purposes or in case there's a dispute later on.
6. Consult With Legal Counsel
Finally, we strongly encourage business owners to seek legal counsel when planning sweepstakes.
A qualified legal professional can help you ensure compliance with no purchase necessary laws.
It may be an upfront cost, but it prevents you from paying more in legal fees, penalties, and PR.
Run a Successful Giveaway With ViralSweep
The way you communicate your sweepstakes can determine its success.
Clear, compliant, and transparent no purchase necessary rules are vital to encouraging people to participate in your prize promotion.
Not only will these rules keep your promotion legal, but they can also help you build trust with your followers.
There are many intricacies to building no purchase necessary terms for your promotion.
ViralSweep's sweepstakes platform helps cut through the noise and ensure your promotion is effective.
Check out our Sweepstakes Official Rules & Laws template, which offers a good starting point for building out your own no purchase necessary rules.