Sweepstakes vs. Contests: What Is The Difference?
There are few feelings as gratifying as winning a prize, whether via a promotional drawing, contest, or another giveaway.
Everyone wants to feel like a winner, and sweepstakes and contests are simple ways to both share that feeling and attract people to your business in the process.
Contests and sweepstakes are two types of promotions that focus on prize-giving.
Contests can be considered a game of skill, while a sweepstake is a game of chance.

While there are a few distinct differences between the two, both contests and sweepstakes drawings can attract people to your business, make your loyal customers feel valued, and generate sales for your company.
Here's what you need to know about the differences between contests and sweepstakes so you can determine which option is right for your brand.
What are Sweepstakes?
The simple legal definition of a sweepstake is "a procedure for awarding a prize that is based on chance."
Sweepstakes promotions encourage people to enter to win a prize via some action (e.g., "Share this post on Instagram to be entered to win").
Central to the idea of sweepstakes is that every entrant must have the same opportunity to win.
These promotions are governed by chance to create an even playing field for everyone.
In addition, ​​sweepstakes must generally be available at no charge, meaning legitimate sweepstakes have official rules such as, "No purchase necessary to enter or win" or "A purchase will not increase your chances of winning".
Check out this free template for more on how to structure your sweepstakes rules.
Sweepstakes Tax Implications
There are some tax rules that winners of a sweepstakes need to follow.
The experts at H&R Block note that the government considers prizes, awards, sweepstakes, raffle, and lottery winnings as ordinary income, no matter the amount.
This means participants need to declare their winnings, even if they did not make an effort to win, on IRS Form 1099-MISC.
For this reason, you may consider offering something other than money as a prize in your promotion.
Let's dive deeper into some other elements that make sweepstakes different from a contest or a lottery.
Chance
As previously mentioned, sweepstakes can only be won based on chance.
For example, entrants are asked to submit their email addresses to win a $100 gift card, and the winner is picked randomly.
Imagine someone picking tickets out of a hat: the key element is this is a game of luck.
Method Of Entry
The method of entry or submission criteria is typically what makes sweepstakes so helpful to businesses.
Merchants can ask participants to submit their valuable information or take specific action for a chance to win a prize.
For instance, a sweepstakes is an easy way to incentivize:
Email subscribers
Website traffic
Leads
Product awareness
Brand loyalty
Engagement on social media
Ideally, the prize value is equal to the information you are asking the entrant to provide to make it a fair trade.
The way you structure your sweepstakes and the method of entry you use will determine if your sweepstakes has the desired business outcome.
Selection
Finally, sweepstakes winners must be selected at random.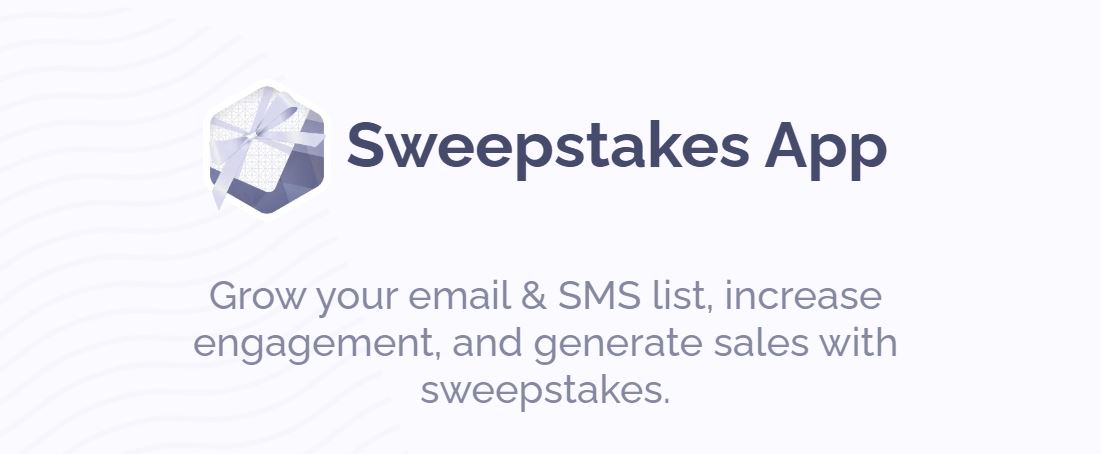 A tool like ViralSweep can help ensure results are randomized and avoid compliance risks.
What Is A Contest?
A contest is slightly different from sweepstakes in that it requires participants to complete some sort of challenge, answer a trivia question, or show a skill.
Because contests typically require more effort for someone to enter, they aim to achieve slightly different business goals, such as:
Increase brand awareness
Increase brand loyalty
Increase user-generated content
Increase engagement and followers on social media
Key elements of a contest include a short duration, free entry, and a prize commensurate with the level of effort the entrant had to put into the contest.
To motivate participants, most contests have a short deadline and take advantage of A/B testing to make sure the contest is truly motivating.
Typically, merchants turn to contests to engage with a target audience of existing followers.
Contests are good sources of UGC and can help you gather insights about your audience, which can be used to craft better marketing campaigns, develop products, and improve customer service.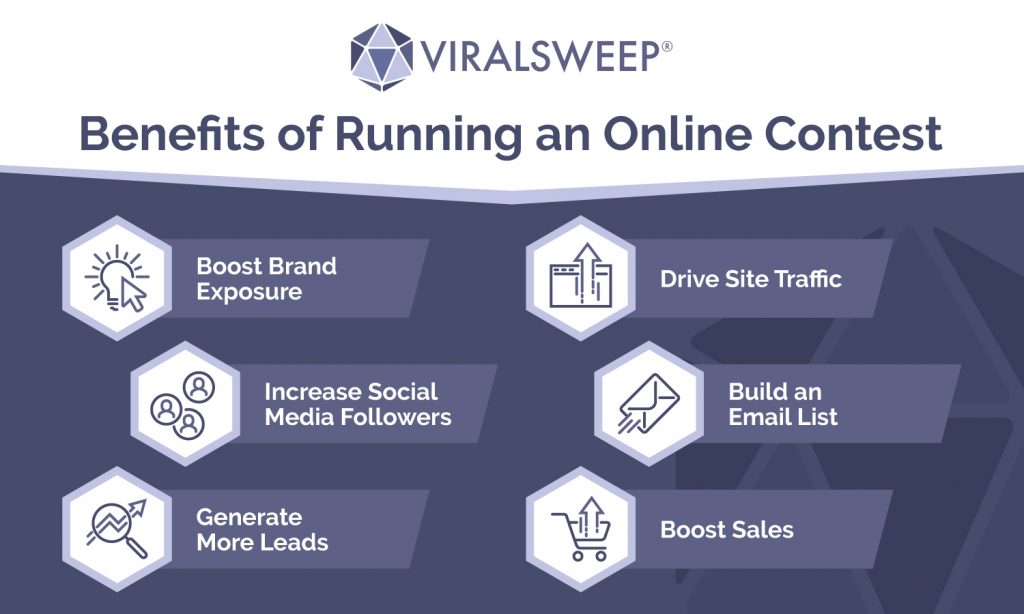 Social Media Contest Rules
Social media has made it easy to run contests, but there are rules on each platform and for each state governing how you structure your contests.
On Facebook, for instance, brands are responsible for communicating the terms of the contest.
You must note that Facebook has not sponsored the contest and is not liable for its administration.
Nor can you use a Facebook user's personal timeline as an entry mechanism for the contest—meaning you can't ask someone to share or tag your content on their personal Facebook page.
ViralSweep's contest tool can help you ensure you're compliant with each social media channel's rules.
Here are some other ways in which a contest differs from sweepstakes.
Chance
There's no random chance involved in entering a contest, nor can the winner be chosen at random.
Participants in contests are willing and aware that they have been entered for consideration.
Method of Entry
An entry fee or significant effort may be required to win a prize.
The method of entry can be creating user-generated content (such as a photo or video), sharing your brand's content, or referring others to follow your page.
Selection
Contests are won according to guidelines shared at the beginning of the contest period.
This could include determining the winner based on judging or voting.
Contest winners are not random.
Which Is Better: Sweepstakes Or Contests?
The truth is that both sweepstakes and contests can make a major difference for your business, depending on your goals.
A sweepstake is best for reaching new consumers, encouraging followers to you with their information, and for generating excitement around your brand.
A contest can help you engage with your existing audience, increase brand loyalty, and produce new material that you can use to promote your brand to potential new customers.
Regardless of what you choose to use, make sure the prize of your giveaway matches the effort that entrants must take to participate.
A poorly-run sweepstake or contest can aggravate customers and actually cause you to lose followers.
And, perhaps most importantly, make sure you follow the federal laws, the rules of the platform on which you host your contest or giveaway, and any state laws that might apply.
To learn more about the difference between a sweepstake and a contest, check out our advanced guide.