Facebook vs. Your Website: Where Should You Run A Giveaway
Today we profile Shoptiques, a customer that was running giveaways on Facebook and then decided to host them on their website using ViralSweep.
In this case study, we'll compare their giveaway marketing results via their website versus their Facebook page. Shoptiques is a destination for discovering and exploring local boutiques across the world.

Results
Shoptiques ran their sweepstakes from March 5 – March 22, a total of 17 days. Over that time period, their giveaway received:
7,423 visits
3,984 email entries
53.67% conversion rate on the entry page
801 Facebook shares
593 new Likes added to their Facebook page
584 new followers added to their Twitter page
145 tweets sent about the giveaway
282 people entered the giveaway via users sharing their referral link
Olga Vidisheva, CEO of Shoptiques, said this about her continued success with ViralSweep:
Our campaigns have been very successful; exceeding our expectations time and time again. Offerpop (a Facebook app for running giveaways) was limiting in terms of helping us spread awareness and drive traffic to our website. ViralSweep has successfully outperformed on both!
Where to run a giveaway? Facebook vs. Your Website
When it comes to running a giveaway, it should be hosted on your own website. I've written an in-depth article on why brands should stop running giveaways on social media, so we won't discuss too much of that here.
Shoptiques was originally running their giveaways through a Facebook app, and their giveaways were being promoted to their Facebook fans by making a post on the Shoptiques wall, linking people to the app page hosted on Facebook.
"We were originally running giveaways via Offerpop for Facebook only. I would say after 8 months of working with Offerpop, we saw an opportunity to further expand our giveaway channel by partnering up with complimentary brands and hosting giveaways on our site. We realized that Offerpop was driving engagement on social, but it was very hard to convert these new users into frequent visitors of our site and be able to educate them about our unique brand," Olga tells us.
"Our Facebook giveaways during that time were on the smaller side; we would see several hundred new likes per campaign, but nothing materialized from it."
5x More Leads
Olga explains that to date, "we have run two very successful giveaways through ViralSweep and have garnered 5x more leads (in a matter of a 2-week timeframe) than many of the other marketing initiatives we've done through social."
Because ViralSweep's customization features allow a brand to target its most active audiences, Olga says, "the most powerful aspect is the social branding and exposure we received, which subsequently drove Facebook likes, Twitter followers, and more Pinterest pins."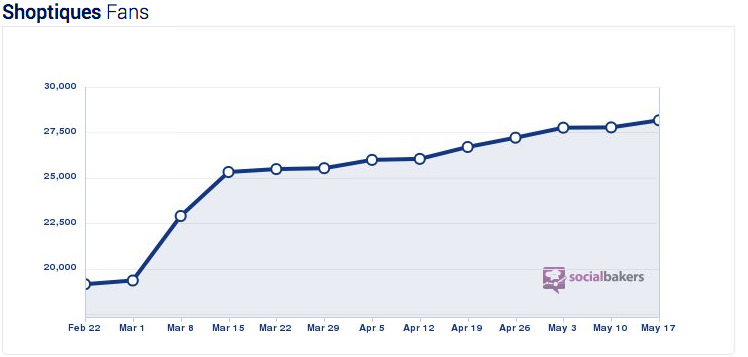 Giveaways
have helped Shoptiques with user acquisition, and Olga tells us they will continue launching new giveaways.
In fact, their most recent giveaway in April more than doubled the stats of their first giveaway, receiving over 8,600 entries with a 57% conversion rate.
The above chart shows the continuous growth of Shoptiques' Facebook fans since they started running giveaways in March with ViralSweep.
Feedback
It is our goal at ViralSweep to create the absolute best product for our customers. In order to make that happen, we always request feedback that will help us improve our service.
We asked Olga if she would recommend ViralSweep to other businesses. She said, "ABSOLUTELY (and we have been with every partner we are working with!) I think any company (big or small) would definitely benefit from the ease of launching sweepstakes on their site through the ViralSweep platform."
In terms of customer service, we do our best to respond to all emails within 2 hours—though we respond to most within minutes.
When asked about customer support, Olga said, "Customer support is AMAZING. At Shoptiques, user experience is the number one priority, and it is so great to work with companies who value the same ideas!"
Finally, when asked about something we could improve upon, Olga said, "We are always working with a great selection of partners on our giveaways. It would be great if we could add multiple social pages, so all of our partners share the exposure."
Luckily for Olga, we've already added this as a feature!