How Long Should a Giveaway Last? [Video Included]
Running online giveaways is one of the most cost-effective ways to grow email and SMS lists, increase engagement, and boost sales.
In fact, a successful campaign can help a brand gain an average of 34% new fans.
However, it's crucial to think of your giveaway time. You should give consumers enough breathing room to understand the rules, participate in the contest, and encourage others to join.
On the other hand, you should also instill a sense of urgency, or they might lose interest in your promotion altogether.
So, how long should a giveaway last?
The answer depends on many factors, such as your goals and audience preferences. This article will discuss everything you need to know about the ideal duration for such campaigns, including some of these frequently asked questions:
How long should a giveaway run for?
When is the best time to run a giveaway?
Why should I run a giveaway?
What do successful campaigns look like?
What are the benefits of running a giveaway with ViralSweep?
Read on to start expanding your online reach exponentially!
How Long Should a Giveaway Run For?
Marketers often ask: How long should an Instagram giveaway last? How long should you run a Facebook giveaway? The most popular duration choice for such promotions is two weeks, but there are other options.
Let's discuss why two weeks is the ideal giveaway time and the alternatives brands can pick.
One Week
One-week giveaways are ideal for encouraging fast action from the audience. Flash promotions evoke the fear of missing out, which can excite consumers into participating.
However, for your limited-time campaign to succeed, you should step up your promotion efforts daily. Otherwise, you might not get the traction you want from potential leads.
Two Weeks
Running a two-week giveaway is a great idea! It gives you ample time to secure entries without reducing the excitement factor too much.
The only downside to such campaigns is that you might not raise as much awareness as you want if you don't develop a plan to make them viral.
One Month
These giveaways are ideal for themed or seasonal events. They give you enough time to launch campaigns and address mistakes along the way.
However, as days elapse, these promotions will naturally become more idle and lose engagement. You will need extra incentives to encourage participation.
For this reason, it's best not to extend giveaways beyond a month.
When Is the Best Time to Run a Giveaway?
You can't just run a giveaway at any given time.
There are best practices to follow to get consumers excited about your promotions, including your duration, rules, and prize. One of the most important elements to consider is a suitable time for a giveaway.
The best time to run a contest is when the target audience is not preoccupied with other things, like Christmas or Super Bowl weekend. During these occasions, your potential winner might be too busy or spending time away from phones and computers.
If you want to create a successful giveaway, the first step in reaching your goal is to determine when your audience is at home, scrolling through social media pages.
For many European brands, the sweet spot for running giveaways is in June and November. These months also work in the U.S. setting, but you should avoid the Black Friday campaigns.
Also, launch your promo and make announcements between 7:00 AM and 8:00 AM during weekdays and between 8:00 PM and 12:00 midnight during weekdays.
Doing so ensures you catch customers at a good time when they're not at work and are more open to joining and sharing your contest.
Why Should I Run a Giveaway?
There are different giveaway types, the most popular of which are sweepstakes and contests. Discovering what kind goes well with your brand is crucial to your strategy's success.
When you understand the difference between sweepstakes and contests, you can develop a campaign that encourages engagement.
Check out ViralSweep's The Advanced Guide to Sweepstakes to learn how to differentiate the two techniques.
After that crucial first step, you're well on your way to achieving the benefits of running a giveaway, like the ones listed below.
Boost Brand Awareness
Giveaways are excellent ways to get a brand additional exposure. If the prize is right — no pun intended — you can encourage consumers to put in the work to win.
Such campaigns can help you introduce your products and services to the ideal audience.
Grow Social Media Following
The average daily usage of social media users globally has reached a whopping 2 hours and 27 minutes.
Once you increase the number of followers you have across various social media platforms, including your Facebook and Instagram accounts, you can start building your relationship with members of your community.
One of the most cost-effective ways to achieve this feat is to run giveaway campaigns.
Increase Website Traffic
If you're looking for a way to boost your website traffic dramatically, giveaways are the way to go. With one-third of contest entrants interested in learning more about sponsoring brands, sweepstakes and contests can become effective lead generation tools.
Enhance Content Marketing Efforts
Content is king in today's modern world. Developing valuable materials for your audience encourages engagement and brand loyalty.
One of the most powerful tools in this marketing branch is user-generated content, which you will get a lot of with giveaways. With a compliant promotion, you can fill your social media calendar with high-quality posts from consumers.
Gain Data
Are you looking for ways to build your email or SMS list?
A giveaway is one of the fastest strategies to do so. People are often wary about providing their information, but that can quickly change with an exciting prize in tow.
Pro tip: You can create a standard entry form to send confirmation messages, but be sure to give participants an option to unsubscribe.
Encourage Loyalty
Giveaways are not just for new companies. Established brands can also create campaigns to show appreciation for their existing customers, encouraging loyalty.
Remember, these supporters are priceless. They spend on your products and services, leave positive online reviews, and recommend your brand to their families and friends.
Achieve Retargeting Goals
Retargeting — reaching out to people familiar with your brand — may not be the top-of-mind concept you associate with giveaways.
However, combining your sweepstakes or contest with online ads like Facebook, Instagram, or Google can help you convert participants into clients. For best results, integrate your giveaway campaign with a holistic marketing plan.
Examples of Successful Giveaways
If you're still on the fence about giveaways being a great way to achieve your marketing goals, below are some success stories from ViralSweep.
FlySafair
With the help of ViralSweep, FlySafair — a low-cost carrier from South Africa — attracted over 150,000 participants and sold 30,000 tickets after a successful two-week giveaway in 2018. The team ran sweepstakes where entrants could win free flights for a year and designed a pointing system for every completed action, including:
Email referrals
Website visit
Twitter referrals
Facebook referrals
Watching a TV ad
Every action equated to one point, encouraging consumers to perform them all. The giveaway amassed 154,795 entries, 33,118 referrals, 18,529 Facebook shares, and 12,168 Tweets.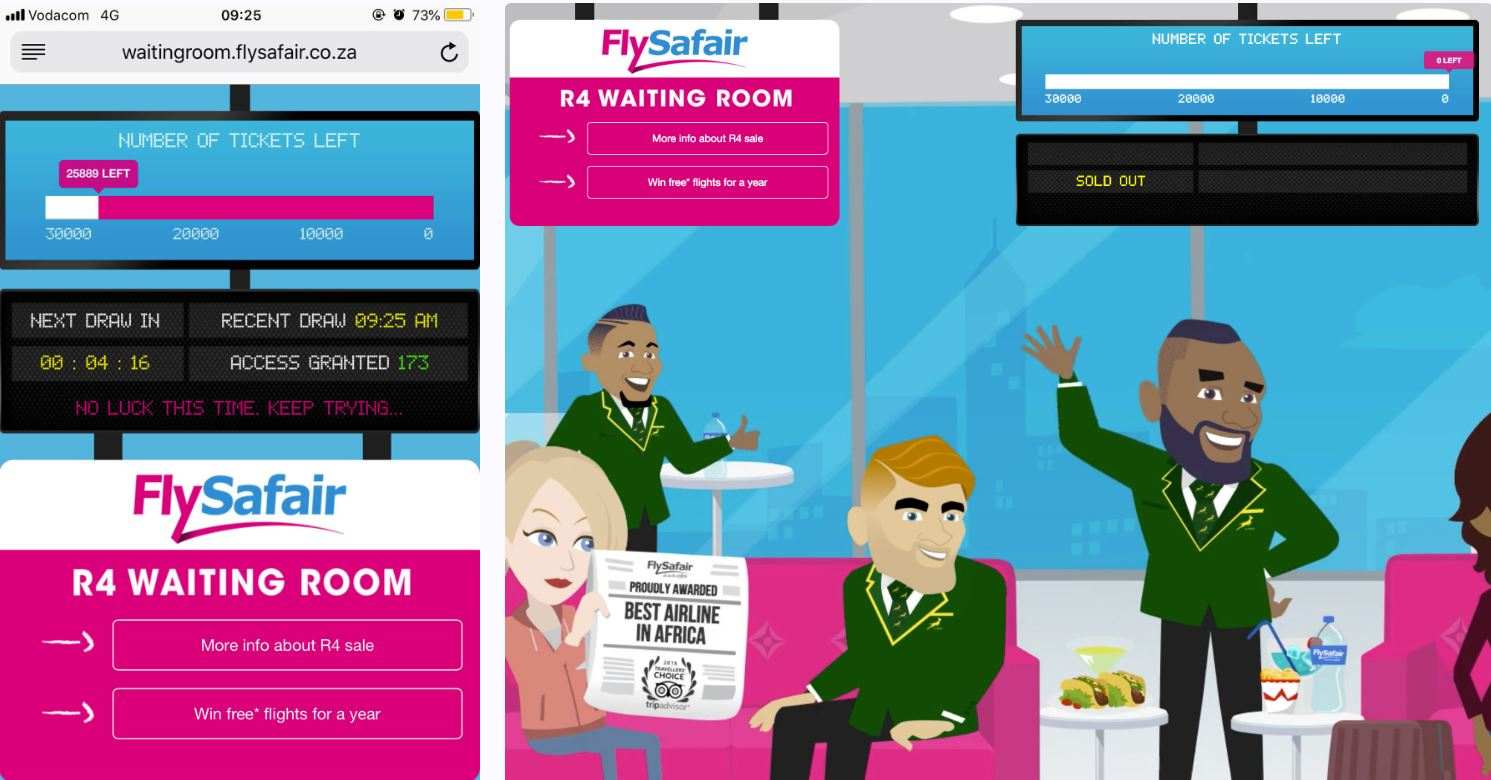 EVELO
In 2015, electric bike company EVELO sold over $40,000 worth of products with the help of a 12-day Father's Day sweepstakes campaign. The ViralSweep team developed an email list program to capture potential leads. EVELO provided $2,975 worth of prizes for a grand winner and two runner-ups.
The announcement post was a Father's Day package — what the grand winner could bring home. It contained a bike, a bag, a master lock, a set of tools, and a phone mount. This artwork attracted the right audience and encouraged them to purchase.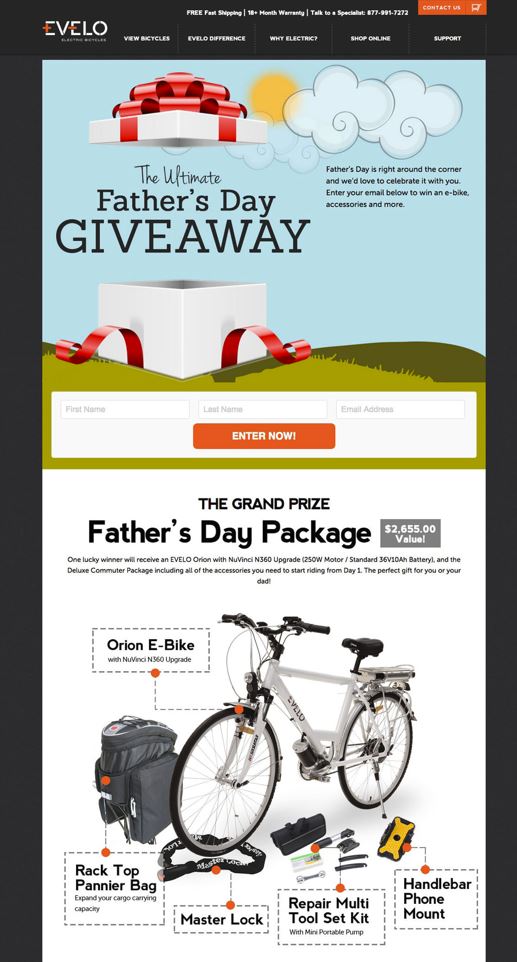 With 3,187 entries, 6,219 page views, 2,397 new emails collected, and a 42.43% email list growth in 12 days, it has been one of EVELO's most successful marketing campaigns to date.
Bruce Lee
This last example shows just how powerful giveaways are. You can use them for various online goals, including enhancing fan engagement.
Bruce Lee's family owns and operates the Bruce Lee Family Company, which includes the following:
Bruce Lee Store
Bruce Lee Entertainment
Bruce Lee Beverage (Bruce Tea)
Bruce Lee Foundation
The organization's goal is to keep the legendary martial artist's legacy alive and spread his positive messages to future generations.
The Bruce Lee Company used extremely rare limited edition Kyrie 3 Mamba Mentality sneakers as a prize. You might think it's an odd choice for a Bruce Lee giveaway, but it's not.
Bruce Lee's famous quote, "Always be yourself. Express yourself. Have faith in yourself," influenced Kobe, Kyrie, and the kicks.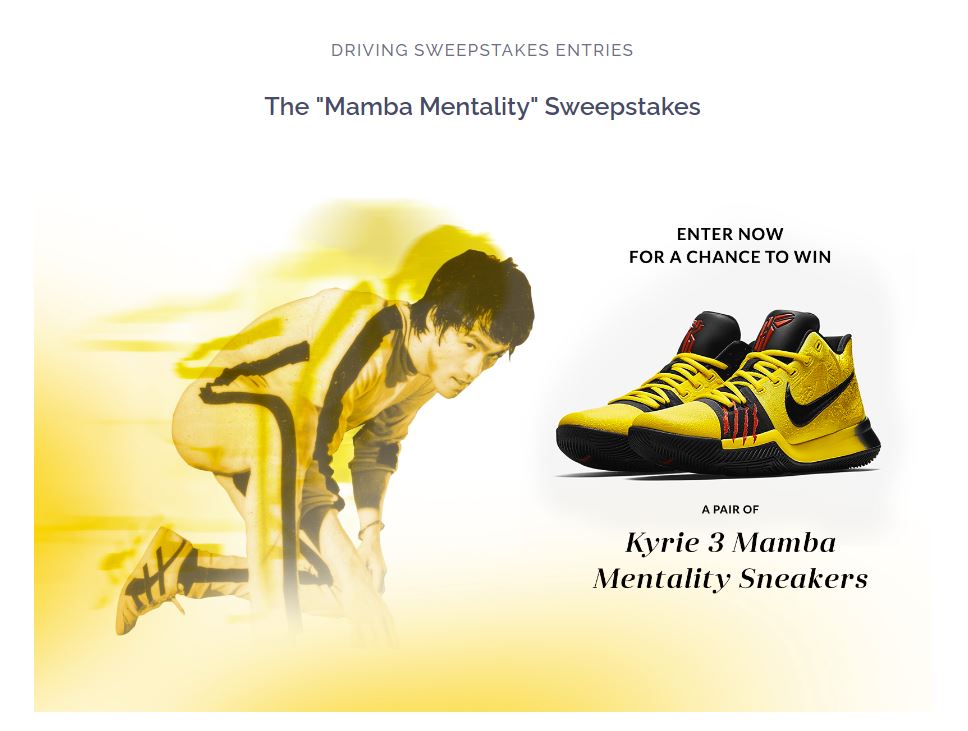 Ultimately, the team wanted the sweepstakes to convert social fans into email subscribers. At the time, Bruce Lee had millions of social followers but not many email insiders.
ViralSweep created a signup page asking for basic information like participant name, email address, and birthday.
Like the FlySafair campaign, participants could also complete online tasks for more chances of winning, including following the Bruce Lee official account on Instagram, answering a question, or checking out new items.
In the end, the one-month giveaway turned 23,489 Bruce Lee fans into email subscribers. It also generated 1,274 Facebook shares, 1,782 Twitter followers, and 1,134 referrals.
Benefits of Running a Giveaway With ViralSweep
No matter your business industry or size, a giveaway post is one of the best ways to grow your community, boost your engagement, and increase your sales.
Whether you're a small business or an established organization, you can find the best way to make this strategy work for you. Think of success stories like FlySafair, EVELO, and The Bruce Lee Family for inspiration.
There are various giveaway types, including sweepstakes, contests, and lotteries. When you identify the ideal kind for you and when to run them, you set yourself up for marketing success.
However, organizing giveaways is not as easy as it looks. You need the right team, tools, and techniques to run cost-effective, full-service, and compliant promotions.
At ViralSweep, we know what it takes to develop standout campaigns that yield impressive results.
Request a demo now to create your own viral giveaway!