As Facebook continues its world dominance and with more and more businesses jumping on board, many are concerned with getting more likes as a means to spread their brand.
For brands that are truly focused on building an active and engaged audience, running a sweepstakes has proven to be one of the best options.
Conducting a sweepstakes usually has a relatively low cost compared to other marketing channels and, if done correctly, can have a very high impact on your long-term marketing goals.

How to get more likes on Facebook – by the numbers
First, let's look at some data to see just how important getting Facebook likes has become in the mind of business owners. Using Google Trends and the Google Keyword Tool, we can see the increase in search interest over the years and the total monthly searches for particular keywords.
Google Trends
For the term "how to get more likes on Facebook", you can see that near the end of 2010, it started to pick up, and the search interest for the term has only gone up since then.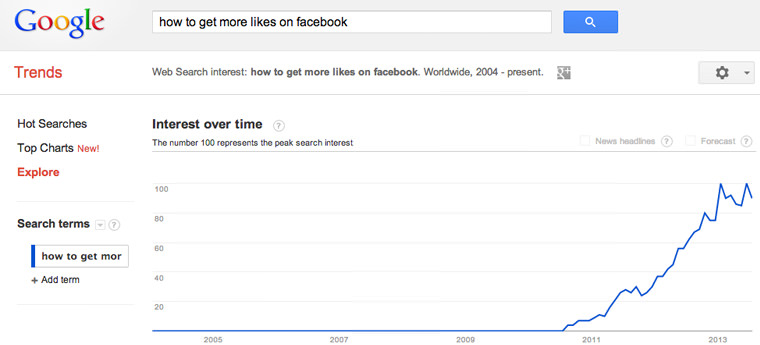 This has happened before, though; remember Myspace? It wasn't too long ago that people were clamoring to get more friends—obviously a short-lived phenomenon.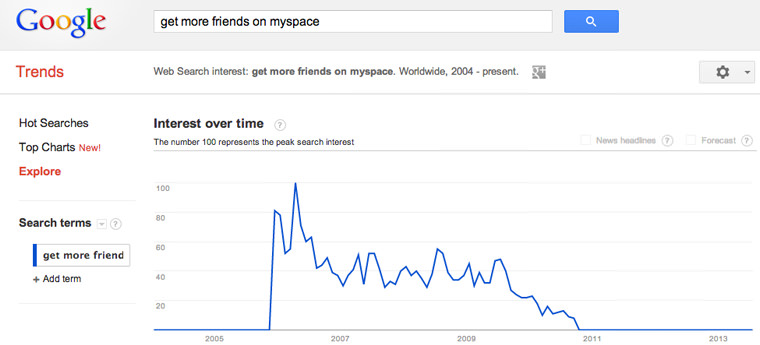 Here is a nice comparison graph showing how one trend started (getting Myspace friends) while the other ended (getting likes on Facebook).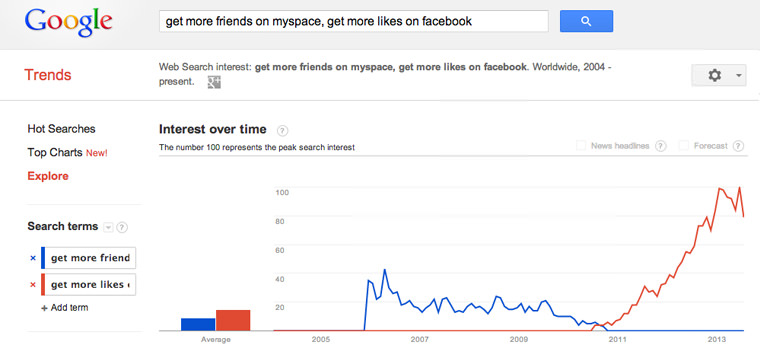 Unsurprisingly, there will always be individuals and businesses that want to take a shortcut to reach their goals.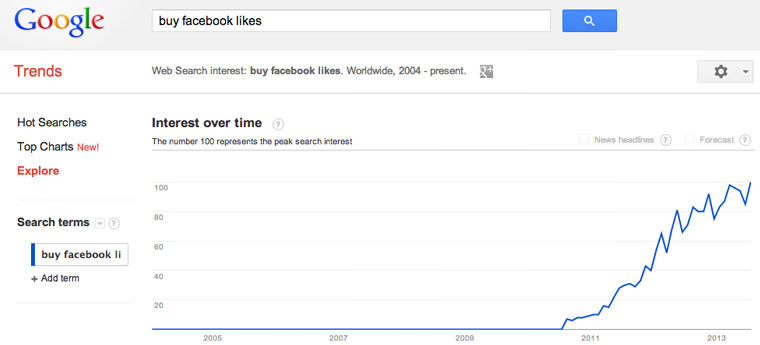 Buying Facebook likes is a quick way to inflate page numbers, but those likes are usually fake accounts, and they add zero value when it comes to building a quality audience. In simpler terms: they won't buy your product.
Google Keyword Tool
Using the Google Keyword Tool, we can see how many searches per month particular keywords are getting—just to get an idea of how popular they really are.

On just these two keywords alone, over 12,000 people around the world are searching every month to learn how to get more likes on Facebook.
Remember, these are just two keywords on this topic; there are hundreds of different variations, so the number of global searches per month is much higher.
Now, let's see how many people are looking for a shortcut:

Wow. Over 32,000 global monthly searches just on those two keywords alone.
Go ahead, type those terms into Google, and look at some of the sites that come up. Most of them are selling packages of Facebook likes, which are almost always fake accounts. So, should you buy Facebook likes? As Jon Loomer says,
No way. Don't do it. Don't buy likes.
A high-profile example of this is the U.S. State Department, which wasted a ton of money on Facebook likes. Do not buy Facebook likes.
Determining the value of a like
Take a minute and ask yourself, "why do I want more likes?"
Is it so that your business has a better image in the public spotlight?
Is it because everyone else is doing it?
Or, is it because you have actually done testing and found that more likes mean more money for your business?
Keep in mind that a Facebook like decreases in value over time, especially if a user does not engage with your page.
Facebook now wants you to pay to promote your posts, which means only a small percentage of people who like your page are actually seeing your posts.
Getting likes is only half the battle. You have to do your best to increase your EdgeRank, so more people see your posts.
At ViralSweep we're big on owning your audience. As such, I would suggest focusing on collecting email addresses first, and Facebook likes second.
When you have an email address, you can reach that person at any time, whereas with a Facebook like, you only have a rough idea if that person saw your post.
Using sweepstakes to get more likes
Now that we understand a little about the purpose and value of a Facebook like, let's discuss how you can go about getting them.
There are several legitimate ways to get more likes on your Facebook page (here's a good list), but I'll be focusing just on using sweepstakes.
Let's talk basics first.
Planning your sweepstakes
Before you run a sweepstakes, you need to plan it out so that you have a set of predetermined goals in mind.
Simply giving something away with the hope that it brings you tons of new customers, Facebook likes, and sales is foolhardy. Instead, create a roadmap for success by planning out every aspect of your sweepstakes, focusing on the individual goals you want to achieve.
Sweepstakes location
Next, you'll need to determine where you want to host your sweepstakes, either on your website, on Facebook, or on a partner's website.
I've talked about why you should stop running giveaways on social media, but I'll leave that decision up to you. We see many businesses thinking:
But I'm trying to get more likes, shouldn't I be hosting it on Facebook?
Not exactly. In short, here's why:
You don't own your Facebook page (Facebook does), odds are you don't sell your products or services on Facebook, and your customers most likely aren't buying from you on Facebook. Run your sweepstakes on your website and drive traffic from your Facebook page to your website, not the other way around.
Build your sweepstakes
Now that you have your roadmap for success, you'll want to start building your sweepstakes. You can use ViralSweep, or you can use a variety of other 3rd party services to get the job done.
Sweepstakes marketing
Planning and setting up your sweepstakes is not enough – you'll need a solid marketing plan if you really want to accelerate your sweepstakes and achieve your goals.
Here are 8 tips for running a sweepstakes (#7 will really help your marketing efforts).
Acquiring more Facebook likes
There are several different ways to acquire more likes through the use of sweepstakes. Many of these methods have their pros and cons, so I suggest testing different variations to see what works best for your business.
1) Facebook like box
Facebook provides a like box that you can customize and place on both your website and inside your sweepstakes in order to get more likes (see below).
With ViralSweep, the like box is automatically placed on your sweepstakes page so entrants can immediately like your Facebook page without ever having to actually be on Facebook's website. Try it out above; just click the like button.
2) Facebook like-gate
A like-gate is when a user is required to like your Facebook page before they can access certain content. Many companies are using like gates with their sweepstakes, and while this may help them acquire more likes, there are a few downsides.
Pros
Increase in Facebook likes
When a user likes your page, your page will show up in their friends' News Feeds
Cons
Non-Facebook users cannot enter your sweepstakes
Using a like-gate creates a barrier to entry
Like-gates and Facebook tabs do not work on mobile devices
Users may like your page just to enter, then unlike it after they enter
After a promotion ends, you may see a drop in Facebook likes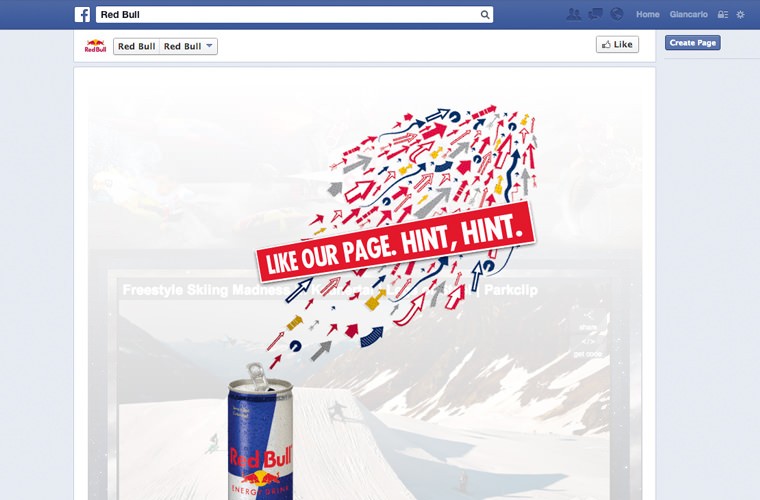 It's important to consider the trade-off of having people enter your sweepstakes and interact with your brand versus forcing people away by using a like-gate.
Remember, it's about quality, not quantity; having 5,000 likes means nothing if only 50 people are engaging with your brand.
If you create a fun and engaging sweepstakes, people will like your page on their own and you will build a more engaged audience.
3) Reward users for liking your page
A great way to encourage people to like your page is to reward them with a bonus entry into the sweepstakes.
By offering users an extra entry for liking your page, you will increase your chances of getting more likes without forcing users to perform an unwanted action.
Whether you're building custom sweepstakes or you're using a service like ViralSweep, make sure you reward users for performing social actions.
4) Choose the right prize for more likes
The key to running a successful sweepstakes is having a prize that makes people say:
Wow, I want to win that!
When choosing a prize, you need to also consider the goals you are trying to achieve and the audience that you are trying to reach.
If you are trying to attract the largest number of entrants and get the most likes, offer a prize that appeals to a wide variety of people.
For example, offering cash or a gift card to Amazon (which appeals to anyone) will get more entries and likes than offering a gift card to a local hair salon.
If you want to keep your entries and likes targeted (which I recommend), then offer a prize that is attractive to your target audience. For example, if your website sells nail polish, then don't offer a gift card to Starbucks.
Instead, offer a gift basket with an assortment of your nail polishes.
The better the prize is, the more likes you will get. The more targeted the prize is, the more likes you will get from your ideal customers, and the more engaged your audience will be.
5) Market your sweepstakes for more likes
If you really want to get more likes, you need to do everything you can to build buzz. More buzz means more people will see your sweepstakes which means more people will enter and like your Facebook page.
Here are 20 actionable things you can do right now to build buzz:
Submit your sweepstakes to these giveaway directories.
Write a blog post announcing your sweepstakes.
Link to your sweepstakes from the homepage of your website using an image.
Send an email newsletter to your list to let them know about the sweepstakes.
Post about it on Facebook – be sure to use attractive images and a direct link.
If you use other social media, post about it on Twitter and Pinterest.
Use Vine, Instagram, and YouTube to push out sweepstakes updates.
Promote your Facebook posts to reach a larger audience.
Promote your tweets through Twitter's Promoted Tweets service.
Offer to buy more affordable ads from smaller niche blogs in your industry.
Use Google Adwords and Facebook ads to drive traffic to your sweepstakes.
Find a subreddit that is related to your niche and post about your sweepstakes.
Advertise in subreddits related to your niche using Reddit ads.
Seek endorsement from someone famous in your industry.
Promote the giveaway to customers post-checkout.
Pitch bloggers in your niche asking them to write about your sweepstakes.
Partner with another company to offer more prizes and attract more entries.
Write and distribute a press release through PRWeb, Pitch Engine, or PR Newswire.
Update your Facebook cover photo with a blurb about your sweepstakes.
Getting likes is only half the battle
When you set out on your like-seeking journey, remember that it will be an uphill battle. Once you acquire likes, you need to foster a relationship to increase engagement in order to stay relevant.
However, my advice is that you focus on acquiring email addresses first and likes second; this will put you and your business in a much better position in the long term. You will always own your email list, no matter which social network currently dominates the market.
Gift icon in header image by IconDrawer.