Instagram is the fifth most visited website worldwide, with 2 billion monthly active users. This incredibly popular social media channel is integral to your marketing — and running an Instagram photo contest is a great way to take advantage of this highly visual platform.
An Instagram photo contest is a type of social media contest where participants are asked to submit their best photos based on a specific theme or set of criteria. The photos are then judged by a panel or via public voting, and the winner is awarded a prize.
An Instagram photo contest is a great way to engage your audience, generate new content, and drive traffic to your website.
According to one estimate, "an Instagram contest or giveaway can help you grow your followers 70% faster in three months than if you didn't host a contest at all."
Other benefits of a photo contest include:
Increase brand awareness: contest entries expose new users to your brand name and logo, and they may be more likely to check out your website or social media pages.
User-generated content (UGC): Photos that are submitted to your contest can be used in other owned content, including blog posts, social media posts, and even print advertising.
Engage your audience: When people enter your contest, they will be likelier to like, comment, and share related posts. This can help you build a stronger relationship with your audience and create a more loyal customer base.
Promote your products or services: You can require participants to tag your products or services in their photos, or you can offer additional entries for social actions related to your products or services.
Data collection: An Instagram photo contest can provide new, valuable data about your audience, including their demographics, interests, and preferences.
Running an Instagram contest starts by defining the type of contest you plan to run — including your goals and objectives that this promotion will achieve.
From there, you can choose a theme, promote the contest, collect contest entries, and start to realize the benefits of running an Instagram contest.
This guide will break down the steps to running a successful Instagram photo contest, with contest ideas suggested along the way to help you get started. By the end, you'll be equipped with all the basics you need to know on how to run a social media photo contest and how to run a contest on Instagram.
Define Your Goals and Objectives
Kick-off planning your Instagram photo contest by defining your goals and objectives. This step will help you create and run your contest effectively in a relevant manner that's also aligned with your overall marketing strategy.
Do you want to increase brand awareness? Generate new content? Drive traffic to your website? These, and other goals, can help you plan an impactful contest.
Keep in mind the key performance metrics that you will measure to show the contest was a success.
Here are some other things to consider when determining your goals.
Target audience
Who do you want to reach with your contest? What are their interests and preferences, and how can you create a contest that appeals to them?
Once you know your target audience, you can tailor the terms, entry criteria, and marketing strategy to their interests.
Budget
How much money are you willing to spend on your contest? How much can you afford to spend on prizes, promotions, and other contest-related expenses?
This will help you determine the size and scope of your contest, as well as measure your ROI at the end of the promotion.
Timeline
How long do you want your contest to run? Factor in how this contest will fit into your other marketing campaigns. This will help you determine the start and end dates of your contest.
Result
What is the desired outcome of the contest? Do you want to increase engagement, grow your following, or drive sales?
Keep in mind some of the limitations of social media as you plan your contest; different social media platforms have different promotion guidelines that you will need to adhere to for your contest to be a success.
[Read more: Social Media Event Promotion: 19 Dos and Don'ts Every Marketer Should Know]
Once you have your goal in mind, you can begin planning the logistics of your Instagram contest.
Choose a Theme and Format
When running an Instagram photo contest, choosing a theme and format is a crucial step in creating a contest that is engaging and effective.
The theme of your contest should be relevant to your brand and your target audience. This will help to ensure that people are interested in participating.
For example, National Geographic celebrated reaching 100 million followers with a contest to give away a photo trip to Tanzania.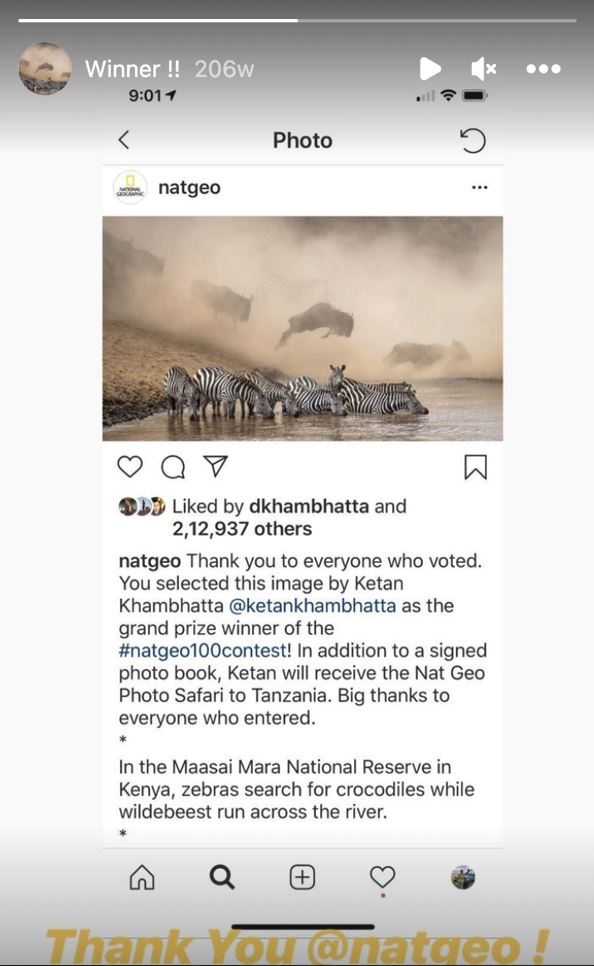 Likewise, the format of your contest should allow for creativity and engagement. This could be through a simple photo submission or a more elaborate challenge encouraging participants to showcase their creativity.
For example, you could ask participants to submit photos that answer a specific question, or you could have them submit photos that fit into a certain category.
The more relevant to your brand and easy it is to enter your contest, the more entries you're likely to receive. Here are some other tips for choosing a format and theme for your Instagram photo contest.
Keep it simple
The best contest themes are simple and easy to understand. Make the entry method relatively straightforward. Avoid themes that are too complicated or that require a lot of explanation.
Creating a memorable and specific hashtag is one way to keep things as simple as possible. If your theme can't easily be captured in a hashtag, it's probably too complicated.
Set an appropriate time frame
The more challenging your contest, the more time you should give entrants to submit their user-generated content.
For instance, Airbnb's "Once Upon a Summer" contest encouraged followers to share how they spent their summer vacation in an Airbnb rental. Users had nearly a month to create and share their UGC.
Note that a shorter contest with fewer rules may result in higher engagement, while a longer contest with more rules may allow for greater creativity and deeper engagement.
Offer an appropriate prize
Contest winners should get a prize commensurate with their effort and related to your brand. Pick a prize that's relevant to your target audience but enticing enough to draw in new followers.
Whether it's a gift card, cash, or a physical prize, make sure it's something that will drive users to participate and submit the photo content you're looking for.
Be creative
Don't be afraid to get creative with your contest theme. A unique and interesting theme will help to generate excitement and interest — and more submissions.
Promote Your Contest
For a contest to achieve the results you're hoping for, you need a strong marketing strategy to promote your event. Approach your contest promotion the same way you would any other marketing strategy. Here are some steps to get you started.
Use Social Media
Naturally, you should promote your photo contest on your brand's Instagram account. Include a link in your Instagram bio to accept submissions, as well as an Instagram post detailing the entry method, timeline, and criteria.
Here's an example from @arizonahighways.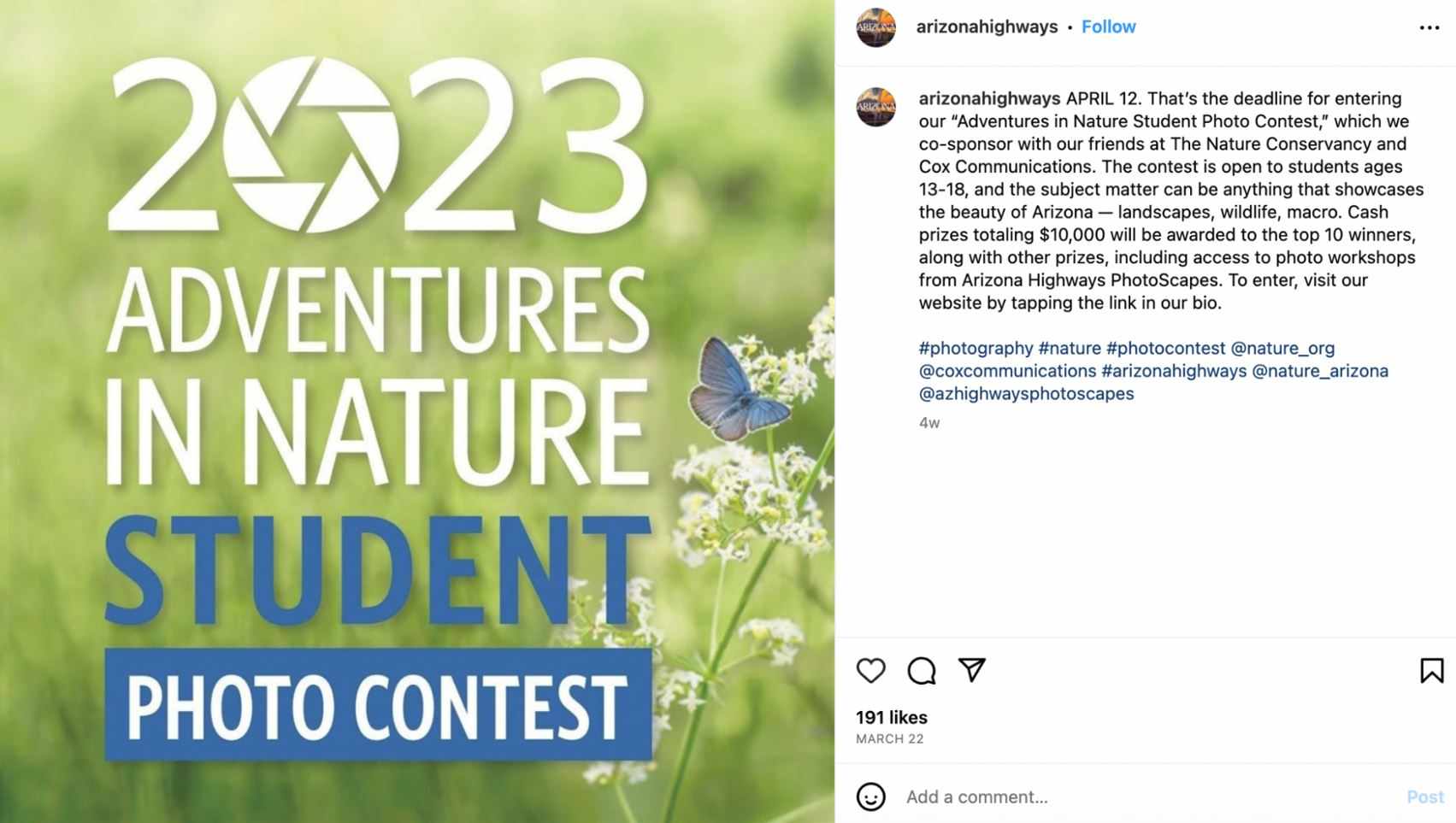 Don't limit yourself to sharing on your Instagram feed: Use your other social media channels to announce the contest, share posts about it, and encourage your followers to participate.
You can also reach out to relevant social media communities and groups to spread the word and generate buzz.
When you share your contest on social media, be sure to use eye-catching images and text. You can also use a specific hashtag to help people find your contest.
Leverage Influencers
Partnering with influencers can help you reach a wider audience of Instagram users and increase participation in your contest. Identify influencers in your industry or niche and reach out to them to collaborate on promoting the contest.
Make sure to choose people who align with your brand and have an engaged following.
Use Email Marketing
Email marketing is a surprisingly effective way to reach potential entrants. Compared to other marketing channels, emails tend to have high conversion rates.
Send an email to your subscribers that details the contest, such as the rules, the prizes, and how to enter. You can also use email to follow up with participants and announce the winners.
Partner with Other Brands
Partnering with other brands can help you reach new audiences and create a sense of community around your Instagram photo contest. Identify complementary brands or businesses that share your values or audience and collaborate on promoting the contest.
This could include co-hosting the contest, cross-promoting on social media, or offering joint prizes.
While this is a giveaway, not a contest, this post by @salt.plettenbergbay can provide inspiration for how to partner with other brands.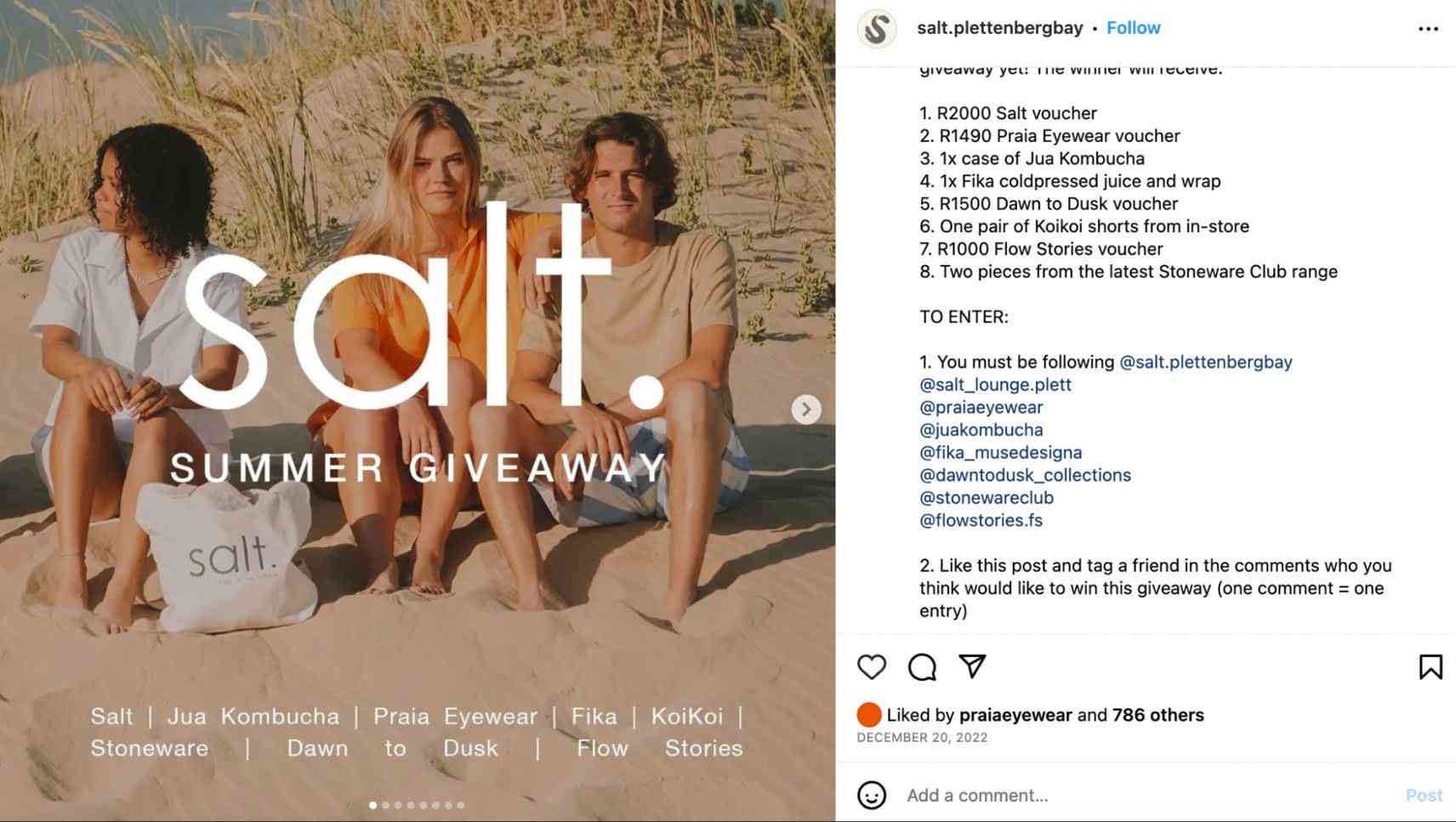 [Read more: Sweepstakes vs. Contests: What Is The Difference?]
Use Hashtags
Hashtags are a great way to get your Instagram photo contest seen by more people. When you use hashtags, your contest will show up in search results for those hashtags. This can also help you find submissions posted by Instagram users on Instagram Stories and elsewhere.
Relevant and unique hashtags help your Instagram contest stand out and make it easier for users to find and participate. You can also encourage participants to use the hashtag in their submissions and share the contest with their own followers.
Judging and Winner Selection
A contest can quickly backfire and destroy brand trust if entrants feel the judging and winner selection process is unfair or unclear.
Establish a fair and clear judging process to make sure that everyone feels like the time and effort it took to enter was valued — regardless of the outcome. Consider these tips when designing your judging criteria.
Define Your Judging Criteria
Outline your judging criteria upfront to ensure that the winner(s) are chosen based on objective criteria.
Your contest rules should answer questions such as, What are you looking for in a winning photo? Do you want photos that are creative, technically proficient, or emotionally evocative?
Your judging criteria should indicate whether selfies or beautifully staged photos are more appropriate for your specific contest.
Consider factors such as creativity, originality, and relevance to the contest theme. By defining your criteria upfront, you can ensure that the judging process is fair and transparent.
Choose Qualified Judges
There are two ways to approach judging for a photo contest: you could ask for followers to vote on the winner, or you could choose experts to provide their unbiased opinion.
Crowdsourcing the winner can boost engagement further, creating a multiplier effect. Even those who aren't creatively inclined can get involved in choosing their favorite entrant.
Hashtag contests and tag-a-friend incentives are appropriate for this type of judging. For promotional purposes, this is a great way to reach the goals of your marketing strategy.
However, depending on your contest theme, it can be insulting to those who put a lot of time and effort into creating beautiful images.
If you are running a more advanced Instagram photo contest, consider including professional photographers, artists, or other creative individuals in your judging panel.
Ultimately, it's important to choose judges who are impartial and who will judge the photos fairly.
Establish a Clear Timeline
A clear timeline will ensure that the judging is done in a timely manner and that the winners are announced promptly. Make sure that your timeline allows for sufficient time for judging and that it is communicated clearly to participants.
Stick to your timeline to ensure that the contest is perceived as legitimate and credible and to build trust with your new followers.
Be Transparent
If it's not obvious — transparency is key to ensuring that your contest is a success. Users are wary of brands on social media platforms using their UGC for clout already. So, be transparent about how any submissions will be used in the future, as well as the judging process.
Consider sharing the judges' scores or feedback with participants to provide transparency and accountability. Make sure that the winner(s) are announced publicly and that the judging process is documented for future reference.
If you do intend to continue using photo entries, always credit the original creator in future social media campaigns.
Engage With Participants and Promote Results
The fun part of running an Instagram photo contest is engaging with participants, seeing their work, and promoting the results. This is where you get to showcase the amazing UGC that others have created in support of your brand!
Promoting the results of your contest also builds trust with your followers and those who participated. Take the time to share submissions, celebrate the winners, and build positive momentum after the contest is over.
Share Submissions
Share a selection of submissions on your Instagram account: including on your Instagram Stories, Instagram Feed, and in your Instagram Reels. When you repost contest submissions, tag the participants to give them visibility and credit for their work.
You can also add a brief caption that highlights the photo's subject or message. This will encourage other participants to share their work, and it will create excitement and engagement around your contest.
Highlight the Winners
Winners of the photo contest should get special treatment. Some brands create a landing page linked in the Instagram bio that's unique to the Instagram giveaway.
This separate page can give you more space to show the grand prize winner, as well as to highlight runner-up Instagram users and other honorable mentions.
In addition, be sure to include a photo of the winning photo and a brief bio about the Instagram user. You can also add a link to their website or social media pages.
Repost and Tag
Engage with participants by reposting their photos and tagging them in your posts. This will help to get your contest seen by more people and will encourage more people to participate. You can continue to do this after announcing the winner of the contest.
Provide Feedback
Providing feedback to participants is a great way to engage with them and improve your contest. Consider providing feedback on submissions, either publicly or privately, to help participants improve their work and encourage them to participate in future contests.
If you do choose to leave feedback privately, remember to keep it constructive — these messages can always be screenshots and shared publicly. It's best to stay positive and praise the photo's subject, composition, or technical execution.
Encourage User-Generated Content
When you encourage UGC, be sure to provide participants with a hashtag or other identifier that you can use to track and share their content. You can also expand your winner list to offer prizes or other incentives for participants who generate high-quality UGC.
By following these tips, you can engage with participants and promote the results of your Instagram photo contest. This will help to create a successful contest that will generate excitement and interest in your brand.
Measure and Analyze Your Results
How will you know if your Instagram photo contest is a success? Measuring and analyzing your results is crucial to determine the success of your Instagram photo contest and identifying areas for improvement in future contests.
Define Your Key Metrics
Before you start your contest, define the key metrics that you want to track to prove whether your contest was successful. These metrics will also help you identify areas for improvement.
Some common metrics include:
Number of entries: A measure of the overall interest in your contest
Reach: How many people saw your contest posts
Engagement: How people interacted with your contest posts by liking, commenting, or sharing
Website traffic: How many people visited your website as a result of your contest
Sales: How much money you made as a result of your contest
You can get these metrics in your website analytics reports and via Instagram.
Use Instagram Insights
Go to Instagram Insights to learn more about your contest's performance. The data points listed above and others can be found in this reporting tool.
Instagram Insights can show you how many people engaged with your contest, how many people viewed your contest posts, and how many people followed your brand as a result of your contest.
To access Instagram Insights, go to your profile and tap the Insights tab.
Analyze the Quality of Submissions
Analyzing the quality of submissions can help you understand how engaged your audience was with your contest and what types of content resonated with them.
Look for patterns in the types of submissions that received the most engagement and consider using that information to guide future content creation and contest themes.
Conduct Surveys
After your contest is over, you can conduct a survey to collect feedback from participants. This will help you to understand what they liked and didn't like about your contest. You can use this feedback with your quality data to improve your contests in the future.
Adjust Your Strategy
Once you've analyzed the results of your contest, you can adjust your strategy for future contests.
For example, if you didn't get as many entries as you hoped, you could try changing the theme of your contest or offering more prizes. Consider changing your rules or duration to better align with your audience's interests and preferences.
There are many variations and elements you can test, so don't be discouraged.
Final thoughts
An Instagram photo contest is a fun way to achieve a host of marketing goals. By soliciting photos from your followers, you can increase brand awareness, generate new content for your marketing campaigns and provide an excellent experience for new and existing customers.
It's a great way to use social media more effectively, especially for businesses.
For help setting up and running your next Instagram contest, work with ViralSweep. Our platform makes it easy to collect, curate, and display beautiful user-generated content with contests.
With ViralSweep's official rules template and custom form builder to collect data from your entrants, it has everything you need to run a successful Instagram contest.
Learn more by watching a demo to explore all the ViralSweep contest management features.