Sweepstakes marketing is one of the most effective ways to grow your business in 2023. One study estimated that contests, including sweepstakes, have a conversion rate of almost 35%.
Compare that to other marketing conversion rates, and you'll quickly see that running a sweepstake is a great way to boost engagement.
Email marketing, for instance, has an average email open rate of 21.33%. Click-through rates are even lower.
Beyond conversion rate, a sweepstake promotion can also offer ancillary benefits, including increasing your followers and greater brand exposure and awareness.
Many business owners are still learning the benefit of using sweepstakes to grow their brands.
If you haven't yet used this marketing tool, this guide can walk you through the ins and outs of sweepstakes marketing.
We'll break down the types of sweepstakes you could run, how to set up your sweepstakes promotion, and some ways to ensure your sweepstake makes a big splash.
Whether you're a business owner, entrepreneur, or marketer looking to grow your business through sweepstakes, this guide is for you.
Understanding Sweepstakes Marketing
The first modern sweepstakes were started by New Hampshire in 1964 as a way to provide funds for the public school system without initiating sales or income taxes in the state.
Since then, sweepstakes have become a highly popular way to market to customers directly.
There are specific rules governing sweepstakes marketing—and for this reason, you need to understand how sweepstakes marketing works.
Specifically, sweepstakes and contests are two different things characterized by three elements: prize, chance, and consideration.
Prize: Anything of value, like goods and services, with a monetary value.

Chance: A drawing where the participant has no control over the outcome. Usually, this is a random drawing where luck is the deciding factor.

Consideration: A participant is required to make a purchase, pay an entry fee, or expend significant effort to participate.
In a sweepstake, only prize and chance are involved.
As a marketing tool, running a sweepstakes can be extremely effective. There's very little someone needs to do to participate in the promotion compared to a contest.
In a contest, entrants often have to submit a photo or video to be considered. Sweepstakes are easy to participate in, typically involving little time or effort for someone to enter to win.
As a marketing tool, online sweepstakes are a great investment. Sweepstakes marketing campaigns allow brands to avoid buying airtime, ad placement, or sponsored posts and engage directly with new customers.
Likewise, entrants benefit from the excitement of winning a giveaway, generating buzz, and boosting the brand's reputation.
Types of Sweepstakes
Sweepstakes can take many different shapes and forms. As long as you follow the rules of sweepstakes (e.g., no purchase necessary rules and other laws), you can be creative with your sweepstakes format.
Here are a few variations to consider.
Sweepstakes with different entry methods: There are many ways in which a person can enter a sweepstake, such as online, via email, mail-in, or call-in sweepstakes, through text message, or in-person.

Sweepstakes with different entry frequencies: Some sweepstakes allow participants to enter multiple times, once daily or one time per person. You could also allow participants to enter a certain number of times per month or week.

Sweepstake prizes: Ideally, the prize of your sweepstake will match the effort it takes to enter and be aligned with your brand. Some examples of prize giveaways include cars, cash, vacations, and gift cards. 

Sweepstake eligibility requirements: Your sweepstakes can be set up to accept winners based on geographic location, age, line of work, or another condition.

Sweepstakes by winner selection: The method of choosing a winner could vary from instant win (winning times are selected at random, with one winning time per prize) or from a formal drawing.   
Remember, there are rules that govern sweepstakes depending on your location and proposed prize.
Make sure you adhere to platform rules, too: Facebook and other social media channels have specific guidelines for hosting a sweepstake on their platform.
Benefits of Sweepstakes Marketing
Sweepstakes marketing is so effective because it can achieve a range of business outcomes in a very short amount of time.
Sweepstakes are one of the most widely used marketing strategies because, overall, they can help a business achieve a variety of goals, such as:
Increase email subscribers
Increase website traffic
Increase leads
Increase awareness of products or services
Increase sales
Increase engagement and followers on social media
Increase brand loyalty
Sweepstakes help brands achieve a range of results in one campaign. For instance, FlySafair, a South Africa-based airline, created a sweepstake giving away free flights for an entire year.
After filling out the entry form and entering the sweepstakes, entrants were offered additional entries for performing actions, like referring their friends via email, visiting the FlySafair website, sharing on Twitter and Facebook, or watching a TV ad.
FlySafair promoted their annual sale as well as the sweepstake using dedicated launch emails, entry banners at the bottom of all of their regular marketing emails, posts on Facebook and Twitter, website banners, paid Google display and search ads, as well as Facebook ads.
Their sweepstakes marketing campaign garnered 154,795 entries, with 33,118 referrals, making FlySafair one of the top airlines in South Africa.
Developing a Sweepstakes Marketing Strategy
For a sweepstake to achieve the results you're hoping for, you need a strong marketing strategy underpinning your promotion.
A clear and effective sweepstakes marketing strategy can help ensure your giveaway leads to the boost in engagement, conversions, and brand loyalty you're looking for.
Fortunately, tools like ViralSweept can handle the logistics of running your sweepstake.
But, before you launch your next giveaway, it's important to consider the marketing goals, target audience, type of contest, and method of entry you will use in your next campaign.
Setting Objectives
Like other marketing campaigns, a sweepstake needs clear, measurable objectives. Consider what "success" looks like for your sweepstake.
Did you want to grow your email list? Get more exposure for your brand? Increase sales through Facebook?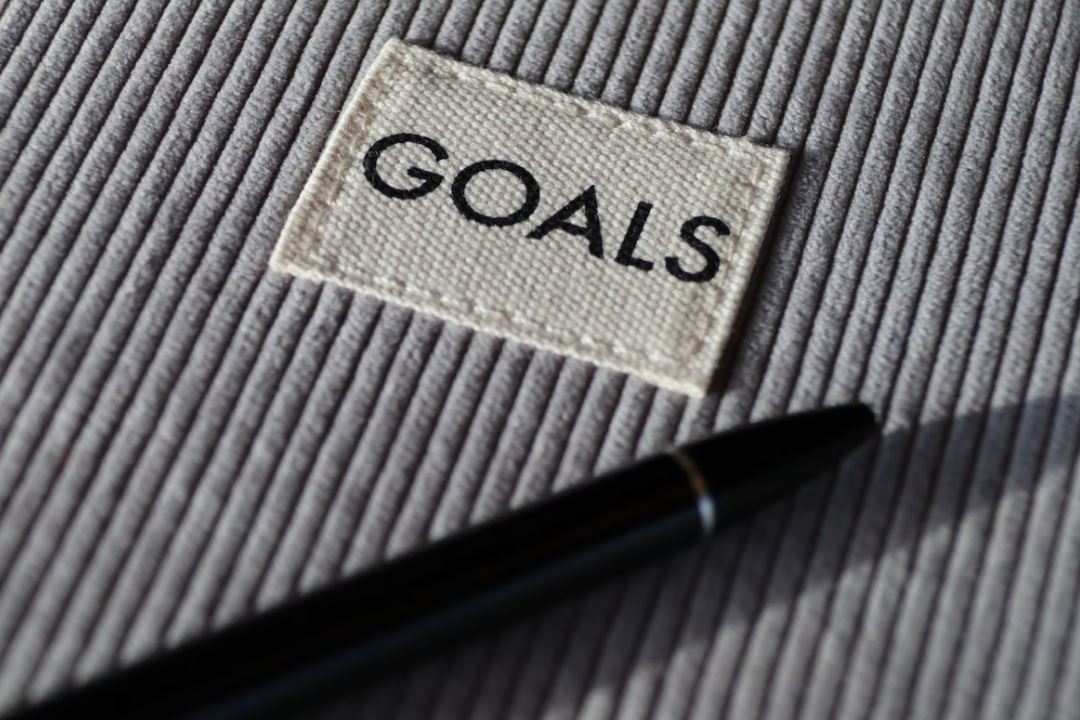 Create a set of predetermined goals that will allow you to determine whether your promotion is successful once it ends. Your marketing goals should be specific and measurable.
At the end of the campaign, you should be able to answer Yes or No to questions like:
Did we get X new followers on Twitter?
Did our email list grow by X%?
Did we have X new email newsletter signups?
Did our website CTR increase by X%?
Did sentiment towards our brand become more positive over X period of time?
For help setting your objectives, check out ViralSweep's Sweepstakes Goals template. We also provide more resources to help you get started in The Advanced Guide To Sweepstakes.
Defining Target Audience
Next, define the target audience you want to participate in the sweepstakes. Refer back to your marketing goal to ensure you're attracting the right groups.
For instance, if your goal is to increase sales, you may only want to target sweepstakes entries from potential customers. Or, if you want to increase engagement, you may want to cast a wide net and collect as many sweepstakes entries as possible.
It can be very tempting to cast a wide net and promote your sweepstakes everywhere but remember; you'll end up building a list that isn't targeted and will be hard to market to.
In the long run, no matter how many leads you collect, it all comes down to how you build the relationship and sell to the end user.
There are many tools you can use to research your audience. First, ensure you know the geographic area where you want to target your sweepstakes.
Then, consider your marketing personas, email lists, and website analytics to understand who your ideal customer (and sweepstakes entrant) should be.
Choosing the Right Prize
The prize you choose carries a lot of weight for recruiting sweepstakes entries. The prize should be commensurate with the method of entry.
Requiring too much information creates a huge entry barrier, increasing the time it takes for a user to enter your sweepstakes.
However, if your prize is something like an all-expenses-paid trip to Hawaii, you can ask someone to provide more data than you would if you were offering a $100 gift card.
Generally, we recommend choosing a prize that feels exciting and relevant. Cash prizes and gift cards are always popular options. Research from Forbes shows that:
High odds of winning a prize outperform the value/size of the prize; and
Prize structures that offer a higher volume and frequency of moderately valued prizing ($50 to $500) typically drive up to 50% more likelihood of participation than does one high-value grand prize of $10,000.
As you continue planning, determine whether there will be one grand prize or multiple sweepstakes winners.
Depending upon the value of the prize, you may want to consider drawing more than one winner.
In our experience, any prize value under $100 should have at least two winners—if it's in your budget.
Generally speaking, the more winners you have, the more entries you will get. Having more than one winner motivates people to enter because they have a better chance of winning.
Determining the Entry Mechanism
The number of entries your sweepstakes gets will be heavily influenced by the entry mechanisms you've set for your promotion.
You want to ensure the official rules and general information for your giveaway makes it clear regarding who is eligible to enter as well as how they can enter.
Clarify if there is a limit of entries, as well as specify if there is a geographic restriction for entrants (e.g., only residents of the US).
Additionally, you should also offer the alternate method of entries (AMOE) to your sweepstakes as it ensures it is fair and accessible to everyone, regardless of their ability to purchase a product or service.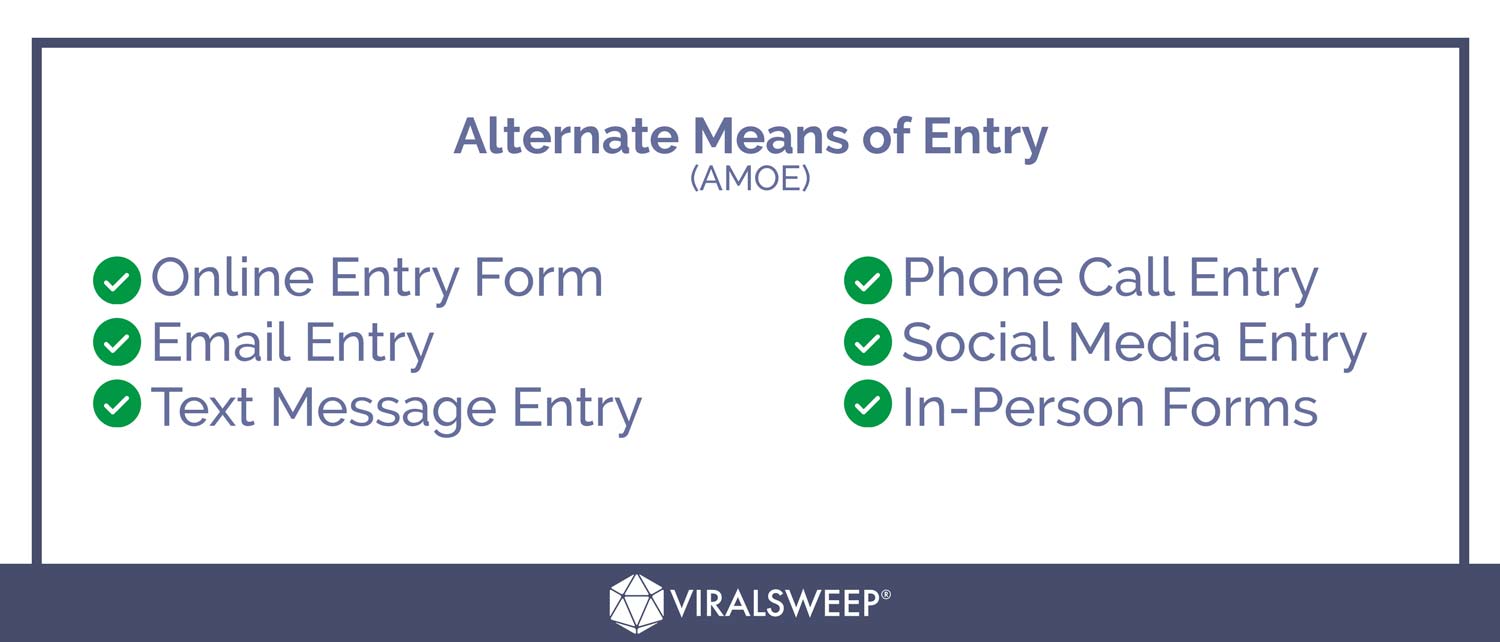 This also makes it so that you, as a non-government entity, can offer sweepstakes and giveaways legally.
Deciding on the Promotion Channels
Once you're done determining the entry mechanisms, it's time to decide how you're going to promote your sweepstakes.
Depending on your campaign objectives and target audience, you might want to promote your sweepstakes on different social media platforms, apps like discord, and more.
Using influencer marketing and email marketing are also great options if they help you reach the right crowd.
Maximizing the Results of a Sweepstakes Campaign
Now that you know how to set up a sweepstakes campaign, what can you do to ensure the promotion is a viral success?
A successful campaign takes careful planning and preparation, a unique idea, the right amplification through social and other channels, and a feedback loop to help objectively assess the results and improve next time.
To maximize the results of your promotional strategy, follow these best practices.
Pre-Launch Preparation
Unfortunately, the phrase "build it and they will come" does not apply to launching a sweepstake.
You must actively design an enticing landing page, create a marketing campaign, and make sure your promotion is legally compliant before your sweepstakes can be opened for entries.
As you set your objectives and define your target audience, you'll simultaneously need to build the infrastructure to reach entrants and collect their submissions.
Create a landing page that stands out, starting with the title. We recommend a landing page over social media because you "own" that asset.
Facebook, Instagram, and other social media platforms own your profile pages and, as a result, have specific rules that make it complicated to run a sweepstake.
You'll also want eye-catching imagery, especially of your product or prize. This is especially true for sweepstakes, where people are encouraged to share.
A great-looking product image means more people will be inclined to share it.
In addition, set the duration of your sweepstake promotion carefully. Run it for too short a period, and fewer people will have a chance to enter. Too long, and you may lose momentum.
At ViralSweep, we've found a period of four to eight weeks has been the sweet spot for our sweepstakes.
And, finally, know the rules that will apply to your sweepstakes. You need to ensure your sweepstakes' official rules comply with local, state, and federal laws.
ViralSweep provides a sweepstakes rules template that you can use to get your sweepstakes up and running quickly, but if you're a larger brand and the approximate retail value of the prizes is close to $5,000, we suggest having your lawyer draft up your sweepstakes rules.
[Read more: Sweepstakes Legal Checklist For Your Next Promotion]
Launch Promotion
Once you have your unique idea and the marketing assets to promote your sweepstake, it's time to launch.
Make sure you have all your marketing efforts well planned out ahead of time to make the biggest splash when you announce your sweepstakes.
This includes working with influencers and bloggers, using your own email list, SMS and text messages, social media channels, and website.
Consider creating a list of ten or 20 influencers in your niche, and reach out to each of them with a personalized email about the sweepstakes you're launching.
Ask them to promote your sweepstake to their audience — keep in mind that these outreach messages need to be super-targeted so that the influencers are comfortable sharing your sweepstakes with their audience.
On your own channels, plan messages to your email list and loyal customers that use engaging and attention-grabbing headlines, eye-catching graphics, and have a sense of urgency about them.
Our guide includes image specs for different social media platforms so you can create assets sized properly for each channel. 
Build anticipation by sending teaser posts one or two days before your giveaway is set to go live.
Give your social audiences a sneak peek that makes them curious, interested, and eager for your giveaway.
Post-Launch Evaluation
The last thing you should do before you launch the final steps of your promotional strategy is to measure your existing metrics.
Make note of your numbers across all social channels to track progress and see how well the sweepstakes performed over time.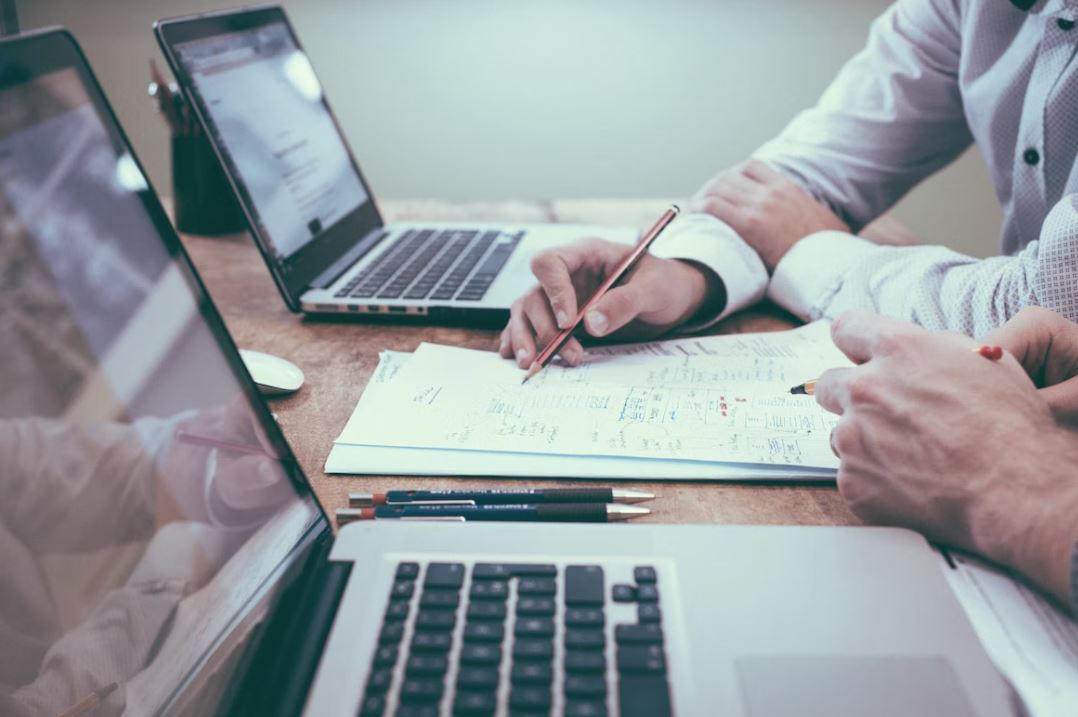 After you announce the contest winners and award the sweepstakes prize, measure the impact of your campaign.
See if you can answer the questions you generated during the planning phase of your promotion, such as:
How many people entered the sweepstakes?
How many new fans, followers, and subscribers did we get?
How many clicks did we receive to our website from the sweepstakes?
If we offered a coupon or discount, how many people redeemed it?
Did any new business, revenue, or profit come from the sweepstakes?
What can we improve upon for the next sweepstakes?
One metric you can use to assess your efforts is the percentage of your fan base entering your giveaway or contest. This is calculated as:
Percent of fans entering = # entries / # of fans
This can help you compare from one campaign to the next to see whether your sweepstakes are improving over time.
You may even reach out to contest winners or select participants for additional feedback. Ultimately, you'll want to learn what worked and what didn't, specifically related to your promotional strategy.
Sweepstakes Marketing Made Easy With ViralSweep
Sweepstakes are a very effective outreach strategy, but they require careful planning and goal setting from the get-go.
A tool like ViralSweep can help ensure your campaigns are well organized, compliant with the rules, and set up to go viral.
Make sure you define your audience and align the sweepstakes prize with something they would value.
Use professional images, videos, and user-generated content for marketing your campaign compellingly.
Try to find influencers or loyal customers who are willing to share your sweepstakes with their audience. And take the time to assess the results of your campaign to learn how to improve over time.
ViralSweep offers many resources and tools to help make your next campaign successful. From ways to grow your email list to templates for no purchase necessary rules, you'll find everything you need on our platform.
Get in touch to see how we can take your sweepstakes marketing to the next level.