The Ultimate Custom Sweepstake Generator
When you set out to create your online digital marketing, you will face numerous types of promotions, each with its own rules.
For example, if you're interested in hosting sweepstakes your job will be much easier the first time with a template or generator to help you get the ball rolling.
What Is a Sweepstake?
A sweepstakes is often called a giveaway. It is a type of promotion where you randomly give prizes to players who enter your promotion by completing numerous free-of-charge actions.
For a giveaway to be considered a sweepstake, it must include the following:
A prize to be won
The lucky winner is chosen randomly from numerous entries using a random name picker or random number generator.
Sweepstakes Rules
Just like with other promotional events, a sweepstake requires rules. You, as the stakeholder, are responsible for defining those rules and how they will impact the determination or selection of a winner.
If you want to learn more about sweepstake rules, you can find them in our Sweepstakes Official Rules Template.
Benefits of Running Sweepstakes
Running a sweepstake for brands and businesses is an excellent marketing strategy that gets customers to interact with your online presence.
You can even run office sweepstakes or contests for your employees to boost morale. No matter the scenario, here are the benefits:
Generate more leads
Gain exposure
Liven up your community
Expanding your network
Giving back to the community
Save time and headache
Collect email addresses to build your email list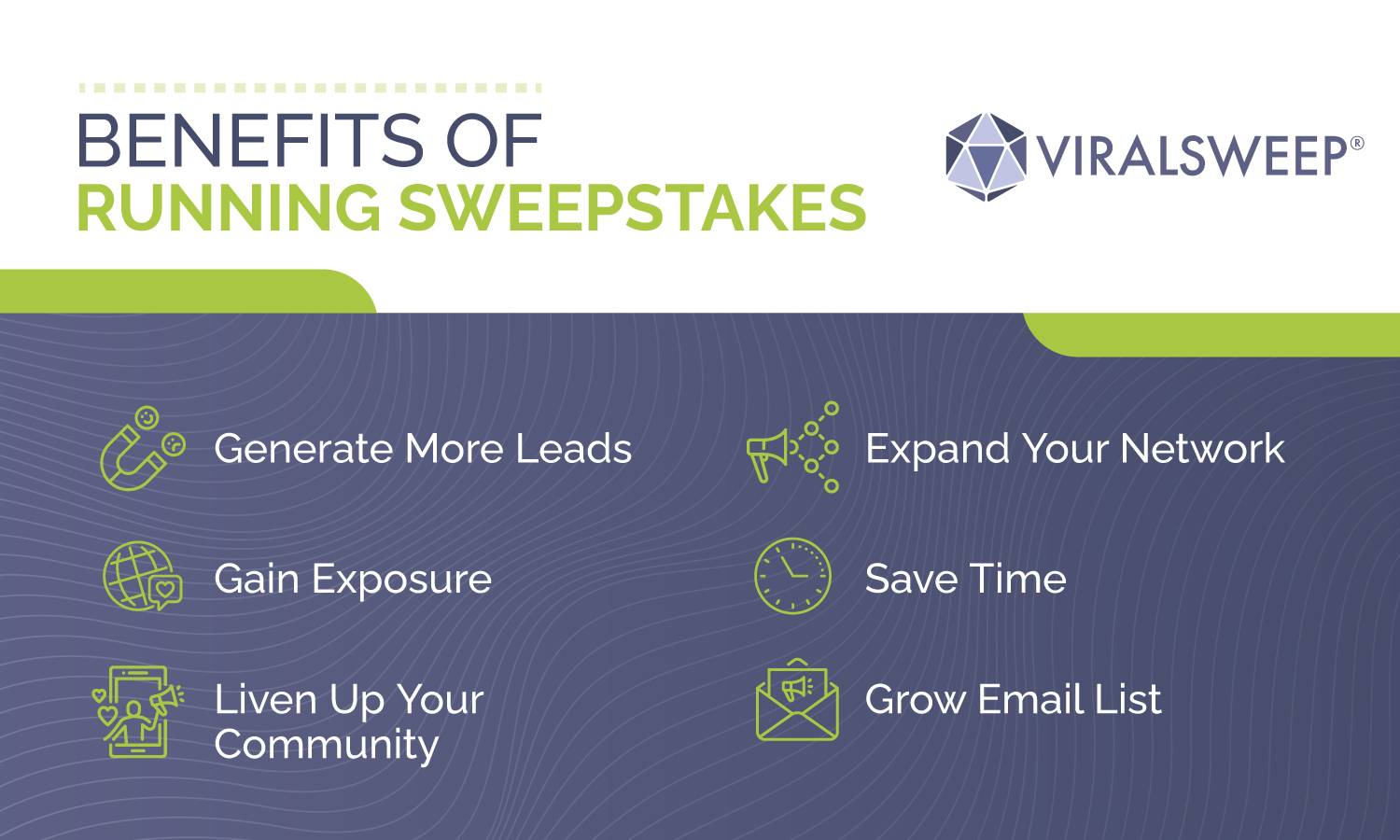 You can learn more about sweepstakes and their features on our website.
ViralSweep Sweepstakes Generator Template
Now that you understand what sweepstakes are and how they work, it's time you create your own. Then, you can use your sweepstakes for your social media promotions or give back to your different office teams.

You can visit our page here at ViralSweep, sign up, and get a free sweepstake generator template.
You will only get one chance to use the free generator, so make sure you use it wisely.
How To Set up the Sweepstakes Generator
To set up your sweepstake generator, there are a few steps that you have to follow. Here are the following:
First and foremost, you need participants for your sweepstakes. You can't give away prizes without participants.
Make sure to keep note of this list of names and arrange them randomly. There is a randomizer for the sweepstakes generator.
Design your sweepstakes, make your designs feel like it's yours or it represents your company
Spin the spinner wheel and wait for a random name to show. That would be the winner of your sweepstakes.
Free Tool – Draw Winners
ViralSweeps is the go-to for these sorts of promotions, as we have a sweepstakes generator and template and other features you can use.
For example, one of the random winner pickers includes a wheel of names, and you can set the max number of participants.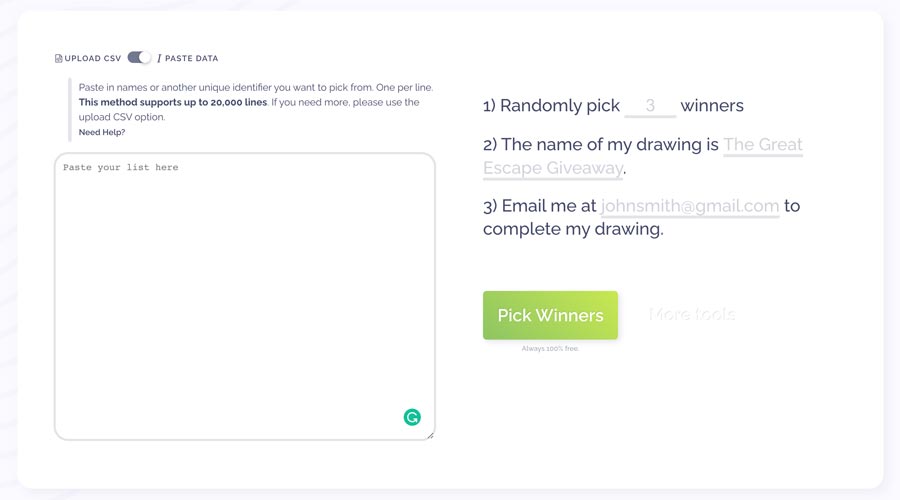 ViralSweeps' free random winner picker can ease you from the stress of doing things yourself. You can visit our Random Name Picker Tool to get started.
Join Thousands of Brands Using Viralsweep
If you're interested in our services and want to join us along with thousands of other brands that are using ViralSweep, please go through our plans and pricing.