Top 6 Tips to Create a Giveaway That Maximizes Revenue and Engagement
Giveaways are more than a popular type of competition people enter to win the prize you give for free.
When you create your giveaway, you help your eCommerce business stand out from the crowd and achieve company-wide goals.
A giveaway is not just a one-time marketing campaign but a strategic opportunity to increase engagement, collect customer data, convert leads into new customers, and build brand loyalty.
A giveaway is a type of competition through which your company offers your target audience chances to win a prize you offer for free and in which you determine the winner from a pool of eligible entries by:
Random selection – you offer participants equal chances to win the prize, and you will select the winners randomly;
Judging or voting – you select the winner based on judging or voting, considering criteria like creativity, skill, or effort.
You can structure a giveaway as a sweepstakes where you generate the winner randomly, or as a contest, where the public votes or a panel of judges help you choose the winner.
Because the effort required to participate is often low, giveaways are one of the most popular competitions among consumers and the most effective marketing tactics for eCommerce businesses.
How does creating a giveaway draw the target audience to your brand?
The news about a giveaway spreads quickly through word-of-mouth, helping you reach new people who have yet to hear about your brand and products.
Your current audience will learn and engage first, but you should encourage them to share the giveaway with friends and family.
Then, if your budget allows, you could also create ads to boost the reach of your giveaway and increase its chances of going viral.
The chance of winning a valuable prize with little effort gets people excited. Many will enter, and if you want to attract the right people, you should offer a prize that is relevant to both your brand and your target audience.
While you see many brands offering popular items, like cool tech gadgets, it isn't a good idea as it doesn't draw the audience for the right reasons.
Your goal is to attract, engage and convert the people that are more likely to become repeat and loyal customers.
Creating a giveaway campaign is a great way to emphasize what your brand stands for and show how the products you offer as a prize make people's lives better.
How will you handle all the engagement generated by your giveaway and transform it into profit?
Well, a good idea is to make sure everybody wins even though they might not be winners of the giveaway prize by offering an incentive to all participants, such as a special discount code they can use at their next purchase.
Collecting their email addresses and having the contact's consent for marketing messages is a great opportunity to enable lead nurturing flows and advance people toward new purchases.
[Check out this video on Increasing the ROI of your Marketing]
When you create a giveaway with a strategic approach, you are doing more than giving away an exciting prize for free.
It allows you to add an effective tactic to your marketing mix that helps you achieve various goals: grow your brand awareness, generate more engagement, reach new audiences, and increase the number of social media followers.
A strategic approach helps create giveaway campaigns with the business outcome in mind:
Set the goals you want to achieve and define the KPIs;
Define the target audience;
Create compelling messaging and visuals;
Set up a dedicated giveaway landing page to collect customer data in one place;
Use a giveaway tool for easier campaign implementation and management.
The same rules apply to sweepstakes, and we recommend our step-by-step guide on Advanced Sweepstakes, which includes everything you need to create a successful campaign.
Now that we've checked the basics, we invite you to discover ten tips to create a giveaway that maximizes engagement, conversions, and revenue.
Why are giveaways beneficial for expanding your company and generating revenue?
Online stores create giveaway campaigns to support both their acquisition and retention efforts, enabling a positive association with the brand and encouraging the target audience to return for purchases.
A giveaway is a cost-effective tactic for increasing brand awareness and generating more revenue, with higher conversion rates than other traditional marketing and advertising methods.
When you create a giveaway campaign, you can generate buzz around your business and gain more social following from potential and existing customers.
The more followers you get, the easier it is to keep people connected with your business on the social media platforms they use most frequently.
Giveaways help you increase brand awareness and attract new customers who may not have heard of you before, encouraging them to visit your website, browse your products, and learn more about how your brand makes their lives easier.
When you add a participation form to your giveaway landing page, it's easier to collect entries and add new leads to your email list.
By obtaining consent for marketing messages, you can reach out to the new leads obtained through giveaways or contests using targeted email marketing campaigns, thus supporting your lead-nurturing efforts.
Organizing giveaways help you build loyalty among existing customers and reward those who recently made a purchase. Giveaways dedicated to existing customers can create excitement, strengthen relationships, and encourage repeat business.
The following tips on creating a giveaway will help you build a campaign that increases brand awareness and boosts revenue.
Tip 1: Research Your Audience
Conducting marketing research on your target audience before creating a giveaway helps you understand the customers' needs, interests, and preferences. The data you gather enables you to determine the most appealing giveaway prizes and effective messaging for the people you're trying to reach.
Understanding your target audience helps you design the promotion plan and choose the right tools, social media platforms, and mix of channels to increase the visibility of your giveaway.
Our tip for conducting customer research is to focus on your existing best customers because they have the best insights into what kind of prizes would be the most appealing and more likely to attract the right audience to your brand.
Tip 2: Generate Surveys
Leverage the power of existing customers by designing surveys that help you identify how you should design your next giveaway campaign.
Existing customers are already familiar with your brand and products and are more likely to engage and complete the survey with detailed, relevant, and insightful answers.
Ask them questions about what types of products or experiences they would love to win, and use the insights to pick the most exciting prizes.
Surveys can help you determine the right time and place to promote your giveaway by asking them questions about where they spend time online and when they are most active.
A survey can be an excellent tool for understanding the rules and requirements your target audience is willing to accept and the personal information they are willing to share for getting entries in your giveaway.
Our tip is to generate short surveys with simple questions focused on the essential information you want to capture.
Your customers should complete a survey in less than 10 minutes, and you could also surprise them with a gift card or exclusive discount code in appreciation for their time.
Tip 3: Choose Unique And Multiple Giveaways
When you create a giveaway campaign, you're doing more than giving away free stuff. It's a great way to showcase your brand's offerings and create awareness, so you should select unique and multiple prizes.
Think of a range of unique prizes that stand out and aren't commonly available.
For example, while gift cards are easily generated and appreciated by your target audience, you could offer a set of custom-made or limited-edition products.
A unique giveaway prize creates a sense of exclusivity, and more people will be excited about participating.
Multiple prize options catering to different interests and preferences allow for a diverse audience engagement while remaining consistent with the brand and your campaign's main goals.
By offering a variety of prizes, more people will be motivated to participate and invite others to join in, therefore increasing the chances of creating viral giveaways.
Our tip is to choose giveaway prizes that align with your brand, goals, and target audience.
If you're looking for a giveaway prize idea, a way to showcase your brand and expertise in your field is to offer a customized shopping experience with a personal consultant.
The prize could include a session where the consultant determines the individual's profile and preferences, followed by a curated selection of products from your store.
Tip 4: Provide Bonus Entries
Bonus entries in a giveaway give participants additional chances to win a prize by completing an action, such as referring friends to enter the competition or sharing the giveaway on social networks.
By offering bonus entries and various entry methods, you encourage word-of-mouth marketing, one of the best ways to boost your giveaway's performance, leading to increased user engagement and brand awareness.
Our tip for offering bonus entries is to create a simple referral process with clear instructions for referring friends and a referral link or code that participants can easily share to get extra entries.
You could also reserve a special prize for the user that refers to the most people.
Tip 5: Write A Blog Post
Creating a dedicated blog post about your giveaway is a great way to encourage visitors to participate and spread the word about your campaign.
In the blog post, you should clearly describe the giveaway, what prizes people can win, the rules and requirements, and the promotion duration.
Our tip for writing a blog post about your giveaway is to highlight how the prizes enhance the winners' lives and how they align with your brand.
As a bonus tip, we recommend adding visible social sharing buttons so your current readers can help you create online buzz by sharing the post on their social media accounts.  
Tip 6: Make Use Of Social Media
Sharing the giveaway on social media platforms like Facebook, Instagram, Twitter, or YouTube, helps you reach a larger audience, increase brand awareness on the networks where people spend most of their time online, and collect user-generated content.
By publishing visually appealing and engaging images and videos for your giveaway posts, you can attract the attention of potential and existing customers, encourage them to participate in the giveaway, and browse other pages of your website.
All the new traffic and engagement you generate by sharing your giveaway on social networks can lead to more sales and revenue for your online store.
Instagram
Instagram is great for attracting visually-driven users to your giveaway and showcasing the prizes through pictures, videos, stories, and reels.
The platform's features allow you to create Instagram giveaways with entries based on various actions, such as mentioning friends in comments, asking people to follow your Instagram page, or writing in a comment what they would like to win.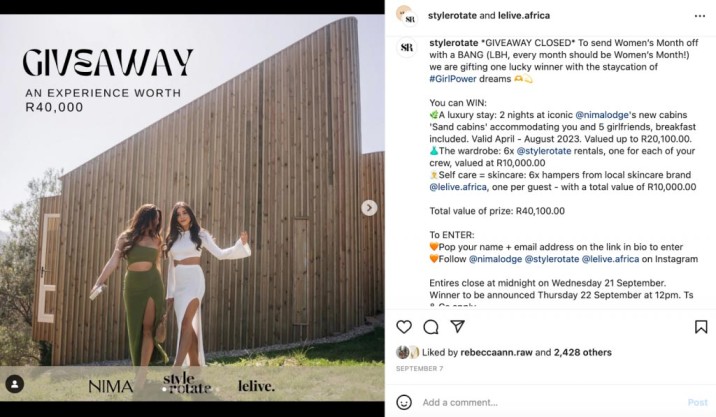 Our tips for running an Instagram giveaway are to comply with the platform's rules and inform the participants how you will validate the entries in advance.
For example, if the participant has to make a post on their Instagram profile to enter the competition, but their profile is private, you can ask for a screen capture to validate the entry.
Facebook
Facebook giveaways are great for reaching a larger audience, building engagement, and an online community.
Although there's a lot of noise on the platform and people can easily get distracted, your Facebook giveaway can stand out if you create eye-catching posts around the prizes and add an irresistible call to action with a direct link to the giveaway landing page.
Also, the complex Facebook analytics tools help you track performance and make data-driven adjustments to generate the best results.
Our tips for Facebook giveaways are to ensure your campaign complies with Facebook's promotion guidelines and leverage the power of this social network to reach more potential customers like your existing top customers.
If your budget allows, you could boost your giveaway post and use a custom audience to attract quality leads to your Facebook page and website.
Twitter
Twitter's platform allows you to use relevant hashtags that boost the giveaway's visibility and make it easier for users to find and participate.
When creating tweets to promote your social media giveaway, keep in mind the tweets' character limit and write concise messages.
Our tip is to create a catchy visual that helps you overcome the limitations of the character limit on tweets.
You can use an image or a video that conveys information in a more impactful and memorable way, convincing people to stop scrolling and secure their participation in your giveaway.
YouTube
Creating YouTube giveaways can be a great way to grow your channel and connect with your target audience on the world's top video platform.
YouTube allows you to create various giveaway types, including sweepstakes based on simple user actions, online contests based on user-generated content, or partnerships with popular YouTubers among your target audience.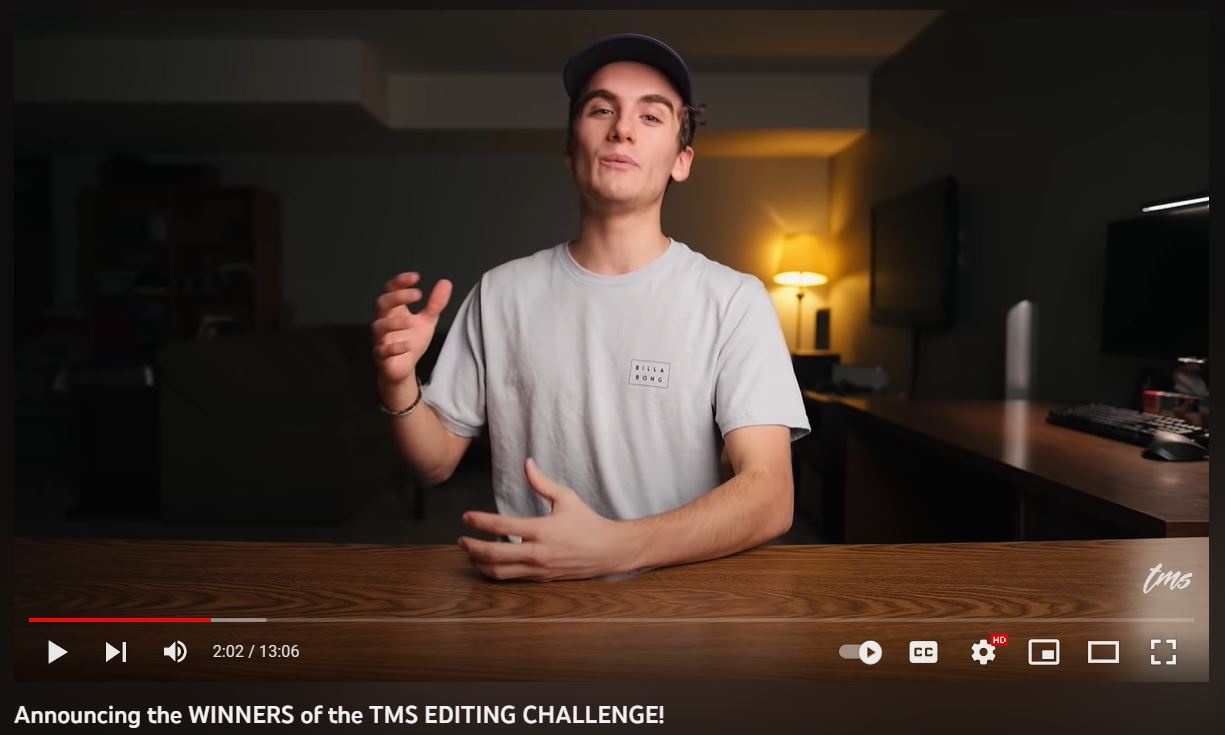 Our tip for YouTube giveaways is to create entertaining, worth-sharing video posts that qualify as top video content for your target audience. It's always a great idea to partner with other YouTubers and allow them to add their creative input for an authentic and more engaging campaign.
Social media contests and giveaways represent more than an easy way to get more participants to join your competition. They help you reconnect with existing customers and reach new people to increase your customer base in the long term.
The next steps to creating a successful giveaway
Giveaway campaigns bring strategic opportunities for both small businesses and established companies to increase brand awareness and revenue.
Any successful giveaway starts with a clear objective and a well-defined target audience. The top 10 tips we shared throughout this article will help you fine-tune your next giveaways to attract more right-fit people to your online store and transform their engagement into a sustainable revenue source.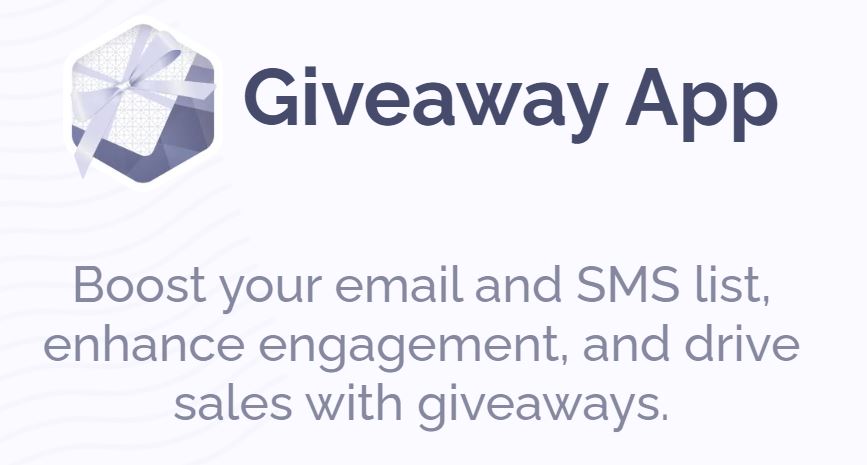 As you plan your next giveaway campaign, consider using the power of ViralSweep, our dedicated giveaway app that brings effective campaign implementation and management.
You get access to real-time analytics, social media integration, automated email, and other features that take your efforts to the next level.
You can start with a free trial to see if the app is the right solution for your needs and goals.
So, if you want to get better results from your next online contests or plan more interactive giveaways, explore how an app dedicated to online competitions can help you create positive customer experiences and maximize your ROI.
Explore the Benefits of Using ViralSweep