The summer season is a mood booster for everyone, bringing excitement, warm weather, sun, and lots of good energy.
For many brands, this time of year presents a perfect opportunity to connect with your audience through engaging marketing campaigns. It's a season during which more users are sharing, posting, and engaging on social media.
For instance, during the summer of 2015, the rate at which people in 22 countries across the Northern Hemisphere posted to Facebook on mobile jumped by 26%. 
Take your marketing campaigns to the next level using promotional giveaways. Summer giveaways can help brands to boost engagement, increase sales, and build a bigger audience while also creating a fun and light-spirited campaign that aligns with the mood of the season.
In this article, we'll explore some ideas for summer giveaways that can help your brand connect with your audience and build a positive reputation.
What Makes Summer a Good Time for Giveaways?
Summer is a season associated with fun, adventure, and good vibes — and what could be more fun than the chance to win a prize?
Summer is a great time of year for engaging with customers for various reasons. Primarily, studies have shown that as exposure to sunlight increases, consumer spending tends to increase, too. 
Many consumers are, subconsciously, already in the mood to explore brands and increase their purchasing. Giveaways provide a great way to tap into the season's mood and offer exciting prizes that will generate new customers. 
Customers are more likely to have more time to engage with a promotional giveaway over the summer. Whether your audience is on vacation, on a break from school, or just enjoying longer days, they likely have more time to engage with your brand and participate in your giveaway.
Summer is also a time when many people are looking for new experiences: traveling to a new destination, taking up a new hobby, or trying a new restaurant in their home city. A summer giveaway can tap into this desire to try something new and exciting.
With the right incentive, a summer giveaway can help your business stand out from the crowd and make a lasting impression on customers.
Aligning your giveaway to a summer holiday or "summer fun" event, like the Fourth of July or a backyard BBQ, can create a positive and memorable experience that will keep customers coming back for more. And the right prize can increase brand awareness with more potential customers. 
When thinking about your summer giveaway, try to find promotional items that make sense for your brand and capture the season's spirit. Here are some red-hot prizes and giveaway ideas to consider tailoring to your brand this summer. 
10 Prize Ideas for Your Summer Giveaway
These summer contest ideas can provide inspiration for your next giveaway. Remember, try to choose a giveaway format and prize that aligns with your brand. You want this giveaway to feel authentic and connected to your target customer's wants and needs.
Read on for some contest ideas to inspire you, things to keep in mind as well as tips for running a successful summer giveaway.
Summer-themed experiences
Consider offering an experience best enjoyed during the summer months, such as a camping trip, surfing lesson, or kayaking excursion.
The purpose of this type of giveaway is to offer a unique and exciting summer experience while also generating excitement and buzz around the giveaway on social media.
For example, a hotel chain could offer a weekend stay at one of their beachfront properties and promote the giveaway on social media using a targeted hashtag. Here's an example from @resortshangrila.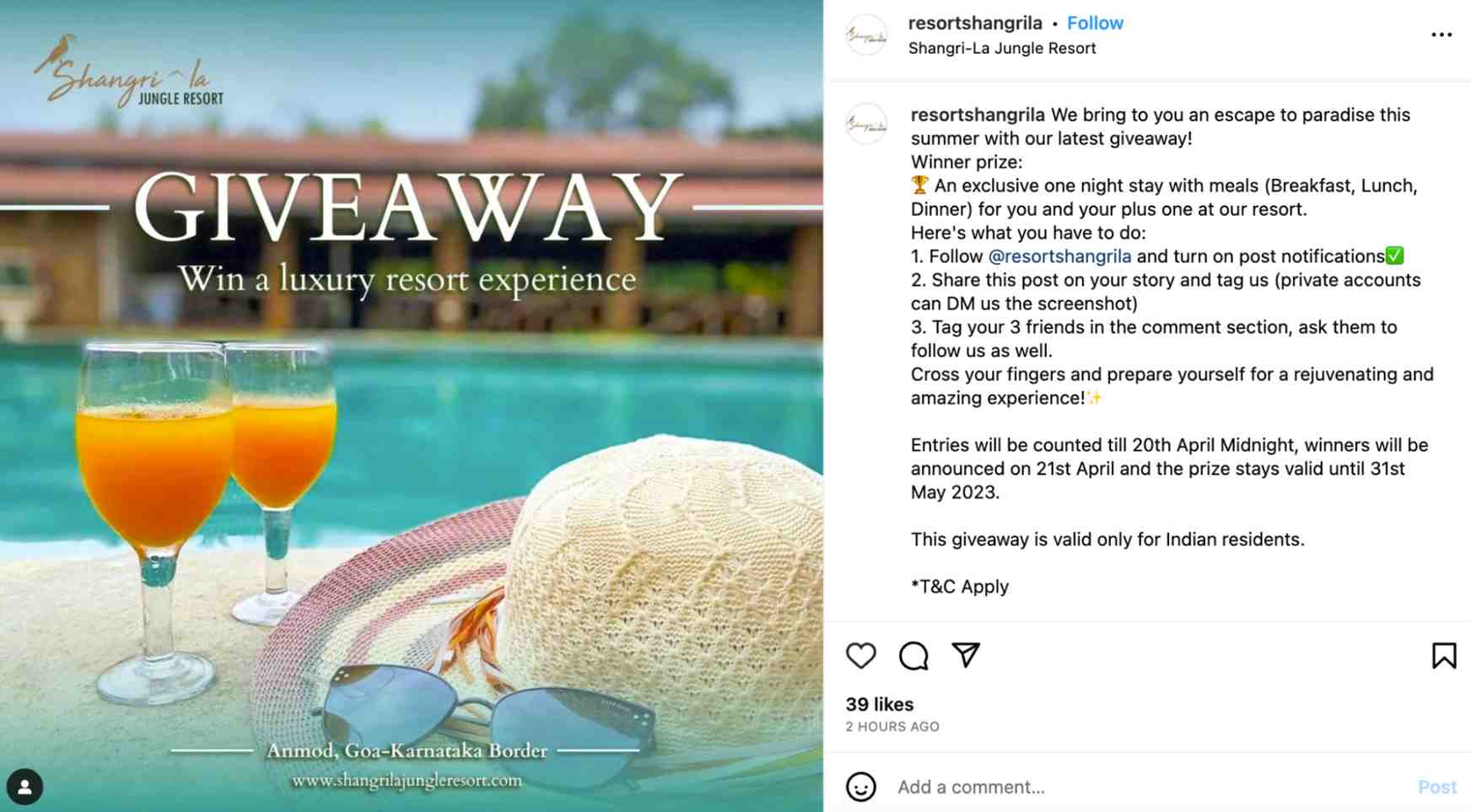 Keep your target audience in mind when choosing a summer experience. The experience should be accessible to those who win — meaning they should be able to go without having to spend their personal money on plane tickets.
Choose something local or prepare to pay additional expenses so the winner can enjoy their prize.
Customized gear giveaway
Lots of companies offer summer swag as part of their giveaway. This is a great, affordable option for giveaways with multiple winners. Not only is swag often a budget-friendly prize, but it also offers a way to continue advertising your brand after the giveaway is over.
Every time someone wears your branded summer swag, people will see your logo and increase their awareness of your brand.
There are tons of swag ideas suitable for the summer months. Consider items such as a branded inflatable, beach towels, beach balls, custom sunglasses, umbrellas, sunscreen, tote bags, t-shirts, can coolers, backpacks, water bottles, tumblers, koozies, and flip flops.
Here's an example from @theabqmutts in which the brand offers a waistband for dogs.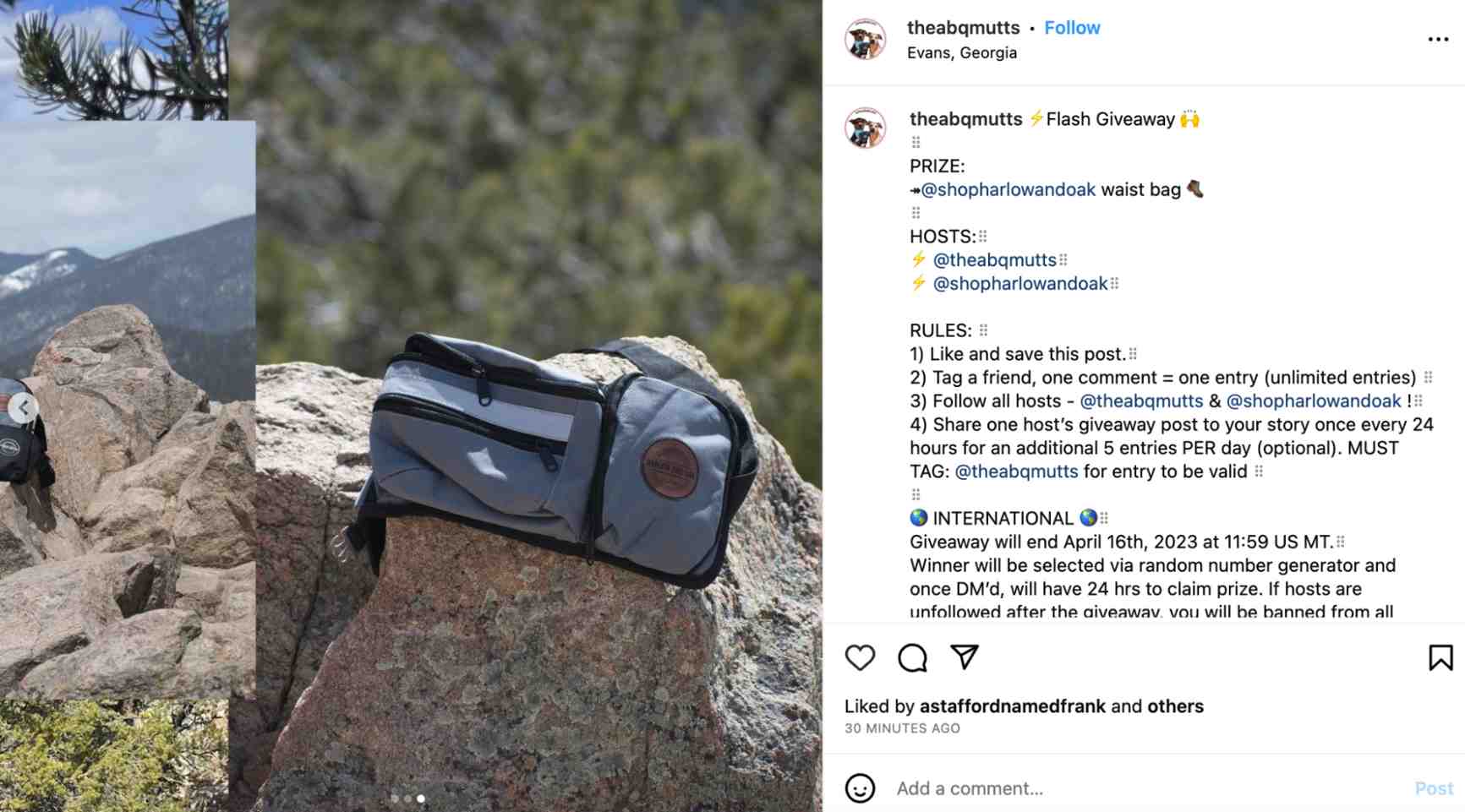 The prize increases exposure for the brand and taps into the summer activity of hiking (safely) with your dog. Make sure your company logo and company name are prominently featured on the prize!
Summer user-generated content
Ask your customers to post content from their summer activities for a chance to win your prize. They can film or photo themselves enjoying your product on the beach, on a hike, while traveling, or anywhere else that is summery and fun.
Keep in mind that user-generated content is an extremely powerful marketing tool. Nielsen estimates that 92% of consumers trust organic, user-generated content (UGC) more than they trust traditional advertising. 
Accordingly, your grand prize should reflect the extra effort someone had to put in to create the content and participate.
Summer holiday giveaway
There are lots of summer holidays you can use as inspiration for your giveaway. In the US, there's Memorial Day, Father's Day, Juneteenth, the Fourth of July, and Labor Day. One way to attract attention to your giveaway is to make it holiday themed.
Here's an example from an event planning business, @dreamerseventsllc.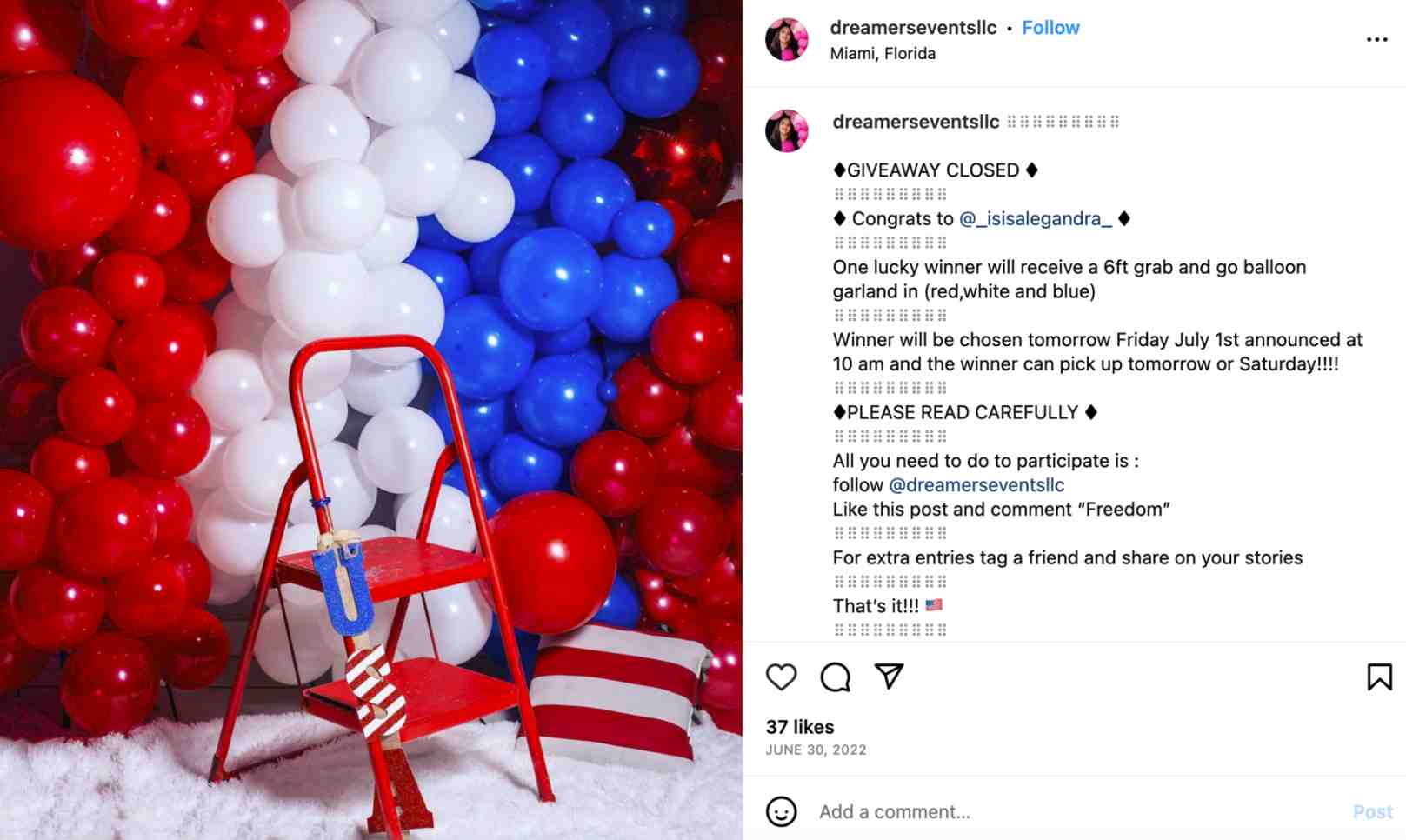 Use hashtags related to the holiday to help draw attention to your giveaway. Try to design a promotional gift that can be used on the day itself, whether that's a grilling kit for the Fourth of July or a set of lawn chairs to watch the local Memorial Day parade.
Summer hashtag contest
It's smart to use hashtags to promote all your giveaways, but you can also make a specific summer hashtag to help people discover your promotion.
Here's an example from a few different brands that partnered together: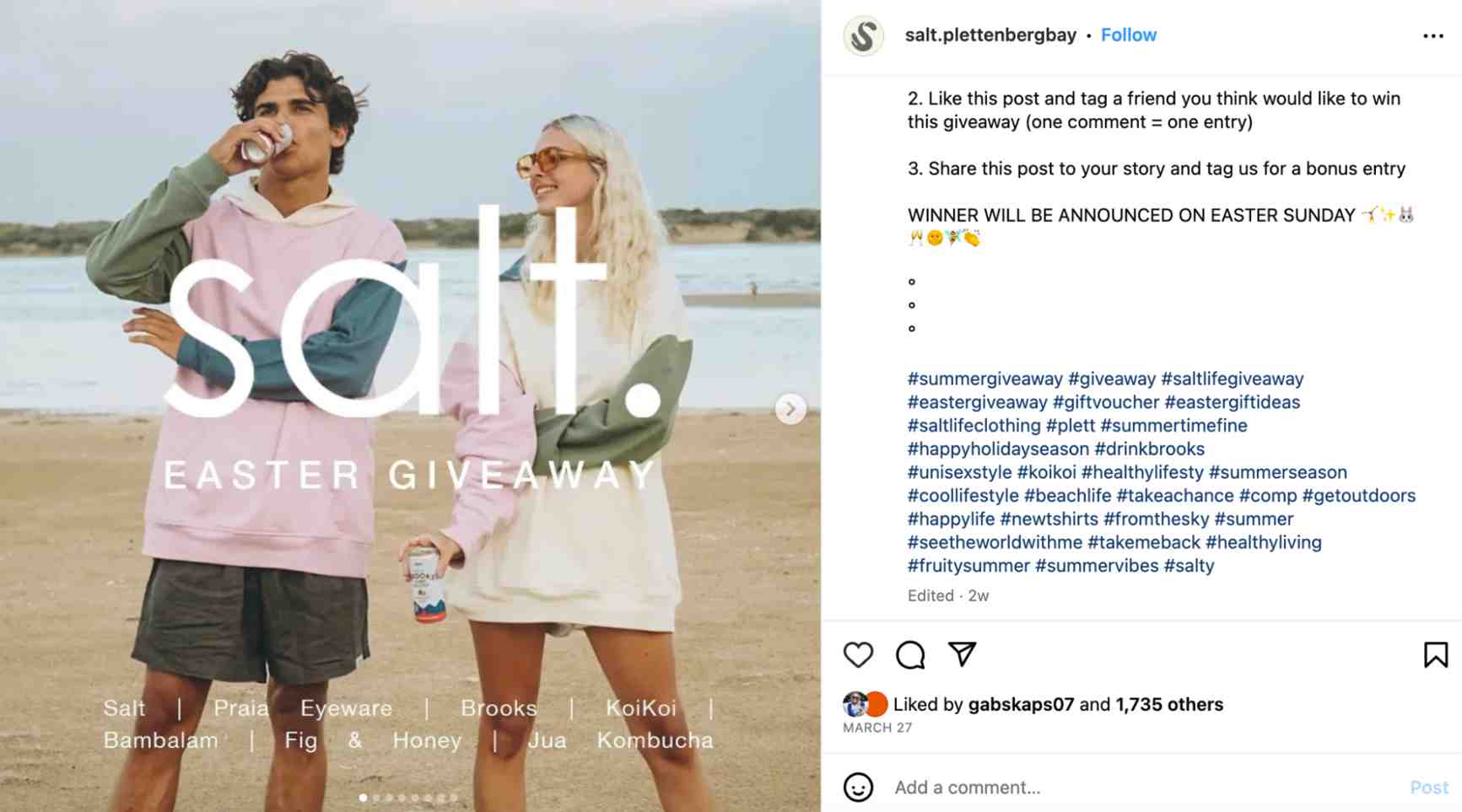 As you can see, many hashtags are listed here to help users share and participate in this giveaway. ViralSweep makes it possible to accept entries from Instagram and Twitter hashtags, so you can also use a summer-y hashtag as a form of participation. 
Summer event giveaway
Besides holidays, there are also summer events that happen every year. Music festivals such as Coachella or Lollapalooza, school graduations for both college and high school students, and local events like state fairs all present opportunities to create targeted giveaways.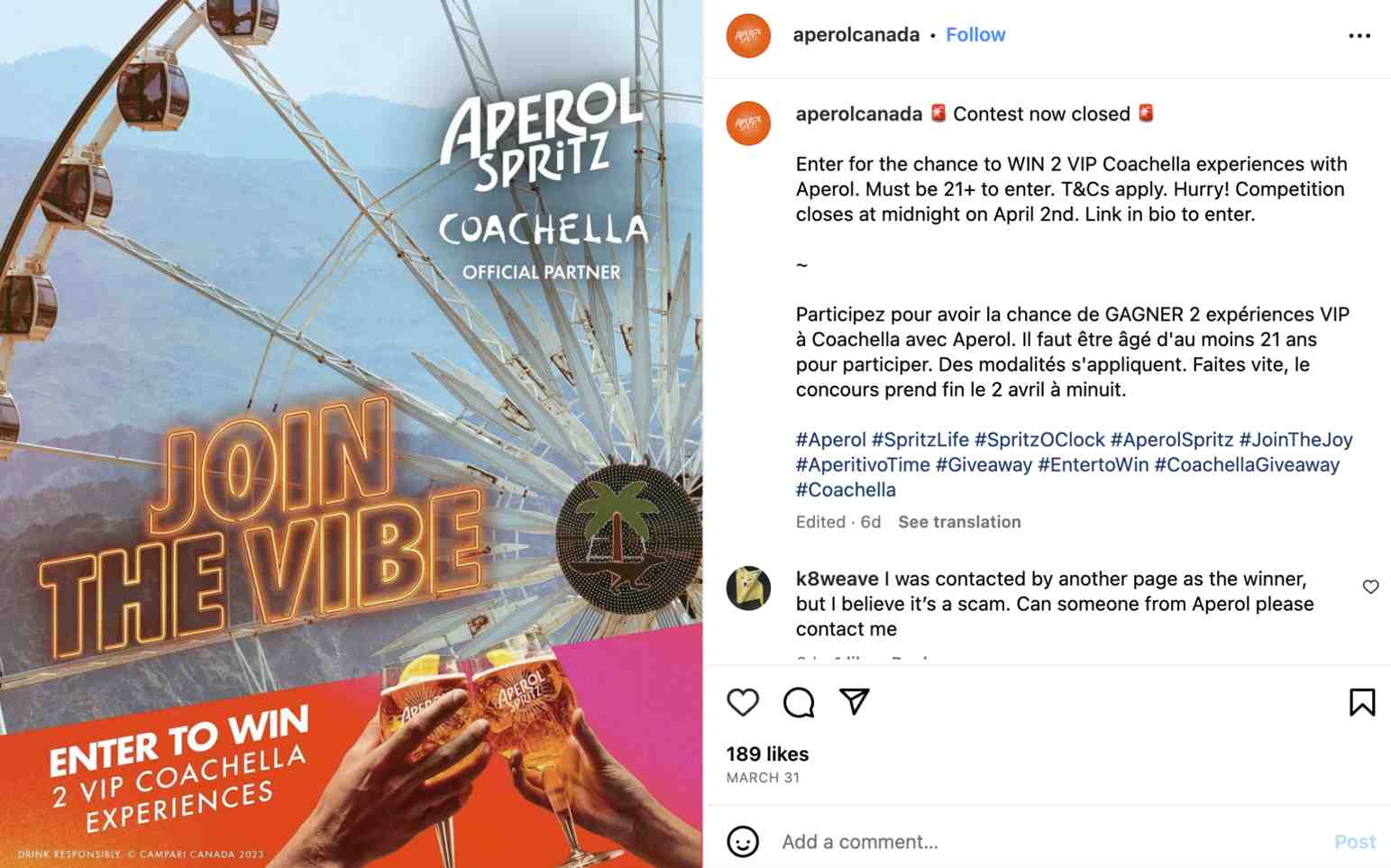 Here's an example of a big-budget giveaway from Aperol Canada. Your giveaway could be tied to a local event, like the town carnival or an outdoor concert in your area. You could also give away tickets to a nearby amusement park or golf course. Tickets to sporting events are also very popular. 
Summer adventure or travel giveaway
A "getaway" themed giveaway is an excellent option for businesses that can't neatly market a product or experience. For instance, a lawn care company could offer a "vacation from yardwork" giveaway in which the winner can win a free month of landscaping. 
Or, you could literally offer a summer adventure package, such as a cruise or trip to a travel destination. If you have a tight budget, consider offering a voucher for a hotel or an Airbnb like the brand @therapyshoes, below.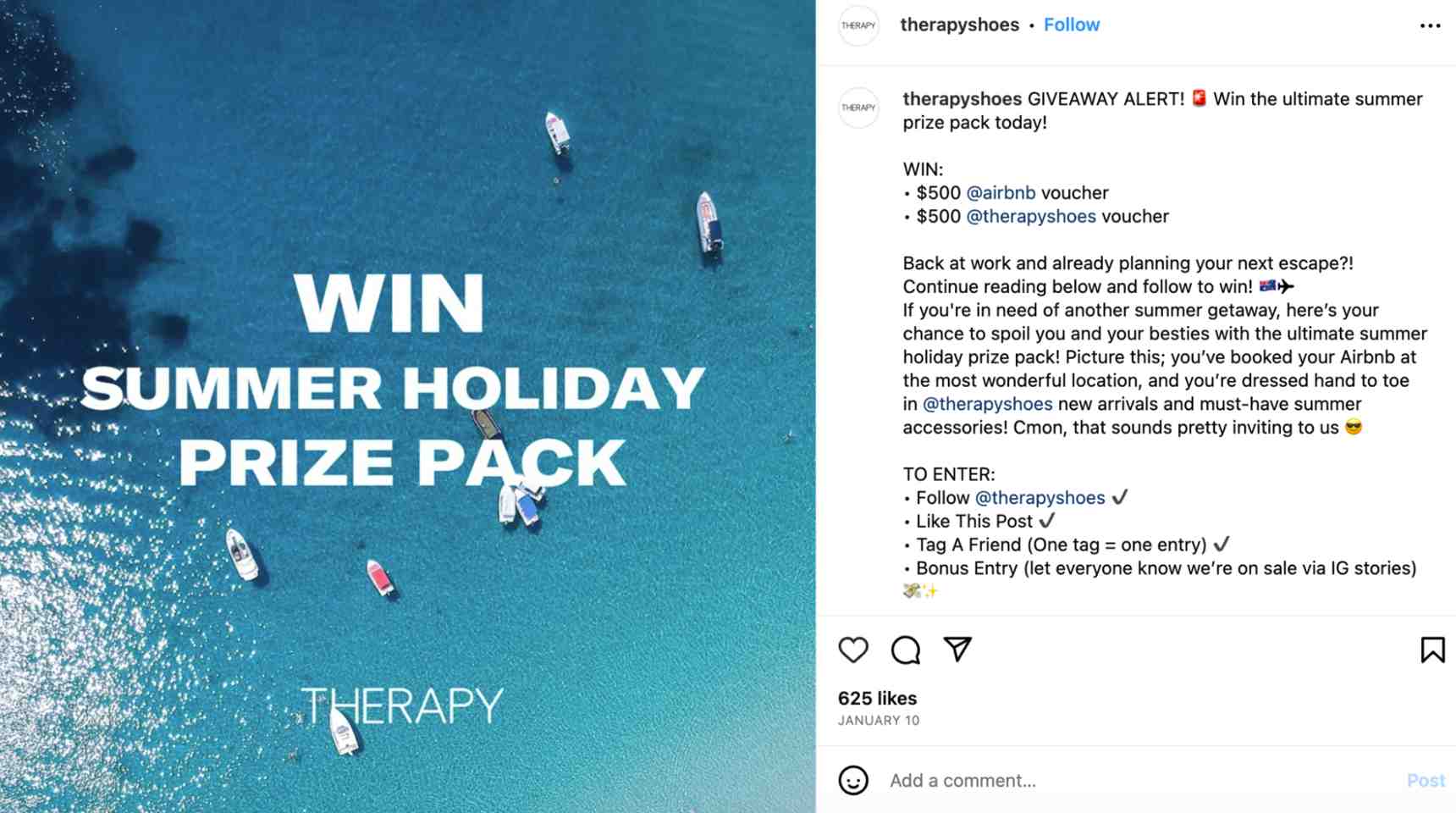 You could also partner with a tour company to offer a unique experience — and tap into their network of followers simultaneously. 
Summer recipe contest
Those in the food industry have much to work with regarding summer giveaways. Summer is practically synonymous with grilling, BBQ, and picnics. Plus, there are so many ingredients in season!
Get in the spirit of things with a summer recipe contest where participants can share images or videos with their favorite recipe for a chance to win. Not only does this give you great user-generated content, but it also gives you recipe ideas, insight into what customers are craving, and some ways to showcase your menu. 
Here's an example of a giveaway from @HelloFresh during their partnership with the Minions movie last summer: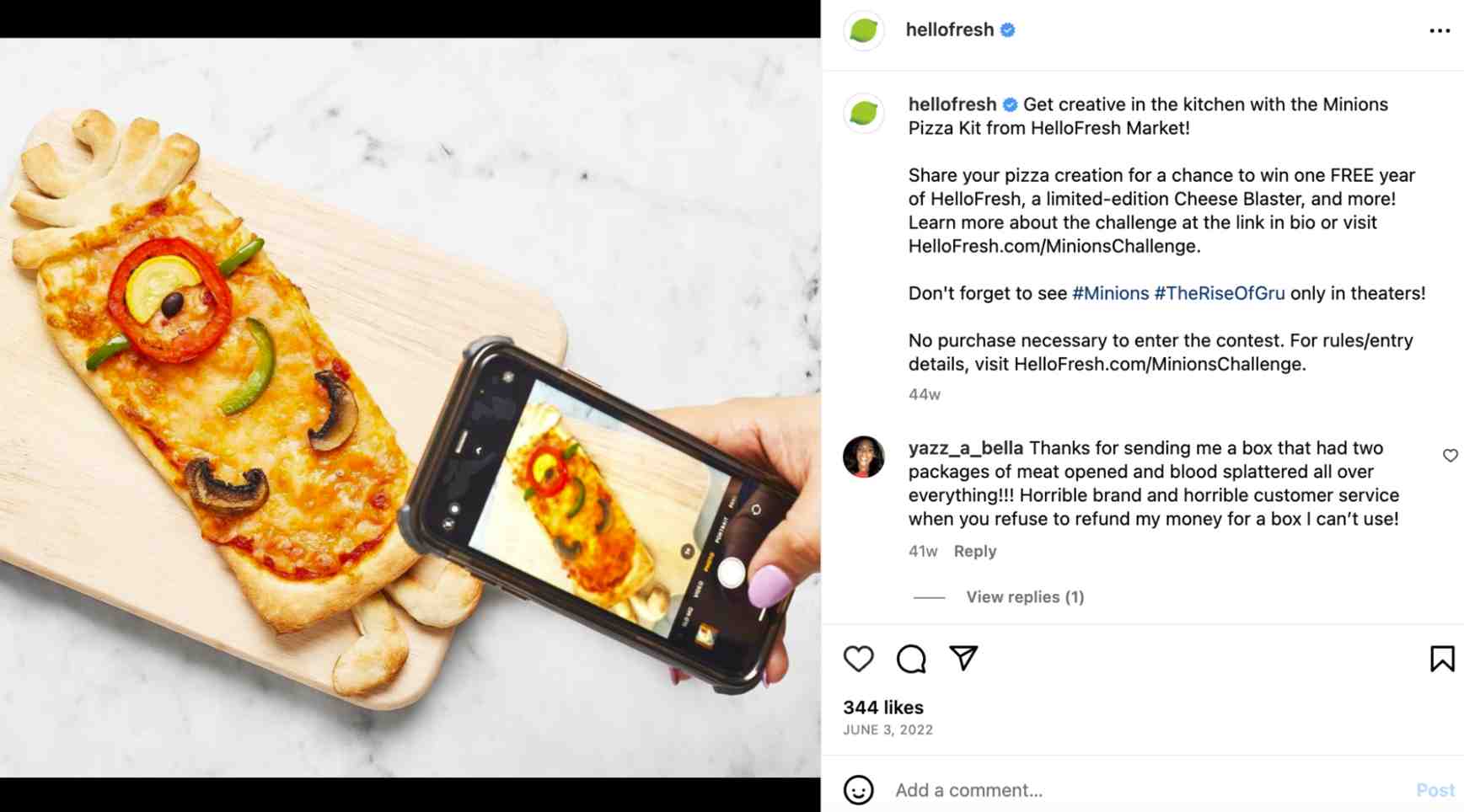 Even businesses not in the food industry can partner to make this fun promotion. Consider giving away corporate gifts like a gift card to a local eatery or a gift basket with your products and food items. 
Summer reading promotion
School's out for the summer, but for many, it's the season to catch up on beach reading. One of the more popular contest ideas is to see how many books your followers can get through during the summer.
Users can submit reviews and participate in book club discussions hosted online to earn points toward a grand prize. This is a great way to increase engagement and create a community around your brand. Customers can connect, share their passions, and participate in events hosted by your company long after the giveaway is over.
Summer fitness giveaway
Finally, consider asking users to tag your brand in UGC documenting their summer workout! Whether you choose to give away workout classes, gear, gift cards to a sports store, or a free personal training session, summer is when everyone is in the mood to get outside and try something new.
Here's an example of a sports-themed giveaway from @weekendwarrioroutdoor: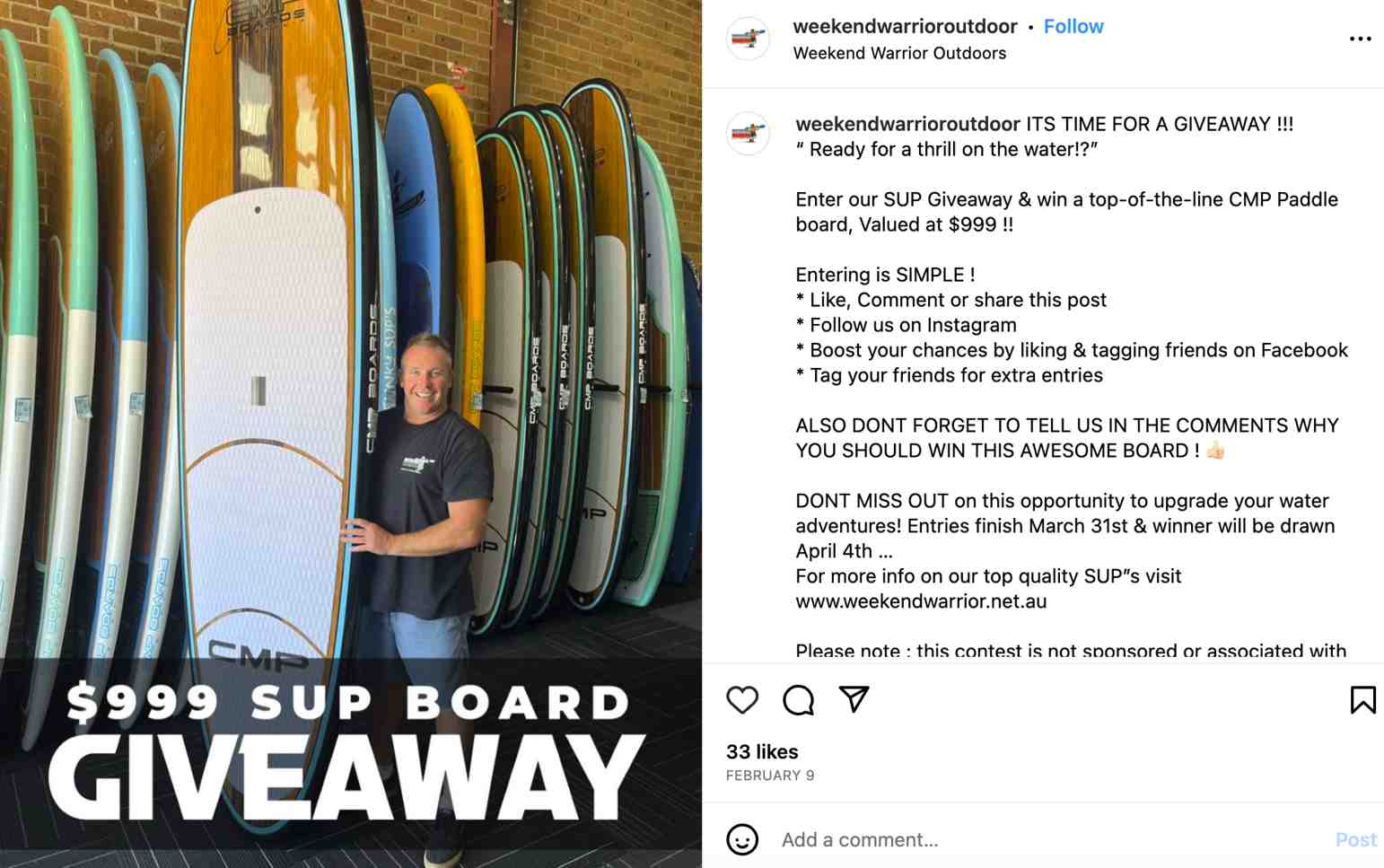 To keep it relevant to your brand, consider promotional items that are flexible and can be customized for people of all abilities and backgrounds.
Tips for Running Successful Summer Giveaways
It takes more than a great giveaway prize to run a successful summer promotion. For your business to connect with your audience and keep them coming back for more, you'll need to consider factors such as entry requirements, giveaway promotion, and follow-up.
In this section, we'll explore some tips for running successful summer giveaways to help you ensure your summer promotion is successful. 
Choose the Right Prize
When choosing a giveaway prize, you want to find something that aligns with your business and the seasonal theme of your promotion. 
Bottom line: your prize has to be a mix of something relevant to your business and something that your customers really want. If it is entirely one or the other, your promotion will not perform as well as you hoped.
With this best practice for choosing a promotional product in mind, consider the demographics and interests of your target audience.
For example, if your audience is primarily young adults who love the beach, a prize package of beach gear would be a great fit. If your audience is more family-oriented, you may want to offer a prize that includes outdoor activities, such as camping gear, hiking equipment, or tickets to an outdoor event.
A great way to align your prize to the summer theme and your business is to offer summer-themed products.
For instance, a clothing retailer could offer a line with bright colors, beachy prints, or lightweight fabrics. A cafe could offer a limited-time-only summer menu featuring seasonal ingredients. The prize for your summer promotion could be taken from this specific summer-themed line. 
Read more tips for choosing an appropriate, impactful prize in our guide, Value Proposition: How To Choose Your Giveaway's Prize.  
Define Clear Rules
Clear and easy-to-understand rules are essential for running a successful summer giveaway. Not only will this help you generate entries, but rules will also help you stay compliant with state, federal, and platform-specific regulations. 
Rules that are straightforward and easy to follow can help to build trust and credibility with your audience while also reducing the likelihood of confusion or disputes. Your rules should include guidelines that clearly state:
The entry period
Eligibility requirements
Prize details
Prize winner selection
Method for notifying the winner(s)
How to enter/participate
Eligibility requirements could include factors such as age, residency, or any other requirements that are necessary for participation. By being clear about who is eligible to participate, you can avoid any confusion or disappointment among your audience.
Another key element to include is how the winner will be selected. This statement helps ensure the giveaway doesn't break any state laws, local laws, or federal laws delineating the difference between a giveaway and a lottery. 
Remember, only the federal government can administer certain lotteries — and rules vary from country to country. 
By being transparent about the selection process, you also build trust with your audience and ensure that the winner is chosen fairly. If you're asking for user-generated content, this rule is critical.
Use Creative and Eye-Catching Visuals
One of the drawbacks of running a summer giveaway is that your brand will compete for attention with many other summer-themed posts and promotions. To stand out, it's essential to create eye-catching visuals to promote your summer giveaway. 
Use full-color, high-quality images and designs for advertising your promotion. Consider using summery colors as long as they don't clash with your branding; yellow, orange, pink, and green are commonly associated with the summer season. 
Using bold and bright colors can help your content to stand out in a crowded social media feed and catch the attention of potential participants.
Creating easy-to-share graphics is also a great way to increase the visibility of your summer giveaway campaign. These highly shareable images can encourage your audience to invite others to participate, amplifying the reach of your campaign and increasing the number of participants.
It's important to ensure that your visuals are consistent with your brand's overall messaging and aesthetic. By using a consistent color palette, font, and design elements, you can create a cohesive and memorable visual identity that will help to reinforce your brand's message and build recognition among your audience.
Leverage Social Media Channels for Promotion
For a sweepstake to achieve the results you're hoping for, you need a strong marketing strategy to spread the word about your promotion. A clear and effective sweepstakes marketing strategy can help ensure your giveaway leads to the boost in engagement, conversions, and brand loyalty you're looking for. 
Hashtags are a great way to help your summer giveaway go viral on social media. Hashtags can help to increase the reach of your content by making it more discoverable to people who are interested in the same topics. 
Likewise, partnering with influencers can help to amplify the reach of your campaign by sharing your content with their followers and encouraging them to participate.
Try to work with individuals who have a strong following in your target audience and who align with your brand's messaging and values. Even micro-influencers can have a measurable impact on the results of your campaign.
Keep track of which channels are working by monitoring key metrics such as engagement rates, reach, click-through rates, and conversions. These metrics can help you to identify where to make adjustments to boost the reach of your giveaway and hone your strategy for your next promotion.
Encourage Participants to Share the Giveaway
One of the things that makes a summer giveaway so powerful: its stickiness. Giveaways that are easy to share — and incentivize it — can help your brand achieve its goals and then some.
One effective way to encourage participants to share the giveaway is by including a catchy call-to-action in the giveaway rules, such as by asking participants to tag their friends or use a specific hashtag.
By making it clear and easy for participants to share, businesses can increase the likelihood that participants will engage with the campaign and encourage their own followers to participate.
Incentivizing participants who drive the most referral is a surefire way to encourage sharing. 
For example, businesses could offer a bonus prize or extra entries to participants who refer the most friends to the giveaway. This creates friendly competition among participants and encourages them to share to increase their chances of winning.
Lastly, beautifully designed images, videos, and graphics can help your campaign go viral. Create something that looks good, and users will be more willing to share your giveaway on their own pages. As an added benefit, by providing this content, your business can ensure that the messaging is consistent and on-brand.
Get Ready For Summer With ViralSweep
Summer is the season of fun, and a giveaway is a great way to get in the spirit of the season. Summer presents tons of opportunities for a themed giveaway, whether you choose to tap into a specific holiday or go with a beach, BBQ, or general outdoor theme.
Plus, consumers are more open to shopping, trying new things, and engaging with content during the summer — ensuring your campaign will have the greatest impact.
As you plan your giveaway, look for prizes that align with your brand, your target audience, and summer. Follow best practices for running a giveaway, including writing clear rules and generating high-quality images that can be easily shared.
ViralSweep can make the process from planning to launch to prize delivery easy. ViralSweep has tools to generate engagement by offering bonus entries for participants who complete actions such as referring friends, sharing a post, leaving reviews, and more. 
You can capture custom data from your entrants through an easy form builder and enable your sweepstakes to collect entries from Instagram and Twitter using hashtags. 
Explore the wide range of features and capabilities that ViralSweep offers to make your summer giveaway a success. Learn more about our Sweepstakes App.