A Successful Guide To Raffle Marketing
Creating a Raffle Marketing Plan
Your marketing strategy should include marketing campaigns of all different shapes and sizes: content marketing, social media, email marketing, etc. One channel to add to that list is raffle marketing.
This post will discuss everything you need to know about creating a plan to implement your raffle marketing. As we'll see, planning is essential to hitting campaign objectives. That plan consists of assessing your target market, deciding what the goals of your raffle are, and determining which channels to use for promotion. We'll look at the four primary ways to promote your raffle and then consider the importance of marketing.
Assess Your Target Market
Before you start creating your raffle marketing plan, it's important to assess who your target market is. Which people are most interested in participating in a raffle? Do they overlap with the audience you've previously identified as your target market? That's the sweet spot: people interested in my product and who will be excited about the opportunity to win a prize.What prize? A product of yours, a donation to a charity of their choice, or even a gift card for your store.
One way to find the target market for a raffle could involve evaluating consumer data from your existing customers or potential customers who've expressed interest in the brand. You could also look at the demographic profiles of the customers you already have.
Assess Your Assets
Once you've identified your target market, it's time to assess the assets you have to make the raffle successful. What resources do you have for a successful campaign? Consider any existing marketing materials or channels at your disposal. Do you have an email list of customers? Are there any social media accounts you can use to share the raffle?
Assets refer to resources that could help with running the raffle, as well as marketing collateral to support it. You'd like to minimize spending on new marketing collateral, so audit your creative library first.
As for resources, should you not have the required capacity to implement a raffle marketing campaign internally, you'd need to set a clear budget based on your financial assets and what you can afford.
Set Your Goals
Next, you need to ask: "What are the objectives of this raffle marketing campaign?" Are you trying to drive sales, increase brand awareness, or gather customer feedback?
A few examples of objectives for a marketing campaign may include the following:
Increasing brand awareness and social media following.
Gathering customer feedback.
Improving customer loyalty and engagement.
Generating leads and new sign-ups.
Gathering user-generated content.
Establish Your Marketing Channels
Target market defined, assets audited, and goals defined. Now it's time to consider which channels to use for promotion.
Channel options range from social media posts and email campaigns to contests on third-party websites and more traditional channels like radio, print, and TV. It's important to assess which channels will be most effective for your target market to maximize reach.
If you're targeting a younger demographic, focusing on social media might make sense. Conversely, if you need to tap into a more mature audience, particularly for promoting a fundraising raffle, then perhaps radio, print, or TV ads might be better.
Finally, consider how you want to monitor the success of your campaign. Establish some metrics and KPIs to measure performance. This could include tracking website visits, email open rates, social media engagement, leads generated and, of course, sales.
Perhaps start by launching on 2–3 channels which are your best guess of where your target audience lies. Using the metrics and KPIs you've established, determine which channels are the most fruitful, and plough all your efforts and resources into that!
Schedule Your Selected Channels
Once you determine which channels to use for your raffle promotion, the next step is to schedule those channels.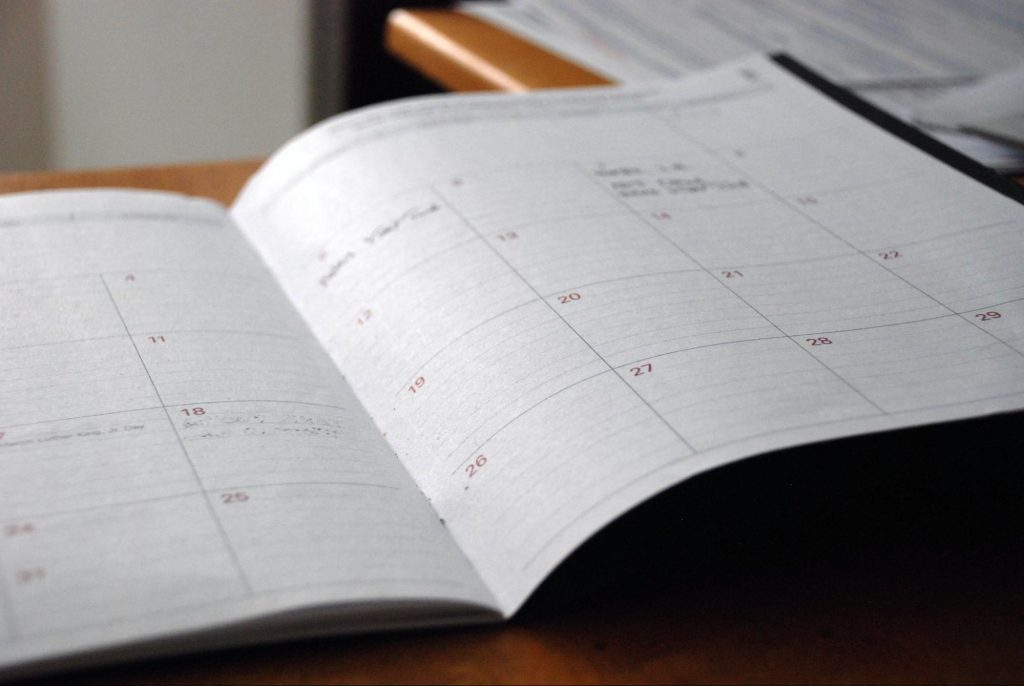 Scheduling your social media posts and emails is key to removing the daily hassle and is more efficient than building ad hoc posts now and then.
Think about when to launch your campaign and for how long. Consider what other events and campaigns are happening around the same time – you don't want to be drowned out by competing messages. Scheduling also means you can adjust the messaging ahead of launch time, for example, if earlier posts perform poorly.
The timing for each channel can also be important, so it's worth researching when you should post on social media platforms or send out emails for the highest engagement. Some tools for social posts and email marketing will be able to advise what the best times might be.
Social media posts and emails can be time-consuming: you must write copy, find images, choose a design, and so on. It can be useful to build batches of posts or messages at once and schedule them for weeks in advance. You could create templates and swap out the images and/or the copy each time. Canva is a useful online design tool that will remove much of this hassle.
Execute Your Plan To Reality
Then it's time to execute your plan. Don't forget to conduct testing, which might include:
Checking for typos and inconsistencies.
Checking for brand alignment and adherence.
Ensuring the images you've chosen are relevant and of high quality.
Replacing generic creative with something eye-catching to your audience.
Don't be afraid to adjust mid-campaign depending on what's working and what isn't with your target audience. Ultimately, you want to achieve your goals from the outset of your plan.
4 Ways to Promote Your Raffle
The planning is really the hardest part of any marketing campaign. You've strained to imagine your target customers, build the creative, write the copy, and set up the raffle.
But now you need to promote it, which is no less important. The raffle itself will help you to achieve your objectives. But you need to drive traffic to your website and social media platforms to get the raffle off the ground before it becomes self-sustaining.
Let's take a look at four popular ways of promoting your raffle.
Newsletters
Newsletters are a great way to reach potential and existing customers on your email list. Your message should be succinct and relevant; include a link to your landing page or social media platforms as a call to action.
Newsletters aren't once-off email marketing blasts, either. Think of them as offline news feeds. They should inform people of updates and changes as the raffle progresses, let customers know how much time they have left to buy a raffle ticket or remind them to share the competition and make referrals.
Social Media
Social media platforms are where most people hang out. You should create posts with images (such as photos of the prize), copy, and relevant hashtags. Aim to spread the message beyond just your followers – use influencers and competitors' accounts or even paid advertising if you have the budget. Let's consider 3 popular social media platforms.
Facebook
There are various ways to distribute your contest using your Facebook page. Let's look at three of them.
Create posts with images – Use visually engaging images on your posts to draw attention. Include a link or call to action leading your followers to the landing page where they can enter or buy a raffle ticket.
Boost your posts – With Facebook Ads, you can target specific audiences with your post (such as people who live in a certain area, are interested in certain topics, etc.). Using Placements, you can choose where Facebook users see your ads, for example, in the Messenger or Marketplace apps.
Use events – With Facebook's events feature, you can create a dedicated page for the raffle that helps spread awareness.
Instagram
Instagram works similarly to Facebook when it comes to marketing. Indeed, most posts and ads you boost on Facebook can be displayed on Instagram too. Here are a few Instagram-specific tips and tricks:
Instagram Stories – Create short videos, images, or GIFs o promote your raffle. Stories are visible for only 24 hours, giving a real-time feel. You can also take advantage of fun features like polls and quizzes.
Influencers – If you have the budget, consider using influencers to promote your raffle. Their reach and reputation can help you spread the word far and wide. But choose them carefully (see Bloggers below)
Twitter
Twitter is yet another good platform to promote your raffle. And under its new ownership, it's seeing a lot of changes for the better! Here are a few tips on how to make the most of it:
Relevance – Use relevant hashtags and keywords to increase visibility. Try different combinations and see what works best with your target audience.
Retweet – Ask followers or influencers to retweet or share your message. This will help to spread the word quickly and widely.
Direct messages – You could send direct messages to thank people for entering the raffle, inform them of updates, or remind them not to forget to enter!
Websites
Websites are essential for any marketing efforts. You can use your website to set up a landing page dedicated to the raffle, where people can find all the relevant information.
One idea is to use a form or app on this landing page to collect responses. These might include user-generated content (UGC) from entrants and previous customers. At least once on this landing page, include a clear call to action like Enter to Win to encourage viewers to participate in the raffle.
Bloggers
Bloggers can be a goldmine: they tend to curate niche audiences. If you sell cellphone cases, it might be a good idea to track down a blogger who writes about consumer electronics, cellphone accessories, or travel tips. They could promote your raffle to a highly receptive audience more likely to take action.
Importance of Marketing
Marketing is making the public, specifically your target audience, aware of yourself or your business. It's also a great way to draw attention to special offers, such as a raffle.
With the right marketing plan, you can reach more potential customers and drive higher sales. The marketing plan is a set of guidelines – a reference document – that will enable you to stay on track and create and maintain demand for your products.
Understanding the importance of marketing is key when creating a raffle marketing plan. Without it, most people won't know your raffle exists, and you won't be able to drive sales or build brand recognition.
Conclusion
Creating a raffle marketing plan can be daunting, but it can help you reach more customers and drive sales. Use various platforms like Facebook Ads, Instagram Stories, Twitter, and websites to spread awareness of your raffle. Consider utilizing influencers or bloggers to engage with their niche audiences. Following a marketing plan is essential for hitting objectives, generating interest in your product, and running a successful raffle.
With your plan in place, you can begin rolling out your online raffle with a dedicated tool like ViralSweep. ViralSweep is a market-leading app for hosting giveaways, sweepstakes, and raffles. It's also got integrations with your social accounts for smoother entering.