Creating a Shopify raffle is one of the most cost-efficient tactics you can apply to help you achieve business goals.
With a good plan and setup, these competitions are low maintenance and highly effective for reaching new audiences, improving brand awareness, increasing engagement, promoting new products, and increasing website traffic.
An online raffle is a competition for your target audience in which people who enter obtain numbered tickets that give them a chance to win a prize. The winner is drawn at random from the total number of tickets issued during the raffle.
Unlike contests, where winners are chosen by judging or voting, only chance and prize are involved when we talk about raffles, sweepstakes, giveaways, and lotteries.
Raffle Campaign On Shopify
Like any marketing campaign, you need a solid plan to organize your Shopify raffle and set it for success. Naturally, that means you can't skip the following tools and steps:
Compliance with local laws and regulations
Clear goals
Relevant prize for your customers
Tools to set up your raffle
A set of tactics to promote it
A performance report
Bringing your raffle to life is easier than ever, thanks to the dedicated apps that help you manage the entire competition.
A Shopify raffle app includes everything you need, including direct integration with your eCommerce platform, the widgets you can add to your site, and the built-in method you use to generate winners in a random draw.
Your online raffle could be a competition that you want to include in your marketing efforts as a great opportunity to achieve your store's goals or a campaign you create to raise funds for a charitable cause you want to support as a brand.
No matter your approach, in this article, we show you how to run a Shopify raffle from A to Z.
Familiarize With The Laws and Regulations
Like lotteries, raffles with paid entrance require compliance with local regulations. So, you might need a license from the local council.
To know how to run a raffle on Shopify without worrying about legal risks, you must familiarize yourself with the local laws and regulations.
Your Shopify store might sell to and target people from various countries and regions.
While you would like to offer anyone from your target audience the opportunity to participate in the raffle, you must check and comply with the local regulations before designing the official raffle rules and launching the raffle.
While you can easily set up and run an online raffle, neither Shopify nor the Shopify app developer assumes responsibility for your actions, so it's 100% up to you to run a compliant raffle.
You avoid disappointing your audience and dealing with legal problems by being compliant.
Determine Your Target Audience
A mandatory step in planning your raffle is defining the target audience. This is integral in helping you achieve your goals, setting the mechanism of your online raffle, choosing the message that resonates best with your audience, and measuring the campaign's performance.
You should define your audience based on the goals you want to achieve. Do you want to attract more people from your existing customer base or reach new audiences?
For example, if you notice that many people are browsing product pages without buying, your target audience could include potential customers who are more likely to convert if you run raffle ticket sales.
Or, maybe, you want to create hype around a new product, so you could engage loyal customers via email and offer referral incentives to those who invite their friends to participate in the raffle.
Set Your Goals
People love participating in competitions and get excited about the prizes they might win.
While online stores organize sweepstakes, contests, and giveaways to generate positive reactions from their target audience, successful raffles are always associated with specific business goals they want to achieve.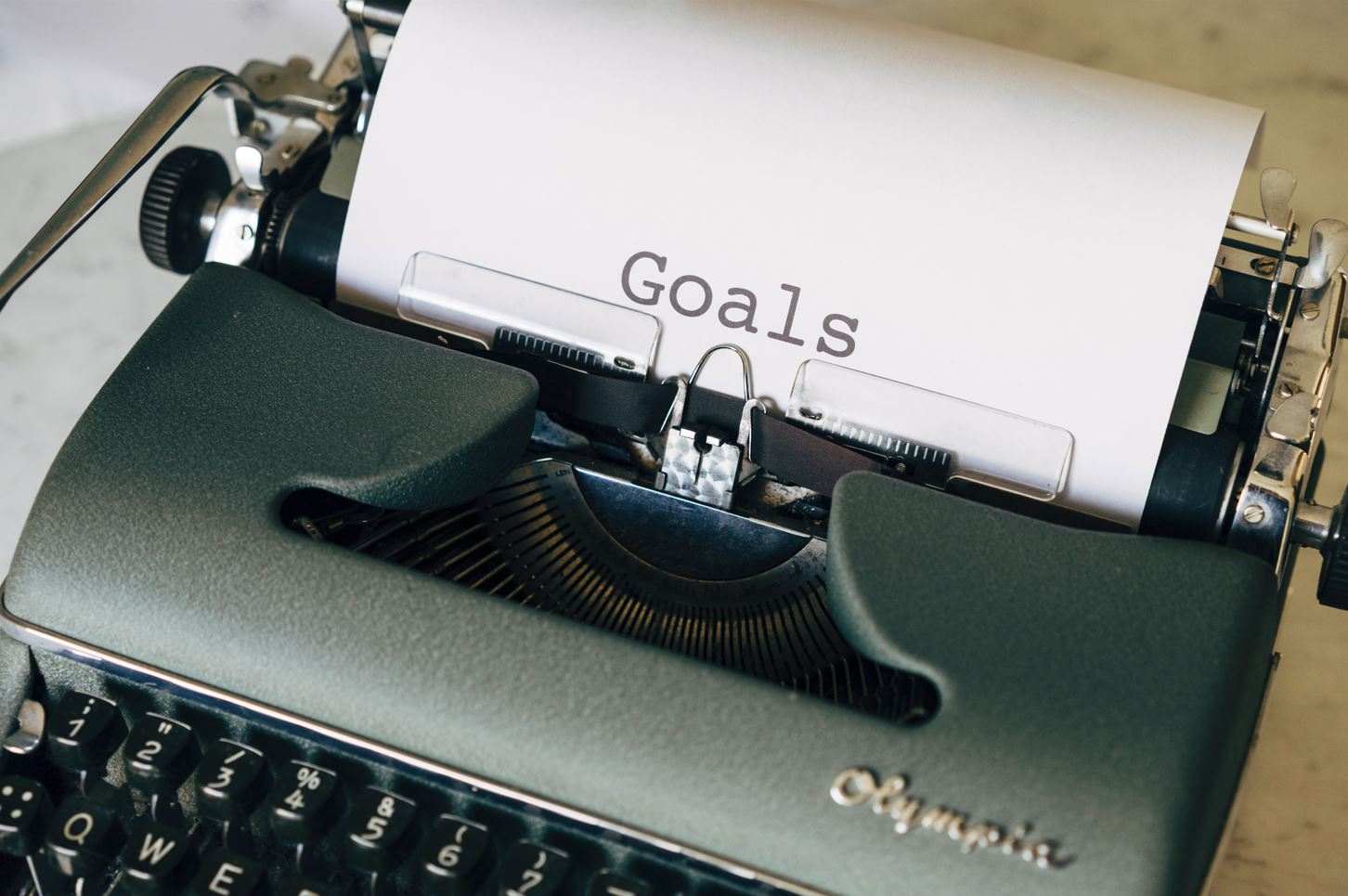 To decide how to run a raffle on Shopify, start with a goal in mind. Some of the most common goals for raffles are:
Increasing brand awareness;
Generating more traffic to your website;
Increasing the number of users for your mobile app;
Converting potential clients into new buyers;
Boosting engagement on social media;
Generating more purchases for newly launched products.
Setting your goals helps you define the strategy for running a Shopify raffle, determine the rules participants must follow, and choose the KPIs that will help you evaluate your efforts.
Choose The Raffle Prize
The prize you choose for your raffle should be equally relevant to your brand and desired by your target audience.
While you want to attract as many participants to your raffle, you must ask yourself how the prize will impact your online store.
Will it attract prize hunters or qualified leads that might become your next customers? Is the prize in line with the shared values of your brand and target audience?
Here are some prize ideas that make people participate in a sweepstake, lottery, contest, or raffle, and help your campaign go viral:
A high-value product;
A set of limited-edition products;
A selection of your most popular products;
Gift cards;
Cash prize;
Trips to a top vacation destination;
Tickets to an exclusive event.
Choose a raffle prize Based on your goals, target audience, and available budget.
Think of a prize that is attractive enough to generate a high number of entries, motivate people to give you their email addresses, place a new order from your shop, and even invite their friends to join.
Your existing audience is more likely to spread the word to their friends if you give them a discount code for inviting friends to participate in your raffle.
When your raffle ends, you could offer a discount to those who didn't win as a reward for participation.
Execute Your Plan To Reality
If you've checked the Shopify raffle tips about compliance with regulations, defined your audience, and decided on a prize, now's the time to bring your plan to life.
Fortunately, there are many Shopify apps you can choose from to connect with your account and start building your raffle campaign after an easy setup.
If you plan to organize more Shopify raffles, contests, giveaways, and sweepstakes, an application that gives you the ability to manage multiple types of competitions might be the best option for your online store.
There are raffle apps that allow you to install a widget or a lightbox on the order confirmation page so your customers can see their raffle ticket number right after they purchase. Raffle apps have a built-in solution for drawings to help you generate winners in a fair, transparent way.
The raffle app helps you design the campaign around your rules, customize the widget on the order confirmation page, and set up email notifications so participants can receive the ticket numbers in their inboxes.
At this stage, you set up the details about the items users can pick to qualify for your raffle drawing, select a start date and an end date, and indicate the number of winners.
Once your copywriters and designers finish their part, and the campaign is ready, you can run a test before launching to ensure everything works as planned.
Look at how things work on the website from the perspective of a user, place an order, check the ticket code and analyze what a participant would see once they've entered your raffle.
Promote On Social Media
When you create your social media calendar, check the rules on each social media platform for a competition like a raffle or a lottery. Instagram rules differ from those on Twitter, and you want to ensure your posts and ads comply with each network.
Create a social media calendar for each channel and cover the entire campaign, from pre-launch posts that increase interest to posts that announce the winners and invite people to join your community for exclusive content and benefits.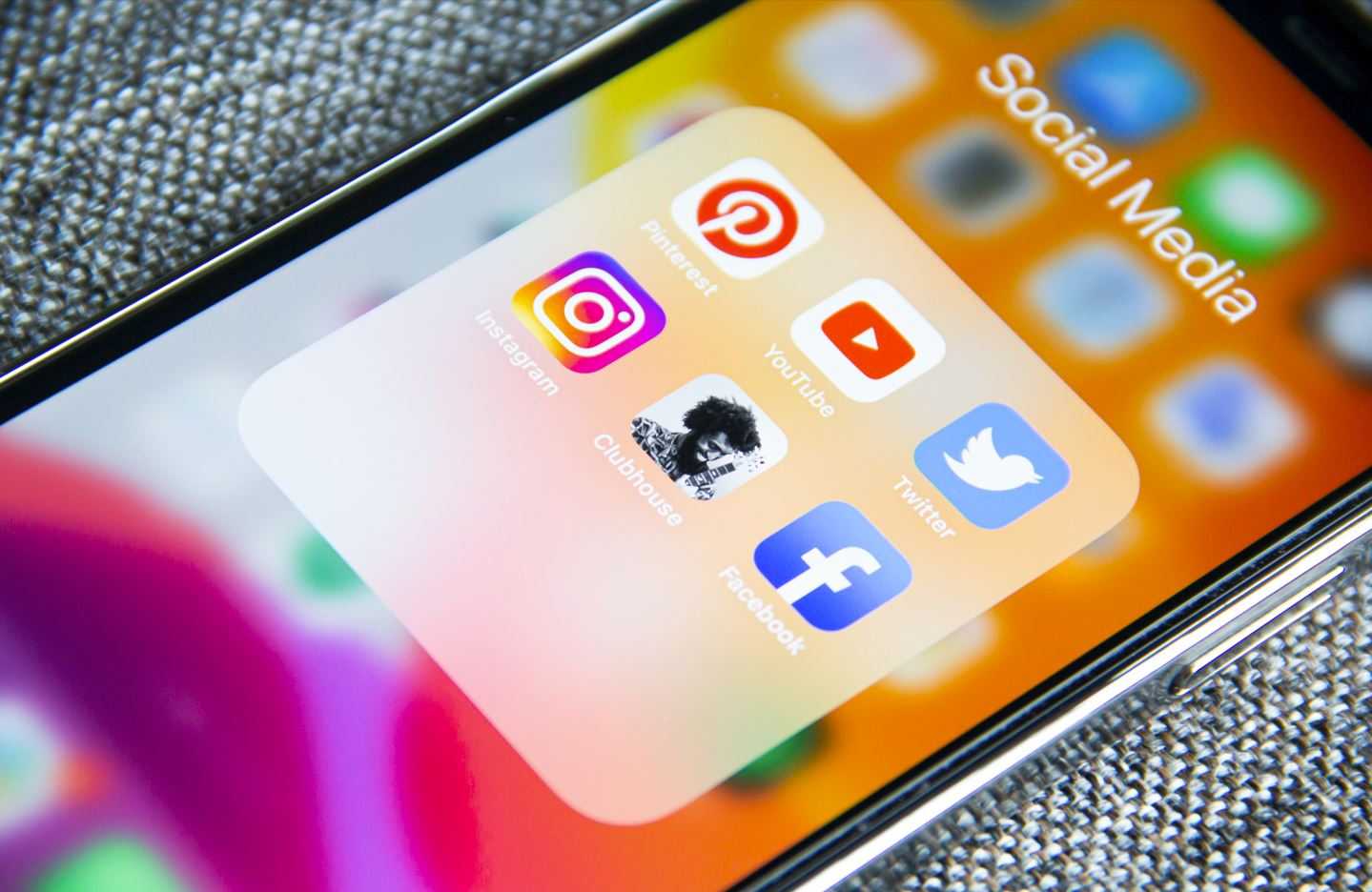 Use strategic timing to post your eye-catching visuals and engaging copy at peak times, when your followers and target audience are most active. If your budget allows, you can create social media ads to attract more people and generate as many entries as possible.
Mixing the owned, earned, and paid channels helps you maximize the outcomes of your raffle. For example, you could send emails to encourage your current subscribers and customers to share the raffle on their social media accounts.
This way, you leverage the power of your existing audiences to reach new ones and increase the chances of your raffle going viral.
Draw And Announce The Winners
The day everyone was waiting for has arrived, and it's time to conclude the raffle. You must follow the procedures you included in the raffle rules:
Generate the winners in a transparent random drawing;
Announce the winners publicly and contact them directly;
Validate the winners and send them the prizes.
You can use a random name generator or a random number generator to pick the winner.
When the raffle ends, you could surprise the participants who didn't win with a special offer like a discount code or an exclusive incentive that increases excitement about your store.
At the end of a raffle, you want to generate a performance report to see if the raffle helped you achieve your marketing goals, attract the right audience, and what you can do better in future campaigns.
A Recap of the Shopify Raffle Tips
An online raffle is a great way to support your marketing efforts or raise funds for a charitable cause you believe in. People love this type of competition, and your store can attract many participants with exciting prizes.
To set your raffle for success, you need a good plan and the right Shopify app to bring this plan to life.
Once you learn how to run a Shopify raffle, each new campaign you create will be better than the previous one, especially if you maintain your strategic approach and always evaluate your efforts.
Let's recap the Shopify raffle tips: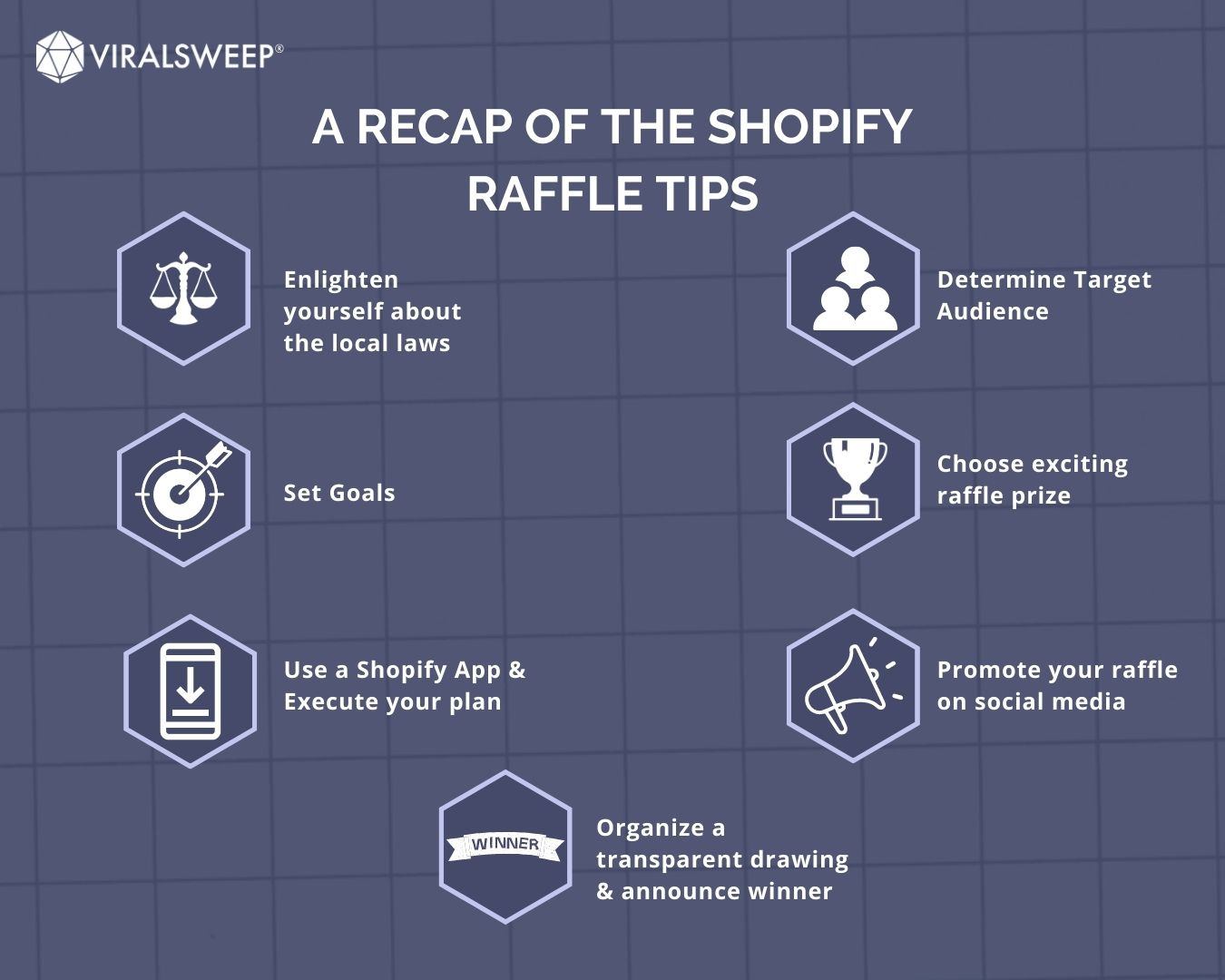 Familiarize yourself with the local laws and regulations to eliminate any legal risk;
Determine your target audience based on your goals;
Set the goals you want to achieve by running the raffle;
Choose a relevant and exciting raffle prize;
Execute your plan into reality with the help of a dedicated Shopify app;
Promote your raffle on social media and encourage people to share it with friends;
Organize a transparent drawing and announce the winners publicly.
If you want to create better competition for your online store, we invite you to discover our in-depth free resource:
The Advanced Guide To Sweepstakes