We Reviewed 15 of the Top Rated Social Media Giveaway Apps. This is What We Found.
Social media giveaways are a great way to boost engagement and connect with your followers.
These marketing campaigns are proven to help amplify your brand and reach new potential customers.
Social media giveaways typically help you reach a specific business goal.
Giveaways and contests are promotional tactics in which a brand or influencer asks their followers to perform certain actions to participate—and potentially win a free prize.
Actions could include things like:
Following a specific social media account (or multiple accounts)
Sharing a social media post with their followers
Commenting on a social media post
Tagging friends in a post
Signing up for an email list
Liking a photo or post from your account
Running a social media contest can be time-consuming without the right tools.
And, often, it's too resource-intensive to administer these campaigns manually.
Fortunately, brands can choose from social media contest tools and apps to make it easy to run contests and giveaways.
In this guide, we'll highlight some of the social media contest apps on the market that can help you manage a contest from start to finish.
Note that many of the examples we use in this guide feature a limited-time free plan; we're providing pricing for paid plans that kick in after your free trial or once you reach the need to scale your viral giveaways.
This guide aims to help you to find a platform that makes your next social media giveaway a smashing success.
ViralSweep
ViralSweep is one of the most comprehensive tools available to help you run a social media giveaway.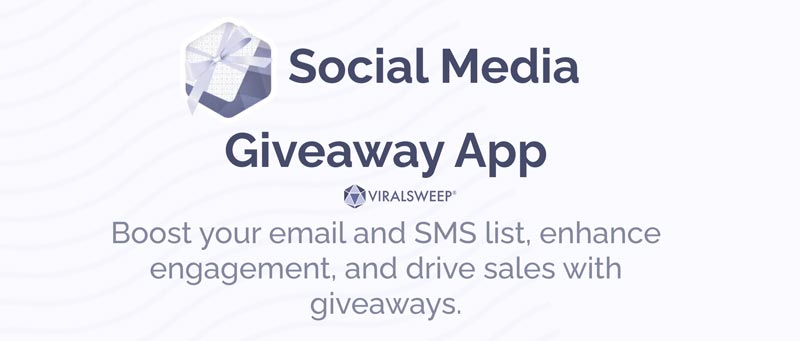 It's a powerful yet user-friendly giveaway platform that helps merchants to build, run, and manage sweepstakes, photo and video contests, product giveaways, raffles, waitlists, competitions, and other engaging promotions.
ViralSweep's suite of tools can help you achieve business goals including:
Increased sales
Increasing engagement
Growing your email list
Growing your SMS list
Capturing UGC
ViralSweep's features provide everything you need to manage a social media giveaway from start to finish, including hashtag entries, a random picker tool for sweepstakes, instant win, and a way to track sales and reward entries or raffle tickets for every dollar spent.
This app works seamlessly with all major e-commerce platforms, including Shopify, BigCommerce, Magento, and Squarespace.
Plus, it integrates with 50+ email marketing and SMS platforms to make sure the results of your contest translate into long-term, highly impactful marketing campaigns.
Reviewers rave about ViralSweep's customer service.

As one business wrote, "Amazing customer service on this one. I made a mistake setting up one of our giveaways and they were very accommodating in helping me fix it. Wonderful service!"
ViralSweep offers tiered pricing starting at $49/month.
Wishpond
Wishpond is a platform that offers social media giveaways as part of its overall suite of marketing tools. As such, the social promotion tools built into Wishpond are comparatively limited.
Wishpond offers 11 social media contests and competitions, including sweepstakes, photo contests, video contests, and referral contests.
These are just a small part of the Wishpond platform, which also features landing pages, appointments, sales automation, and other tools which might not be relevant for e-commerce merchants.
TrustRadius reviews show that Wishpond gets mediocre reviews for its social media marketing tools.
Wishpond pricing starts at $69/month.
Woobox
Woobox takes a different approach to giveaways than Wishpond, making them the core focus of its product. But, compared to ViralSweep, it also takes a more narrow approach.
Woobox is solely providing giveaways across various marketing channels, rather than positioning them within your larger marketing efforts.
Businesses can use Woobox to create everything from Instagram hashtag contests and comment giveaways to polls embedded in your website. Woobox's tools are set up to run on specific platforms.
For instance, you could run an Instagram contest or a Pinterest contest. Compare this to ViralSweep, which enables your business to run one contest simultaneously on multiple platforms.
Woobox offers the capability to run contests via social media, pop ups, landing pages, and embedded into your website.
Users on TrustRadius give Woobox good ratings, with one person writing, "Great for running a contest and having people sign up to enter, but I have used other products that have more to offer me."
Pricing for Woobox starts at $37/month.
Shortstack
Shortstack is a tool that offers customizable contests, sweepstakes, quizzes, hashtag giveaways, comment-to-enter contests, landing pages, pop-ups, and more.
This tool is loved by big businesses that need enterprise-level features. Shortstack offers role-based access, giving everyone from designers to account executives to clients select capabilities to create content, moderate entries, view analytics, and more.
Shortstack also focuses on tools that enable businesses to customize their social media giveaways, landing pages, and contests. Shortstack's drag-and-drop builder allows you to tailor the layout, images, text, functionality, and other content of your contests.
It also includes a CSS editor for brands that want to get even more technical in their design.
Shortstack's host of features may not be the right fit for businesses working with limited resources, but big businesses love this platform.
As one reviewer notes, "ShortStack is great for agency use and has been a great tool to use for our clients. I can't speak for smaller individual companies, but it has also been recommended to several clients who administer their own contests regularly."
Shortstack's premium pricing reflects its enterprise audience: pricing starts at $99/month.
Gleam
Gleam offers an app-based approach to running a social media contest. This company offers four apps: Competitions, Rewards, Gallery, and Capture. The Competitions app lets you easily set up and run giveaways, contests & sweepstakes.
Rewards lets you reward users for taking a certain action; for instance, a user could get a coupon for signing up for your email list.
Gallery is an app that helps you collect, curate & display the content related to your business. And finally, the Capture app lets you create opt-in forms to build an email list.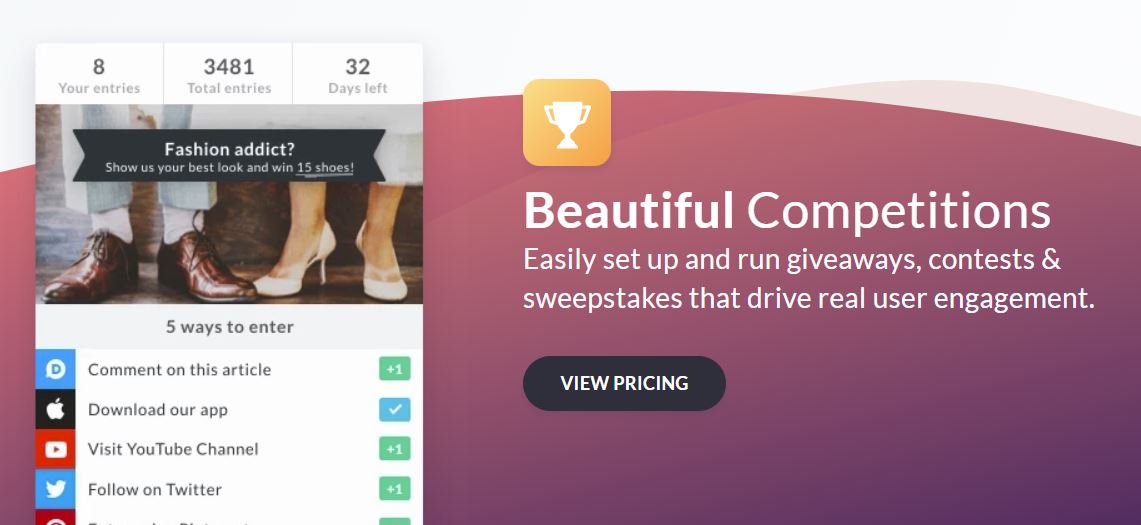 These different apps all feed into Gleam's unified dashboard, which can help you track the success of your contests and progress toward your marketing goals.
Alternatively, you can choose to use an individual app and integrate it into your marketing tech stack. This makes it easy to customize the Gleam tools for what you need.
Users appreciate Gleam's flexibility but note that using Gleam's tools requires some setup. As such, it can be a relatively basic way to start running social media contests.
One reviewer wrote, "This is well suited for entrepreneurs who are fine with the limitations of the free and basic plan…Having that said if your business is just starting out, some of these pricing plans are too high for entrepreneurs. Be aware of the limitations of the plans."
Gleam prices the suite of all four apps starting at $97/month, or on a per-app basis starting at $10/month.
Rafflecopter
Rafflecopter specializes in making it extremely easy to host a giveaway. With Rafflecopter, any brand can set up a giveaway in three minutes—no coding required.
It's as simple as selecting your prize, choosing your entry methods, and starting to collect entries. This makes Rafflecopter a good solution for brands that are simply trying to reach as many people as possible as fast as possible.
As an early-funnel solution, Rafflecopter is a good bet.
Reviewers also note that Rafflecopter offers limited functionality as far as integrating your social media contest into a larger marketing effort.
One business owner said, "I'd say that Rafflecopter is a good tool for a basic giveaway. It doesn't seem like they've made any substantial changes in several years. If you're looking to host a one-off or occasional giveaway, Rafflecopter will do what you need it to do, but if a giveaway platform is a major component of your marketing strategy, look elsewhere."
Rafflecopter pricing starts at $13/month.
Easypromos
Easypromos is another marketing platform for creating giveaways, contests, games, and digital experiences. The tool offers ​​43 different applications within these six categories, including giveaways, contests, games, quizzes, instant prizes, and multi-stage campaigns.
This setup can make it a little confusing to decipher what you need from Easypromos, but companies that are seeking a secure solution may find it worthwhile to explore this option.
Easypromos boasts ISO 27001 and 27018 certifications, making it one of the most secure options on this list. Companies in highly regulated industries, such as education and healthcare, should consider this option for their promos.
This tool can also be compliant with social media networks' native policies for running contests and giveaways, which vary and change often. Easypromos also offers fraud protection to help prevent your contest from causing legal problems.
Easypromos prices its offering based on the number of apps you wish to access per month. So, its most basic plan offers six apps for $29/month. It's a bit complicated to discern what features and apps you get for that price, so check out their plans page for more information.
Heyo
Heyo is a standard app that allows users to run contests, sweepstakes, and interactive campaigns across social media, mobile, and the web. Its product offering is very similar to Woobox.
Users can create sweepstakes, photo and video contests, and quizzes, polls, contests. Heyo works on Instagram, Facebook, and Twitter, as well as on your website, blog, and mobile.
Reviewers say this program is solid, yet limited. While contest setup is relatively easy, users are limited in the templates available for creating campaigns and contests.
Likewise, the functionality of the tool is pretty basic. One reviewer notes that uploading videos can be slow. As a result, it might not be the best option for big brands trying to manage multiple campaigns at once.
"I have been using it within this one year but my experience has been satisfactory to say the least. The software has not inspired me a lot, neither it has anything fancy to offer," wrote one reviewer on TrustRadius.
Heyo plans start at $25/month.
Outgrow
Outgrow focuses on customer engagement, with the ability to run giveaways and contests as part of a comprehensive suite of marketing tools.
Outgrow's primary focus is to help brands create interactive content that boosts qualified leads. This unique platform provides templates for everything from calculators, quizzes, and chatbots, to surveys, forms, and quizzes.
It's worth noting that social media contests aren't the primary offering for this platform. Outgrow is popular for creating ROI calculators, sales lift calculators, knowledge tests, and fun quizzes.
Outgrow's templates stand out for their design, and the analytics tool built-into the platform is powerful. Outgrow Analytics can send the data of your contest or giveaway to an Excel or Google Doc or to 1000+ integration partners like Buffer, Hubspot, and MailChimp.
Users say that the platform is intuitive to use with great customer support. While most people leave reviews for other features, like quizzes and surveys, they have great things to say about the tool.
As one reviewer wrote, "Outgrow is well suited if you want a fun way to engage potential customers. It is also well suited if you want to allow people to really share this engagement with others, there are ways they can share on social media, which is great. Then others can take the quiz on their own and also be introduced to your material as well."
Outgrow pricing starts at $14/month with an annual plan.
SweepWidget
SweepWidget offers 90+ entry methods on 30+ social platforms. If you are trying to improve your presence across social media, this is a great platform to explore.
SweepWidget helps expand your social media followers, user engagement, email lists, website traffic, brand visibility, sales, and more.
There are tons of capabilities built into the SweepWidget platform to help you maximize the impact of your social media contest. For instance, its API-verified actions validate to make sure all entries are legitimate.
Customize your contest with the tool's native easy-to-use drag-and-drop editor, or write your own custom CSS code. Like other platforms on this list, SweepWidget also offers instant coupons so you can reward users in real time when they reach certain milestones.
One unique feature is SweepWidget's crypto address entry method. You can ask users for their crypto wallet address to run AirDrop giveaways, whitelist competitions, and all sorts of other giveaways.
Pricing for SweepWidget starts at $29/month.
RafflePress
If you run your e-commerce business on WordPress, you may be best served by RafflePress. RafflePress is a WordPress plugin that makes it easy to host giveaways on your site.
It offers a drag-and-drop giveaway builder with mobile-responsive templates, as well as social media and marketing integrations to promote your giveaway.
The funnel is pretty straightforward, too: website visitors are asked to provide their email to enter the giveaway, and incentivized to share on social media and via the tool's refer a friend feature.
This increases engagement and helps increase traffic to your page, resulting in potentially higher sales and revenue. 
RafflePress integrates with common email marketing platforms like MailChimp, Constant Contact, AWeber, Drip, and others.
Pricing for RafflePress starts at $39.50/year for limited features.
PerkZilla
PerkZilla targets companies that are stuck at various parts of the growth cycle. Whether you're seeking to launch a site or product, scale your business, or increase engagement, PerkZilla has the tools to help.
Contests and giveaways are designed to encourage participants to complete actions that help grow your followers, get you more testimonials and send more traffic to your website.
A leaderboard and incentives feature motivates participants to continue referring traffic and participating in campaigns toward your business goals. 
PerkZilla is flexible in that you can pick and choose campaign types to fit your growth strategy. Goal-oriented campaigns net high ROI for brands that have used PerkZilla in the past.
This is because PerkZilla engages in re-marketing to help you reduce the amount of ad spend you would usually dedicate to acquiring new customers. Therefore, it may not be the best fit for all business types.
PerkZilla pricing starts at $29/month.
Prefinery
Prefinery focuses narrowly on rewarding word-of-mouth referrals for tech companies. Specifically serving SaaS, financial services, and video game companies, Prefinery helps get early adopters to try a tech product and spread the word about their experience.
If you're seeking to set up a viral refer-a-friend style marketing campaign, try Prefinery.
Prefinery's social media contests are less traditional, but a still powerful way to get the word out about your brand.
You can use this tool to reward someone for simply referring a friend, or when their friend later performs a goal-based action, such as making a purchase, subscribing to your newsletter, or requesting a demo.
It includes many of the standard features you would expect in a social media giveaway app, such as a leaderboard, referral rewards, customizable templates, and email automation.
For the specific use cases Prefinery serves, reviews are positive. One reviewer wrote, "Prefinery's technology makes it easy for our business to run effective referral marketing campaigns. I like that I can view campaign stats and manage rewards on a real-time basis and keep track of who is talking about our software."
Prefinery pricing starts at $69/month.
SociaMonials
SociaMonials is a full-stack solution to run your brand's social media strategy. In addition to the capability to run contests, it's also a distribution platform. You can create a queue of scheduled content, repost evergreen content, and track analytics.
When it comes to running a social media contest, SociaMonials focuses on sharing user-generated content (UGC).
Create landing pages or posts and set up photo and video contests to start building a word-of-mouth marketing library. SociaMonials provides a way to hold sweepstakes and engage with participants in order to identify potential influencers. Share UGC directly from the contest: s​​streamlined moderation allows you to approve UGC with your mobile phone.
If you're looking for a tool that can help you manage your social media channels and improve your collection of user-generated content, SociaMonials is a good start. Since its main focus is on these customer testimonials, it can be a bit too specific for brands looking for a range of different contest options.
SociaMonials pricing starts at $15/month.
GiveLab
Finally, GiveLab makes it easy to run a giveaway on tons of different platforms, including Spotify, YouTube, LinkedIn, TikTok, and more.
GiveLab also allows you to create giveaways with unlimited entry steps, and receive an unlimited amount of entries—something that other companies on this list will ask you to pay more for.
The range of platforms that GiveLab is able to connect to is what makes this tool stand out. It offers all the same features as other platforms on this list, as well as a way to communicate with a winner without ever leaving the GiveLab dashboard.
Unlike other platforms, GiveLab doesn't directly tie your giveaway to a specific business goal. It would be incumbent on your team to structure the giveaway to make the most sense for your company.
GiveLab has a free option, making it a great choice for startups and small businesses. Premium pricing starts at $9.99/month.
Social Media Giveaway Apps
Social media giveaway apps come with a variety of features and benefits.
While some feature social media giveaways as part of a larger suite of marketing tools, others focus more narrowly on a social media platform or contest outcome.
The best way to find a social media giveaway app for your unique company is to consider your business goals.
Then, sign up for a free trial with the apps that seem like they can help you reach those goals.
If you're unsure where to start, check out The Advanced Guide To Sweepstakes.
There, we'll walk you through the key considerations you need to make to make your next giveaway a success.