It's no secret that giveaways are a great way to increase engagement and website traffic, but designing an effective giveaway landing page can be tricky.
Most people either don't bother creating a landing page at all or make a page that doesn't convert well.
This means they're wasting their time and energy on a giveaway that isn't doing as well as it could be.
This guide will teach you how to design an effective landing page giveaway.
We'll show you examples of pages that have worked well for other businesses, and we'll give you tips on how to make your page stand out from the competition.
What Is A Giveaway Landing Page?
A giveaway landing page is a page on your website designed to increase engagement and encourage social sharing.
It should include information about the giveaway, social sharing buttons, and other calls to action.
The purpose of a giveaway landing page is to convert visitors into participants.
To do this, you must ensure that your page is well-designed and easy to navigate. Typically, the simpler, the better.
You also need to offer an incentive to encourage people to participate in the giveaway.
Most landing pages are designed to convert visitors into customers or leads. They typically include a call to action, such as "Sign up for our newsletter" or "Buy our product."
A giveaway landing page is different because its purpose is to convert visitors into participants. The call to action on a giveaway landing page might be "Enter our giveaway" or "Share this giveaway with your friends."
Another key difference is that a giveaway landing page should include social sharing buttons. This allows users to easily share the giveaway with their friends and followers, which will help to increase its reach.
7 Fundamentals For A Successful Giveaway Landing Page
It's time to build your landing page. However, as we said, a giveaway landing page isn't your typical signup page or squeeze page.
Therefore, there are a few things you need to keep in mind as you develop it.
Before we get too deep into building your own custom giveaway landing page, just know that ViralSweep has a fast-loading and high-converting layout built right into the giveaway app product.
With ViralSweep, you can embed the giveaway widget on any page of your website, create a pop-up, or even let us host the landing page for you on our site.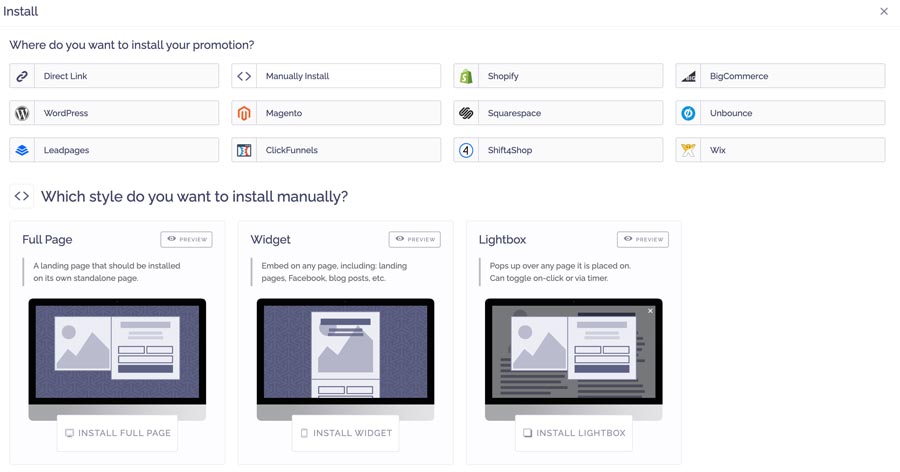 Check out our giveaway examples page to see what the entry forms look like.
Here are the fundamental elements of a successful giveaway landing page design:
A compelling headline and subheading
Clear and concise copy
Eye-catching images and videos
An entry form that's easy to complete
Social sharing buttons
A clear call-to-action (CTA)
Urgency and scarcity language
Let's understand them one by one:
A Compelling Headline and Subheading
Your headline and subheading are the first things people will see when they land on your page, so you want to make sure they're attention-grabbing and convince people to stay on your page.
Try to keep your headline under 20 words and make sure it's clear what the giveaway is for.
A formula you can use for a headline is: "Win ABC product worth XYZ amount of money"
It will also help to highlight your brand name in your headlines and subheadings so people can see them throughout your website.
Your subheadings should elaborate on the giveaway and what people can win.
Clear and Concise Copy
The copy on your landing page should be clear, concise, and easy to read.
You want people to be able to quickly skim through your page and understand what the giveaway is and how to enter.
Short sentences, multiple paragraphs, and bullet points can be helpful here to break up the text and highlight key details.
Eye-Catching Images and Videos
Use images and videos on your landing page to help break up the text and add visual interest.
People are more likely to remember information if it's presented in both a verbal and visual form, so including images or videos of the prizes you're giving away can also help convince people to enter your giveaway.
Make sure any videos are short, sweet, and to the point and are related to the giveaway prize.
An Entry Form That's Easy To Complete
Your entry form should be easy for people to complete without asking for too much information. The less effort someone puts into entering your giveaway, the more likely they will do it.
So just ask for their name, email address, and maybe one or two other pieces of information that are relevant to the prize they're competing for.
Social Sharing Buttons
Make it easy for people to share your giveaway by including social sharing buttons on your landing page. The more times your giveaway is shared, the more exposure it will get, increasing the number of entries you receive.
A Clear Call-To-Action (CTA)
Your CTA should be visible and easy to find on your landing page. It should also be clear what someone needs to do to enter your giveaway—whether it's filling out a form, clicking a button, or something else entirely.
Urgency and Scarcity Language
Using language that conveys a sense of urgency or scarcity can encourage people to enter your giveaways because they don't want to miss out on a good opportunity. Try phrases like "act now," "limited time only," or "while supplies last."
3 Best Examples Of Successful Giveaway Landing Pages
Of course, knowing which elements work great in a giveaway landing page is not enough.
You also need to see these elements in action.
Here are some of the best giveaway landing page examples you can use as a reference:
Doritos #NachoYourWay Giveaway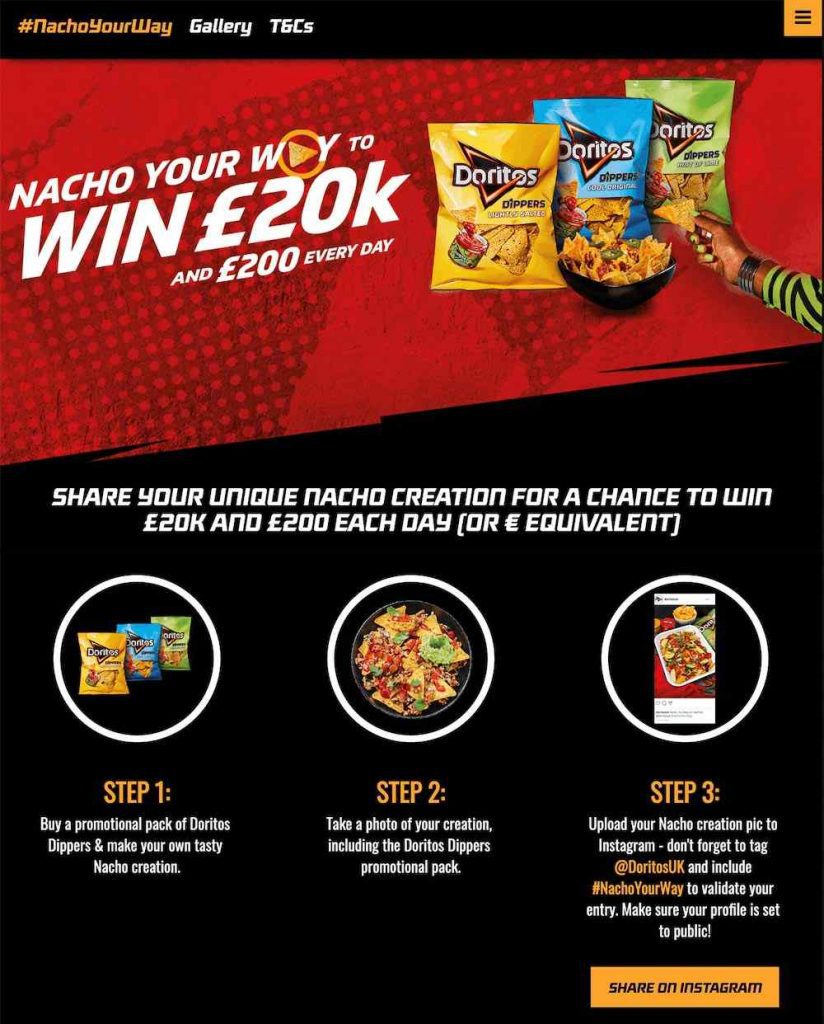 This Doritos giveaway landing page uses a bright, eye-catching color scheme, design, and product images to draw people in. The headline and subheading are clear and concise, and the copy is easy to read. The entry form is simple, only asking for basic information, and there are social sharing buttons to encourage people to share the giveaway.
The CTA is also clear and easy to find.
Doritos also used social platforms like Facebook to promote their giveaways and reach more audiences.
Ellen's Back-to-School Giveaway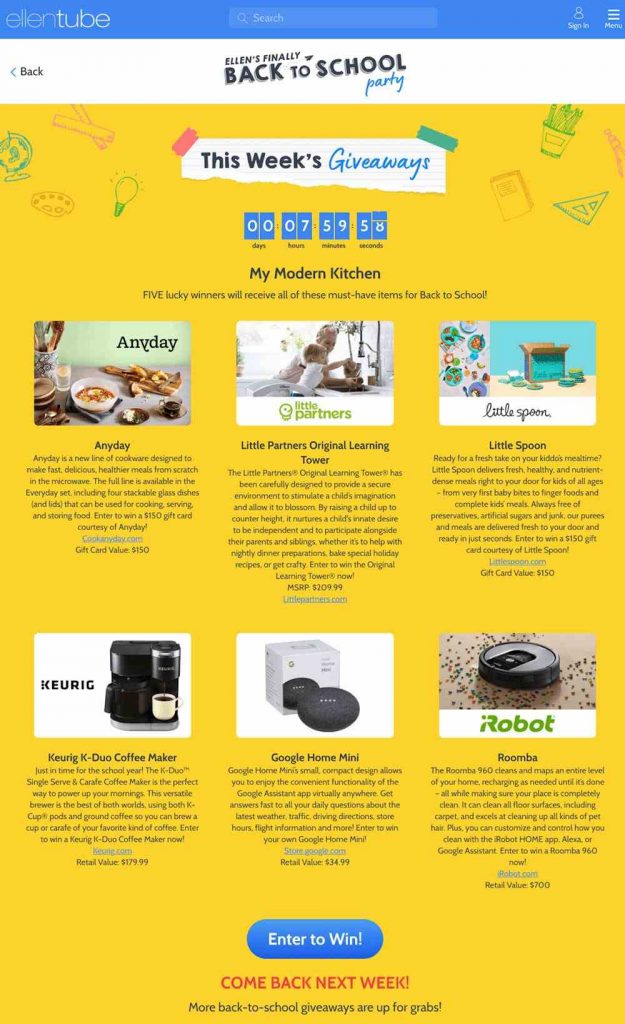 This Ellentube giveaway landing page uses a playful, on-brand banner image and a countdown timer to create a sense of urgency.
The focus is on the prizes displayed in a user-friendly way with pictures and descriptions of each item.
The entry form is simple and easy to complete, and social sharing buttons encourage people to share the giveaway.
The CTA is clear and prominently displayed.
ViralSweep Giveaway Landing Page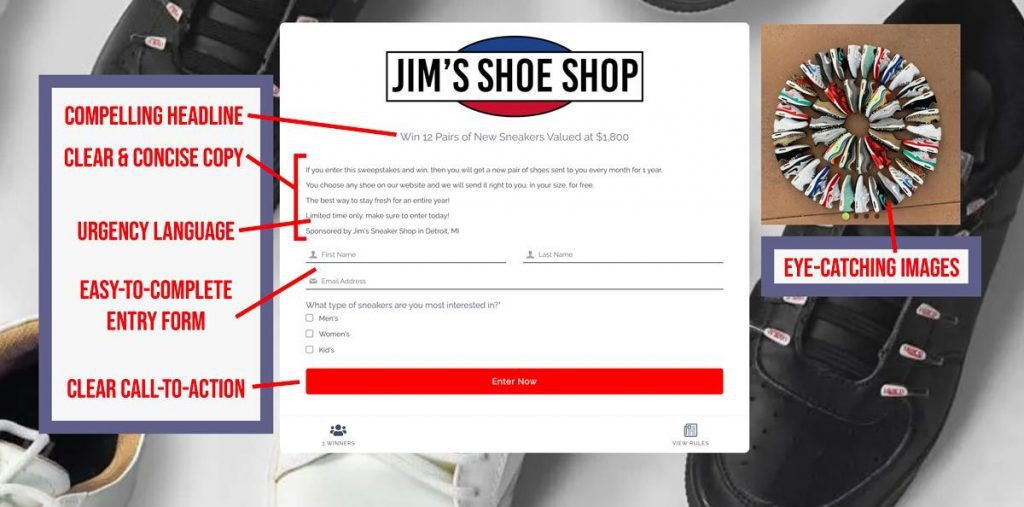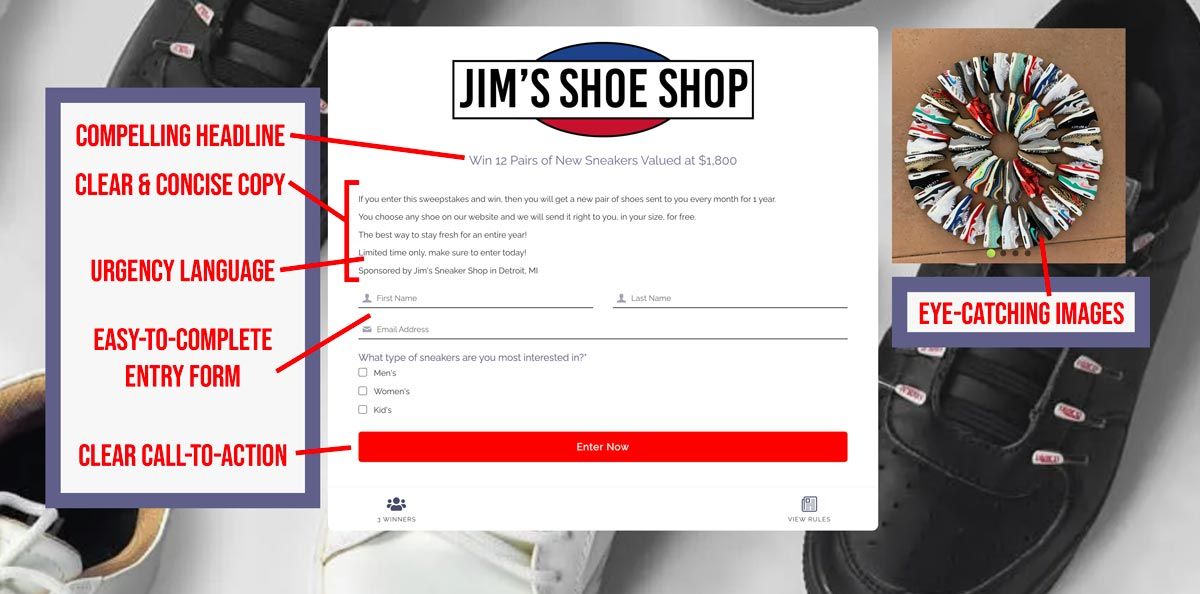 ViralSweep is an excellent example of a giveaway landing page because it uses all fundamental elements correctly.
The headline is clear and concise and quickly explains what the giveaway is for.
The subheadings further elaborate on the giveaway and what people can win.
The copy is easy to read and breaks up the text with bullet points.
The images and videos help to add visual interest, and the entry form is easy to complete.
The social sharing buttons make it easy for people to share the giveaway, and the CTA is clear and easy to find.
You can visit this link to learn more about ViralSweep's giveaway landing pages.
How Do I Create a Giveaway Landing Page?
Now that you've seen all the best giveaway landing pages, it's time to create your own landing page.
Here are the steps that will help you get started: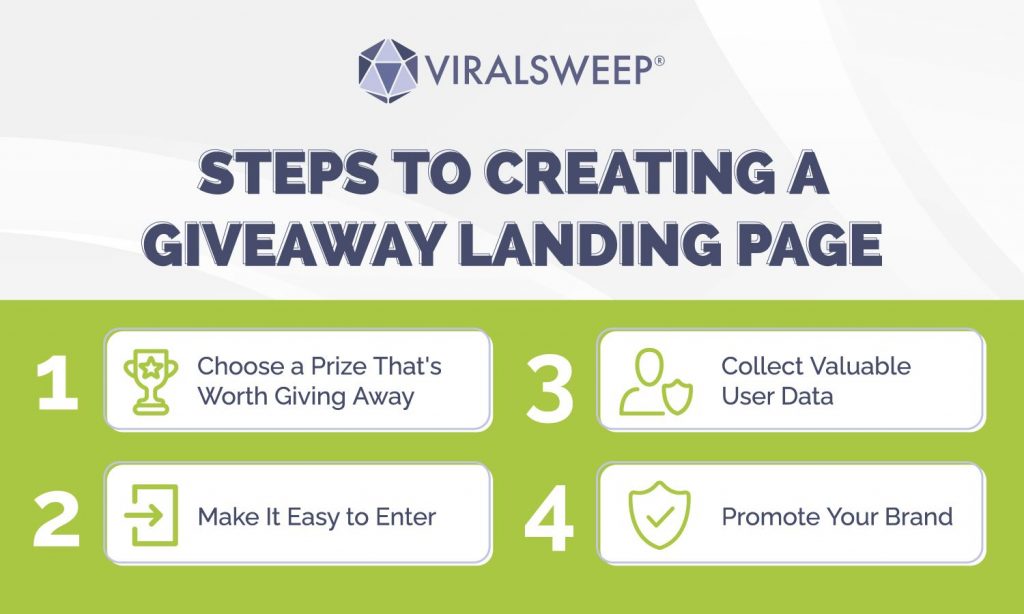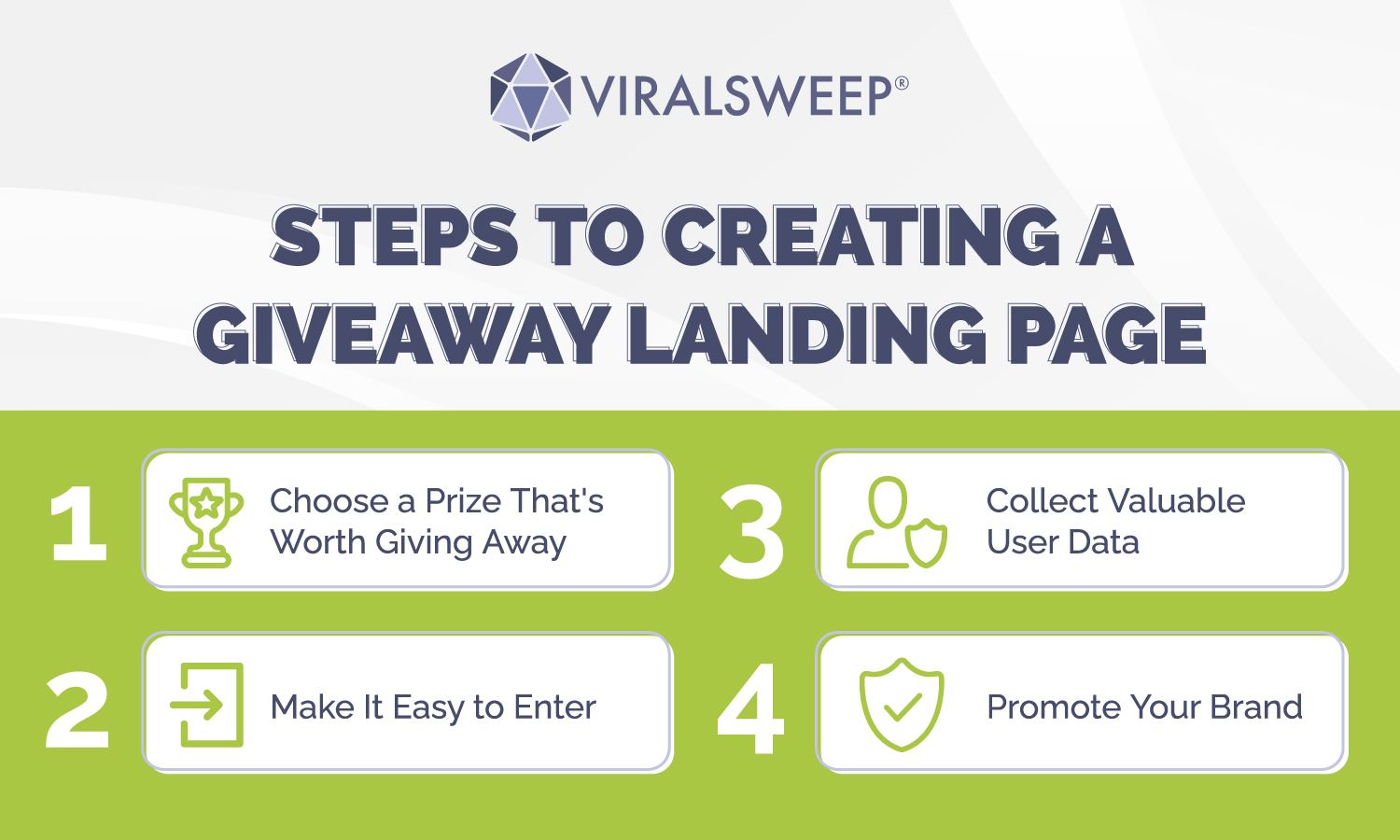 Step One: Choose a Prize That's Worth Giving Away
The first step in creating an effective giveaway landing page is choosing a prize worth giving away. The prize is the biggest factor in determining your sign-up conversion rate!
Your grand prize should be relevant to your target audience and aligned with your brand values.
For example, if you're a travel company targeting young adults, giving away a free trip would be an excellent prize. It is relevant to your target audience and aligns with your brand values (i.e., adventure, exploration, etc.).
[READ MORE: How to choose the best giveaway prize]
Step Two: Make It Easy to Enter
The second step is to make it easy for people to enter your giveaway.
The last thing you want is for someone to visit your landing page and leave because they can't figure out how to enter.
So, make sure the entry process is clear and concise. Include all the necessary information (i.e., how to enter, eligibility requirements, etc.) and use a large, easy-to-read font so that people can quickly and easily enter your giveaway.
You can also use a giveaway app like ViralSweep to set up your eligibility requirements, official rules, and mechanics.
ViralSweep is cost-efficient and straightforward and can help you manage your giveaways more easily.
Step Three: Collect Valuable User Data
The third step is to collect valuable user data.
This can be done by requiring entrants to provide their email addresses or other contact information as part of the entry process.
This way, even if someone doesn't win your giveaway, you've still collected their data and can add them to your marketing list.
They'll likely be interested in hearing about future giveaways or products/services you offer. Here's a video on how to get the best ROI out of your user data after a giveaway or sweepstakes.
That's why it's crucial to ensure that you have giveaway software that can be integrated with various applications and software. This makes the transfer of contact data more seamless.
Step Four: Promote Your Brand
The fourth step is to promote your brand on your giveaway landing page.
You can post it on social media, send it out via email, and even set up some paid traffic through Google Ads or Facebook Ads.
Step Five: Use an Attention-Grabbing Headline
The fifth and final step is to use an attention-grabbing headline.
Remember, the goal of your headline is to get people actually to click through and visit your landing page.
So, make it punchy, engaging, and relevant to what you're giving away.
For example, "Win a Free Trip!" or "Enter for a Chance to Win a $500 Amazon Gift Card!" are great headlines sure to grab attention and entice people to enter your giveaway.
If you don't know where to start, then ViralSweep is the perfect giveaway platform. We even have a comprehensive guide to help you set up ViralSweep on your WordPress website.
10 Tips For Designing A Successful Giveaway Landing Page
Everything you've learned in this post makes it easy to get drowned by all the knowledge. That's why we pooled the top ten tips you need to ensure a successful giveaway landing page.
1. Keep It Simple
Your giveaway landing page aims to get people to enter the giveaway.
So don't distract them with things like navigation menus or links to other pages on your site.
Keep the design of your page clean and simple so visitors can easily find the entry form and enter the giveaway.
2. Use a Clear and Concise Headline
Your headline should let visitors know what they can expect if they enter the giveaway. Be clear and concise so there's no confusion about what they'll get if they win.
For example, "Win A Brand New iPhone" is a much better headline than "Enter To Win An Amazing Prize."
3. Make The Entry Form Easy To Find
The entry form should be prominently displayed on the page so visitors can easily find it and enter the giveaway.
Don't make them search for it.
Otherwise, they may just give up and leave the page altogether.
4. Use Eye-Catching Images
Use images that grab attention and help explain what the giveaway is all about.
After all, a picture is worth a thousand words. But don't use too many images.
Otherwise, your page will start to look cluttered. Stick to one or two photos representing the prize you're giving away.
5. Use Bullet Points
When listing out the requirements for entering the giveaway, use bullet points so that it's easy to scan and understand.
This way, visitors will know precisely what to do to enter the contest.
And if there are a lot of requirements, consider using an accordion-style format so that only one condition is visible at a time.
This will make your page more user-friendly and less overwhelming for visitors.
6. Optimize Your Landing Page's Loading Speed
No one likes to wait around for a slow website to load. So make sure your giveaway landing page is optimized for speed.
This means using compressed images, minifying your code, and using a content delivery network (CDN).
All these things will help ensure that your page loads quickly and visitors don't get frustrated and leave before they even have a chance to enter the contest.
On a side note, you should also ensure that your landing page works perfectly fine on mobile devices as many people will access it from their phones.
7. Have a Strong Call-To-Action
Your call-to-action (CTA) should tell visitors what you want them to do next—enter the contest! So make sure it's clear, concise, and easy to understand. Something like "Enter Now!" or "Click Here To Enter!" would work well here.
8. Include a Countdown Timer
Adding a countdown timer to your landing page can create a sense of urgency and encourage people to enter before it's too late!
9. Provide Social Proof
If you've previously held similar contests and succeeded with them, be sure to mention this on your landing page! Including social proof — like testimonials from past winners — can help build trust and credibility with potential entrants.
10. Test Everything!
Finally, don't forget to test everything on your landing page before you launch it! This includes testing the CTA button color, headline, and image.
You can figure out what works best for YOUR audience by testing different elements on your page.
5 Reasons Why A Giveaway Landing Page Is Important
You might be thinking that a landing page is no longer necessary.
After all, not everyone is using them for their giveaways.
However, we recommend that you don't commit the same mistake.
A giveaway landing page can significantly boost the success of your giveaways and your business in the long run.
Here are five reasons that make creating a giveaway landing page worth considering:
Increase Brand Awareness
If you want to increase brand awareness, a giveaway landing page is a great way to do it. By hosting a giveaway contest, you can get people to visit your website and learn more about your brand.
Make sure to promote your competition on social media and other channels to reach a wider audience.
Collect Leads
A giveaway contest is a great way to collect leads. When people enter your competition, they must provide their contact information, such as their name and email address.
This allows you to add them to your email list and market them in the future.
Generate Sales
If you're promoting a product or service on your giveaway landing page, you can generate sales from the traffic you receive.
Make sure to include a call-to-action on your page so that people know what they need to do next to purchase your product or service.
Get People Talking About Your Brand
People visiting your giveaway landing page will talk about your brand. This word-of-mouth marketing can be valuable in helping you reach a wider audience. Encourage people to share your contest with their friends and family.
Furthermore, you can use this opportunity to create user-generated content to build excitement and anticipation around your business.
Helps You Stand Out From The Crowd
There are many companies out there vying for attention online. A well-designed giveaway landing page can help you stand out from the crowd and get noticed by potential customers. Follow these tips to ensure that your giveaway landing page is successful.
Final Thoughts
If you want your giveaway to be successful, a well-designed giveaway landing page is essential. By keeping our tips in mind when creating your page, you'll be on your way to crafting an effective landing page that encourages entrants and drives traffic to your website.
Additionally, powerful giveaway software like ViralSweep will make managing your campaign much easier and less time-consuming.
Are you ready to start planning your next giveaway? Schedule a call with us today, and let's get started!