A giveaway post is a piece of content that announces a social media contest — your giveaway — to your followers.
A giveaway is a type of competition through which your company offers chances to win a prize free A winner or winners are determined from a pool of eligible entries by:
Random selection – you offer participants equal chances to win the prize, and you will select the winners randomly;
Judging or voting – you select the winner based on judging or voting, considering criteria like creativity, skill, or effort.
A giveaway post announces the competition, generating excitement and soliciting entries for your promotion. It's a foundational part of your marketing strategy for the competition; as a result, it's vital that your giveaway post is well-worded, compelling, and clear.
When you announce a giveaway on social media, you're essentially giving your brand a free boost in visibility. Those who participate in the giveaway will likely be sharing their own user-generated content with their followers. So, the more people who see your giveaway announcement, the more people who will learn about your brand.
Crafting a giveaway post the right way can boost your brand awareness. A giveaway post can also drive traffic to your website or social media pages, increase your follower count, and help increase conversions. 
However, many small business owners and marketing professionals aren't comfortable writing this type of content. If you're new to hosting giveaways, this guide can help you figure out what information needs to be included in your giveaway post, some tips for increasing engagement with your giveaway, and how to learn from each promotion you host.
Plus, we'll share plenty of giveaway post examples to give you inspiration.
First, let's start by understanding the groundwork that needs to happen before you can dive into the details of writing your giveaway post and sharing it far and wide.
Preparing for a Successful Giveaway Post
Before you start writing and designing your post, you need to determine the business goals you wish to achieve in this promotion announcement. Clearly defined goals are the backbone of every successful giveaway post. 
Consider what you want to get out of running a giveaway. Do you want to grow your email list? Get more exposure for your brand? Increase sales and likes on Facebook?
Your goals should be SMART: Specific, Measurable, Achievable, Relevant, Time-Bound. SMART goals are clear, concise, and achievable and can be used to help your team measure its success. Examples of SMART goals for giveaways could be: 
Increase website traffic by 10% over the duration of the giveaway (1 month).
Generate 30 new leads for each social media giveaway post.
Improve the click-through rate on our giveaway posts by 5% in the next year.
You can do something as simple as creating a spreadsheet to set and track your goals — for instance, try our spreadsheet template.
Once you have a goal in mind, identify your target audience for the giveaway post. Consider the target potential customers for your product or service and analyze your current social media followers to see how much overlap there is.
Hopefully, most of your followers are at least somewhat familiar with and engaged with your business offering.
Then, research your target audience's needs, interests, and preferences. Get this information using surveys, reading online forums, engaging in social media discussions, and performing a competitor analysis. 
Look for patterns and common characteristics among these segments. This data enables you to determine the most appealing giveaway prizes and effective messaging for the people you're trying to reach.
Once you know who you're trying to reach, and what you want your giveaway to achieve, it's time to determine how you're going to motivate your audience to deliver your business goals. This means choosing a giveaway prize that is both appealing to the target audience and reflective of your brand.
Pick a prize that's relevant to your target audience but enticing enough to draw in new audiences and new followers, too. Find a prize that's also connected to your brand in some way. 
For instance, a restaurant can consider giving away a private cooking lesson with its chef — that makes sense. Giving away an iPad or an Amazon gift card is less relevant.
Lastly, before you craft your giveaway post, make sure you have clear, simple, and legal rules for your giveaway. For instance, an Instagram giveaway post has to follow Instagram's Promotion Guidelines. 
These state that you must include official rules, offer terms and eligibility requirements and be compliant with applicable rules and regulations governing the promotion and all prizes offered according to your location.
Each platform has its own requirements for running a giveaway. Your promotion will also be subject to local and national rules. ViralSweep offers a template for official guidelines that you can customize for your giveaway. 
How do you write a giveaway post? 4 Steps to Crafting an Engaging and Effective Giveaway Post
An effective giveaway post combines clear communication, enticing content, and a compelling call to action. Here's how to write a giveaway post that grabs your audience's attention and encourages engagement with your promotion.
1. Create a compelling title
Begin your post with a catchy headline that immediately grabs the reader's attention. Use action words, numbers, or intriguing statements to encourage someone to stop scrolling and pay attention.
Your headline will be the first thing people see, so it should also be relevant to the giveaway you're offering. For example, you could use a headline like "Win a Free Vacation!" or "Enter to win a new car!"
If possible, use a target keyword in the title for SEO purposes. Here's an example from VideoFruit, a marketing coach named Bryan Harris, who was seeking to increase his email subscribers.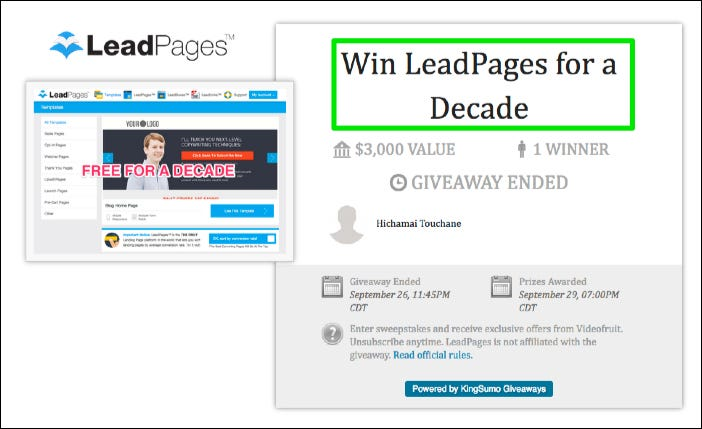 Harris offered a giveaway prize of a 10-year subscription to LeadPages, a brand that he often promoted to his coaching followers. The prize was worth $3000.
The title includes the prize brand name, so anyone searching for LeadPages could find this giveaway. And, the title is short, exciting, and clearly states that this is a giveaway. 
In fact, some brands keep it simple — and just use "Giveaway" as their title. Here's an example from Melted Soapery: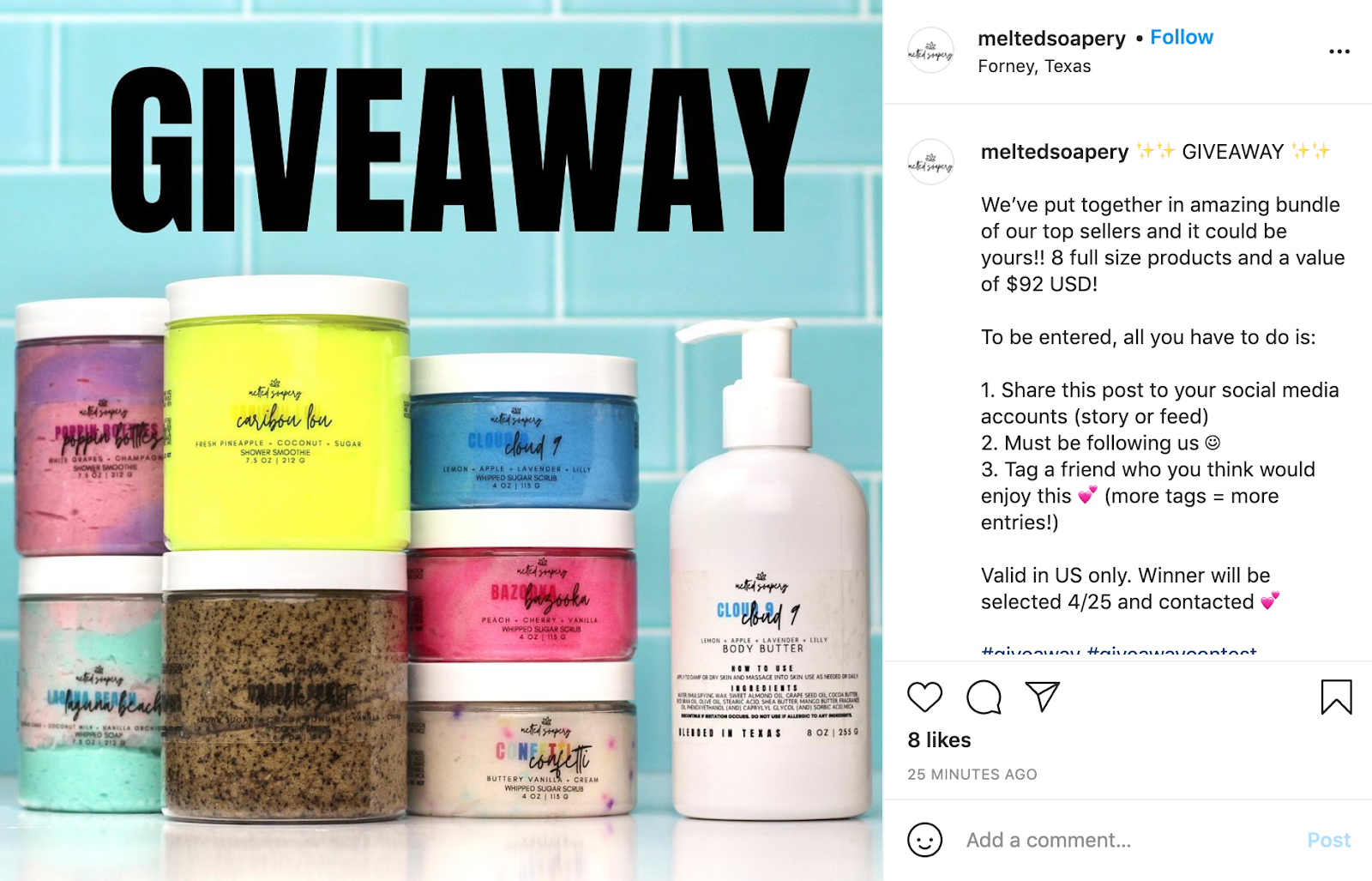 The simple headline relies on imagery to entice the audience to read the giveaway details in the post copy. This is a good option if your brand makes a product.
Note that there are still impressive numbers in the giveaway description ("value of $92 USD") — highlighting the importance of writing a great introduction.
2. Write an engaging introduction
Next, your introduction must provide key information fast. What are the prizes? Why should people enter?
Some brands choose to share a brief story or personal anecdote related to the giveaway. This can help create a connection with your audience and make the post more relatable. Here's an example from Kopari Beauty after the brand reached 100,000 followers.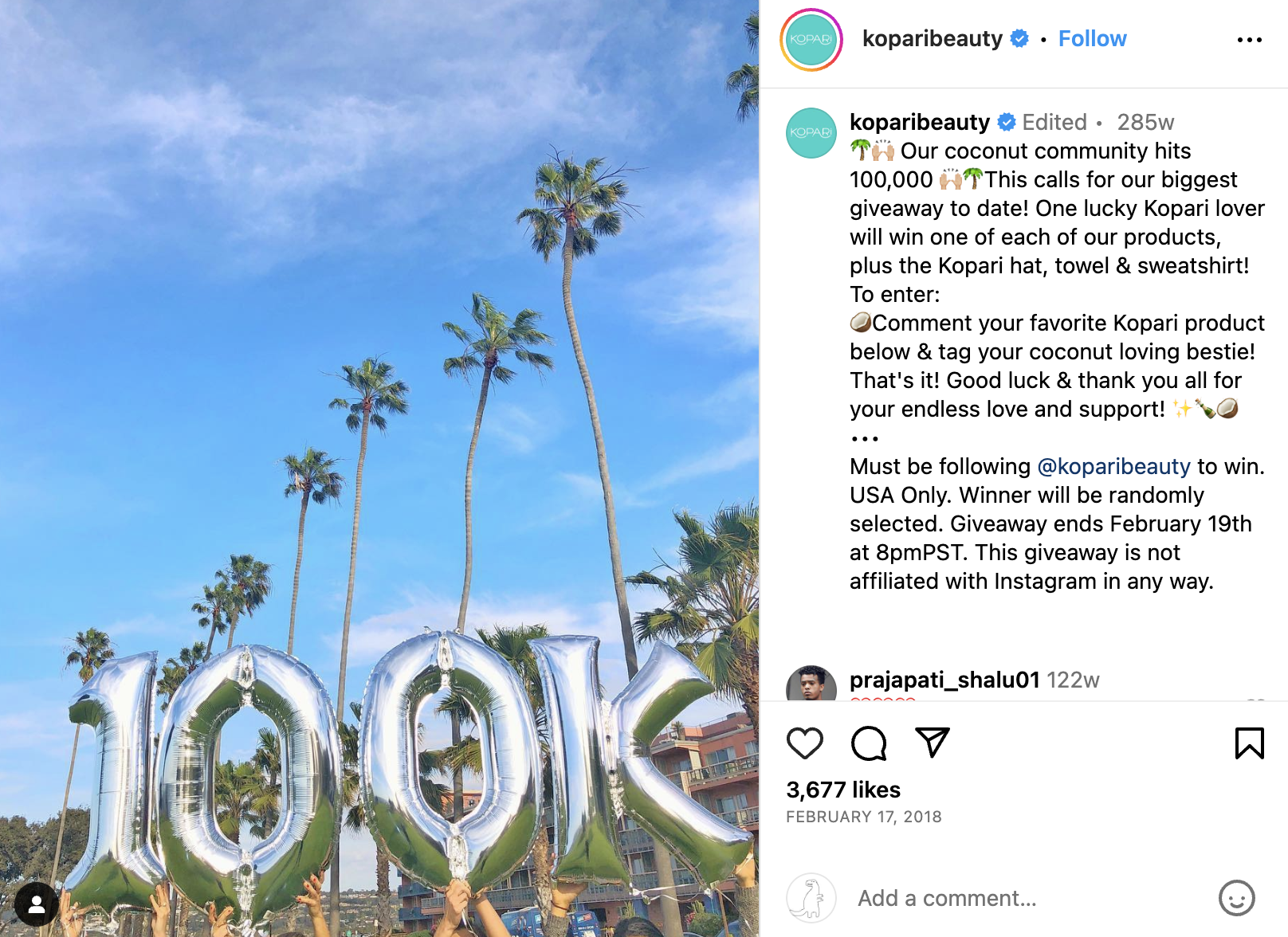 Make sure to emphasize the value of the giveaway early in your post. For example, you could say "Enter to win a free vacation to Hawaii!" or "Win a new car for your family!"
Avoid using jargon or technical terms that your audience may not understand. Make sure your post is easy to read and understand, even for people who are not familiar with your brand or products.
Read more: Instagram Giveaway: The Ultimate How-To Guide  
3. Describing the giveaway item or service
The prize you choose to give away can make or break the success of your giveaway. If the prize is not suitable for the audience you are trying to target, your promotion will underperform.
The prize should be the focal point of your giveaway post. Clearly and concisely introduce the prize you're giving away. Highlight its value and relevance to your audience.
If you have space (e.g., on a landing page), explain how the prize will benefit the winner: what problems can it solve, how can it enhance their life, or why is it worth participating?
Here's an example from @resortshangrila.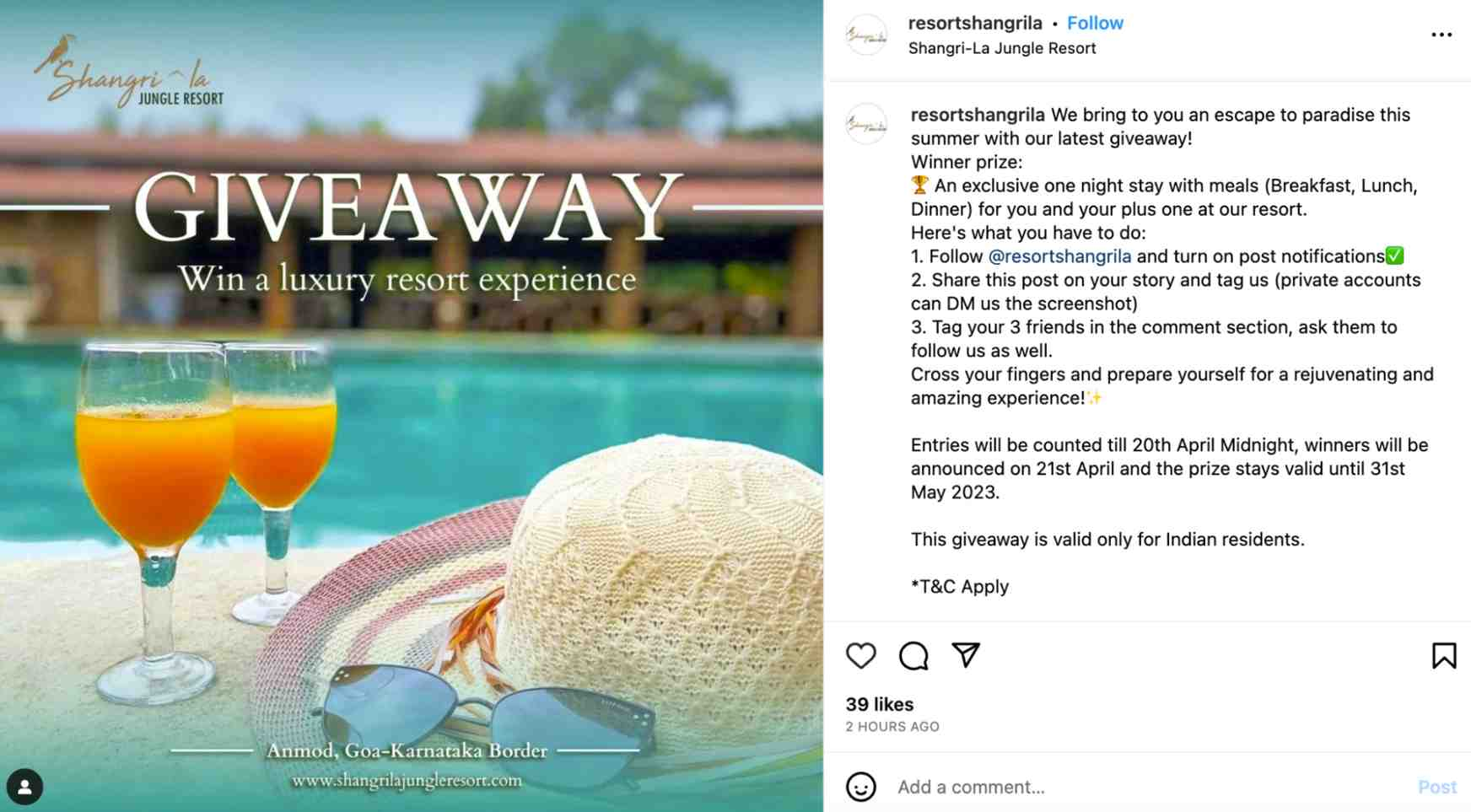 In this post, the prize is clear from the headline — with plenty of detail in the caption, including the end date, entry methods, and eligibility. Participants understand that they and one lucky plus one will get a one-night stay with three meals included at one of the luxury resorts.
Read more: 10 Super Easy Summer Giveaway Ideas
4. Detail the entry rules and regulations
The rules and regulations for your giveaway are necessary to include to avoid potential legal issues and protect your brand reputation. When your giveaway rules are too confusing, too difficult to enter, or too difficult to participate in, you could end up with frustrated followers.
Clearly outline how participants can enter the giveaway. This could involve actions such as liking the post, following your account, tagging friends, sharing the post, or using a specific hashtag. Keep the entry requirements simple and manageable.
Entry rules should also follow regulations by the federal government, as well as state and local governments. These regulations aim to prevent fraud and protect consumers.
For instance, you may need to provide an alternate means of entry in your giveaway rules. Social media platforms, too, have specific rules to protect their users and ensure companies aren't running scams or violating privacy laws. 
Read more: Setting Giveaway Rules for Your Next Social Media Giveaway 
Optimizing the Giveaway Post for Engagement
There are a few elements to include in your giveaway post that can boost engagement. The right visuals, formatting, and calls to action can encourage your audience to participate, share, and interact with your promotion.
These factors will improve audience engagement with your giveaway.
Eye-catching visuals and formatting
Whether you're posting your giveaway on social media or on a landing page, use images and videos to catch someone's attention. Here's an example from Doritos, which ran the Doritos #NachoYourWay Giveaway.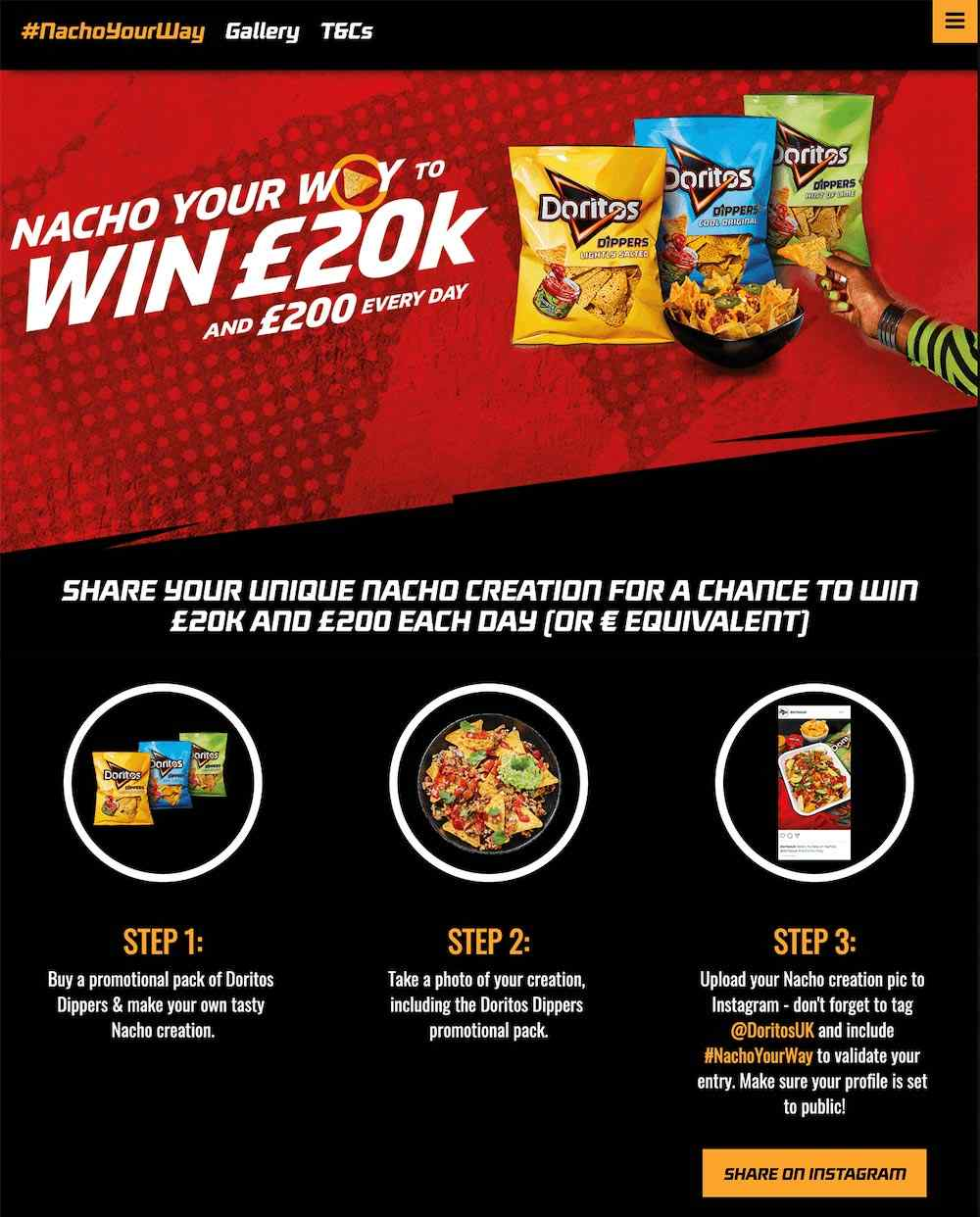 Doritos' landing page uses a bright, eye-catching color scheme, design, and product images to draw people in. People are more likely to remember information if it's presented in both a verbal and visual form, so including images or videos of the prizes you're giving away can also help convince people to enter your giveaway.
Make sure any videos are short, sweet, and to the point and are related to the giveaway prize. In addition to the main post, share giveaway-related content on your Instagram Stories or TikTok Reels. These formats have shorter lifespans but can help build excitement.
On a landing page, proper formatting can also help increase readability and ensure your audience gets the information quickly. Use bullet points, short paragraphs, and bold text for emphasis to make your post user-friendly and engaging.
Powerful call-to-actions (CTAs)
The whole point of a giveaway post is to increase conversions. Therefore, every post should include a strong and clear call to action that tells users what they need to do to enter the giveaway. Use action verbs to prompt engagement, like "comment," "repost," "tag," or "like."
Your CTA should be visible and easy to find in your caption or on your landing page. It should also be clear what someone needs to do to enter your giveaway—whether it's filling out a form, clicking a button, or something else entirely.
To make your CTAs more impactful, use language to create a sense of urgency. Encourage immediate participation using phrases like "limited time offer" or "act fast" to motivate users to engage promptly.
Encourage social shares and comments
Encourage participants to share the giveaway post with their friends and followers. Use a phrase like "Tag a friend who would love this prize!" to spark more engagement. Consider rewarding referrals with bonus entries — like this giveaway from @theabqmutts in which the brand offers a waistband for dogs.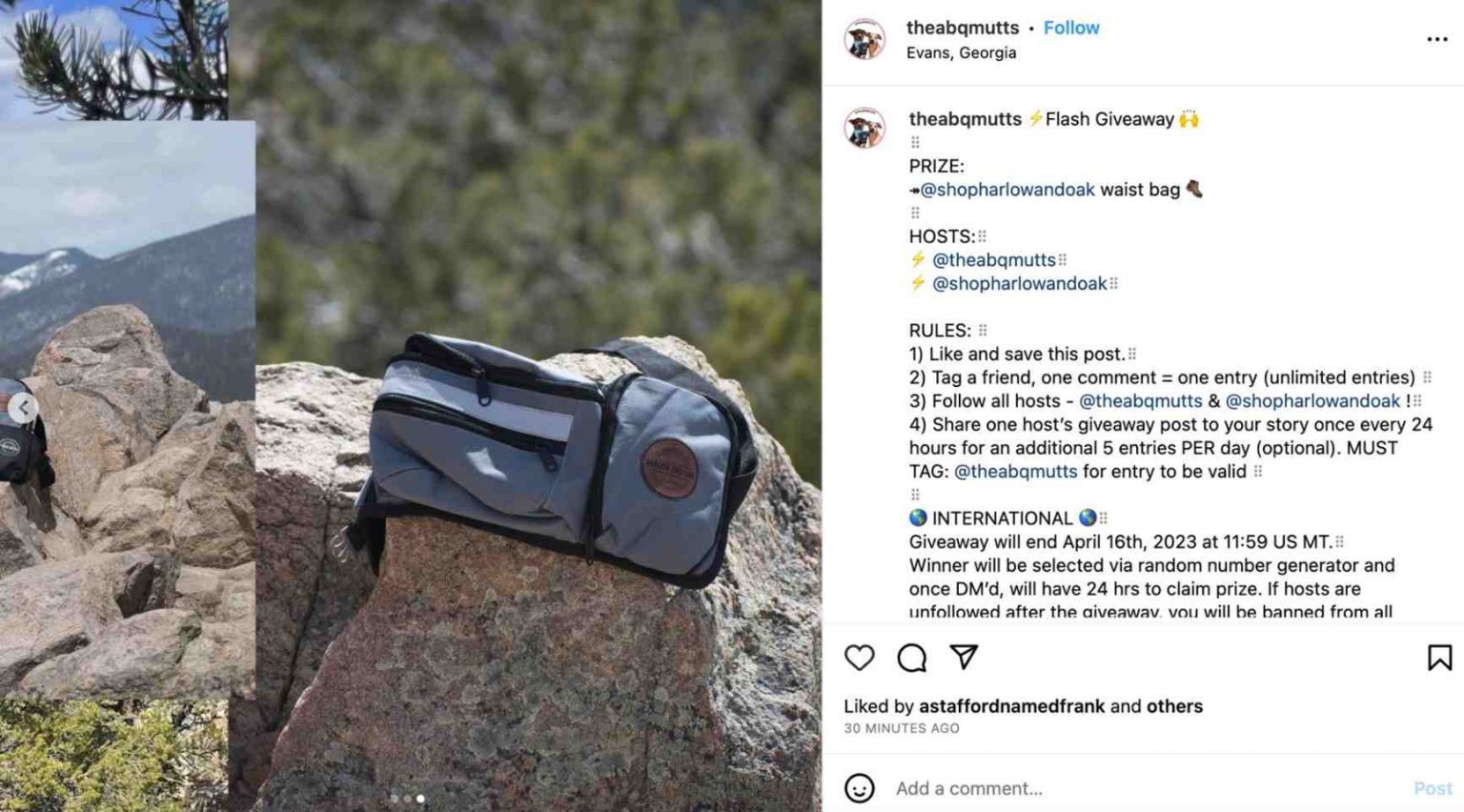 This giveaway provides more opportunities to win for participants who tag friends and share the giveaway post every day. 
On your giveaway landing page, make it easy for people to share your giveaway by including social sharing buttons. The more times your giveaway is shared, the more exposure it will get, increasing the number of entries you receive.
When you see users commenting on your giveaway post, don't ignore their engagement. Respond to comments on the post to show that you're actively involved and appreciative of participants' engagement. This can also help address any questions or concerns.
The role of hashtags and tagging
Hashtags can play a big role in increasing the reach of your contest post. Incorporate relevant and trending hashtags to increase the discoverability of your giveaway post — especially if you're hosting an Instagram contest. ​​
Instagram is the second most popular social media channel for marketing campaigns. Users can follow specific hashtags and include them in their Instagram Stories, Profile, and in their grid. Using popular hashtags can help Instagram's algorithm show your giveaway to users who don't already follow you. 
If you're not sure which hashtags to use, a hashtag generator can help you find and collect hashtag entries for your giveaway. ViralSweep can collect hashtags that help you run contests and promotions and collect user-generated content. 
Read more: How to Use Hashtags to Promote Your Online Giveaway  
Learning from the Best: Examples of Effective Giveaway Posts
There are hundreds of giveaway posts you can find for inspiration on Instagram, Facebook, YouTube, and on specific branded landing pages. Here are a few that showcase the best practices for building a giveaway post that gets engagement. 
This successful Instagram giveaway, from the account @petitegoldjewelry, includes all the good stuff: an eye-catching visual, compelling headline, and clear rules and ways to enter. 
In addition, the jewelry brand tagged other brands or influencers to increase the post's visibility to their followers as well. Referrals gain participants unlimited entries, encouraging the post to go viral. And, there are a few hashtags included to help users find the post organically.
Facebook has slightly different rules for giveaways. Your Facebook giveaway entry requirements can include asking a participant to like, comment, or like comments on a post; however, you are not allowed to ask a participant to share a post on your timeline, tag their friends, or share a post on their friend's timeline. 
As a result, Facebook is best used as promotion tool for a giveaway landing page. Here's an example from Marin French Cheese Co.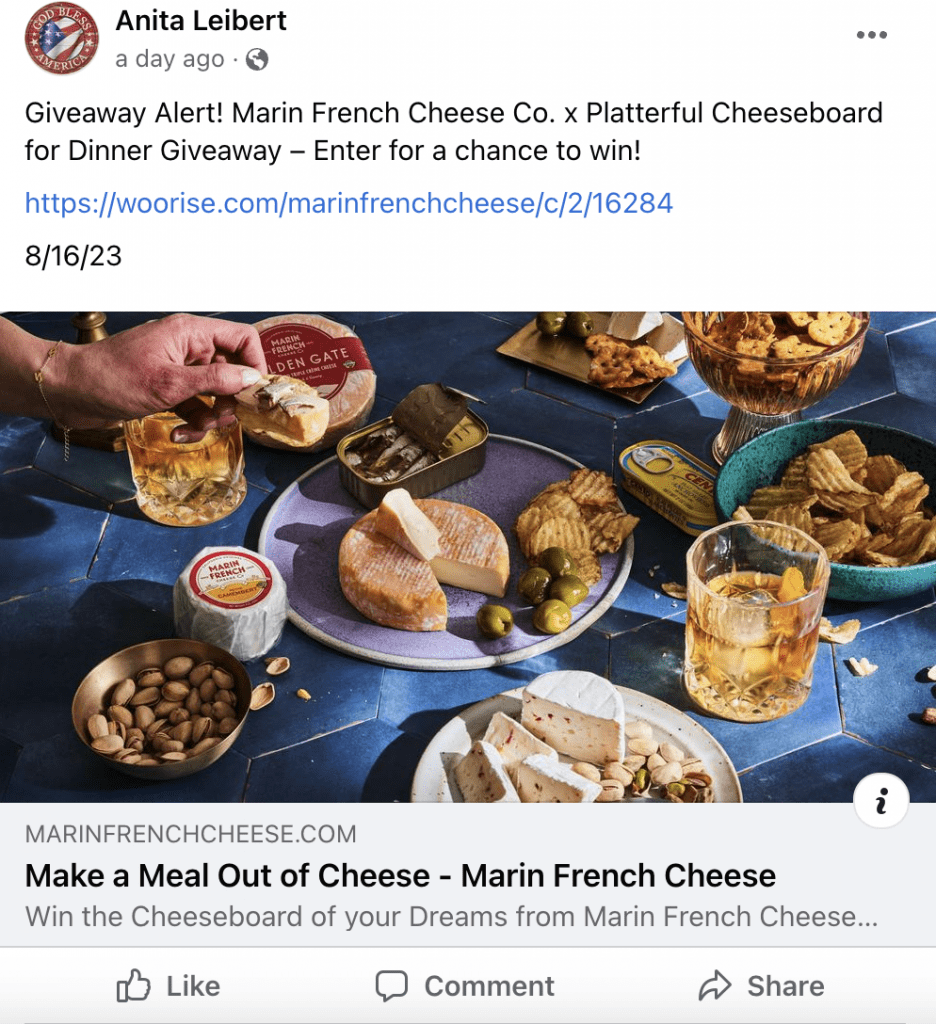 A Facebook user shared the landing page to the giveaway voluntarily. The landing page is where users can get the full details about the giveaway, including how to participate.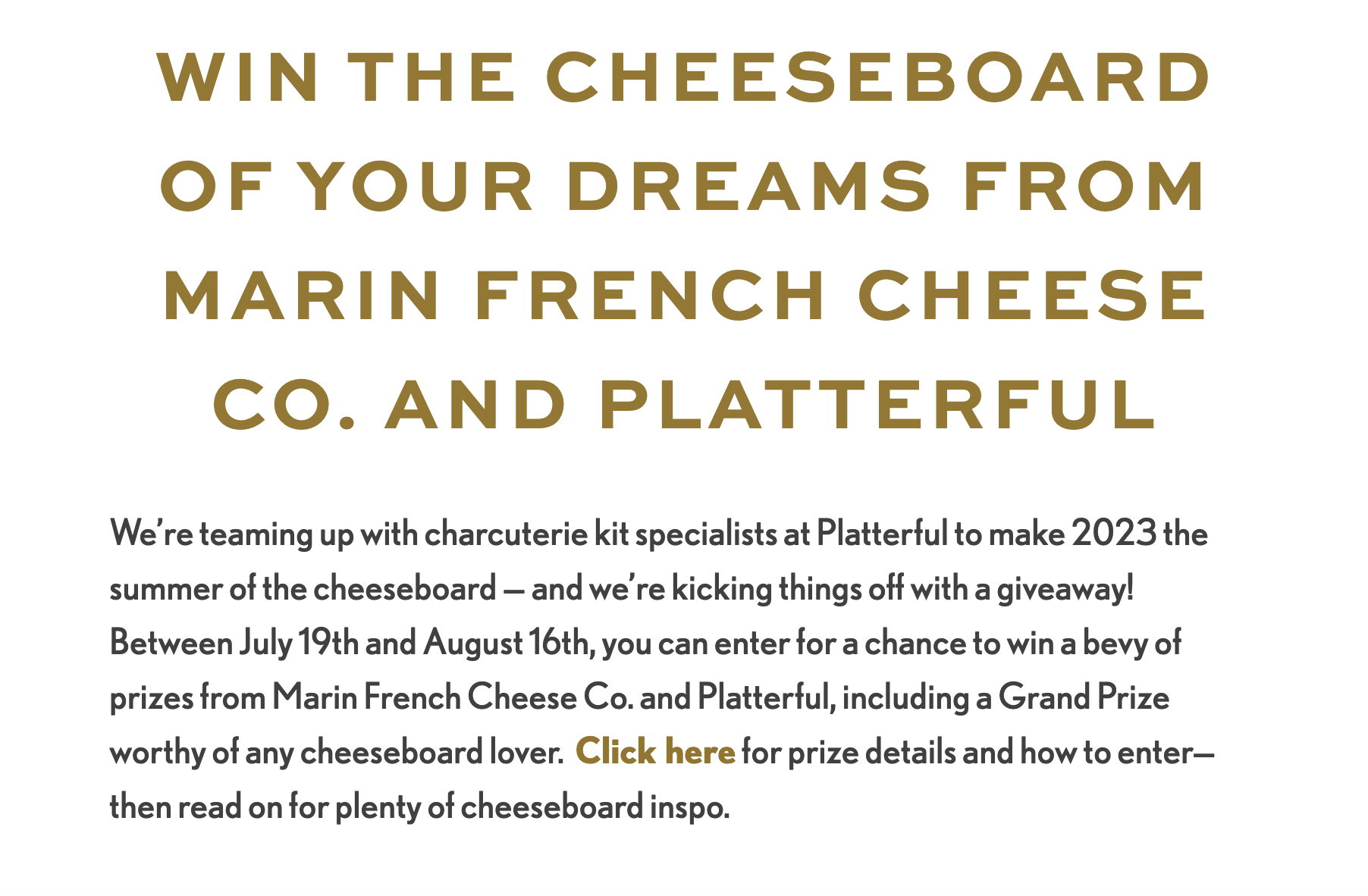 The landing page goes into detail about the different cheese boards offered by the brand, as well as the prizes — which include one grand prize and five "runner-up" prizes.
There's a link to official rules as well as ways to increase your chances of winning by sharing the giveaway on Instagram (remember, Facebook is a little tricky for hosting the actual giveaway).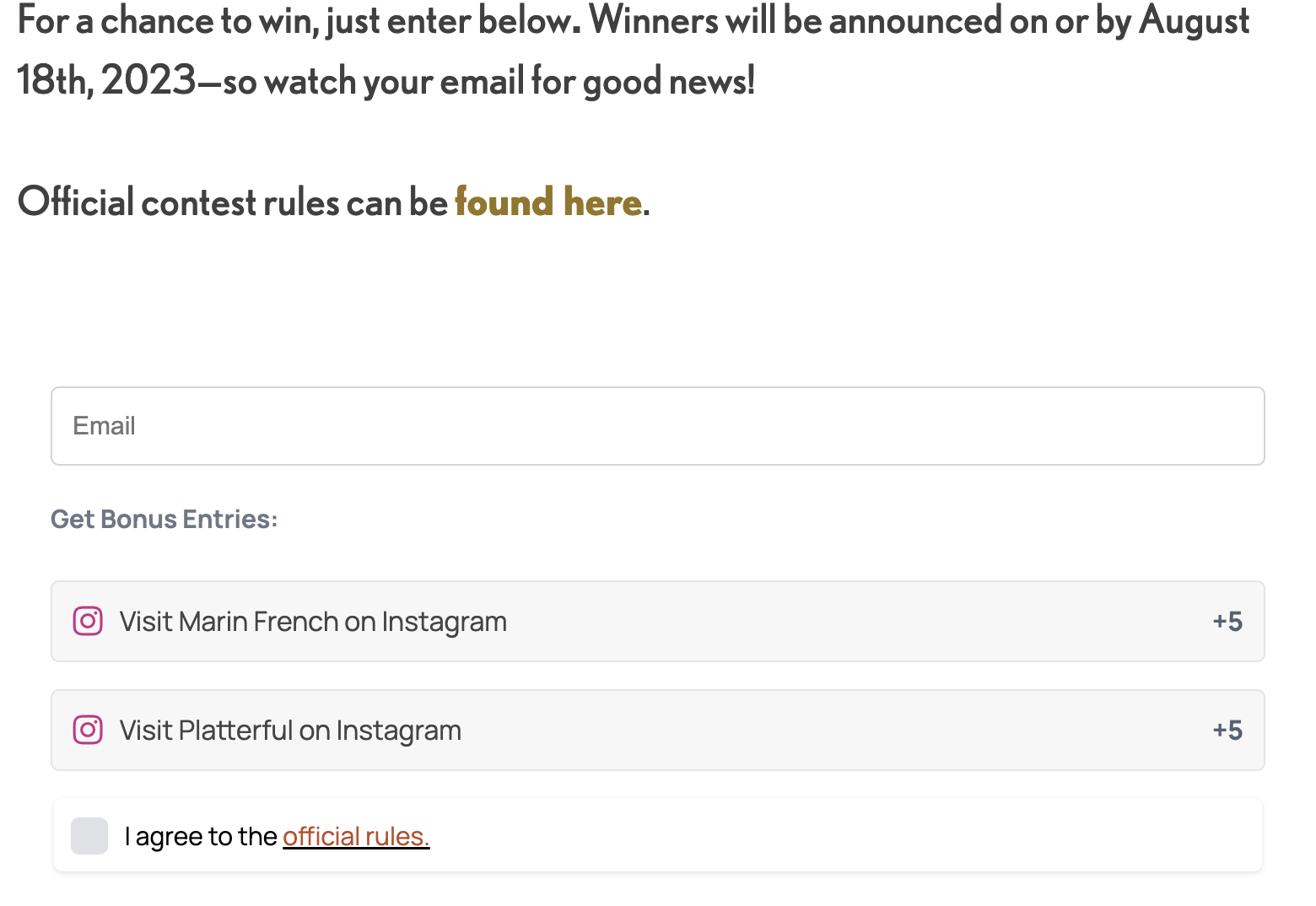 Remember, you don't own your Facebook, Twitter, or Pinterest page. It's easier to leverage social media by hosting the sweepstakes on your own site and driving traffic from your social profiles to your site.
Finally, look for ways to incorporate video in your campaign. @foodie.foo used Instagram Reels to promote their prize ideas in a video that showed the brand packing a gift box filled with products.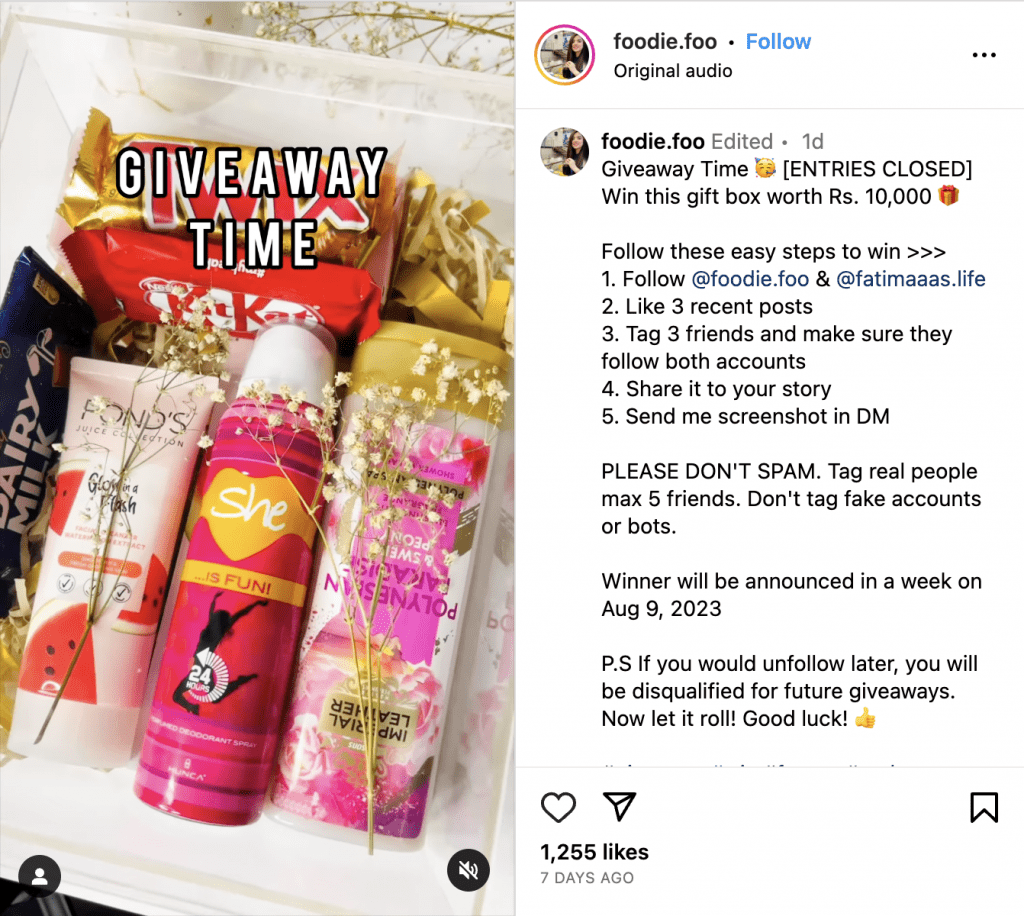 The brand also encouraged users to share the giveaway to their Instagram Stories to increase their reach. The rules clearly state how users can participate, and aim to prevent spam entries with terms and conditions.
It's interesting that @foodie.foo asks users to follow their account for more than the giveaway. The condition that "you will be disqualified for future giveaways" is unusual. Clearly, the goal of this giveaway is to build an engaged, loyal audience on Instagram. This approach could prevent the giveaway from going viral, since potential entrants may not want to follow the brand beyond the result of the giveaway.
Tracking and Evaluating the Success of Your Giveaway Post
There are a number of ways to measure the effectiveness of a giveaway post. Choose the metrics that are most important to you and your business goals. For example, if you're looking to increase brand awareness, you'll want to focus on reach and engagement. If you're looking to generate leads, you'll want to focus on leads and sales.
Here are a few common metrics that can help you understand the success of your giveaway post:
Reach: The number of people who saw your giveaway post. You can measure reach by looking at the number of impressions or the number of people who liked, commented, or shared your post.
Engagement: The level of interaction with your giveaway post. You can measure engagement by looking at the number of likes, comments, and shares your post received.
Followers: The number of new followers you gained as a result of your giveaway. You can track your follower growth before and after your giveaway to see how many new followers you gained.
Leads: The number of people who signed up for your email list or downloaded your ebook as a result of your giveaway. You can use a landing page or form to collect leads from your giveaway participants.
Sales: The number of products you sold as a result of your giveaway. You can track your sales before and after your giveaway to see how many sales you generated.
Most social media platforms include tools that will measure these metrics for you. In your Instagram account, for instance, you can go to the Instagram post you'd like to review and below the image, tap View Insights.
Ideally, you should use a combination of metrics to get a more comprehensive view of the effectiveness of your giveaway post. For example, you could look at reach, engagement, and followers to see how many people were exposed to your giveaway, how engaged they were with it, and how many new followers you gained.
By tracking the results of your giveaway post, you can see what's working and what's not. This will help you to improve your giveaway strategy in the future and to get better results from your next giveaway.
How can you adjust your strategy for next time? For example, if your reach was low, you may need to promote your giveaway more heavily on social media. If your engagement was low, you may need to make your post more visually appealing or to write a more engaging caption.
If you gained a lot of new followers, you're doing something right! If you didn't gain many new followers, you may need to change the prize or the rules of your giveaway to make it more appealing to your target audience.
Leads are another helpful metric. If you collect leads from your giveaway participants, you can use this data to send email newsletters or promote your products to them on social media. And, if these leads converted into sales, you can use this data to improve your product marketing strategy.
For example, you could promote the products that were most popular in your giveaway in your future marketing campaigns.
Wrapping Up: Creating Your Successful Giveaway Post
There are a lot of elements that must come together to create a successful giveaway post. It starts with the right business goal and audience insights. From there, you can write a compelling headline, engaging intro, and fair and clear rules to encourage your audience to participate in your promotion.
It's not just about the writing, however. A great giveaway post needs eye-catching visuals (ideally video!) and an appropriate prize that's exciting for your audience and relevant to your brand.
When you get into the nitty gritty of crafting your giveaway, you'll also need to include keywords and hashtags to increase the visibility of your promotion. An urgent and clear call to action helps motivate viewers to participate in your giveaway. And, you can take advantage of other people's networks but tagging partner accounts and incentivizing referrals with more entries.
It may take a few tries to get your promotion post right. But the only want to understand what's working is to measure and track key metrics. Learn from other brands and from your own social media metrics to continually adjust and optimize your giveaway strategy.
Giveaways are an extremely effective way to build a brand following. These promotions quickly boost brand awareness, and engagement, and can generate leads – leading to higher sales. If you are looking for a way to grow your social media presence and reach new customers, then you should consider running a giveaway post.
For more on how to run a giveaway, check out our blog: It's full of valuable insights, tips, and strategies on topics related to digital marketing and social media promotion. And, we're constantly updating it to include all the latest news and trends. 
And, for help managing an effective giveaway, try ViralSweep. ViralSweep integrates with all major social media platforms, including Facebook, Twitter, YouTube, and Instagram. This makes it easy to set up and run your giveaways on multiple channels. And, ViralSweep offers a range of giveaway services that will fit any of your giveaway campaigns. 
Learn more and try a free 7-day trial.